Simple Daily Planner Printables to Keep Your Days Running Smoothly
Whether you need the extra room for planning busy days or you just like to see each day on its own, a simple daily planner can fill so many different planning needs. Today's reader requested printable was actually requested by a few different people, all looking for a simple daily planner page.
Sometimes a simple daily planner can better fit our needs than a weekly planner.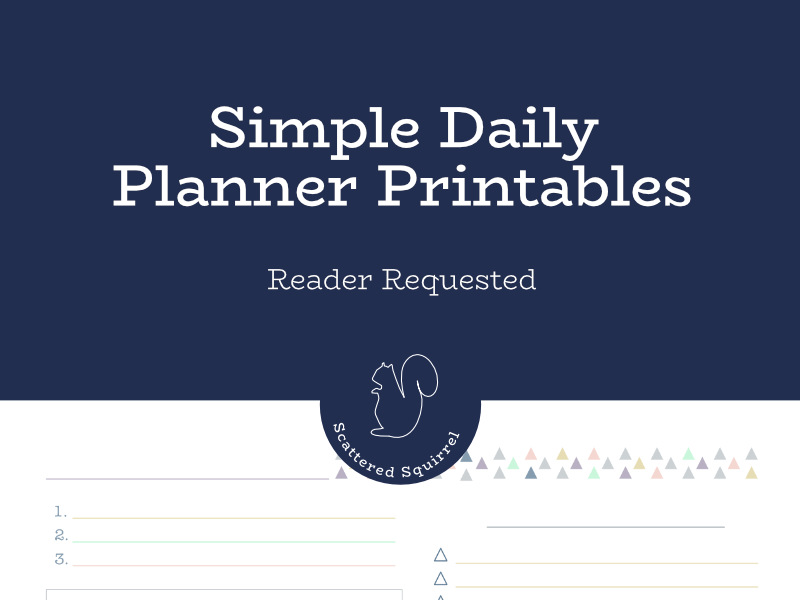 When four different requests for a similar printable popped up in the requests folder I knew that it was a printable I had to make. The requests included features like:
hourly time slots
to-do list
segmented to-do lists with specific categories
space for your top three priorities or tasks
something in pastel
full and half-size
None of the requesters left their names or emails so I couldn't ask for their feedback. I hope that these daily planners fit their needs and yours too.
The Simple Daily Planners
These daily pages were designed to be simple but effective. I took a number of similar requests and rolled them all into one.
Each page has room in the top left corner for the date. Right under that is a space to note your top three priorities for the day. Then the page is divided in half, with a timed section on the left and segmented to-do lists on the right.
I purposely left the segmented to-do list sections untitled to allow you to customize them to fit your needs.
Change them up each day
Use stickers to label them
Stick a habit tracker or other sticker between them
Leave them blank
The sky is the limit for ways you can use the to-do list portion.
Ready to check out the printables?
Full-Size
This printable is a single day per page. This gives you a lot of room for planning out your day without feeling too cramped. It also allowed for a longer hourly section, seventeen hours to schedule if you need them.
Having more hours in the timed section has been something many people have requested over the years and I'm happy to be able to have that option available for you.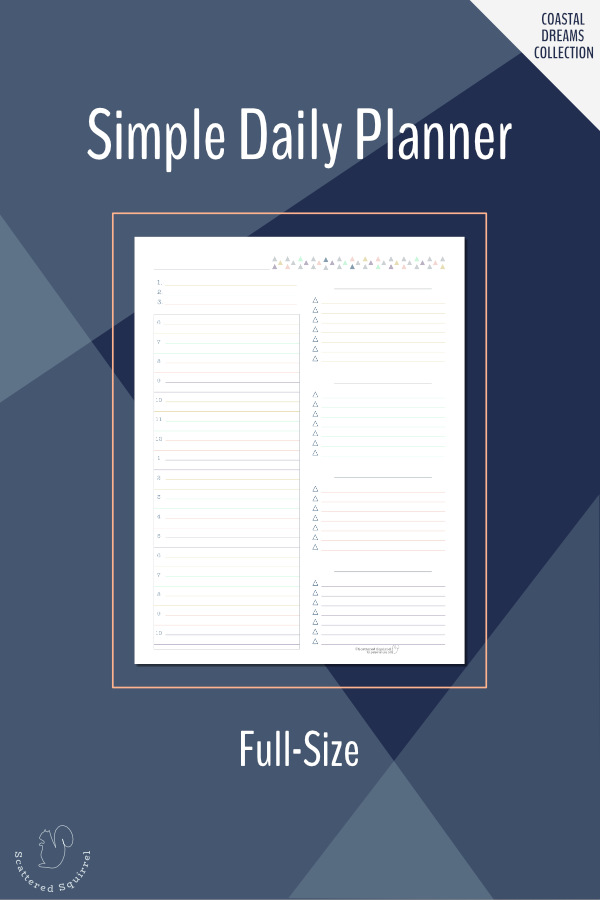 The full-size simple daily planners come with two pages in each file. This way, they're duplex printing friendly for those that have a duplexer on their printer.
Half-Size
Like the full-size version, the half-size is also one single page per day. If you prefer to use a landscape format for your planner, these could also work as two days per page printables if you're using a full-size (US Letter) planner.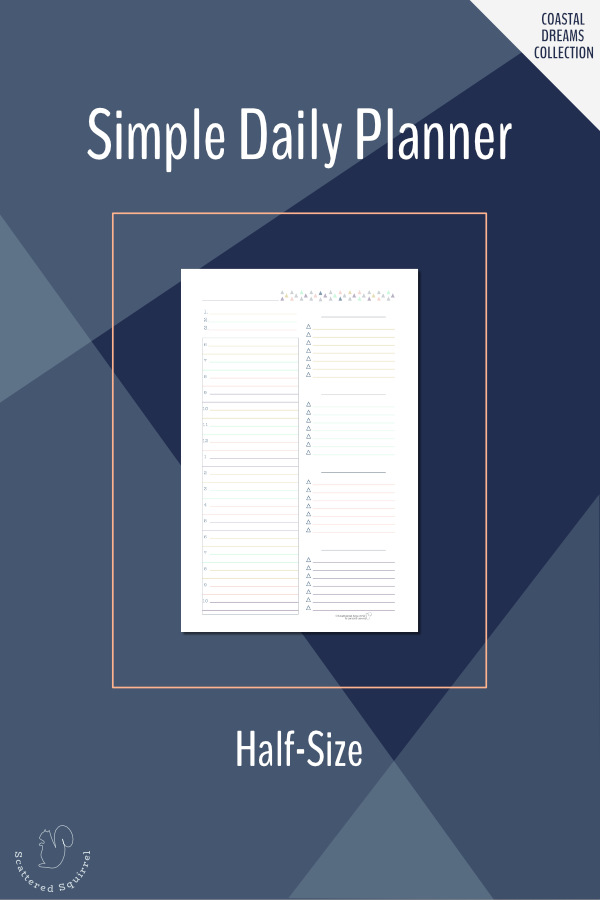 I also made sure to include the second page for making duplex printing easier. This means that you get four days in the one file.
There are a variety of other daily planners over on the Daily Planner Printable page. If these ones aren't quite what you're looking for, you might find one that better fits your needs there.
A Printing Tip Before You Go
I can't wait to print a few of these for my planner. During really busy seasons a daily planner can be a wonderful resource for staying on track. Sometimes I'll switch to daily pages just for the extra blank space it allows between tasks.
Seeing a busy, full, schedule written out on a weekly layout can sometimes feel overwhelming to me. That's why I always find that I switch back and forth between using a daily planner and a weekly one.
I keep a few daily pages in all my planners for just that reason. Even my main planner, which this year has been a Happy Planner, has some daily pages tucked in the back that I can pull out when I need them.
I followed this tutorial from Laura at Sunny Day Family which will walk you through how to print any full-size printable so that it fits the Happy Planner dimensions. Even the mini dimensions.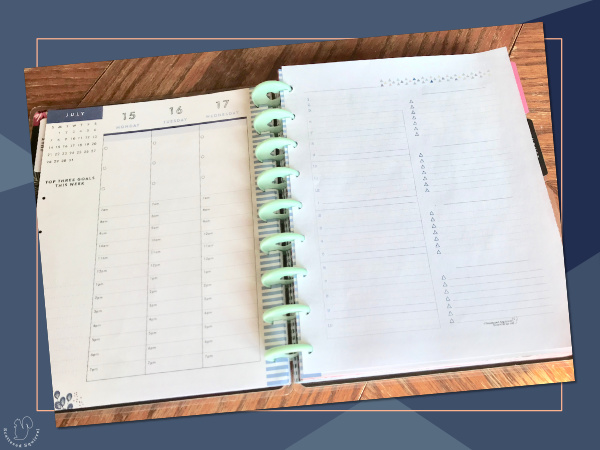 The only part that I haven't quite figured out is how to print them double-sided this way. If I do figure it out I'll let you know. For now, I just use the back for notes and doodles.
Now It's Your Turn
If there is a printable you've been wanting or needing, click the button below to go fill out the submission form.
I cannot guarantee that I will be able to make all of them, but I will do my best to get to as many as I can.
What do you think of these simple daily planners? Are they a printable you think you'll use? Drop me a line in the comments and let me know what you think.