Coastal Dreams To-Do List Planner Printables
One of my favourite parts of designing planner printables is being able to meet different planning needs. For some, a daily or weekly planner is all they need, but for others, they need a little more or something a little different.
The to-do list planner printables that I'm sharing today fall into that other category. They offer a flexible design that can work on its own or in conjunction with another planner layout.
Use the to-do list planner printables on their own or with your typical planner system.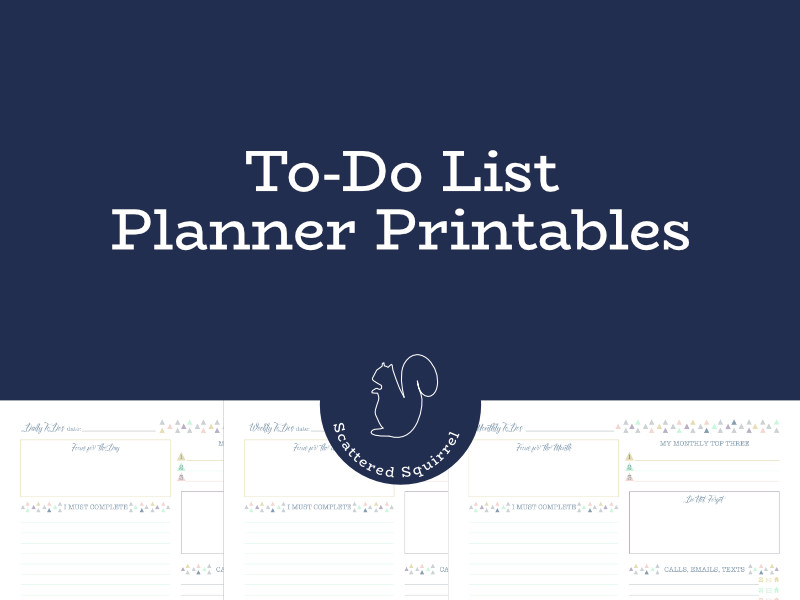 In the past, I've offered daily and weekly to-do list printables. They were designed strictly for helping you organize your tasks. The purpose of these layouts is to help you prioritize each task so that you can focus on the things that really matter.
This year I've added in a monthly version. So often it's easy to overlook monthly tasks, this printable offers a solution to that problem.
The Daily, Weekly, and Monthly To-Do List Planner Printables
These work great when used to supplement your normal planning. I frequently use a weekly to-do list to help me plan my week. By seeing everything organized by importance I am able to schedule my week in a way that works best for me.
The three versions are all structured exactly the same. The pages are divided into two columns. The left is for tasks and the right is for reminders, events and errands.
To grab a copy just click on the image of the one or ones you'd like. Each of the files is two pages, to help make printing double-sided easier.
Daily To-Do Lists
These to-do lists are great for organizing your busier days or days when you don't really need to follow a schedule. I like to use these with my weekly planner, that way I'm not trying to cram everything in on a small space.
Weekly To-DO Lists
Weekly to-do lists are wonderful for pre-planning your week. You can fill out all your tasks ahead of time and then schedule them into your planner. They're also wonderful for separating your plans by area. Maybe you use your planner most for work, you can use one of these for home stuff or vice versa.
Sometimes I use these for planning my self-care. I may not use all of the sections, but it allows me to plan fitness, time alone, and personal appointments for the week.
Monthly To-Do Lists
The monthly version is the newest addition to this set of printables. I think it can be a powerful tool to add to your planning system. It allows you to plan out tasks and appointments for the whole month and you can reference it as you plan out your weeks.
In addition, you could also use this for planning and organizing your monthly goals. You can use the priority sections to rank your goal tasks by importance.
If you'd like some tips for goal setting, check out the How to Set Goals With Your Powersheets: Part 5 post over on Cultivate What Matters. It is full of some great tips even if you aren't using the Powersheets planner.
How to Use These Printables
Working from top to bottom on the left you can set a focus for the week at the top. This is something you really need to get done. Or it could be an area of your home or life that you want to give extra attention to. You might also choose to leave it blank.
Continuing down the left side are three more sections for your task list. They are:
I Must Complete – this section is for tasks that absolutely need to be done. Tasks in this section should get tackled first.
I Really Should – this section is for those tasks that you know need to get done, but they don't have the same priority as the ones above. Tasks in this section should get tackled second.
If I Have Time – this section is for those small or unimportant tasks that you'd like to get done, but they can wait. Tasks in this section may or may not get done, and that's ok.
In the right-hand column you'll start off by noting your top three tasks or priorities for the day, week, or month. Having them written at the top of the page makes it easy to see and reference them.
Following that section you the following spaces:
Do Not Forget – this space is great for reminders or notes
Calls, Emails, Texts – this section is for organizing important communication you need to make
Errands to Run – use this section to record errands and appointments you have
Worries for Another Day/Week/Month – this section is for anything that pops up that you know needs to happen in the future. Or use this section to actively choose to put something off until another time. Use this section when planning in the future.
Other Printables You Might Like
The printables in this post were designed to go with the Coastal Dreams Collection and match the dated 2020 calendars. If you haven't had a chance to check those out and grab a copy for yourself, you can check them out by clicking the image below.
In addition to the calendars, I've also included a few other printable that I think would work well with the to-do lists.
Tell Me What You Think
I'd love to hear your thoughts on these to-do list planner printables. Are they a tool you think you'll use? Have you used them in the past?
Drop me a line in the comments below and let me know.
I love seeing the printables in action. If you use one of my printables and share on social media I'd love it if you would tag me or use the hashtag #scatteredsquirrelprintables so I can check them out.