Stay Organized with These Free Printable Academic Calendars for 2023-2024
This is one my favourite times of the year, where I get to share the new collection design with you. As always I'm kicking off the new collection with the printable academic calendars!
Year after year, I gather your suggestions, to try to create a design you all will enjoy using. This year's design was inspired by dreaming of flowers and sunshine during a dreary end to winter. I'm calling it Summer Garden. I hope that it bring a dash of cheer to all your plans.
If you're ready to dive into the new collection, seize your chance. Scroll on down and check out the new calendars.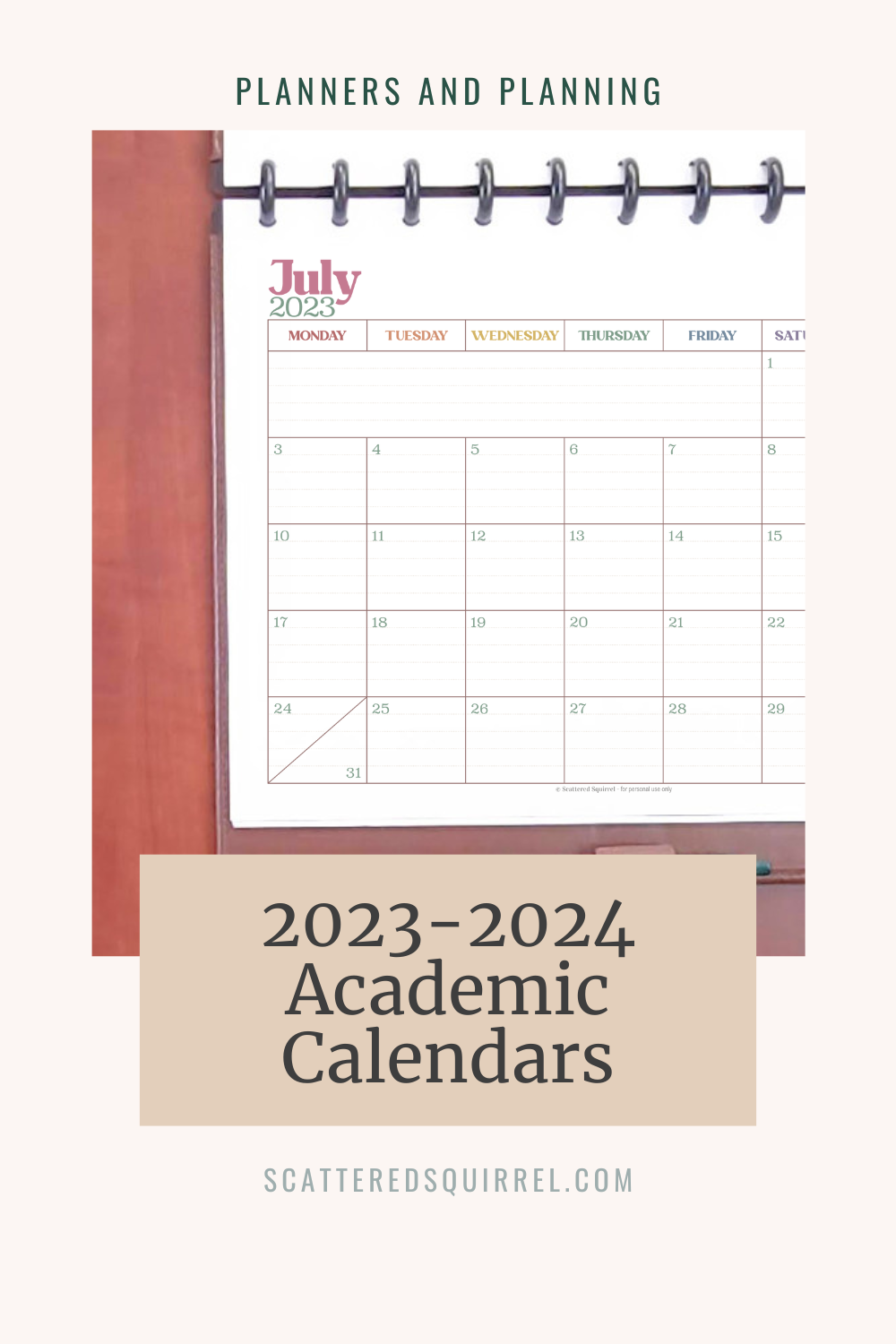 The Summer Garden Collection
Every year I have a lot of fun creating new design for the calendars and other planner printables. Pairing different colours together, playing with a variety of fonts, all with the goal of figuring out what works together. I easily spend days working on this part alone. And I love it! But the best part, my most favourite part, is right now when I get to share this with you.
Going for a walk with my dogs inspired last year's Forest Simplicity collection while this year's inspiration started with colour tone. I knew I wanted a colour palette of midtones. The colours that sit right in the middle, not too pale but not too saturated either. I even shared a poll in the Scatter-Brain's Guide group to see if vibrant or muted mid-tones were more popular.
Despite muted winning the poll, the results were really close and so I decided to choose colours that were right in the middle. As I was collecting colour ideas, I kept coming back to thinking of flowers and warm sunny days. We had a very dreary and cold spring and I found myself longing for those first blooms to start arriving. And so, I once again found myself creating a design with a rainbow colour palette.
When I started looking at fonts I was drawn to chunky, heavier fonts with a retro vibe to them. Easy to read, but still adding a dash of whimsy. Type faces that made me think of summers from when I was kid. Promotions for parades, festivals, ice-cream, and popsicles. When I added the fonts to the colours Summer Garden came to life.
I hope that this year's design brings a bit of cheer to your planning like it brought a bit of cheer to my dreary winter.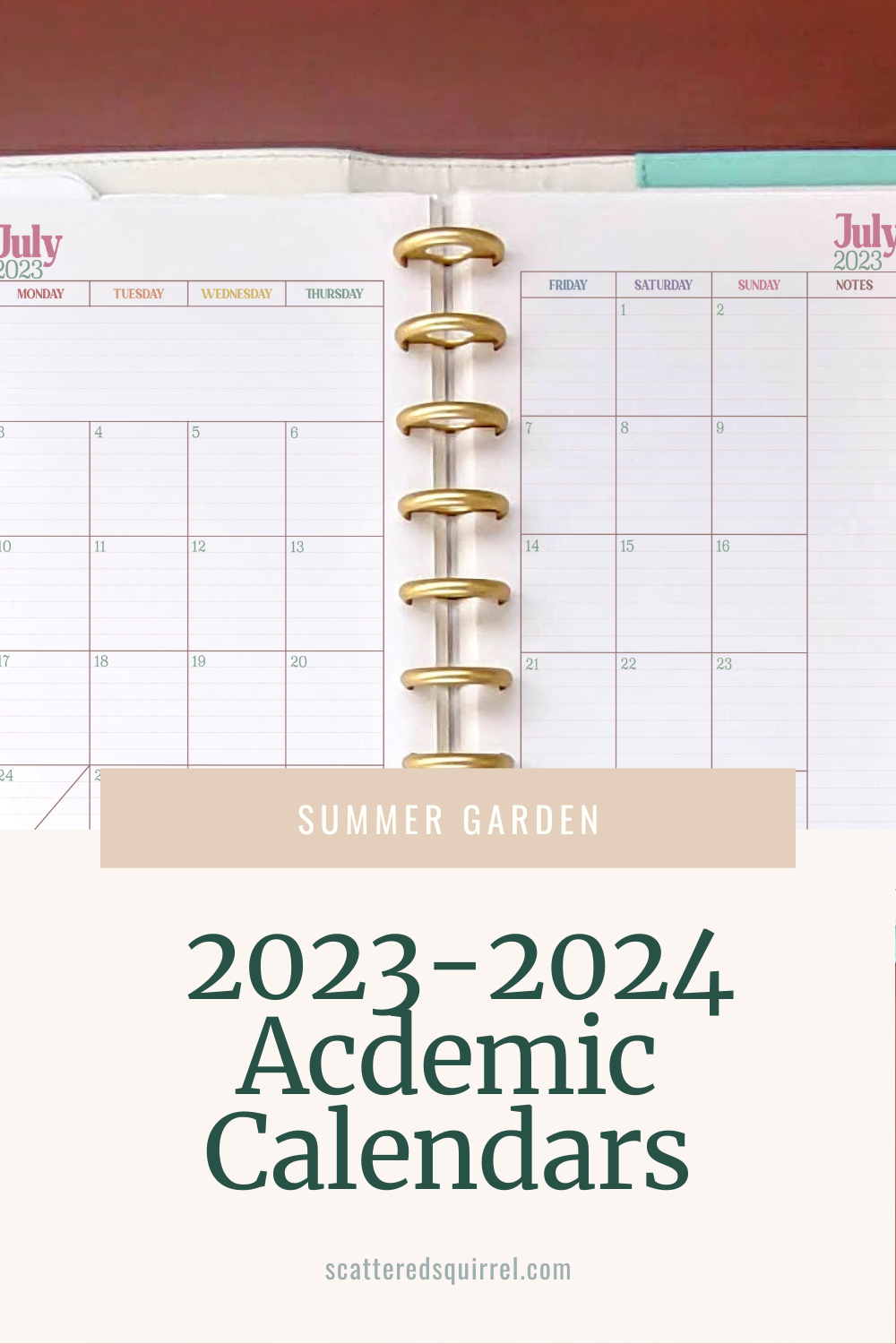 The Printable Academic Calendars for 2023-2024
Now that I've rambled on about how the design came to be, let's get to the reason you're here.
While I have a lot of fun with pretty bits, I put just as much effort into the function of the calendars. I try to take and implement as many of your suggestions as I can. Trying to balance everyone's personal preference can be a challenge, but I love to try to meet as many of them as I reasonably can.
So, I'm happy to announce that this year I was able to figure out then one request I receive over and over again. This year, calendars are lined!
Now, I know that lined calendars are not for everyone, so I tried to balance both preferences. The lines inside the calendar are dashed making them softer. In addition, I used a lighter colour for them so that your writing will stand out.
My hope is that this combination will work for everyone. Feel free to share your opinion with me in the comments. I would love your feedback.
Two Pages per Month Calendars
Nothing has changed with the layout of these. You still have your choice of a Sunday or Monday start. The notes column is the last on the right and the empty date boxes are still lined for extra notes.
Just like last year, the year on a page calendar is the first page of these sets. The half letter size versions are formatted the same as last year. They're all set to print double-sided and you can still fold them to create a booklet. Be sure to see the printing instructions at the end of this post for more information.
Single Page per Month Calendars
Just like the ones above, there are no major changes to note with these one. They too have a year on a page and rainbow notes page.
The half-size version is also formatted the same. It's easy to print double-sided and can be folded to form a booklet if that's something you want. Just like the two page version, please see the printing instructions at the end of this post for more information.\
Printing Instructions for the Half-Size Academic Calendars
Most of the printing inquiries I receive are usually around how to best print the half-size versions of the printables. Wether you choose the two-pages per month or the single page per month, the instructions are the same.. If you have any questions, drop them in the comment section and I'll be happy to answer them.
For those who want to print them double-sided.
Open the file in your PDF reader.
Select Two-Sided or Double Sided if you have a duplexer, or select Odd Pages if you manually flip.
If your printer has a duplexer, be sure that Short-Edge binding or Flip on Short Edge is selected.
Print.
If you need to manually flip your pages, do that now and the print Even Pages.
Cut in half and punch as normal OR fold in half to create a booklet.
For those that want to print them single-sided, you just need to press print. Cut and punch as normal.
Tell Me What You Think!
That's it for the printable academic calendars. But before I sign off, I know that many like to print in greyscale. I did a test print before I finalized the colour options and they print well in grayscale.
The teacher and student planner printables are next up on the printables I'll be converting to the new design. Followed by the yearly and monthly pages. I know that these are coming out a little later than usual and I want to make sure you have the printables you need as soon as I can get them too you.
And now for the fun part – I would love to know what you think. Do you like the design? Is there something you would change? Drop me a line in the comments below, or come on over the Facebook group and share your thoughts.
You can join the Facebook group by clicking this link –> The Scatter-Brain's Guide Facebook Group
Until Next Time,
Happy Printing!