Use These Printable Health Reminders to Take Control of Your Health
Does managing your health feel overwhelming with the never-ending list of tasks and routines? It can be a lot to keep track of. These printable health reminders in this post are tools designed to help you stay on track with your health goals and routines.
Having a dedicated place to plan and manage your daily health routines and tasks is a great way to ensure you're not missing any pieces. Whether you need help remembering to take your medication, scheduling regular doctor's appointments, or tracking your daily habits, these reminders are a great way to stay organized and in control.
Scroll on down to check them out for yourself!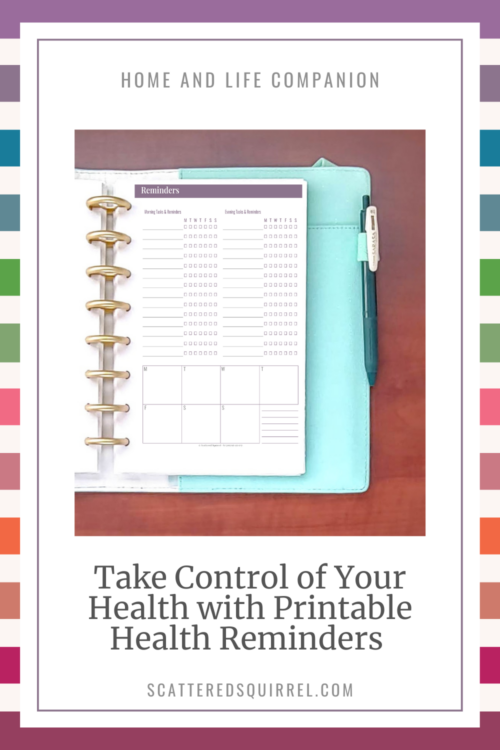 Welcome to the Health Section of the Home and Life Companion
The Home and Life Companion series, is a year-long series that aims to provide helpful printables for organizing various aspects of our lives. Each month, a different section will be featured, this month we're focusing on the Health section.
The printables are inspired by your requests first, followed by updated versions of previously shared printables, and a few new ones added to the mix.
Submit your request by clicking the button below.
Printable Health Reminders
While everyone's health journey is unique, there are a few commonalities that present both challenges and solutions. Creating routines and building habits that support your health goals is one such solution. On the other hand, remembering and tracking all the various moving parts is an example of a challenge that many face.
The printables in today's post come from request from a reader just like you. She needed a tool to help her keep track of morning and evening activities and tasks and also serve as a way to remind her of things she needed to be doing.
I created two different versions using her criteria, however there is really only one difference between the two. They start with a daily section at the top. This allows you to create a list of daily tasks or reminders that you can track all week long. After that, at the bottom of the page is where things differ.
At the bottom of the daily reminders page you will find a lined section. Use this space for notes, lists, or whatever else you might want. Likewise, the weekly reminders page also has a bottom section. Divided into eight boxes, this section offers room for weekly reminders, tasks, or appointments. There is one box for each day of the week and one for notes.
Ways to Utilize the Reminders Printables
I believe in choosing what works best for you. For some, a planner just for their health is a valuable tool. Others find that it's easier to track things all in one place. Before we jump to the health reminders I wanted to highlight a few ways you could use these printables.
First and foremost, you can use these printables to track your health. Fill out the morning and evening sections so that you have a checklist of what you need to do for YOU each day. You can use them in conjunction with your other planner (or planners) or on their own. This also allows you to see your health at glance each week.
Although these are part of the health section, they could work as a daily planner, especially if your days are full of similar tasks or routines. Use the weekly version to note appointments or other scheduled items and it could work as a weekly planner.
Additionally, they would work equally well for building and maintaining routines. They offer daily checkboxes that can help you analyze how you're doing each week. Rather than morning and evening tasks, you could use just one side and turn it into a two week tracker. Log your observations or make notes about changes using the lined section on the daily page.
However you choose to utilize them, I hope these health reminder printables will come in handy for you.
Daily Health Reminders
Up first we have the daily health reminder pages. Because I added the checkboxes for each day of the week, there are two versions of these: a Monday and a Sunday start option. Let's start with the Sunday start.
Next up are the Monday start options.
Weekly Health Reminders
Following the daily printable health reminders, we have the weekly ones. Just like the dailies, these come in both a Sunday and Monday start version.
First up, we have the Sunday start ones.
Last, but not least, we have the Monday start Weekly Health Reminders.
This brings us to the end of the current collection of printable health reminders. However it's not the end of the health section just yet.
More Health Printables to Come
There are more health related printables coming this month. If you missed the first set, check out the health trackers in the post "Stay on Track With Your Health with These Printable Health Trackers." And if you don't see a printable you need, please let know. I'm happy to keep adding to these posts.
Please feel free to submit any health, life, or home related printable requests using the button below. Or if you don't feel like hopping over to fill out the form, leave me a comment below and let me know what you're looking for.
Until Next Time
Have you joined The Scatter-Brain's Guide Facebook group yet? As a member of the group you get access to member exclusives like printables that won't be shared on the blog. As well as the chance to vote in polls for which category we should tackle next. Click the button below to join. It's free and we would love to have you!
I can't wait to see how everyone uses the printables in this series. If you happen to share on social media and want to tag me, you can use #scatteredsquirrelprintables or #hlc11. I'll be checking in on both of those.
Until next time,
Happy Printing!!