Stay on Track with your Health with these Printable Health Trackers
Do you ever find yourself overwhelmed with managing all the various aspects of your health? Sometimes it feels like there are so many moving pieces to creating or maintaining a healthy life. From needing to track blood sugar levels, manage medications, vitamins, or supplements to just keeping track of your steps, there's so many things to juggle.
If this is you, you're not alone. The printable health trackers in this post were requested by readers just like you who are looking for a way to manage and monitor their health. So if you're needing a way to stay on track with your health, keep reading to check out the trackers below.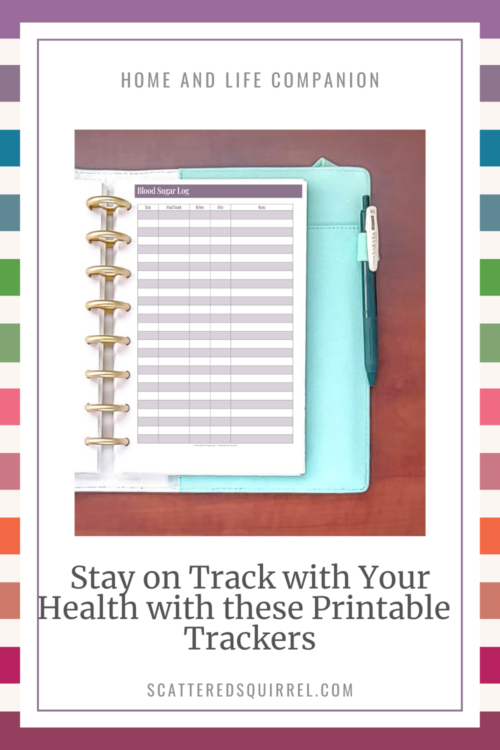 Welcome to the Health Section of the Home and Life Companion
The Home and Life Companion series, is a year-long series that aims to provide helpful printables for organizing various aspects of our lives. Each month, a different section will be featured, this month we're focusing on the Health section.
The printables are inspired by your requests first, followed by updated versions of previously shared printables, and a few new ones added to the mix.
Submit your request by clicking the button below.
Staying on Track with Printable Health Trackers
When it comes to our health, there are numerous variables that we need to be aware. What those are will vary from one person to the next, but what doesn't vary is the need to keep track of it all somehow. That's where the printable health trackers in this post will come in handy.
ALL of the the printables in this post are ones that were requested by readers. I may have made them, but the ideas didn't come from me. I hope that you find these to be helpful. And if there's a health tracker or log that you need or want but don't see here, please use one of the Printable Requests buttons to submit a request for it. I'm happy to try to make as many as I can.
Let's get started checking out these health trackers!
Blood Sugar Log
I haven't had to track my blood sugar before, so this printable required a little research on my part. Understanding the how, why, and when was really helpful in figuring out how to set up this log.
The page is divided into five columns:
Date – to record the date
Meal/Snack – note the meal or snack, time of day, etc…
Before – for recording your blood sugar level before you eat
After – for recording your blood sugar level after you eat
Notes – for recording anything else you might need or want to
I wanted to ensure that this tracker wasn't too limiting, which is why I created it to look like a ledger or logbook. You can use as many lines per day as you need and be as detailed with your blood sugar tracking as you want.
Medications/Vitamins/Supplement Tracker
I love the idea of having a way to track medicines, vitamins and supplements. While I don't personally need medication on a daily basis, I can understand the need for a way to track them.
Since everyone's need for a health tracker like this will be different, I tried to ensure that the one I made could be used in a couple of different ways.
At the top of the page is a label box. While it was designed to be used to note the month you can categorize in whatever way works for you. Under this is a table divided into sections.
The first column is for the date, followed by one to note the medication, vitamin, or supplement being taken. Then there are columns for the time of day and the dosage. Rounding out the table is a column for notes and a daily checkbox tracker.
As mentioned above, this was designed to be a monthly tracker. You could create your list of what you need to take daily and track it for a whole week on one line. However, you could also decide to assign each medication, vitamin, or supplement its own page and track it that way. Further more, you could use one page per person in your home, or use it to track medication during illnesses, like when you last took Tylenol or antibiotics.
It's a very versatile tracker.
Food Log
There are various reasons why someone might want to keep a record of what they eat in a day. For some it's about tracking reactions, symptoms, or habits, while others simply want to see what they're eating each day. Whatever reason you might have for wanting to do this, I hope that these food log printables will be a help.
They're very simple. There's a place to record the date, breakfast, lunch, dinner, and other things you may have eaten that day. The rows are taller than in the previous trackers offering more room to write things in.
Step Tracker
Step counting has been a great way to track physical activity for a number of years now. While there are plenty of apps that will track your steps long term, it can also be fun to record them on paper.
The step tracker below is simple but effective. There's room on each page track two months of daily step counts. I know that everyone has a preferred way of tracking things so there are a few ways to record your daily steps.
Because the daily log area is a grid how you record your daily steps is flexible. You can just write in the number of steps you walked each day or you could assign a certain number to each square and colour the blocks in like a bar graph. Additionally, you can also assign each vertical line a number and use a dot to mark your step count. You can join the dots each day to create a line graph.
However you choose to use it, I hope the step tracker is a useful tool for you.
Water Tracker
Lastly we have the water tracker. When it comes to designing printables and planers with graphics I really struggle with balancing the graphic with the purpose of the printable. Because of this I don't often use graphic elements in my designs. However, this water tracker is a step away from that norm.
I was struggling to figure out how to create a monthly water tracker. Part of me thought something similar to the step tracker would work and another part of me thought it should involve water drops or glasses.
During one of many moments of frustration my husband happened to walk in and ask what was wrong. It was his suggestion that I try making something fun and different. His suggestion was a squirrel chasing a bunch of nuts falling off a tree. While I couldn't quite make that work, I did end up with something inspired by his idea.

The water tracker below is simple. There are 31 acorns that represent however much water you want to be drinking in a day. Colour them in to match how much you drank. If you only drank half what you want to be drinking, colour in half a nut.
I hope you find it fun to use. And there will be a less quirky water tracker coming out a little later, for those that would prefer it.
Additionally, despite the label of water tracker, you could use this sheet for tracking other things.
no spend or low spend months
dry months
a daily habit you want to build
how many pages you read
If this is something you're interested in, please let me know, I'm happy to change it up the water glass for something that would fit the topic you want to track of record.
This is Just the Beginning of the Health Section
This is just the first post for the health section and as more requests for printable health trackers come in, I'll add to it. Coming up later this month we have health related reminders and to-do lists, medical journals to document appointments, and more.
Please feel free to submit any health related printable requests using the button below. Or if you don't feel like hopping over to fill out the form, leave me a comment below and let me know what you're looking for.
Until Next Time
Have you joined The Scatter-Brain's Guide Facebook group yet? As a member of the group you get access to member exclusives like printables that won't be shared on the blog. As well as the chance to vote in polls for which category we should tackle next. Click the button below to join. It's free and we would love to have you!
I can't wait to see how everyone uses the printables in this series. If you happen to share on social media and want to tag me, you can use #scatteredsquirrelprintables or #hlc11. I'll be checking in on both of those.
Until next time,
Happy Printing!!