Printable Appliance and Dish Care Reference Sheets: Your Key to a Happy Kitchen
Kitchens are probably the hardest working rooms in our homes. To keep our appliances, cookware, and dishes in good working order can be a chore all on its own. That's where having a set of printable kitchen reference sheets can come in handy.
The printables I'm sharing today are a combination of a reader request and an update of an older printable. I hope you'll find them a helpful addition to your Home and Life Companion book.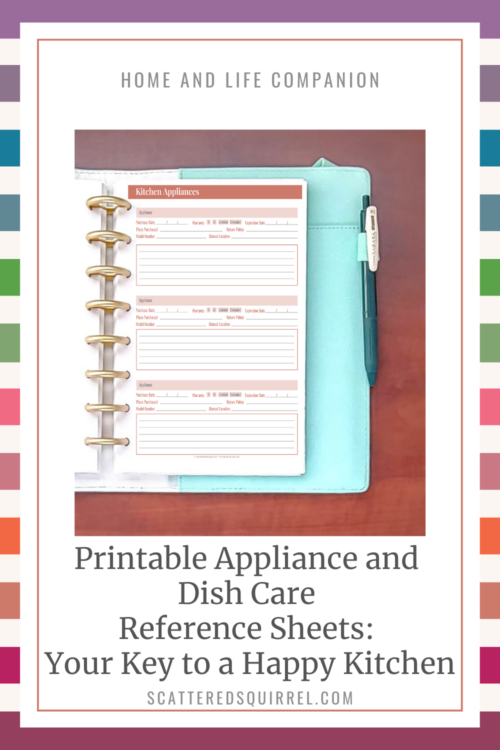 Welcome to the Meal Planning/Kitchen Section of the Home and Life Companion
The Home and Life Companion series, is a year-long series that aims to provide helpful printables for organizing various aspects of our lives. Each month, a different section will be featured, starting with the Meal Planning / Kitchen section.
The printables are inspired by your requests first, followed by updated versions of previously shared printables, and a few new ones added to the mix.
Submit your request by clicking the button below.
Printable Kitchen Reference Sheets
Kitchens are full of lots of useful things. Coffee makers, microwave, pretty dishes, cookware, and the list could be endless. All these things require care and maintenance. Some require more than others. It can be hard to remember everything, especially for items we don't use frequently.
The two printables I have to share today were created to make this a little easier. They're both designed to be a reference that will save you time and maybe even some money.

I'm going to kick things off with the reader requested printable.
Kitchen Appliances Reference Sheet
This printable came as request through Instagram. This reader needed something that would allow her to keep track of all her kitchen appliances. When and where they were purchased. If they had a warranty and when it expired. All the information we might need for our appliances.
I love this idea so much. Having one place to quickly look for this information can be a real time saver. When I set out to create the printable I tried to think of any other information it might be helpful to have on hand.

In addition to what was mentioned above, there's also a place to check if the appliance has a warranty and if it's limited or extended. I also included a place for noting the model number as well as where you can find the manual.
I'm famous for putting my manuals in a safe place, only to have to spend time and energy hunting for them when I need them. So you can use this place to note where you store them or you could also use it to note the website where you can access them online.
There's also a notes section that you can use to note cleaning or care instructions or maybe observations about the appliance, or repairs that have been made to it.
Special Care Instructions Sheet
This printable kitchen reference sheet is a handy one to have for those items that need special care. Think items that can't go in the dishwasher. Or cookware that needs to be cleaned a certain way, like cast iron pans.

For an example, much dutch oven's care instructions stated that it needed to be hand washed and dried immediately. Then rub a light coating of oil on the inside of the pan and lid.
The printable has room to note the item or appliance (if you want to include care instructions for an appliance). You can also check it if its dishwasher safe. Then there's an area for care instructions and one for storage instructions, incase it's something that needs to be stored a certain way. You could also use this section for notes.
Some of the items I'm including in my special care sheets are:
coffee maker
cast iron frying pans
dutch oven
slow cooker
anything that is not dishwasher safe
table runners
table cloths
Knowing I have somewhere to reference some of these items for myself gives me peace of mind. But it's also handy to let family members know that they just need to check this section of the Home and Life Companion if they're not sure how to clean something in the kitchen.
I hope that you will find these printable kitchen reference sheets a welcome addition to your Meal Planning / Kitchen section.
The End of the Meal Planning / Kitchen Section
This is the last post for the Meal Planning / Kitchen section of the Home and Life Companion. We kicked off the section with 10 Meal Planning Tools to Make Life Easier and followed that with Kitchen Lists and Inventories to Make Meal Time More Organized, and now we're wrapping it up here.
Even though we're moving on to a new section next month, these posts will get updated as other printable requests come in. So if there is a meal planner, tool, list, or kitchen reference that you'd like to see made, use the button below to send in your request. Or let me know in the comment section. I'm happy to try to make as many of your requests as I can.
Coming Up Next
Members of The Scatter-Brain's Guide Facebook group get to vote on which category we'll cover each month. Next month, we're moving on to Health section. You can use the button above to send in any health related printable requests, or, again, let me know what you need in the comment section.

I'll try to make as many as I can. And if you'd like to join us over in Facebook Group, just click the button below. The more the merrier.
I can't wait to see how everyone uses the printables in this series. If you happen to share on social media and want to tag me, you can use #scatteredsquirrelprintables or #hlc11. I'll be checking in on both of those.
Until next time,
Happy Printing!!