Kitchen Lists and Inventories to Help Keep Meal Times Organized
Have you ever gone to grab an ingredient from your fridge only to find that it's gone bad? Or gone to pull out a pack of meat from the freezer only to to be greeted by the sight of freezer burn? And then dinner for the night is a scramble because the items we thought we had aren't usable anymore.
I know this happens to me, more than I care to admit. Meal planning might be a great way to organize meal times, but sometimes we need a little more help to keep it organized. Today I'm sharing some kitchen lists and inventories to help you do just that.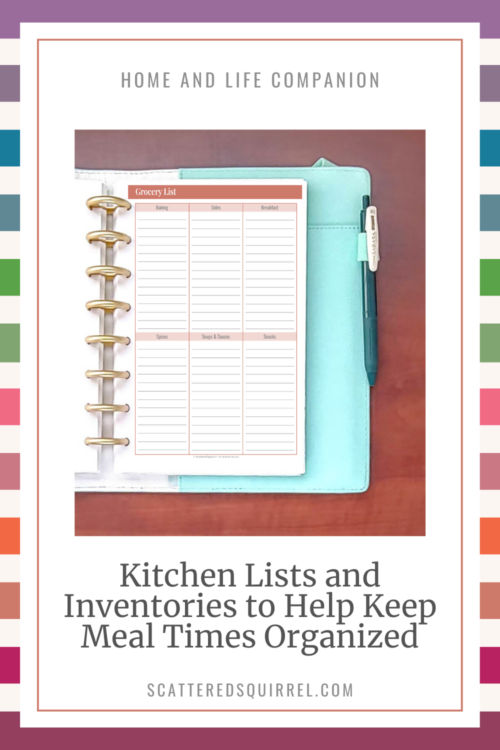 Welcome to the Meal Planning and Kitchen Section of the Home and Life Companion
The Home and Life Companion series, is a year-long series that aims to provide helpful printables for organizing various aspects of our lives. Each month, a different section will be featured, this month we're focusing on the Meal Planning and Kitchen section.
The printables are inspired by your requests first, followed by updated versions of previously shared printables, and a few new ones added to the mix.
Submit your request by clicking the button below.
Kitchen Lists and Inventories
The list and inventory printables in this collection are tools to help keep your kitchen and meal times organized. You can use all of them or pick and choose which ones will work best for you.
As with almost all of my printables, these lists and inventories come in both full letter and half letter size.
Let's take a look at them shall we?
Grocery Lists
There are two grocery lists to choose from. These can be used both as a reference collection and as a shopping list if that's what you choose.
Each grocery list is four pages long. The first version has labeled categories while the section version is unlabeled.
I like to use a list like this as sort of master list. I write down everything we typically buy and note brands where it's needed for us. When it's time to make shopping list I can reference this to ensure we're not getting too low on anything.
The beautiful part about having a list like this is that anyone in your home can reference it before they go shopping. And, in case of a life event, if there's someone coming to care for you or your family, they'll know what things you typically buy, just by looking at this list.
I know it's hard to think of things like that, but that's one of the benefits of creating a Home and Life Companion. If something happens to you and someone needs to help out, everything they might need to know about your home, life, and family is in one easy to reference place.
Labeled Grocery List
The labeled grocery lists have three pages of labeled categories and one unlabeled so you can add any that might be missing.
Unlabeled Grocery Lists
These sets feature four pages of just unlabeled categories so that you can customize them to fit your needs.
Shopping Lists
While the grocery lists are great for a reference, we still need something to take with us to the store. That's why I made printable shopping lists. These were designed so that you can keep them in your Home and Life Companion or planner if you want. But they're also easy to cut into individual lists to take with you to the store.
If you like to create usable meal plans and shopping, then you could also use this printable to make a shopping list you can keep with you meal plan. Even if you cut the page into individual lists, there's enough of a margin to punch them and use them as half sheets.
Kitchen Inventories
This last set is the kitchen inventories. There are three of them and they are exactly the same except for the title at the top of the page. There's one for the freezer, fridge, and pantry.
Each one is divided into three columns, one for items, one for how many, and the last one is for the date. This way you keep track of what you have on hand and easily see when you're running low on something.
It also helps to keep from forgetting about something you already have. Case in point, while I was putting the finishing touches on these printables my husband did the grocery shopping. When he got home he mentioned that he bought the margarine that I put on the list, but he was pretty sure we still had some in the freezer. I was pretty sure we didn't.
He was right. I found the stuff in the freezer when I putting everything away. Needless to say, I have printed a copy of the freezer inventory and plan to laminate it so we can just reuse the same one.
Which leads me to a tip for you. You can make any of these printables reusable by laminating them. Then use a wet erase marker so that you can erase when needed but your writing won't rub off.
Let's check out the inventories.
Freezer Inventories
Pantry Inventories
Fridge Inventories
That's it for the kitchen lists and inventories. If there's a list, inventory, or other kitchen related printable you'd love to see offered, use the button below to make a request. You can also check out these 10 meal planning tools too add to your meal planning section.
Before You Go
The Home and Life Companion series is a year long celebrations, which means these posts will keep growing and being added to as requests come in.
Use the button below to submit a request for printables using the form or if forms aren't your thing, leave your suggestion in the comments below.
Every month members of The Scatter-Brain's Guide Facebook group get to vote which section I'll share printables for next. If you'd like to come join in on the fun, click the button below. The more the merrier!!!!
I hope you enjoyed checking out the kitchen lists and inventories. More than that, I hope that you found a few that will help make organizing your meal planning and meal times a little easier.
I can't wait to see how everyone uses the printables in this series. If you happen to share on social media and want to tag me, you can use #scatteredsquirrelprintables or #hlc11. I'll be checking in on both of those.
Until next time,
Happy Printing!!