Closet Organizers: What Works For You?
Happy Wednesday everyone!  How is your week going so far?  Mine has been going pretty good now that we're all back in the land of the healthy.  There is one thing though that is nagging at me.  It's one of those things that sits in the back of mind and just won't get out.  It's quietly begging for some attention and possibly a little bit of TLC.  It mocks me every morning and every evening.  'IT' is my closet!  And I think it's time to admit that I need to start looking at closet organizers to help us tame this particular beast, I'm just not sure which way to go.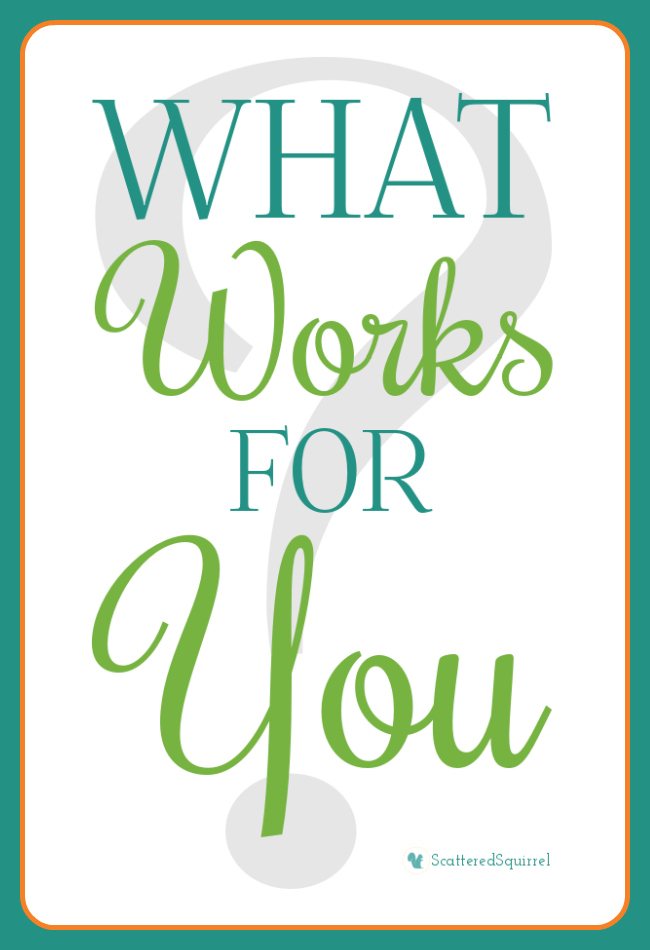 We're blessed with a walk-in closet in our master bedroom.  We're cursed with a basic shelf and rod set up.  Truthfully, as it stands right now, there really isn't anymore hanging room than you would get in a standard, non-walk-in closet, and there's only so much we can do with it because we're renting.  I know we're not the only ones stuck on how to organize our closet so I thought it would fun to share some of the solutions I found with all of you.
Closet Organizers
In my search for ides and inspirations for our master closet I noticed that many of the solutions I was finding fit into three categories.
Built-In/Permanent
Customizable
Outside the Box
Each of these categories offer solutions to the closet conundrum, and they each bring with them their own high and low points; pros and cons if you will.  So let's take a closer look at each of them and figure out which one will work for us.
1. The Built-In or Permanent Closet Organizer
These are usually systems that you plan, much like you would plan your kitchen.
You measure your space and choose from components to make the most out of what you want.
They require you to attach items to the wall.
Not the most ideal for a renter, but you can get a lot of bang for your buck.
Price wise they range from fairly inexpensive options like ClosetMaid's wire shelves to more expensive options like the PAX system from Ikea or the Martha Stewart options through HomeDepot.  There are also companies that specialize in custom closets like Elite Closets if you really want to take it to the next level, and if you're budget allows for it.
The great part about systems like this, is that you can customize them to get what you want.  You can address all the needs you have and pack in a TON of storage space multiple organization tools into one small space.
The downside, while many of these options allow you to change out some parts or customize others down the road, they don't offer an easy option to completely change the layout.  The ones that do offer easy customization options still require an installation of some sort, even if it is just hanging brackets on your walls.  Should you ever decided to remove them, you're going to be left with a number of holes to patch.
If you anticipate your needs will change down the road, or you're like us, and not sure what will work best for you, it might be better to look into some other options.
2. Customizable/Non-Permanent
I think these systems are a fantastic option for those of us who
a) aren't sure what we need/want, and
b) are in rentals and may not have the luxury of installing more permanent options.
Items in this category are things like over the door organizers, or hanging shelves.  You know, the kind that are usually made from canvas.  They are a great temporary solution.
You can also find products like this hanging rod from Tartget.com which allows you to add a second bar without putting holes in your wall.
If those don't give you enough options, you can also find closet systems that use tension rods.  I found one set up here, at Canadian Tire, but I know that you can find them other places too.  The great part about systems like these, is that you can take them for a test drive, live with the set up for a while.  If you find a system that works, you could replace it with an option from category one, and move this set up into another closet.  Or take it with you when you move, and you don't have to worry about patch holes and repainting!
The downside to systems like these, is that you're limited on what you can find.
There aren't as many options as there are with a more permanent set up.
Those canvas organizers can be dust magnets, so if you suffer from allergies you might need to add them to your cleaning list, or possibly avoid them all together.
When it comes to items like that hanging rod, you don't get the same stability you would get out of one that's been mounted to the wall.
On a positive note though, many of these solutions cost a fraction of what you would pay for the others, and many of these things can be found in dollar stores, saving you even more!
3.  Out of the Box
This by far is my favorite category.  I love the idea of thinking outside the box and coming up with ideas that solve your organizing problems.
Maybe you use items from around your home in different ways, or maybe you don't use a closet at all.
Maybe you use an armoire/wardrobe and a dresser… there are so many different ways this can work.
Check out my Creative Closet Solutions Pinterest Board for some more ideas.
Follow Scattered Squirrel's board Creative Closet Solutions on Pinterest.

The upside to thinking outside the box?  The sky is the limit!
With some creative thinking you can whip up some organized solutions for your closet without spending a dime, just using items you already have.
Or maybe you haunt the used stores or garage sales looking for just the right thing.
Not limiting yourself to just the closet, you open up a whole new world of opportunities to create clothing and accessory storage that works for you!
The downsides are that you need to get those creative juice rolling.  It also means you might spend a little more time fine tuning, some extra sweat equity making it just the way you want.  It also, most likely won't be a quick fix when compared to buying and installing a closet organizer system.  It's all in how you look at it.
So there you have it.  Three different closet organizers.  Each one has characteristics that make it unique and that appeal to different people in different places.  In the end, how you organize your closet or your clothing (if you don't have a closet or choose not to use it for clothes) is all about what you want.  Like all things on the path to a more organized home, it's all about finding what works for you.  There are no right or wrong choices here.
What works for you?  Do you have a tried and true system for organizing your closet?  Is there anything you tried that didn't work?  I would love to hear from you!
~Happy Organizing~