Half-Size, Full Year 2014 Calendar Printable
Happy Monday everyone! We woke to snow yesterday and more snow today.  This is rather shocking for us, as we live in an area that seldom sees snow.  Coming from northern BC I always smile when I see snowfall warnings for 5cm (that's 2 inches for those of you not on metric) of course they have good reasons for issuing those warning as our community and others in this area just aren't equipped for snow removal.  We have a few more inches than that on the ground though.  As I type this I'm looking out at our back yard which looks like it has about 6 to 8 inches thanks to the wind last night which turned the back yard into one big drift!
Anyway, I'm digressing.  Living in southern BC means I actually enjoy the snow on the rare, all the stars aligned just right, days that we see it, and it doesn't melt in 5 minutes.
I'm still playing a little bit of catch up from when I was sick last week, and I just wanted to touch base on a couple of things:
If you put in a request for the printable of the month last week, check your inbox because I sent a bunch out on Saturday.
If you placed your's this weekend, I'll try to have them out to you before the end of this week.
If you sent me an email and are waiting for a response I will be responding to all of them later on this afternoon.
Now, on to the post.  Today's is just a quickie.  I received a request to make the 2014 Yearly Calendar into half-size format.  I meant to share this last week, but germs descended and the whole family spent the week being sick.  Well, aside from Liam who bounced back remarkably fast.  (I wish I had his powers of recovery!  lol)  So, it's a week late, but never the less, here it is.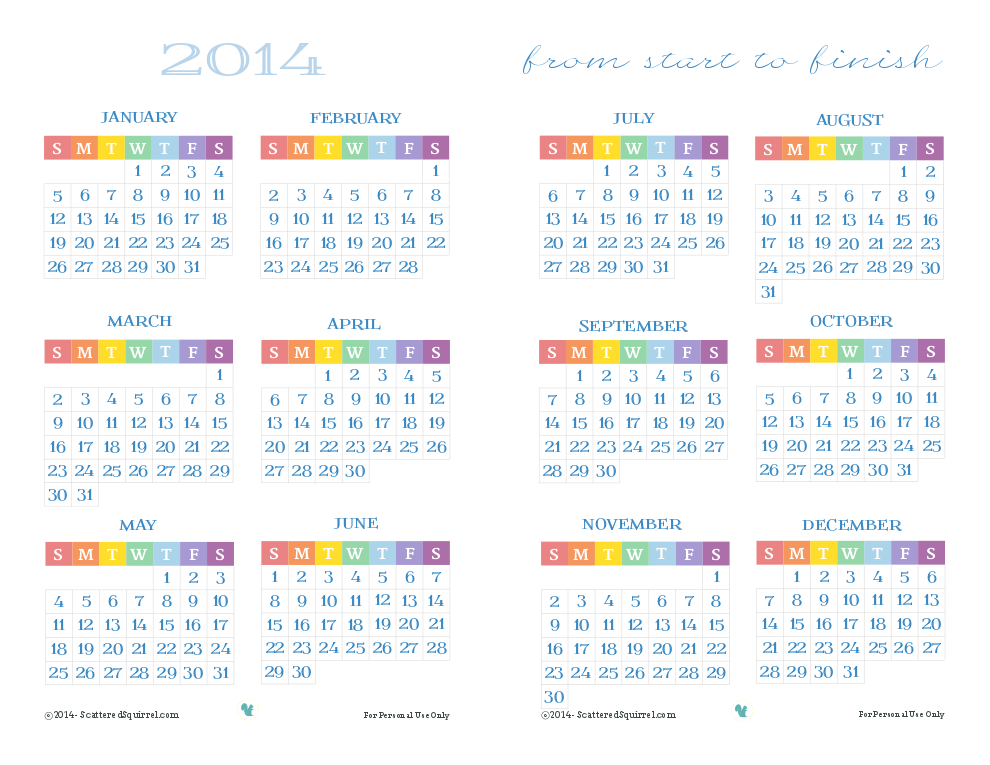 I'm so sorry I didn't get this posted last week.  I hope you understand and forgive me.  As always, to grab a copy of your own, just click the picture!
The one upside to being sick was that I spent alot of time thinking, and I have a ton of new ideas and thoughts to share with all of you.  I hope you'll pop back on Wednesday for a What Works for You post.
Until then I hope you all have a wonderful few days!
What are you up to this week?  Do you enjoy snow, or do you wish spring would hurry up and get here?