10 Meal Planning Tools to Make Meal Planning a Breeze!
Do you ever struggle with meal planning? It's supposed to make dinner time easier, but sometimes it can be a real slog to plan it all out, am I right? I've got you covered. Today I'm sharing 10 meal planning tools to help make planning dinner for the week easy peasy.
Pick and choose the ones that will work best for you. When you sit down to write up your next meal plan watch how easy it all comes together.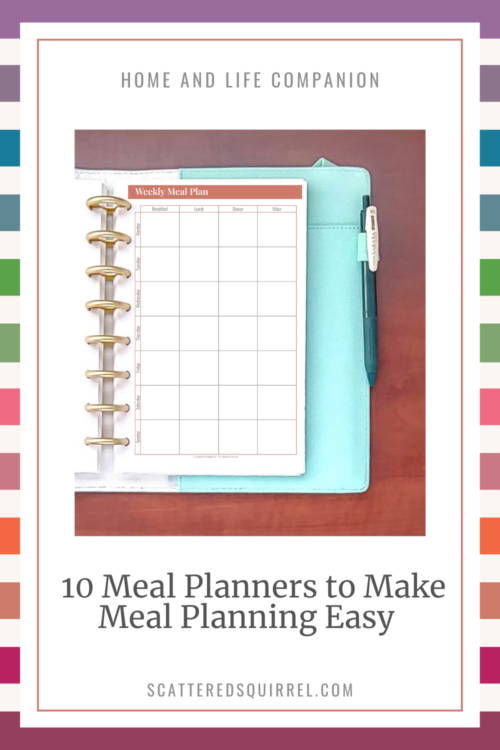 Welcome to the Meal Planning and Kitchen Section of the Home and Life Companion
The Home and Life Companion series, is a year-long series that aims to provide helpful printables for organizing various aspects of our lives. Each month, a different section will be featured, this month we're focusing on the Meal Planning and Kitchen section.
The printables are inspired by your requests first, followed by updated versions of previously shared printables, and a few new ones added to the mix.
Submit your request by clicking the button below.
Now, let's check out the meal planning tools shall we?
10 Meal Planning Tools to Make Your Life Easier
Meal planning is supposed to be an activity that makes our lives easier. Sometimes though, it's hard to sit down and come up with a bunch of meal ideas for the coming week. That's why, over the years I've created a number of different meal planning tools to help.
The goal of any tool we use should be to simplify or make a task easier. That's what I hope these meal planners will do for you. Don't feel like you need to use them all. Pick the ones that you think will work best for you or that will get you started. You can always add or subtract tools as needed.
First up we have the lists!
Meal Planning Lists
A good reference list can make meal planning so much smoother. Even better is a list that you create yourself, that's tailored to fit your life. The following list printables were created to be flexible with a little bit of structure.
Favourite Meals List
To kick things off, we've got a printable to house all your favourite meals. This planner is divided into three columns. The first is for the meals that are your favourites, or your family's favourites.
The second column is for where to find it. I purposely didn't put recipe, because sometimes our favourite meals aren't a recipe. For sure, you can note where the recipe is. But you can also note what store you typically buy it from or what brand makes it. Take it even further and put down what restaurant you get it from.
The last column is for noting whether this is something you can make ahead of time. But you could also use this column if it's something you can buy ahead of time.
Favourite Goodies List
Like the favourite meals list, this one is a place to keep track of all your favourite goodies or snacks. It's divided into the exact same columns. What the goodie is, where you can find it, and if you can make/buy it ahead of time.
While I know goodies aren't really meals, snacks and treats are still something we consider when making up our shopping lists. Having a place to go for ideas will at least make creating the shopping list easier. I find it really helpful for noting where we buy snacks from so I can check the budget and stock up if I'm at that particular store.
Make Ahead Meals List
Meals that can be made ahead of time are wonderful. Especially if it's something you can double and freeze half for another day. This list page was designed to keep all those meal ideas together.
Again, it's a three column layout. The first is for the meal, the second for how you store it, and the third for where to find the recipe.
There are so many ways to make things ahead of time. Maybe you like to mix up your own pancake mix that you can keep in the pantry. Or perhaps you cook from memory and instead of noting where the recipe is, you make a note to double the batch.
This list is really helpful for planning a batch cooking or baking day. You can see what dishes you know you can make ahead of time and plan ones that will use similar ingredients or maybe ones that are cooked differently, like chilli in the slow cooker and lasagna in the oven.
Make Ahead Meals Instructions
This meal planning tool was created to work with the make ahead meals list. It's a page where you can write in the instructions for cooking or heating the dish.
You can print and keep these in your Home and Life Companion, or you can cut out each instruction box and put them right on the meals. If you have a laminator you could create reusable cooking instructions labels if that's something you would use.
Breakfast, Lunch, and Snack Ideas List
A lot of meal planning is focused around the evening meal, but we have to think about breakfast and lunch too. This printable was created to be a way to keep breakfast, lunch, and snack ideas in one easy to reference place.
Maybe you don't plan breakfast and lunch, but this tool makes creating a shopping list super easy.
Dinner Planner
This meal planning tool was born when I stopped planning my meals. Instead of planning meals for the week, I planned what ingredients I was going to need for the week. It might sound confusing, but think of it as one of those infographics in a magazine. The ones that show you different ways to make something, like pasta.
You have different kind of pasta in one column, different sauces in another, different vegetables or meat in another, then cheese or other topping in the last. The idea is you mix and match to create different pasta dishes.
This meal planning tool is just like that, only it's tailored to how you cook.
There are four columns. The first one if for the meat or protein. Then there's the main side dish, veggies, and other.
How I Use This
In the first column I put chicken breast. In the next column I start listing the main side dishes or sometimes just recipes that I use chicken breasts for. Where it says veggies I like to list vegetables we often pair with the different meals. And I use the last column for any spices, sauces or notes I want to make.

For example, the first line might say:
Chicken Breast – Tortellini – Onions + Mushrooms – Cream Sauce + Cheese
The second line will skip the protein part because I'm still working with chicken breast. It might say something like: Tortillas, Peppers, Onion, + Tomato, Cheese + Fajita seasoning.
When I'm planning our shopping or meals for the week I can look at what I already have and figure out what meals I can make with it. Or I can look to see what we need and make my list around how we might use an ingredient.
But you can also just use this to note what your meals usually look like and use it as a guide when planning your meals.
Meal Planners
Now that you've seen all the reference list tools, let's dive into the meal planners. For the first time ever I made weekly meal planners with your choice of start day! This way your meal planner can match your preference for when you calendars and planner start.
Weekly Meal Plan
This planner is super simple and a classic. The page is divided into seven rows, one for each day of the week. Each row is divided into four columns, breakfast, lunch, dinner, and other.
This way you can plan all your meals for the week at once. Alternatively, you can also use a meal planning tool like this to track your meals if that's something you need or want to do.
First up we have the Sunday start versions.
And just below are the Monday start ones.
Meal Plan
The last of the meal planning tools (for now) is a simple meal plan. The left side is divided into days of the week so you can create a meal plan for the whole week. The right side is just a lined section.
You can use that section for noting breakfast, lunch, and snacks. It would make a great place for a shopping list. You can also use it for notes or reminders.
The Sunday start versions are up first.
And last but not least, the Monday start.
And that concludes the collection of meal planning tools, for now!
Before You Go
The Home and Life Companion series is a year long celebrations, which means these posts will keep growing and being added to as requests come in.
If there's a meal planning tool or a meal planning layout you'd love to see offered I would love to try and make it for you. Use the button below to submit a request for your printable using the form or if forms aren't your thing, leave your suggestion in the comments below.
Every month members of The Scatter-Brain's Guide Facebook group get to vote which section I'll share printables for next. If you'd like to come join in on the fun, click the button below. The more the merrier!!!!
I hope you enjoyed checking out the meal planning tools. More than that, I hope that you found a few that will help make your meal planning a breeze from now on.
I can't wait to see how everyone uses the printables in this series. If you happen to share on social media and want to tag me, you can use #scatteredsquirrelprintables or #hlc11. I'll be checking in on both of those.
Until next time,
Happy Printing!!