Some Extra Home Management Printables You Might Find Useful
This is the last post in the Home part of the Home and Life Organized series.  I've shared a number of updated home management printables that you can use to create your home management binder.  Today, I want to share a few more printables that you might find to be useful additions.  These printables haven't been updated for this series because they've either been updated in the last year or they've just recently been shared.  Either way, I still think they make great additions to our home management systems.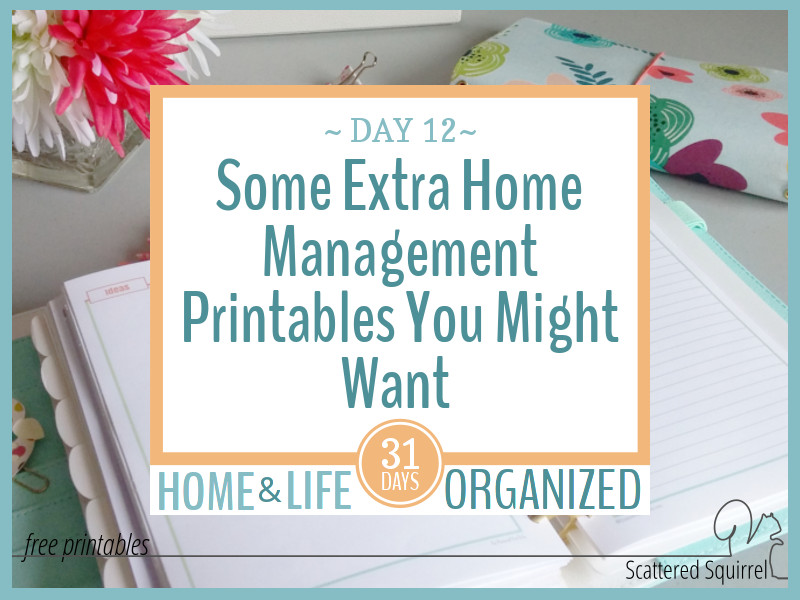 More Home Management Printables
In addition to the printables I've shared so far in this series, there are a number of other ones that I know some of you might want to include in your home management binder.  All of today's printables can be found in other posts on the site, so I won't be including long explanations but I will include links to their original posts for anyone who might want more information about them.  This way, you can grab the printables right from this post if you want to download them right away.
Finance Section
A finance section is a great place to keep track of a family budget, debt repayments, savings trackers and more.  Whether we like it or not, managing our money is a crucial piece to managing our homes.  Without it we can't pay our bills, buy our groceries, or save up for those vacations.  I find that using my finance printables helps me stay on top of where our money is going, and helps make sure we don't forget to pay a bill.
Full-Size
You can find these printables in the following posts:
Half-Size
You can find all of these ones in the posts:
Helpful Pages
While note technically home management printables, the ones in this set are great additions to have for your home management binder.  I've found that having a place to keep track of addresses, passwords, and to-dos can be handy. I also really like having a master-list for different areas of our home and life, so including a couple of the master list printables, or notes pages is always something I do.
Full-Size
The original posts for these printables are:
Half-Size
One of the ways I like to use the notes pages, is to keep a few of them at the end of each section in my home management binder.  This way, as ideas pop up, or new information needs to be stored, I have a place to jot it down where it won't get lost.
You can find these printables in their original posts:
Holiday Planning Section
Much like the Finance Section, many people opt to create a separate planner for organizing their holidays.  I personally keep mine separate, though I'm toying with the idea of creating a holiday section in my HMB for certain things, like inventory lists.  I'm not sure yet.  But I do know that my holiday planner is very much part of my home management system and I feel it's worth including them here.
Full-Size
You can find all these printables in the following posts:
Half-Size
You can final all these printables in the following posts:
What you included in your home management binder is completely up to you.  Some people like having a variety of lists of planning pages in theirs while others prefer to keep it simple.  For myself, my home management binder is only part of my system, and many of my home management printables have homes in some of my other planners.  The purpose isn't to make things complicated – it's to create a system that works for you in helping you keep things running smoothly in your home.
This concluded the home management portion of the series.  I would love to hear what you think so far.  Drop me a line in the comments below.  If there was a printable or section you were hoping I would include but I didn't, let me know that too!