Home Cleaning Plan {Weekly Worksheet Printable}
A couple of weeks ago, I mentioned that I was going to be revamping some of our organizing systems because they just aren't working well for our family any more.  With growing boys, changing commitments, and new adventures awaiting us, I don't want managing our home to take more time than it needs too.  In that post {Read it Here} I mentioned I was taking time off from following my home cleaning plan, and I may have said something else along the lines of …
I'm taking three weeks to evaluate as I go and come up with a system that will be easily sustainable for us.
(Actually, that's a direct quote!)  It's been almost two weeks and I'm ready to stop the evaluation process and start building our home cleaning plan.  I'm not sure what I was thinking, but even two weeks was pushing things for me.  Chaos is starting to ensue and I need to figure out a course of action for heading forward.  I think I'm closing in on a new system for us that's going to work out really well.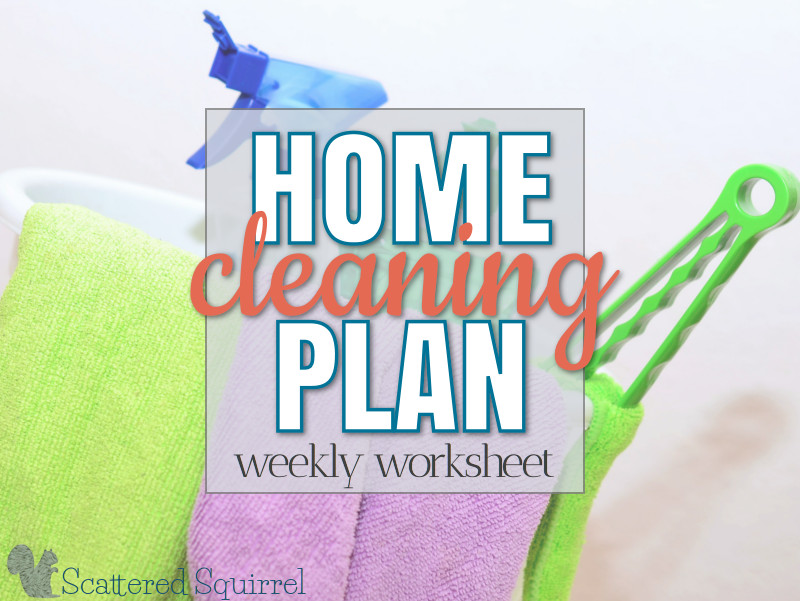 Home Cleaning Plan
A home cleaning plan is exactly what it sounds like – a plan for how you are going to keep your home clean.  It's not a schedule or a routine; scheduling and routine building come after you formulate your plan.
I like to start building my plans off what is already working and for me that's my evening routine.  It's the foundation that I'm going to use to build the rest of our home cleaning plan.  With a solid routine to build off of, my next step is to think about what really needs my focus.  Because my current (or recently retired??) home cleaning system was starting to fall apart around me, I chose to focus the beginning of my planning process on our weekly cleaning
Weekly Cleaning is any cleaning task that needs to be done at least once per week but does not need to be done daily.
My old system spread out weekly tasks throughout the week.  Vacuuming the whole house one day and dusting the next and so on, but it never really clicked with me in this house.  It was a chore to stay on top of that schedule, and while I know home cleaning is a chore, I don't want my system itself to feel like one too.   In an attempt to come up with a plan that will work for us, I decided to do what I always do when stumped – make a printable.
Weekly Worksheet
I think better with pen and paper, whether I'm just doodling as I ponder my problem or jotting down notes and ideas, my scattered brain thinks more clearly when I put pen to paper.  So, after sitting and jotting things down for a little bit, I began to realize that I needed to start looking at our current home in a different way.  Rather than trying to plan our home cleaning task by task, what if I divided the home into sections?  With that sort of percolating in my head I sat down at the computer and started working on a printable.  No real direction for this one, I just sort of played around with different things, again, letting my mind wander over the problem at hand, and ended up with this handy little printable I'm calling my Home Cleaning Worksheet for Weekly Cleaning.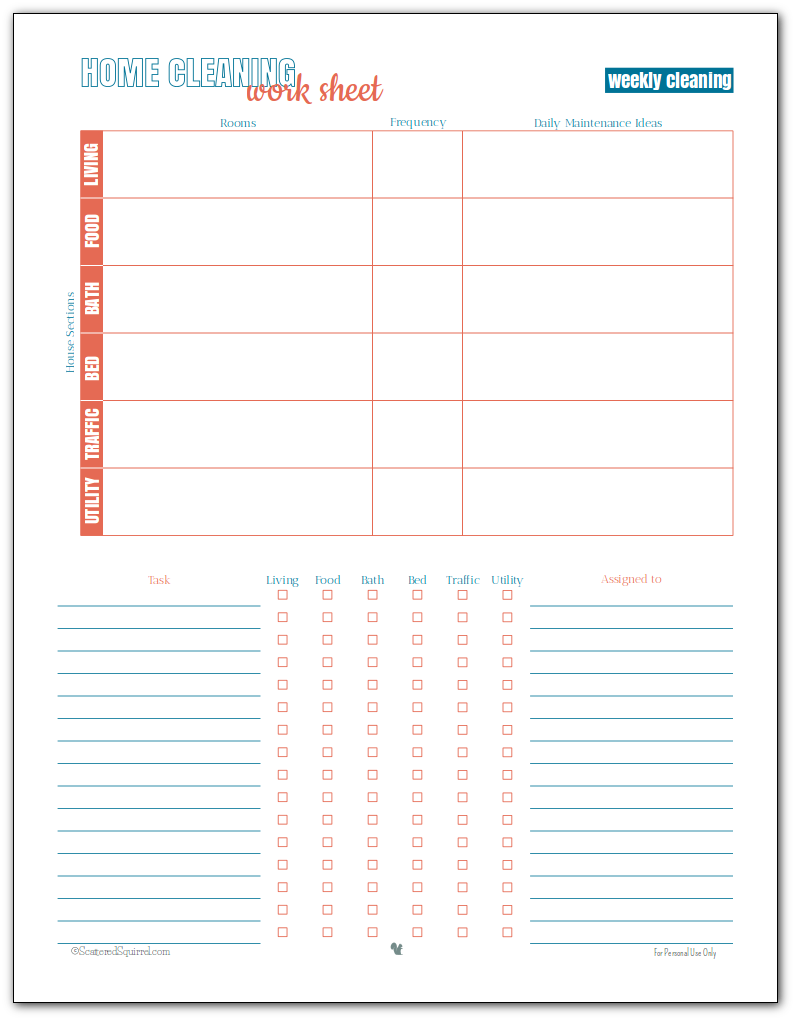 When I said worksheet, I really did meant it.  This isn't going to be a schedule that I hang on a wall, it's just to help me keep all my ideas and notes in one place.  A tool, if you will, to help me focus on what needs to be done in a way that will, hopefully (fingers crossed) work much better for us.  The work sheet has two part.  For the first part, I divided our home into six sections:
Living
Food
Bath
Bed
Traffic
Utility
Each section will contain different rooms or areas of the home, so I left room to jot those down.  While each section will need weekly attention, some will require more than a once a week cleaning, so I made sure to give myself some room to make note of anything like that.  The last area in the top box is for daily maintenance ideas.  These are just ideas for adding little things into my daily routines that might help make the more time-consuming weekly tasks a little easier.  Mostly I put that last part in there because I know that as I think about tackling these spaces I'm going to have ideas for ways to make it a little easier.
Right now our home is sectioned off like this:
Living-living room, family room, office and man cave
Food- kitchen and dining room
Bath- well I guess this one is sort of self explanatory
Bed- again, self explanatory
Traffic- Entry ways, hallways and stairs
Utility- Laundry, garage, storage closet
The second half of the worksheet is for figuring out what weekly cleaning tasks need to be done.  Things like vacuuming, dusting, disinfecting, laundry (like bedding and towels) etc… Because I know that most of the tasks I jot down will need to be done in multiple sections, I added a check box section so I can keep track.  And finally, if you remember from my post a few weeks ago, I suuuck at delegating.  To help me remember that I'm not the only one in our family who needs to be helping with our home cleaning, I added a spot to note which one of use will be responsible for what task.  This way, right from the beginning I'm making a plan to include the whole family.  And I hope that means I'll stick to it once it's time to start.
Right now, I'm still in the planning stage, but having a place to keep all my ideas has been a huge help.  My next step is to figure out what our new home cleaning routine is going to look like, and how best to implement it. I know I'm going to need some way to display the final plan and some way to hold us accountable to it.  I don't know what that's going to look like -yet- it might end up being a command center or maybe a chore chart.  When in doubt, blog land and Pinterest are sure to have some inspiration for me.  I think it might be a good night to get caught up on some of our PVRed shows while browsing Pinterest.  🙂
Hopefully I'll some ideas pulled together that I can share with you next week.  For now though, I'm off to go hang out with the boys.  The sun is shining, the weather is beautiful and I can hear activity outside that sounds like a lot of fun.  Until next time friends, I wish you a wonderful day!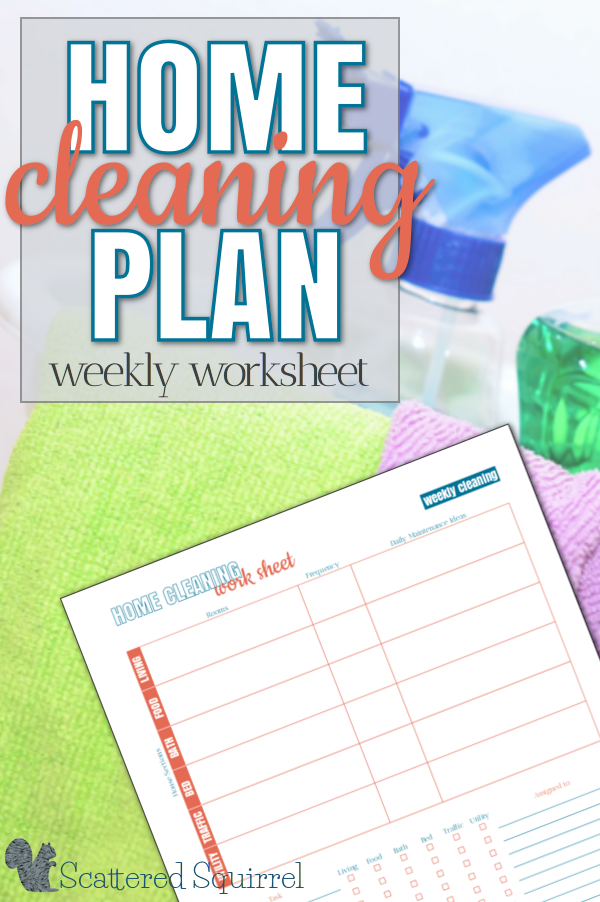 Do you have a home cleaning plan?  How do you tackle weekly cleaning?
~Happy Planning!~