Kitchen Inventory Checklists and Shopping Lists
It never ceases to amaze me that our kitchens take up only a small portion of our homes, and yet they seem to require the most management.   Being the heart of the home is a tough job, and these spaces are hardworking to be sure.  Today we're tackling the pantry and freezer organization with a couple inventory checklists and I thought I'd give my shopping list printables a little update too.  Including them with the inventory sheets just seemed to make sense.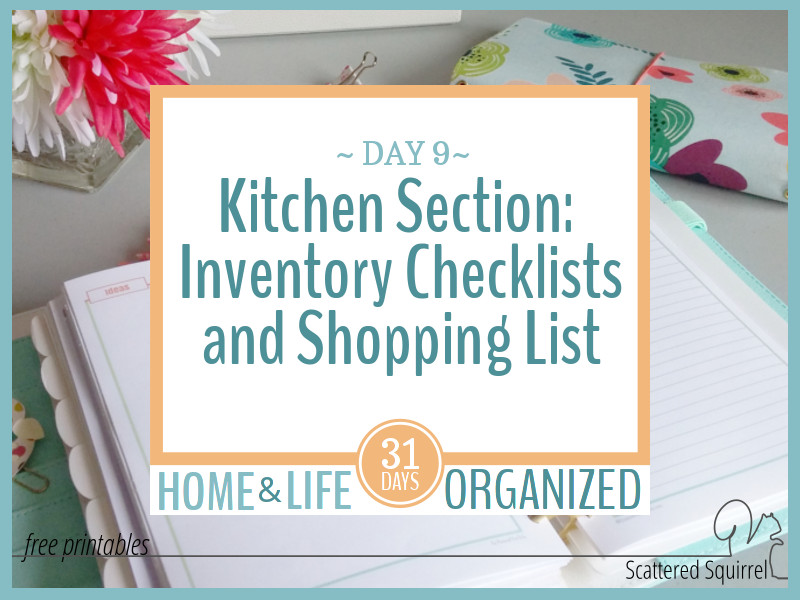 Before we jump to the printables I just wanted to take a moment to talk about choosing the printables and systems that work for you.  The inventory checklists are a great example of this.  When I first made them I was convinced that keeping track of what I have on hand in such a detailed way was going to help keep my kitchen more organized.  It didn't work out that way for me.  After spending many frustrating months trying to make this system work for me, I finally gave up.  I guess what I'm trying to say is, don't feel like you need to use all the printables just because I'm sharing.  Pick and choose the ones you need and want to try and don't worry about the rest.
Inventory Checklists
First up we have the pantry inventory printable.  The goals for this printable is to help you keep track of what you have in your pantry and to see at a glance what you're running low on.  I know many people who use systems like this and love them.  Others find them too tedious.  And others, like me, only use them for certain things.
How to Use the Printable:
The left-hand column is for the items that you keep in your pantry.
canned goods
dry goods
baking supplies
beverages
Whatever it may be that you keep in your pantry.
The middle section is for tracking when they come in and when you use them.  When you add items to you panty draw a slash (/) through the boxes to mark how many you have.  As you use the items draw another slash (\) through the box to create and 'x'.
The right-hand column is for adding in the date when you purchased the item.  This can come in handy for things like flour and other dry goods that might go bad over time,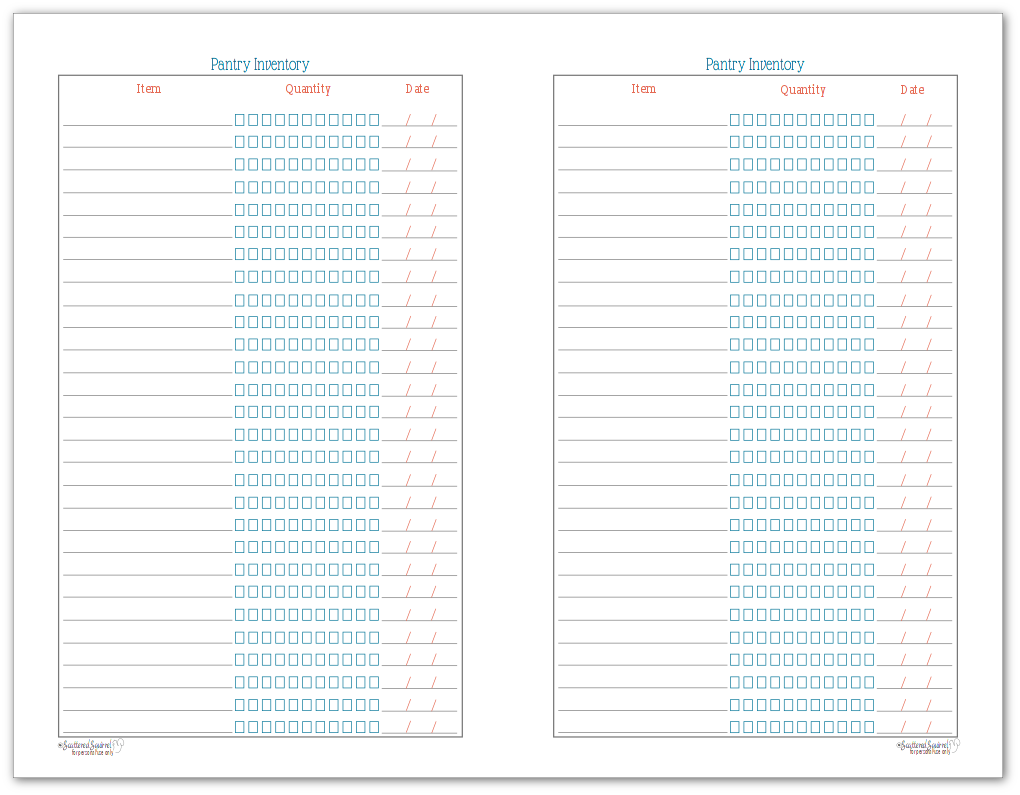 I use the pantry inventory checklist to keep track of items that are sort of long term items, like my flour.  We bake a lot in our home so we buy the large bags of flour and sugar.  Knowing how long we've had it sitting in the pantry for has really helped us make sure we're using it up before it has a chance to go stale.
I also use it when we buy non-perishable items in bulk.  I like to mark down the date and beside the item name I'll add in the store name and price so I can remember to keep my eyes out for when that sale comes around again.  Or I can make sure we're not buying more too soon.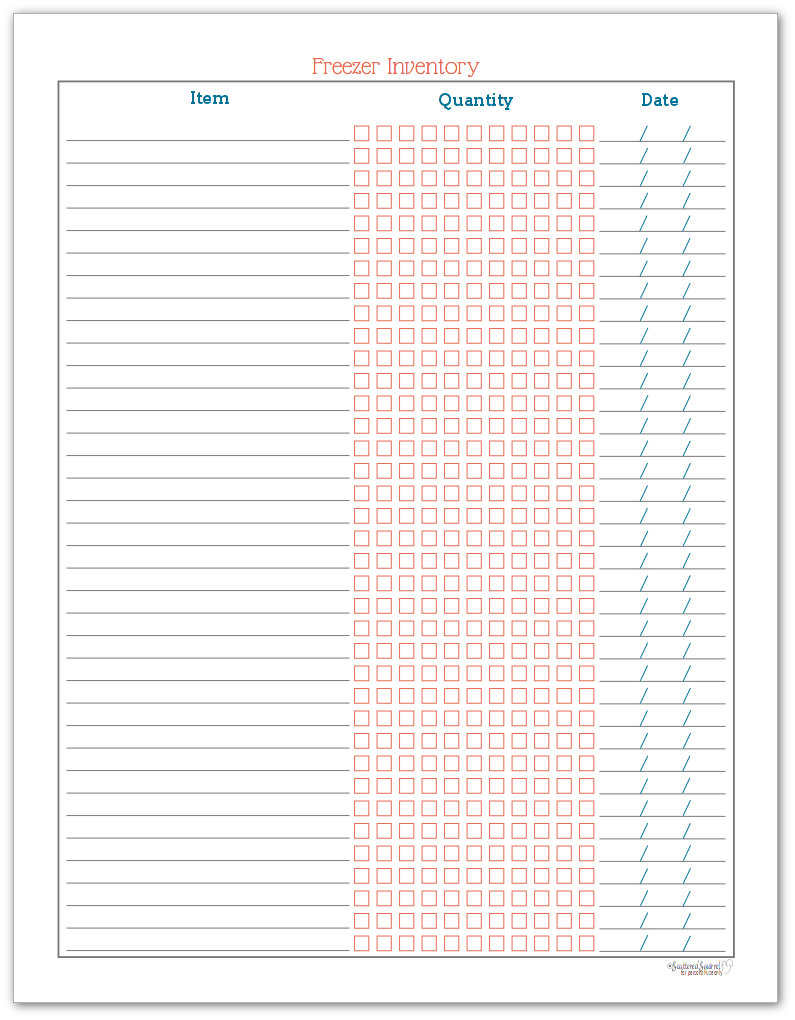 The freezer inventory is the same as the pantry one, just for the freezer.  I use this one more than my pantry one, especially since we started buying our meat in packs from the butcher.   I really like being able to see the date we purchased the items we put in the freezer.  This way we have fewer items get freezer burnt.
Different Ways to Use This Printable:
I think freezer inventory checklists would come in handy for a variety of different things.
to monitor what you have in your deep freeze so items don't go bad
to keep track of leftovers that you've decided to freeze for another day
if you do any freezer cooking, this sheet would be a great way to keep track of what meals you made, how many you made, and when you might need to make more.
if you freeze your own fruits or vegetables this would be a good place to make note of the date and how many
The more I think about it, depending on your needs, you could probably make use multiple freezer inventory sheets to help track various things.  But only do that if it's something that will work for you.  Don't feel like you need to be using these checklists.  They are just a tool you can use if you think they will help you.
Shopping Lists
I thought these would be good to include with the inventory checklists.  They kind of go hand-in-hand.  As you can see, the shopping lists are really simple.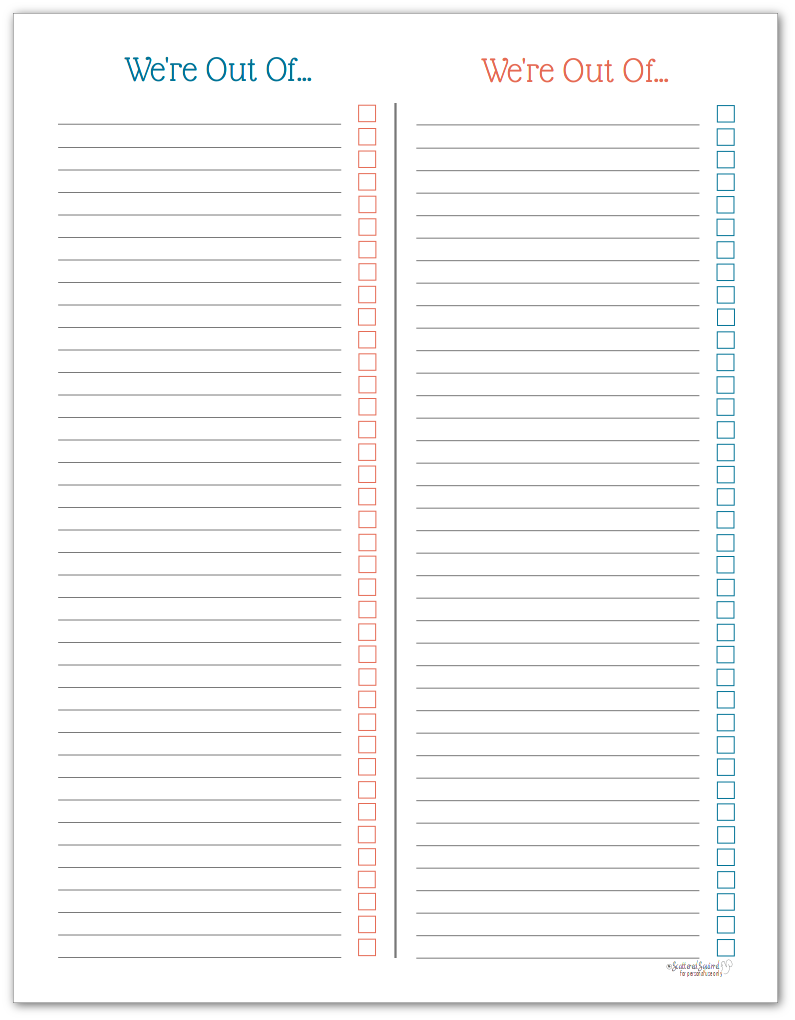 I printed some of the full-size ones above, cut them in half along the center line, and stuck them onto my fridge using a magnetic clip.  This way we can quickly jot down things down as we run out, and my shopping list pretty much writes itself.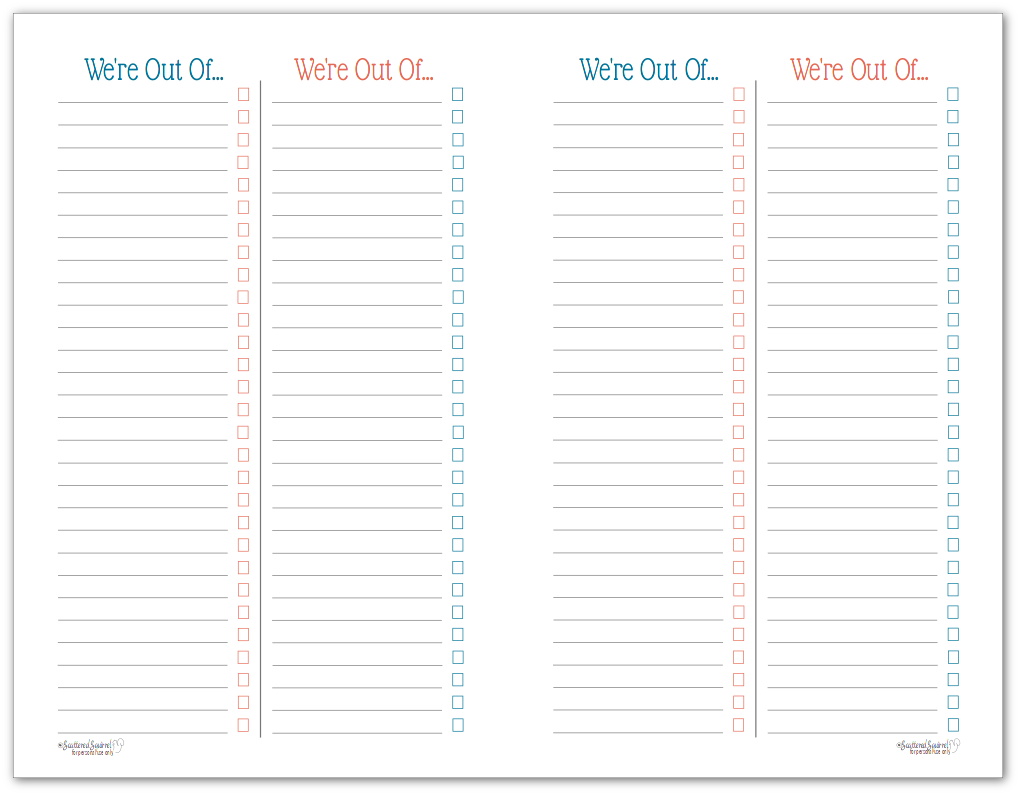 I did make a half-size version too.  I know that there are many people who like to keep these in their planners so they are easy to get too.  You can do the same thing I did above, only make a smaller version if you wanted too.  It's totally up to you how you use these.
We're almost half-way through the kitchen section, and then we'll be moving onto the remaining sections and then to the planner printables.  In the meantime, I'd love to hear what you think of these printables.  Are inventory checklists your thing?  Or do have a different system you use?  Are there any home management printables you would like to see?  Drop me a line in the comments below and let me know.