2015 Calendar Printables: You Asked, I'm Answering!
Happy Wednesday Everyone!  You have noooo idea how excited I am to be here today.  We woke up to our internet being on the fritz, and I was devastated because I stayed up late last night putting the finishing touches on the 2015 Calendar Printables to share today. One of the last things I thought before drifting off for a few hours sleep was "I wonder if I should write tomorrow's post now."  I opted not to because I was pretty tired at that point, and I figured a post written under sleep deprivation might end up being really bad.  Oh well, all is good now, and I'm here with the 2015 Calendar Printables.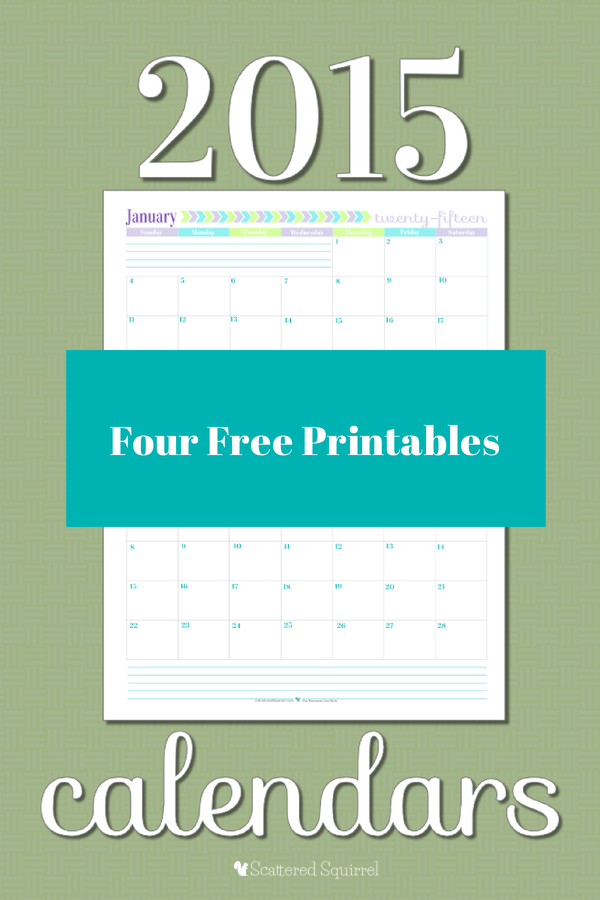 I know what you might be thinking, isn't it a little early to be worrying about 2015 Calendars?  Well it all started back in April, a comment here and a comment there, an email each week, and slowly over the weeks I started getting more and more requests for a 2015 Calendar.  And as you all know I never turn down the opportunity to make a printable (or a hundred) that you need and want!
2015 Calendar Printables
I'm kicking things off with the one month per page calendars.  Just like the ones I made for 2014 you can get these in both full and half-size.  All I've done differently is change the dates (obviously!) and a few minor updates to fonts and colors.  They layouts are staying them same.  If you have any suggestions for the layouts please don't hesitate to let me know.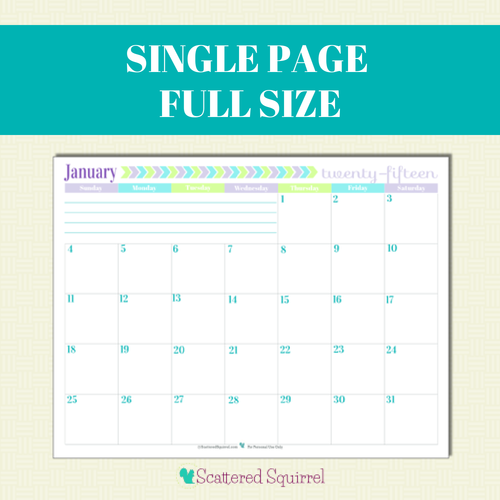 This one is set up in landscape format, and just like last year I added lines to the empty spaces to create a notes sections for those that like to make notes on their calendars.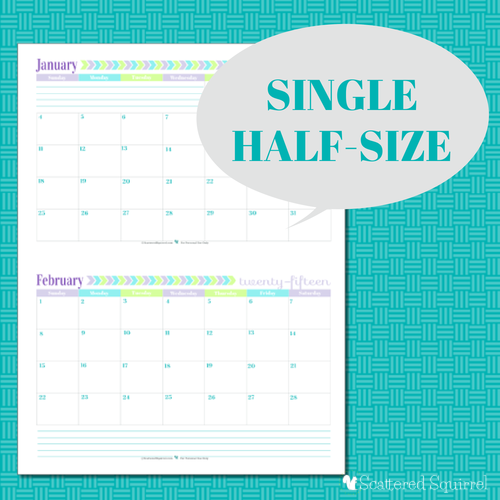 And of course I did not forget about the half-size versions.  These are setup two months to an 8 1/2″ x 11″ page simple fold them or cut them in half, which ever works best for you.
Next up is the two page calendars.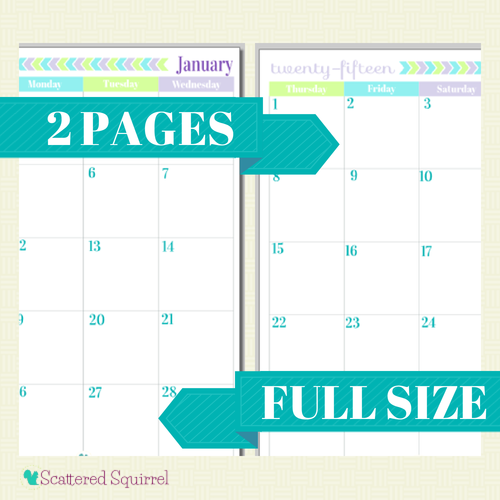 Above is the full size two pages per month.  Set up in portrait format to optimize space, they offer plenty of room for jotting down all the goings on in your month.
And last, but most certainly not least….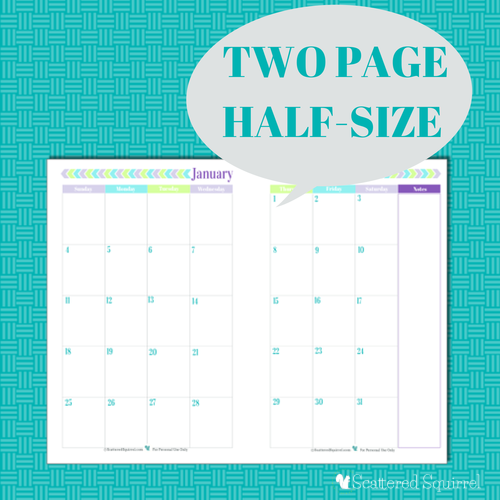 These are pretty much the same as their big, full size brother.  Laid out in landscape so that one month prints per page, again simple cut in half and hole-punch the cut sides so that when you put it in your binder or planner or Arc book, what have you, you can see the full month when it's spread open.
So, there you have it.  I may be seven months ahead of the game, and I know I haven't yet started planning much for 2015, but I know many of you are teachers and educators and that you were looking for next year's calendar to help you plan your next school year, and I can't wait to hear what you think!
A monthly calendar is a great place to start your DIY Life Planner.  Check out that link to find more awesome resources for creating a planner that works for you.
For now everyone, I must run.  We had quite the morning/early afternoon, and I have a bunch of house and family stuff calling for my attention.  I hope you all are having a fantastic week, and I will see you again, on Friday.  Until then, enjoy the 2015 Calendar Printables, at the very least you'll be really ready when the new year gets here. 🙂
---
So what do you think?  Do the colors work?  How about fonts?  Any changes you would like to see?
Happy Printing!
I'm linking up at these fantastic parties.