Create a Holiday Planner that is Right for YOU!
December is the month of holidays! There are so many holidays celebrated around the world during this month, in our home it's Christmas. I love the holiday season. Gatherings with family and friends, the beauty of the lights in the snowfall (if you're lucky enough to live somewhere where you get snow); baking goodies that only taste right during the holidays; the feelings and emotions that seem more poignant this time of year. I just love it all.
The one thing I don't love though, is the stress that can come creeping in when we least expect it. It's so easy to get overwhelmed with all that the holidays bring along with them. If there is one time of year when stress should take a vacation, it's this time of year. Since we can't just pack its bags and send it off, we have to find other ways to help keep our levels down. One of the tools I use to help to keep our family's holiday season as stress free is as I can, is by using a Holiday Planner.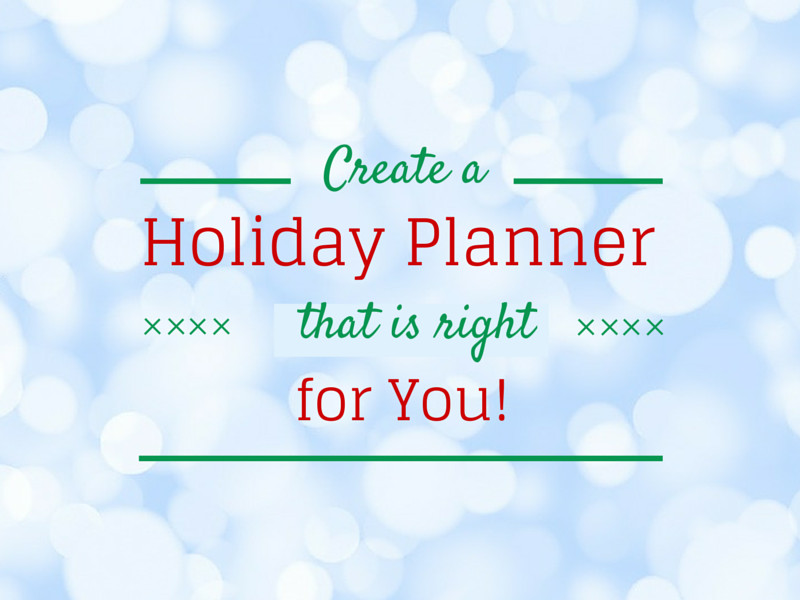 A holiday planner can go a long way to help make the holiday season a little brighter, and if not brighter, than at least run a little more smoothly. The trick, like with all planners, is finding the one that works for you. A planner should help alleviate some of life's stresses and save you time. The last thing anyone wants, especially at this time of year, is something that does the opposite. In the last few days I noticed that my Feedly feed was exploding with holiday planner printables. There are so many out there, it made my head swim (and I already have one I made myself) so I thought I'd share some of my tips for finding and setting up the holiday planner that is right for you!
Create a Holiday Planner that is Right for YOU!
The holiday season can be overwhelming, and even using a pre-made planner can add to that if it's not something that is a good fit for you. When it comes to creating a holiday planner there a few steps you can take before you start that will help you pull together a planner that will work for you not against you.
1. Decide what you need to plan!
What do you need to plan for this holiday season? Don't think about next season, or the one three years from now, there's time for that later, in January. What do you need to plan this year? Are you hosting any get-togethers? Need to keep track of gifts you purchased, made or still need to buy? Are you going to be baking up a storm? Hosting the family meal?
Take a few minutes and think about this. Whip up a holiday to do list if you want to, it might help to see things written down. One you've thought about, take a few minutes to think about how you normally do these things? Is it stressful or do you enjoy it? Do you write up massive to do lists or just get things done without having to think too much about it? I have a friend who can send out over 50 Christmas cards each year without missing a single person, yet if she doesn't have a list of what she wants to bake and a plan for when she's baking it, she'd never get her baking done on time, and she LOVES to bake. Only YOU know what you need help planning for and what you don't.
2. Figure out what kind of planner is best for you.
A planner is simply a tool used to help plan and keep track of time. It can be as complex as a store-bought planner with various sections or as simple as scrap piece of paper that you write your shopping list on. So, what works for you when it comes to keeping track of what you need to do? Here are some options to consider:
a wall calendar
a whiteboard/chalk board
note paper
weekly planner
daily planner
scrap paper
online calendar (like Google Calendar)
an app on your smart phone
reminders set on your phone
Chances are, if it works for you through out the year, it'll continue to work just fine for the holidays.
3. Decide what holiday specific items or activities you can plan in your normal planner.
Take your list from number one, and decide what items on there you can plan for using your usual planning method. If you're someone who likes to colour code your planner, assign the holiday items their own colour so you can see at a glance what they are. If you prefer things like a wall calendar or whiteboard/chalk board, consider making one that is just for the holidays, or a space on the one you use that is just for holiday related items. Use what is already working for you!
4. Decide what other items you need help planning.
Maybe there were things from number one, that won't work with your normal planner system or that you don't want to use your usual planner for. That's not a problem, in fact, given the time of year, I think it's almost to be expected. This is where scouring Pinterest, or scrolling down a little further in this post will help. Printables are out there waiting for you to download and use. Look for ones that are specific to the tasks you need. Maybe you want something to help keep track of who you've sent cards too? Or maybe you want something to help plan a holiday meal? Knowing what you need to look before you start looking can help in so many ways. And don't let holiday planner sets stop you. If you find a printable you know will work for you, but it's part of a set, download it anyway. Use the printer settings to select only that one page (or pages) that you need. It's ok, no-one will mind.
5. The exception the rules!
Ok, they aren't really rules, but there is one exception to the guidelines I use for creating a holiday planner that works for me. If you're not sure what kind of planner will work for you; If you think you want to try something totally new and different for the holidays; if you want a planner you can print out and set up and use every year that is just for the holidays, then I suggest you start with number one and skip straight to number four! Just please, don't stress about setting up a planner and using it all month long. Have fun with it, and approach it with the knowledge that this is an experiment, and what doesn't work for you, doesn't work, and that's ok.
I have a ton of holiday planner printables to help you set up a planner that will work for you. You can pick and choose the ones you want that way you don't end up with a bunch of printables that don't work for you. I recently updated all of them for the 31 Days 31 Printables series, and I've put all the new ones into this post to make it easy for you to grab what you need.
Full Size Holiday Planner Printables
Half-Size Holiday Planner Printables
When it comes to creating a holiday planner that is right for you, there really is no wrong way to do it. If you don't feel the need for a special planner just for the holidays that's perfectly fine. If you would rather just jot down to-do lists to help keep yourself on track, that's great! There is one thing, and one thing only, that I strongly suggest – whatever you choose to use, make sure to schedule in some time, or jot down an entry on that list, to take time for you this holiday season. It's hard enough to remember to show ourselves a little TLC during the rest of year, during the holidays it gets even harder. So make a little time for you to stop, relax, unwind, and just enjoy the simple joys this season brings. The craziness will wait … I promise! And when it does? Well, you have a planner to help tame it!
Some Extra Holiday Goodies
So many of our family's holiday traditions are based in food. With the boys home from school we have lots of extra time to be in the kitchen, so you can image my delight when Brain Power Boy shared these fantastic ideas for Christmas fun food. I'll be sure to use my cooking planner to help make sure we have all we need to have some fun in the kitchen this year.
And it wouldn't be the holidays without some yummy treats. If you're looking for some ideas for holiday cookies, this post from The Super Mommy Club is sure to have at least one recipe you'll want to try.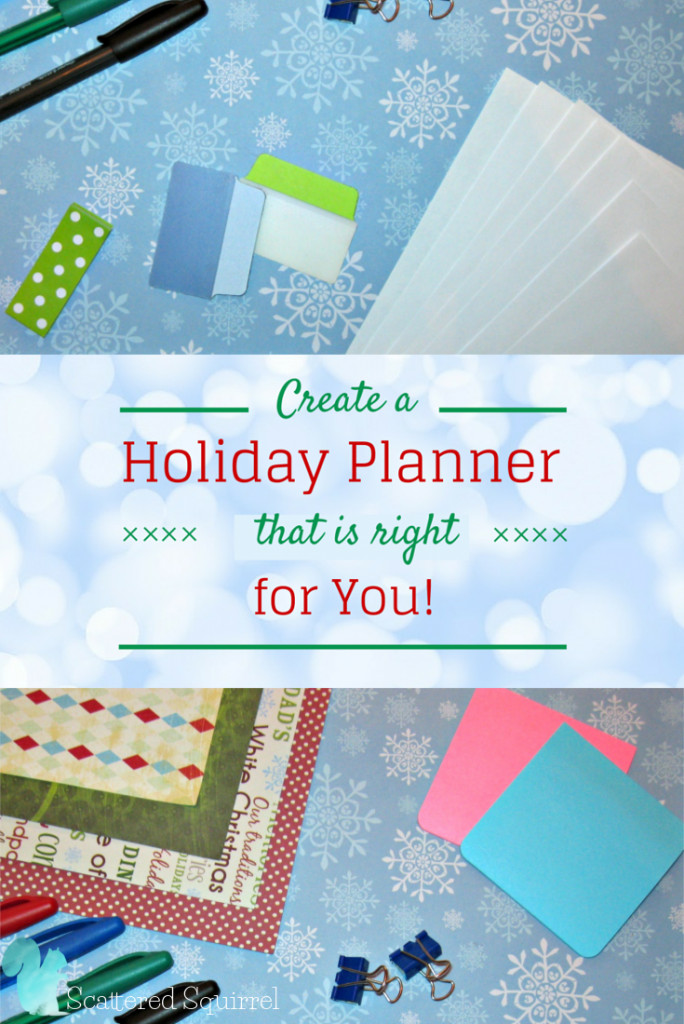 How do you plan for the holidays? Are you a total planner, or do you prefer just take things as they come?
~Happy Reading!~