Organize Lunch Making with Rubbermaid LunchBlox
With both my boys in school and a husband who works weird and long hours, packing lunches is a must.  Even though our Teen and Travis both pack their own lunches I'm always looking for ways or ideas to help organize and streamline the process so that it is something quick and easy.   Having a system in place to help organize lunch making goes a long way for making for smooth mornings and, in Travis' case, evenings.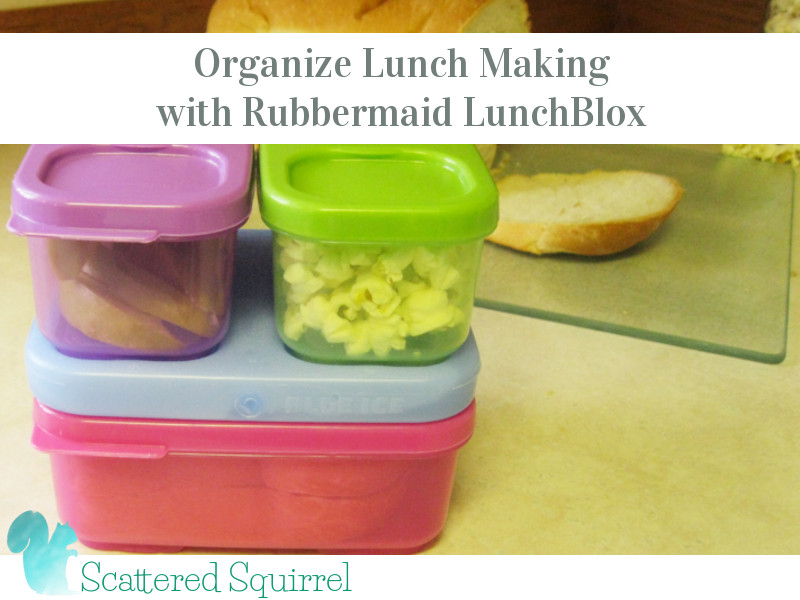 Normally I'm not one to jump on board with a new product.  I like to take my time in deciding, read reviews, talk to family and friends who've tried things.   We live on a tight budget, and because of that, I take even small investments pretty seriously.  However, when it comes to products from Rubbermaid®, I don't normally think twice.  I've had nothing but good luck with any of their products and I know that my money is well spent when I invest in their products.  And now Rubbermaid® has a new line of containers called LunchBlox™, and they are a game changer when it comes to organized lunch making in our home.
Organize Lunch Making with Rubbermaid® LunchBlox™
I absolutely love the care and attention to detail that went into designing these containers.  Each container is perfect size for what it needs to keep.   Like you see pictured below, the larger bottom container is just the right size for a sandwich.  It took only a little bit of squishing, at the widest part of the bread, to get the sandwich in, and I don't have to worry about it coming apart because there is no extra space.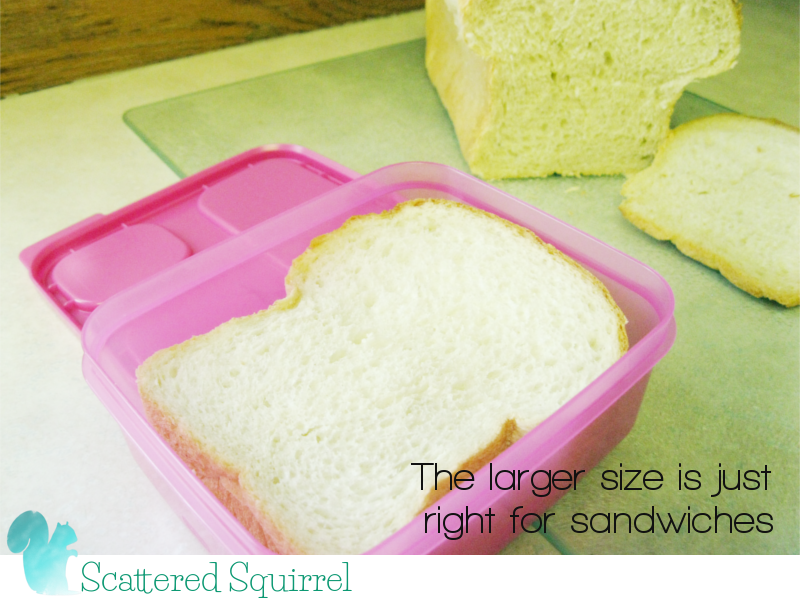 These snack containers are a great size for snacks.  Our set has two of these, and they hold up to 200 mL (3/4 cup) making them perfect for portioning out dry goods and goodies.  Though you can't see it in the picture, the sides are marked at the 100 mL and 200 mL points, so figuring out how much yogurt to pour in is a piece of cake.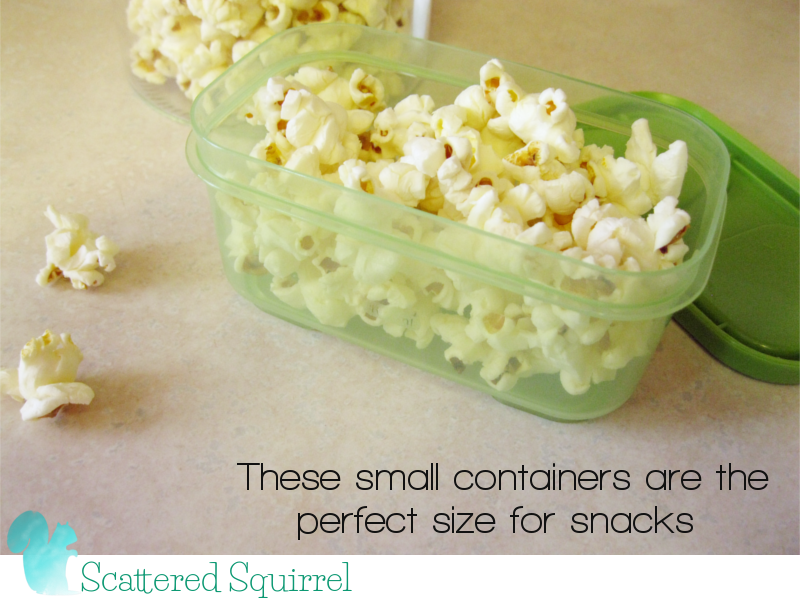 They really do make lunch making super easy.
One my absolute favourite features of the LunchBlox™ line is the built-in Blue Ice™ ice-pack.  We have small, travel size ice-packs that we put in our lunch bags, but they never stay where they are supposed too, or they fall out in back packs and get forgotten about until morning when we usually need them again.  This ice-pack though is awesome.  It clicks onto the container, keeping it in place in your bag.  If you look closely at the picture you can see the indents in the top of it.  These are for the snack containers.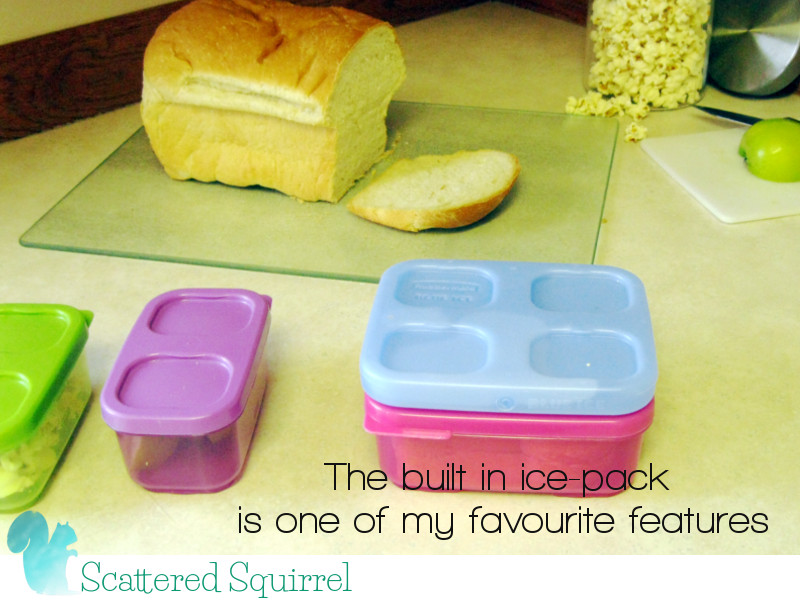 They all click together, making packing up a lunch super easy.  They stay together in the lunch bag, making it super easy to pull them out and arrange them on your desk, and that ice-pack keeps both snacks and main dishes nice and fresh.  It made such a big difference it was one of the things Liam raved about after taking them to school for a few days.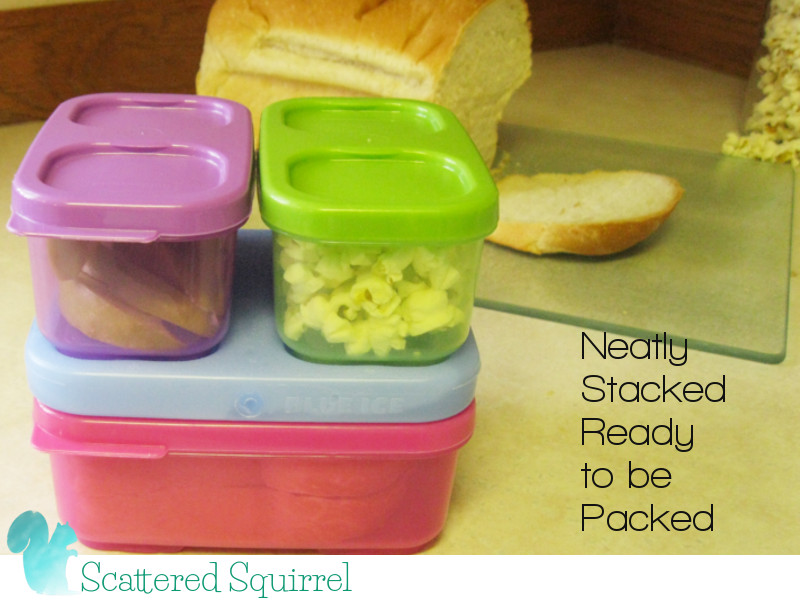 Remember I said that they were super easy to pull out at lunch time.  I really wasn't kidding.  Once they  click together you can easily move the whole block at once.  And yet, the come apart super easy too, it's all in the angle you lift from.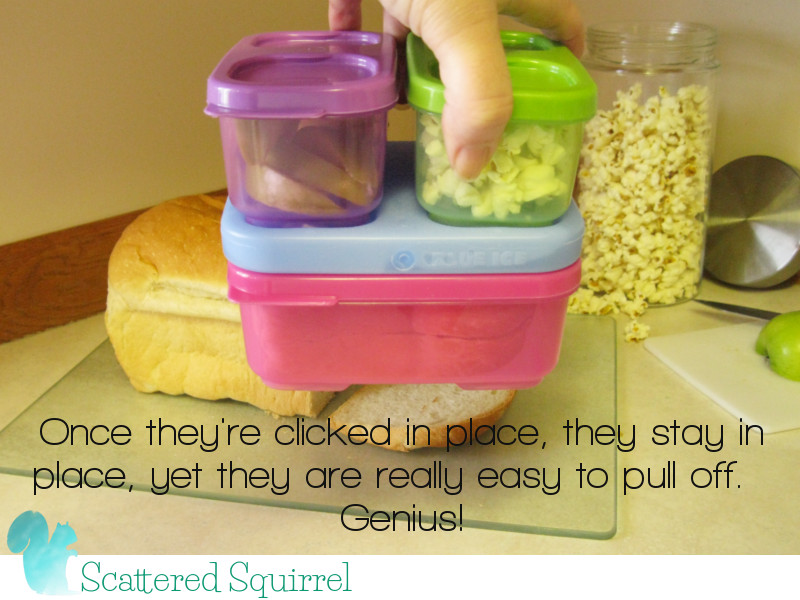 All in all the LunchBlox™ system is becoming a favourite in our home.  Liam loved being able to take them school, and he said there was only one thing he would change, and that would be to exchange the pink and purple containers for something in more of a 'boy's colour', which I can totally get behind.
From my perspective, this system is going to go a long way to helping me organize lunch making in our home.  These containers are the perfect for those grab and go mornings, and because they are designed to be stacked, I can pre-fill them and put them in the cupboard or the fridge, and they won't take up a lot of room.  I can colour-code the snacks so that even Liam can put together his own, by simply choosing one of each colour container. Or I could use all one colour for each family member, making it easy for them to see at a glance which one is theirs.  Though I used the Kid's Lunch Kit pack for this post, you can get these containers in various sizes, making packing lunches for the whole family, from the always hungry teen to the little toddler, a breeze!
Rubbermaid® seems to put a lot of thought behind how people are going to use their products, and these are no exception. All of the containers are dishwasher safe, so cleaning them is as easy as packing them.  You can toss them in the freezer, which means those leftovers from tonight's dinner could be next week's lunch.  Just pull it out of the freezer, click it together with the rest of your lunch, at come lunchtime you can pop it in the microwave to heat it up, because these containers are microwave safe too.  What more could you ask for?
Our family is absolutely in love with these.  Ok, maybe that's taking it a little too far – I am totally in love with these.
They stay organized in my cupboards when they are not in use.
They are easy to fill ahead of time and take up very little room
They make those hectic mornings a breeze with the on-the-go portability
They go straight into the dishwasher when they get home
Because they're freezer and microwave safe, I don't have left overs going to waste
And did I mention they stay organized in my cupboards?  Well, they do!
If you're looking for something to help organize lunch making, or even if you're just looking for something that will fit in your lunch bag, take a look at the Rubbermaid® LunchBlox™ because they've made a huge difference in our little world.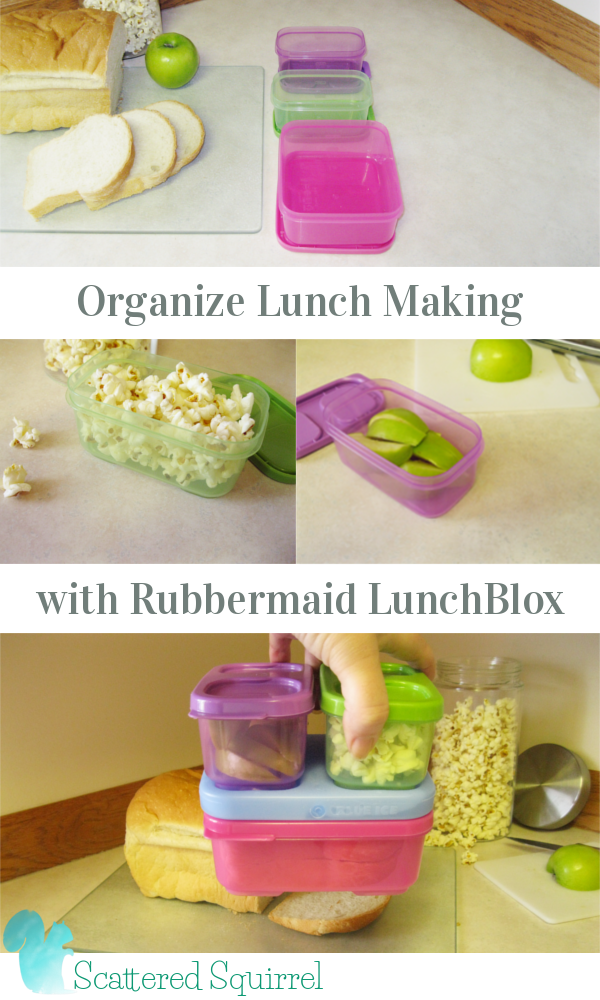 How do you organize lunch making in your home?  Do you like to prepare things ahead of time or on an as needed basis?
~Happy Organizing!~
Disclosure: I am part of the Rubbermaid Blogger Campaign with Mom Central Canada and I receive special  perks as part of my affiliation with this group.  The opinions on this blog are my own.