Day 23 – Cleaning as You Go!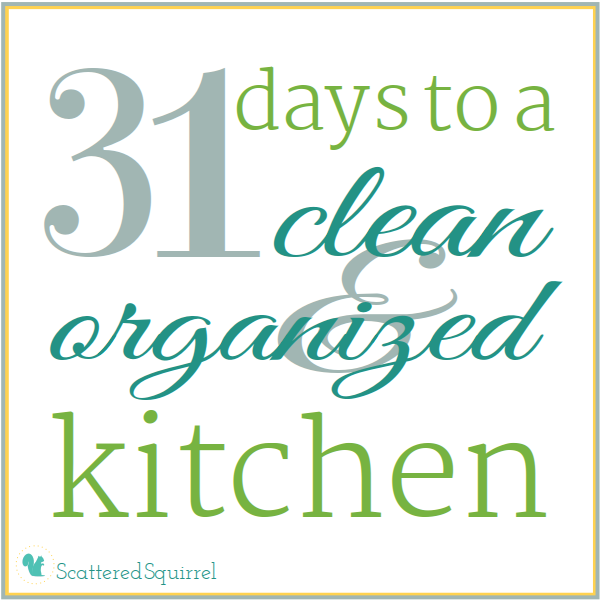 Welcome to the 23rd post in this 31 Days series.  If you are just joining us you can find all the previous posts on the 31 Days tab at the top of this page.  So far this month has proven to be quite a challenging one.  First we had some technical difficulties, MANY of them.  Then I thought it would be fun to get a nasty cold, and so here I am again trying to play catch up. I am determined to get these posts done though, never fear.  Today I wanted to take some time to talk more about how to keep a kitchen clean.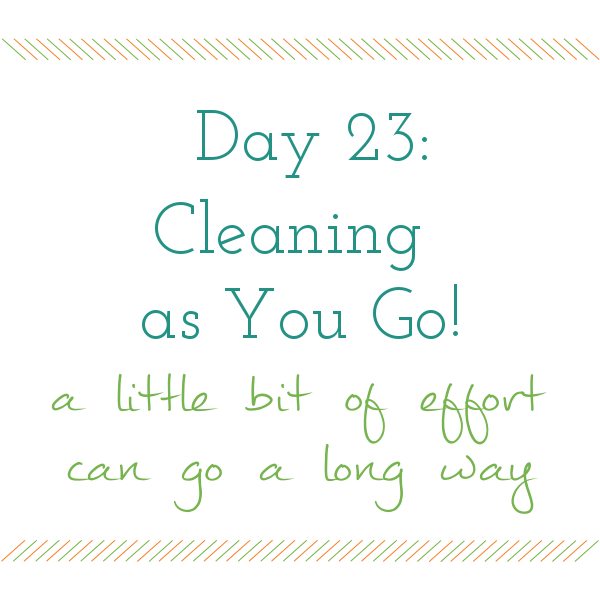 You've probably heard it a bazillion times, but cleaning as you go can be a real life saver in the kitchen.  Over the years I've been blessed with large kitchens and cursed with small ones, and surprisingly enough, this little bit of sage advice works no matter what size your kitchen is.  It does warrant saying that the effects of cleaning as you go are felt more strongly in small kitchens, but don't let a large kitchen keep you from taking steps to making cleaning easier.
What all can cleaning as you go do for you?  Well, there a number of advantages to following this train of thought.  The first being, that it frees up space.  If you've ever had to live with a small kitchen you know how painful it can be at times to have enough counter space for meal prep.  Taking a few minutes to clean as you go can help keep the counter space clear for the next stage.  If all the dishes you used for chopping, peeling, and other prep work are washed and out of your way (or loaded in the dishwasher) than when it comes time for serving, you have the counter space to do it.  And who doesn't like to have space in the kitchen?
Cleaning as you go, also makes the after dinner clean up look less daunting.  The visual clutter of dishes and knives and pots and pans can make us feel as though cleaning up the kitchen is going to take ages.  After a long day, energy levels are low and all we want is to curl up on the couch, or hang with the kids, hop in the shower, or just rest our weary bodies.  Looking at the aftermath of dinner can make everything feel so much worse than it is.  But if you've been cleaning as you cooked, much of that clutter is gone.  It's a simple matter of dealing with a few pots and pans and our dishes.  The less messy it looks, the easier it will be to tackle it.
Aside from creating more space and clearing away the visual clutter, cleaning as you go saves you time.  Many times you're stuck in the kitchen keeping an eye on what's cooking anyway, why not put that time to good use and clean up as much as you can?  It saves you time later on when you're feeling all mellow after enjoying a yummy meal.  Even if you have the rule "If you cook, you don't clean" cleaning as you go will make the job easier for those who do have to clean up later on, and who knows, maybe they'll get the hint and clean as they go as well.
One of the nice things about cleaning as you go is that you already have a sink full of hot sudsy water.  When I remember too, before I serve up dinner, I fill the sink with straight hot water and some dish soap.  This allows me to set the pots or pans in the sink and let them soak while we eat.  By the time dinner is done the water is cool enough for me to put my hands in, and the pots aren't nearly so difficult to clean.   If I think there will be room in the dishwasher for the pots, I skip the dish soap part.  I only wish I remembered to do it this more often.
You can also take cleaning as you go one step further, and get out your food storage containers for dealing with the left overs.  Then as you clear the table you can deal with the left overs right away.  Depending on what I've used for serving dinner in (many time we just dish up from the stove) I might be able to skip the container step and just put some Saran wrap over the bowl.  We're a little short on serving bowls though, so that doesn't happen as often as I would like.  But taking the extra few seconds to set out the containers for storing the leftover is one more visual cue to deal with dinner clean up right away.
Cleaning as you go and taking time to prepare for after dinner clean up before you sit down to dinner just makes things a little easier.  It really costs you no extra time as you're already in the kitchen cooking.  And unless you're cooking something that requires your constant, sole attention, you can fit in a little tidying up here and there as your dinner cooks.  Later on you'll be thankful you did when dinner clean up takes you no time at all.
Do you clean as you go?  What are your thoughts on it?  If you don't, why not?