Back to School with Sears Canada and a Giveaway
 **This Give Away is now over.  If you're the winner, please check your email**
The end of summer is upon us, and even those of us who have put off thinking about back to school, have to admit it's time to stop stalling and start hitting the stores.   When I was a kid, back to school shopping meant hopping in the car and heading to a near by city for a say trip of shopping.  One of my parent's go to places for clothes for us kids was Sears Canada.  Many of my First Day of School outfits were chosen from among those racks.  Now that I'm a mom myself, I've continued that tradition with my two boys.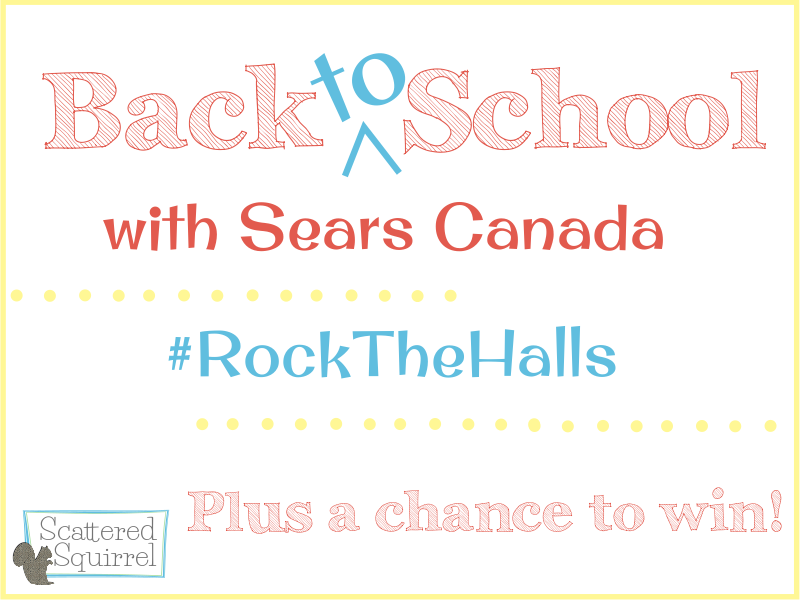 Back to School Shopping
Shopping for boys can be really tough.  I don't know if you've noticed, but most stores have small boy sections and usually fill them with a very limited selection of clothing options.  I've got two boys who are 8 1/2 years apart (Teen is almost 16 and Liam is 7), and if those things aren't challenging enough, they are almost polar opposites when it comes to personal style.  Our Teen prefers the dressy casual/semi-preppy look of layer a button down shirt over a tee and pair it with jeans and sneakers.  Then there's Liam, who prefers a more athletic look, opted more for track pants and t-shirts than jeans and sweaters.  To be fair, with Liam it's not so much about looks, and all about the comfort while moving factor.
Neither of my boys are big fans of shopping, especially for clothes, so when we head out to do the back to school shopping I try to plan a trip that is short.  The fewer stores we have to go into, the more enjoyable the outing will be for everyone involved.  Which is why Sears Canada is one of my go to places for shopping for the boys.  I can send our Teen off on his own to browse and try things on, while I help Liam navigate the racks.  Sears is one of the few stores I've shopped at that have a good size boy's section with a great variety of options.  Not only can we find we what we need, but both my boys can find items that they love and that they'll want to wear, but the clothing is great quality and I can rest easy knowing that it will hold up until they've outgrown it.
Giving Back
Not only do I love that Sears is a great place for my family to shop, but I absolutely love it when bigger businesses give back to the communities that help support them.  For the last 40 years Sears Canada has a been a big supporter of a cause that is near and dear to my heart;  The Boys and Girls Club of Canada.  For those of you who aren't familiar with them.  This is a non-profit organization that provides after school programs and so much more to help support children in communities across Canada.  The following is an excerpt from their website:
For more than 100 years, Boys and Girls Clubs in communities across Canada have been helping young people to discover, develop and achieve their best potential as they grow to become Canada's future adults, citizens and leaders, by engaging them in activities that challenge and help them develop healthy minds and bodies.
Sears Canada
How amazing is that?  I have a very dear friend who works for her local club, and I know how important it is that they receive support and funding to keep these programs thriving.   Sears shares the same philosophy when it comes to our children and providing them with access to opportunities that will help them succeed as adults.  This year, together with Converse, they are donating $10, 000 of back to school apparel to the Boys and Girls Clubs of Canada.
#RockTheHalls
And the generosity just keeps going.  Sears Canada is making back to school fun with their #RockTheHalls promotion happening now in stores across Canada and on Facebook.  The video explains it better than I can.
Awesome right?  Can you imagine getting up to the till at your favourtie store and being told, "Surprise!  Your purchase today is on the house!"  It must be a ton of fun to be one of the lucky workers who gets to totally make a stranger's day.
Hold on to your hats folks, because the fun doesn't stop there.  Oh no!  I have one more fun surprise.  Today I have the extreme pleasure of hosting my very first GIVE AWAY!  I've been buzzing for the last couple days while I let the news sort of sink in, I'm super excited about this, and yes I'm still buzzing, bouncing in my seat as type.
The wonderful people at Sears Canada have generously offered to let me give away one $100 gift card to Sears Canada.  No joke!  I had to pinch myself a couple times before I believed it myself.
Ready to enter? Well, here's the rules.
Give Away Rules
1. No purchase necessary to win.
2.  This offer is being shared on many other blogs, you may enter on multiple blogs but you can only win on one!
3.  You must be 18 years of age and live in Canada (excluding Quebec)
4. All entrants must correctly answer a skill testing question.
5. Prize will be received 4-6 weeks after contest closes.
6. All entries must be submited by 11:59 pm, August  25th, 2014.
7.  Winner will be notified by email and have 24 hours to respond with their info.
a Rafflecopter giveaway
What is your favourite place to shop for back to school clothes?
---
"Disclosure: I am part of the Sears Back to School Blogger Campaign with Mom Central Canada and I receive special perks as part of my affiliation with this group. The opinions on this blog are my own."