Kitchen Organizing for the Holidays
Though I know the holidays are in full swing, around here it doesn't really feel like they are here until the boys are done school. Which is kind of a good thing, now that I think about because it gives me a little extra time getting things organized for the holidays.  Organizing for the holidays in our home doesn't take too much.  I already shared how I got the dining room organized, and really, aside from shuffling around some furniture to make room for the tree, the only other room that gets some extra attention is the kitchen.  So many of our holiday activities and traditions seem to center around the kitchen, so I always take a little time to fine tune our kitchen organizing for the holidays.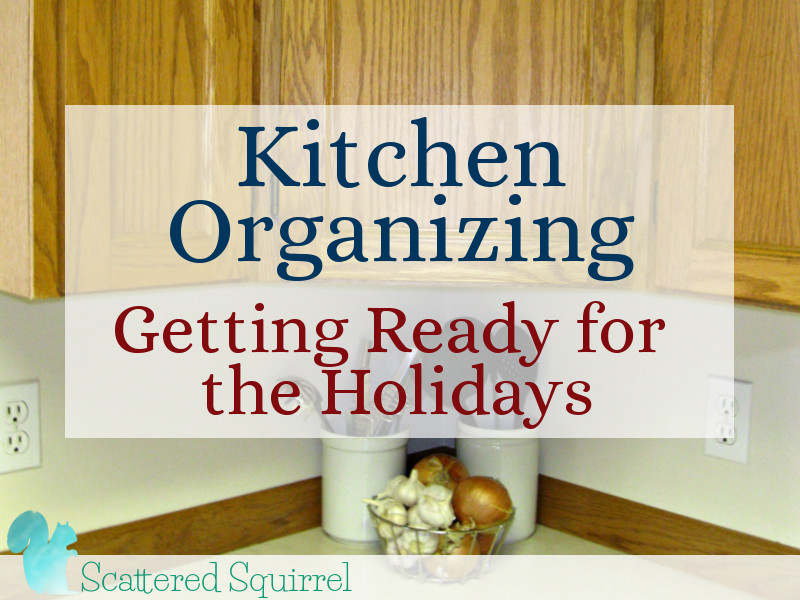 The first area I always start with is my baking stuff.  Last year for the 31 Days challenge I tackled reorganizing my kitchen, and we created a baking zone.  I still love it to this day.  Everything I need from mixing bowls and measure cups to flour and sugar is all in one area of the kitchen.  So this year, much like last year, I didn't need to do anything to this area.  Unfortunately, I have no recent pictures of this area because it's getting some heavy use right now and the flour, sugar and most often used items seem to have become counter-top fixtures.  It's a bit of a hot mess, but a good mess because goodies are being made!  Here's a few pictures from when it was first organized.
Without having to organize for baking, this year I was able to turn my attention to other areas of the kitchen that really didn't get a whole lot of thought from me before.  I've been trying to come up with ways to make our kitchen more efficient to use.  The zones we created last year have gone a long way to helping.  However with the holiday approaching there was one area that was sort of niggling at my brain.  Our current 'system' for storing container and lids just wasn't working for me.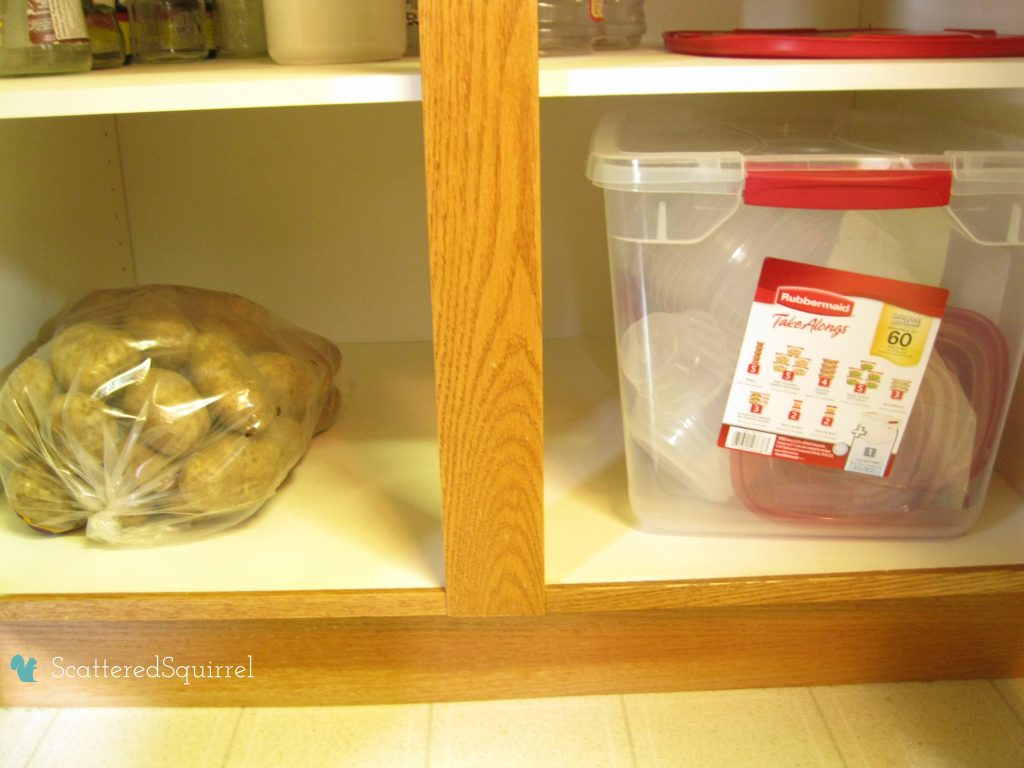 Please don't even get me started on the endless, futile attempts I have made at organizing our containers and their stupid lids.  The lids really bug me.  They get lost or jumbled together.  The need their own container to keep them neat, and that's assuming the boys put them back where they go.  I thought my current system was working ok, but then containers started getting lost and I was having to sift through random lids that got tossed into the bin, like the ones for the glass jars that really should have been with the glass jars…. it was a vicious cycle until one day I had enough and pulled them all out.  I did it in a fit of frustration and I needed to remind myself that finding the systems that work for you is a trial and error process.   This was tried, and it was an error.  I was sort of lost as to what to do, and so I took a good long look at our kitchen, and at this cupboard in particular.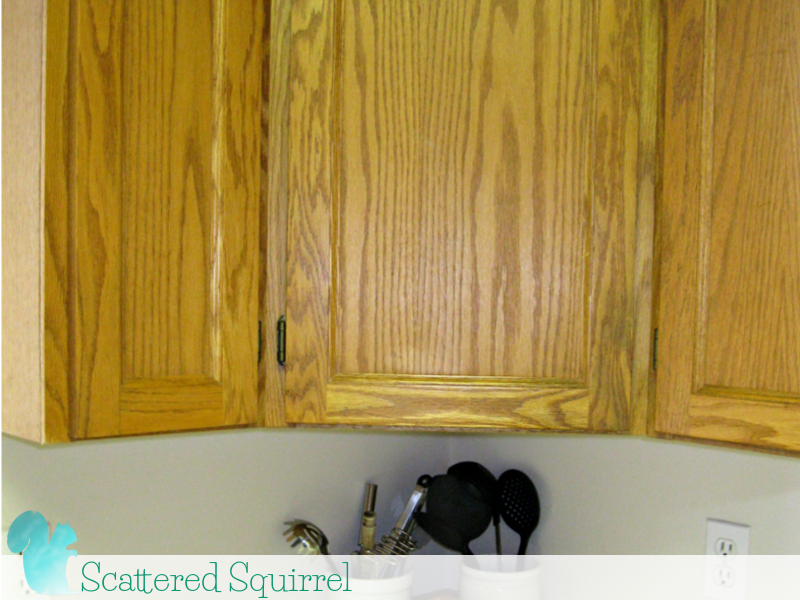 The upper middle cabinet in our cooking zone stores our dishes and the few serving bowls and platters that we have.  I decided to remove the serving bowls and dedicate a space just for our food storage containers.  I wanted them to be within easy access to the stove and oven so that when it comes to all the yummy leftovers that are much as staple of the holidays as the gifts and the goodies it's easy to just pack them away.  My new system has been in place for a couple of weeks now, and I'm LOVING it.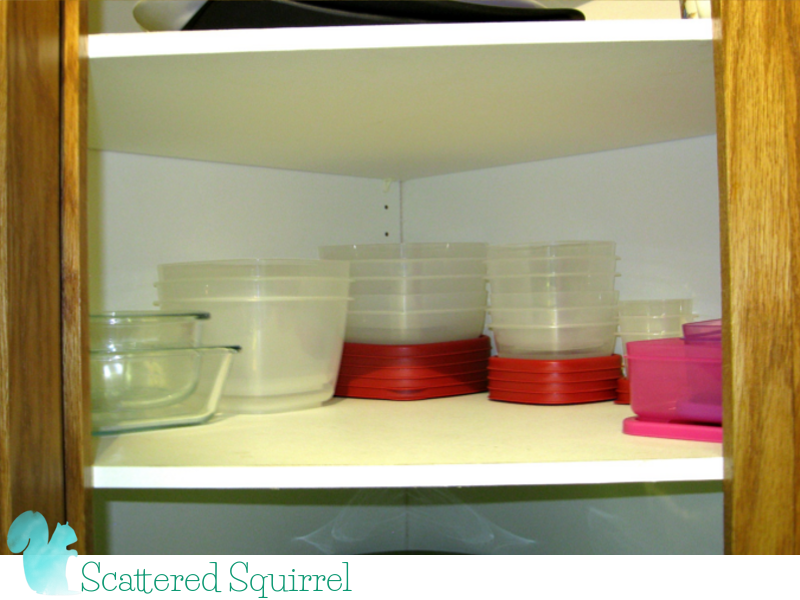 Look how neat and tidy they are!  To the left are our glass containers.  You can't see them, but their lids are to the side of them, and I'm using those containers to hold the lids in place.  On the right you can see the Rubbermaid Lunchblox containers that I wrote about in this post here.  In the center is our new additions.  Normally I am a big fan of use what you have, and I try really hard to ignore the hype of products that promise to deliver big organizing promises, but the Easy Find Lid line from Rubbermaid is one of those products that lives up to its hype!  Seriously, take a closer look at those lids, they really are the start of the show.
See how neatly the stack together.  Not only do they stack, they STICK!  No, seriously, they stick together AND to the bottom of the containers.  Just scroll down to see the stickiness in action.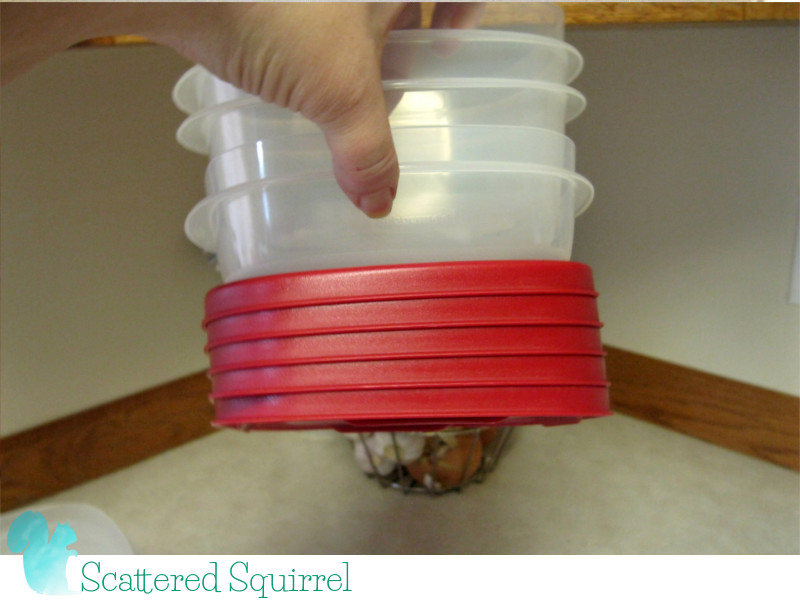 This alone makes these containers worth every penny.  No more loose lids scattered all over the cupboard.  No need for a container to help organize the containers.   Lids that stay together and with the containers is only one of the things I really like about these containers.  You can tell that there was plenty of thought put into creating this line, its creator (or creators) obviously took into consideration all the problems that people face when trying to organize their container.  In the set I have, there are three lid sizes, but there are six different sizes of containers.  This is why I say that alot of care and attention went into the design.  The containers are designed to nest inside each other, so you can group them together.  Maybe a picture will help.

The first two from the left in the back row and the first from the left in the front row all use the same size lids, as do the other, smaller two.   In the photos above you can see that I have the front one nested in the back one.  Not only does this make storage easy, but when it comes time to deal with those leftovers I can pull the whole stack out all at once and select the sizes I need.  I think this many size containers for one size lid approach is brilliant.  All in all this whole system has made dinner clean up a little easier.  Everything I need is there at fingertips.  It may sound silly, but it really is the little things that make a huge difference in whether a system will work for us.  Here I've got two new systems that are, so far, working brilliantly together.
Bring on the turkey, the mashed potatoes, the soup and the rest of the goodies, I'm ready for the leftovers.  Taking my cue from our baking zone and adjusting our cooking zone to handle leftovers is something I wish I had done last year.  But sometimes we need to wait to truly appreciate the progress.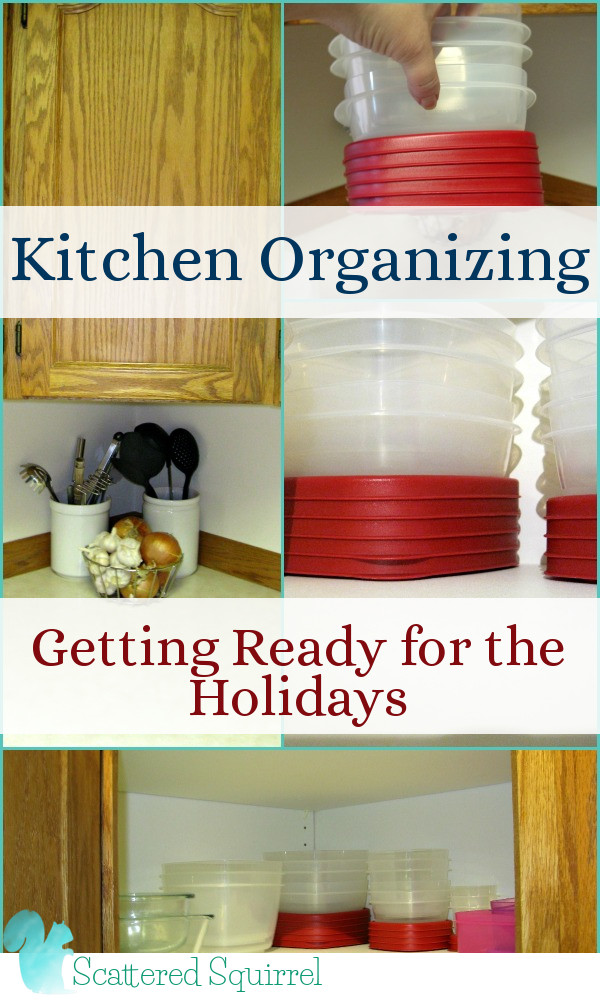 Are you ready for the holidays?  Have you done any extra organizing to get ready?
~Happy Organizing~
Disclosure: I am part of the Rubbermaid Blogger Campaign with Mom Central Canada and I receive special perks as part of my affiliation with this group.  The opinions on this blog are my own.