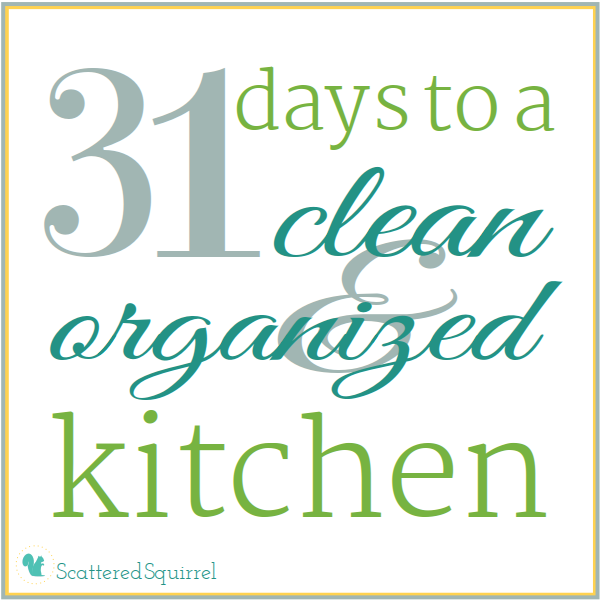 Hi everyone, welcome to Day 9 of my 31 Days to a Clean and Organized Kitchen series.  If you are just joining us, you can get caught up with the other posts on the 31 Days tab at the top of this page.  Yesterday we talked a little bit about zones and how organizing your kitchen by zones can create a very functional space.  Today I'm jumping right in, and starting with our family's largest zone, the baking zone.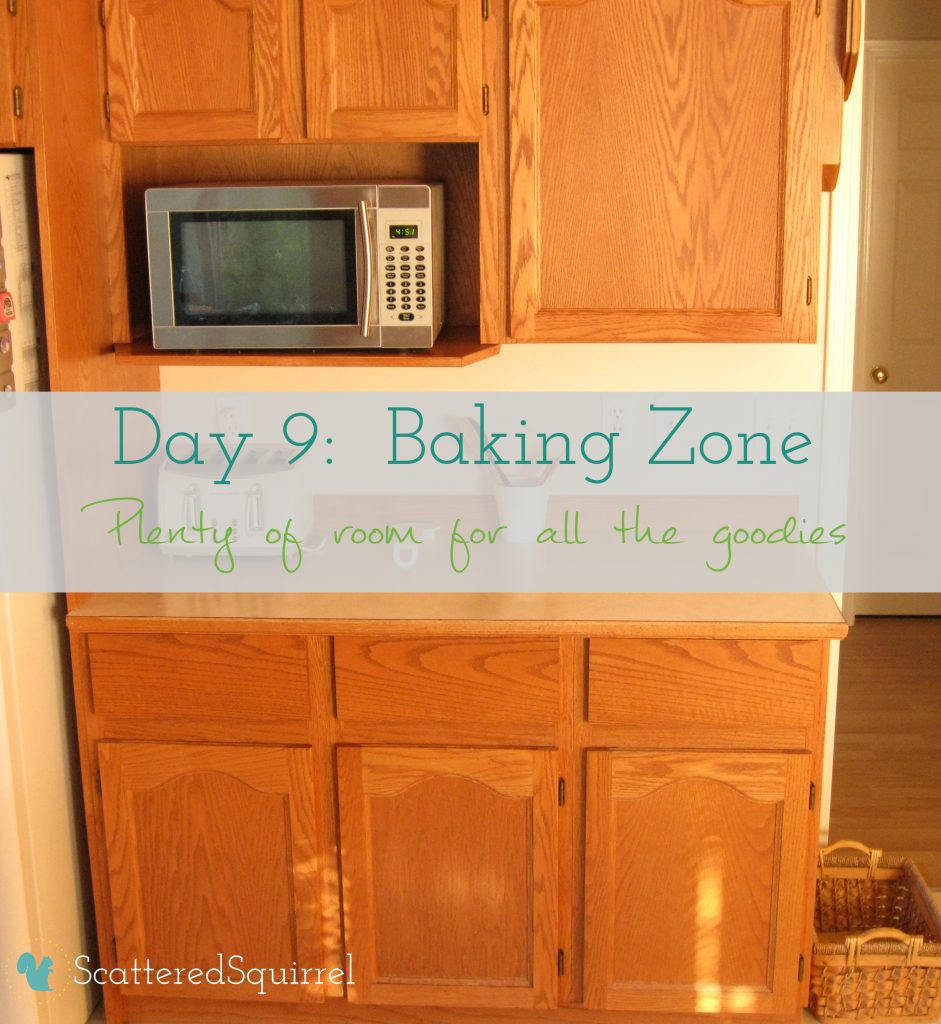 Ok, so you may remember I told you that Travis decided he wanted to try his hand at organizing our kitchen.  This area used to be our coffee and drop zone.  Because I wasn't thinking, I didn't take any pictures before Travis got started, so instead I labelled the cupboards with what I had in them.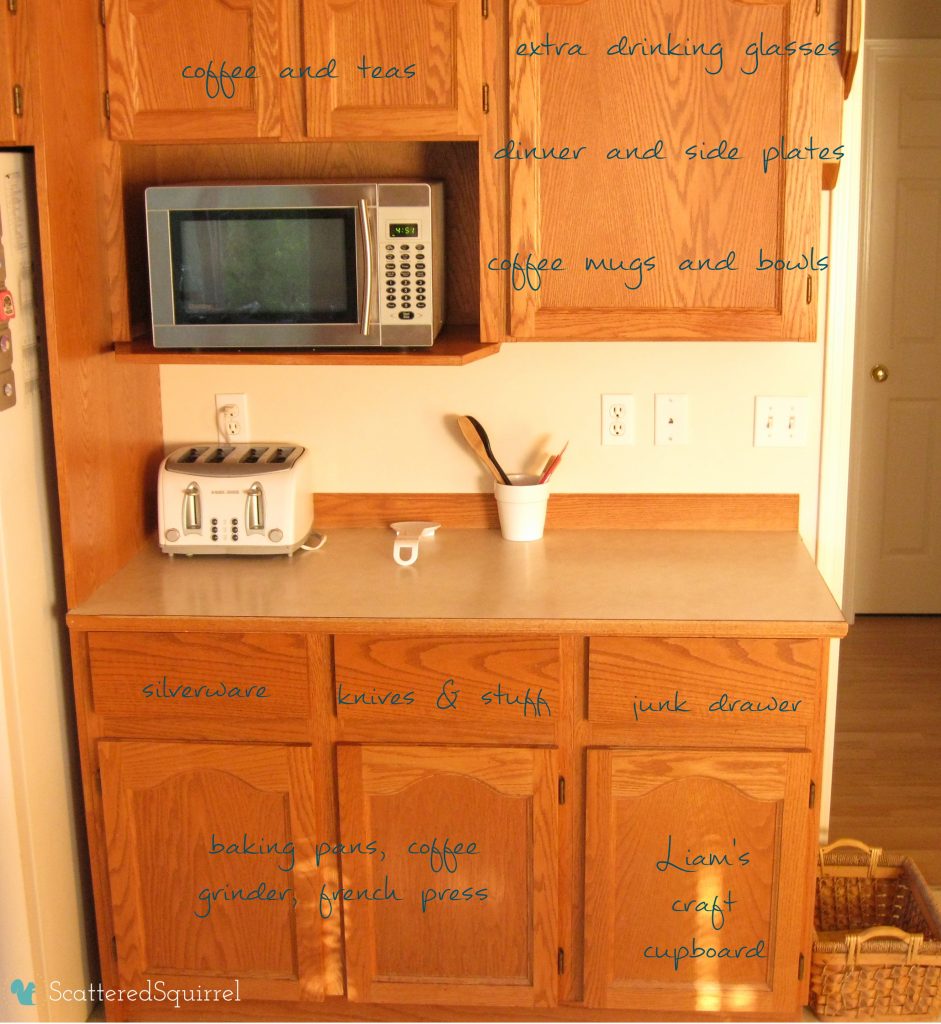 Instead of a mish-mash of dishes that large upper cabinet is now home to some of our most often used baking supplies.  These are items we use not just for baking, but also for cooking.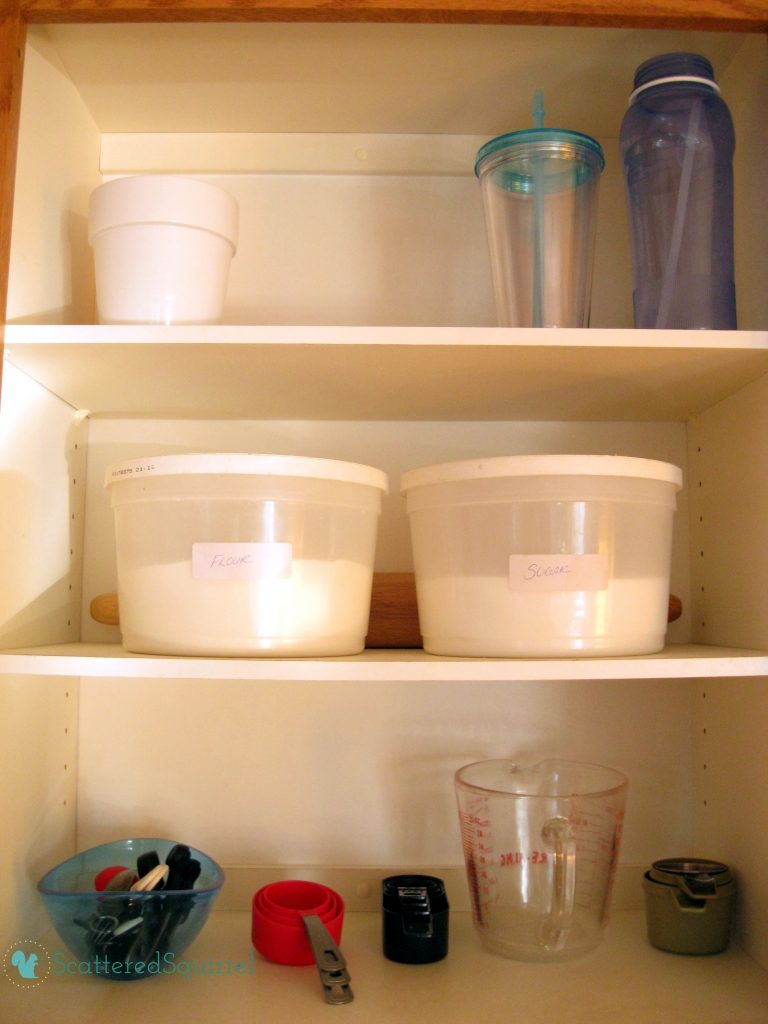 We have a few sets of measuring cups.  We use them all too.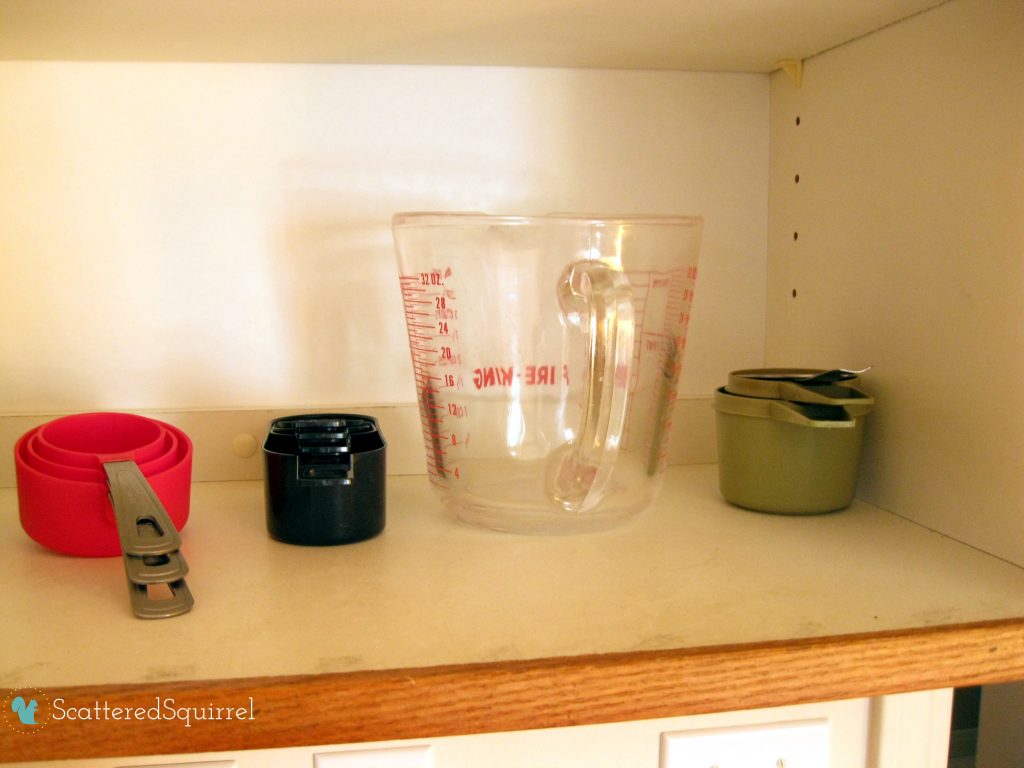 We also have a number of measuring spoons.  Again, many times we use most of them while baking and cooking.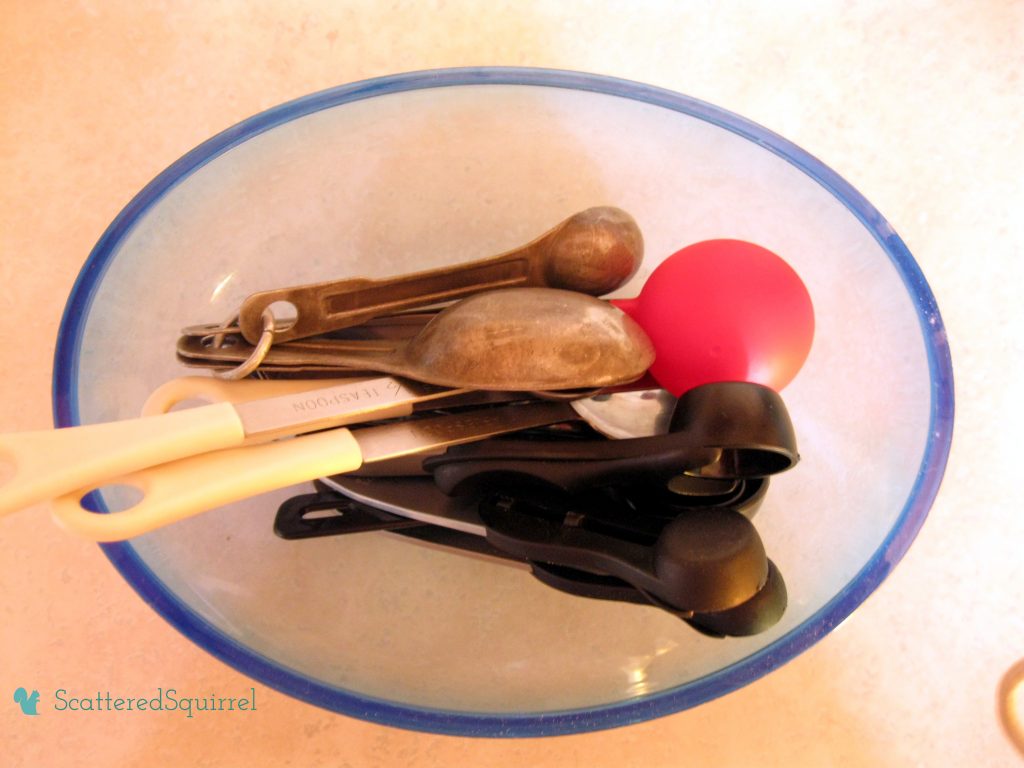 The top shelf is reserved for not often used items.  That little while flower pot was perfect for collecting those few small, not often used items like a small funnel and my food colouring.
The cabinet above the microwave is perfect for holding the rest of our baking ingredients.  I used a basket to corral the smaller items, and our most used ingredients are on their own on the other side.  Because we buy in larger quantities I opted to just leave them in their own containers, it's easy to see what we've got and to grab out the items we need.
The cabinet below the counter is now home to mixing bowls, collanders and baking pans.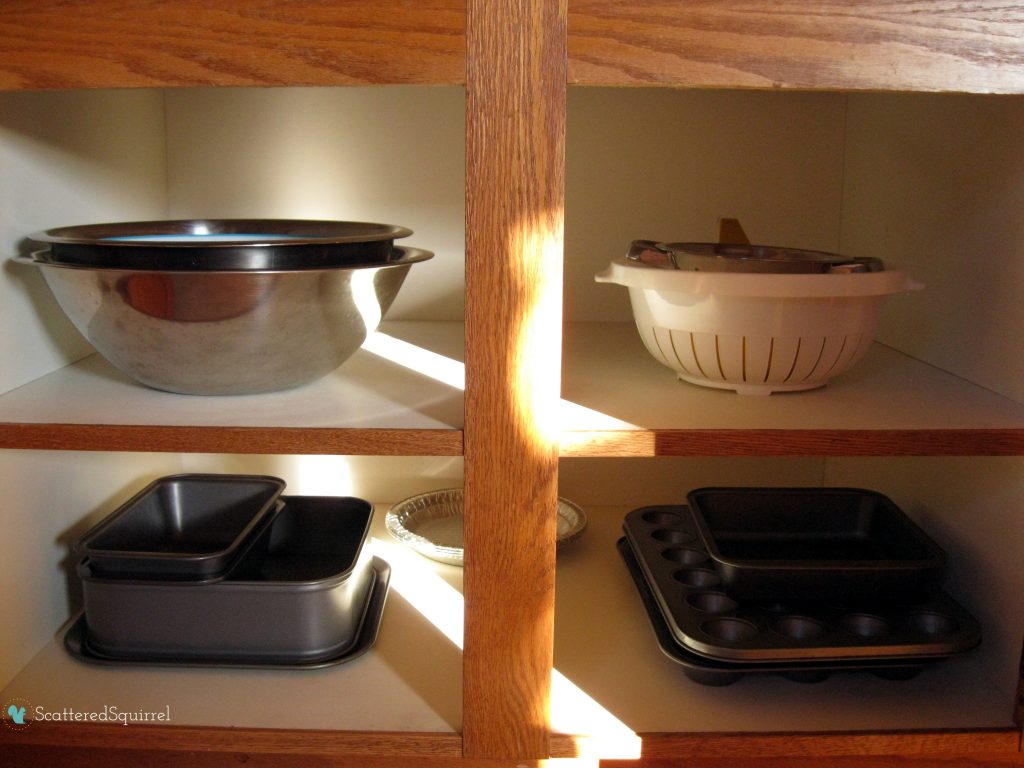 That little flower pot in the upper cabinet is part of a pair.  I found them at a garage sale the other weekend for 50 cents a piece, and when I saw them I knew they would be perfect for this area of our kitchen.  I put the second one to use on the counter to hold some of the utensils we use for baking.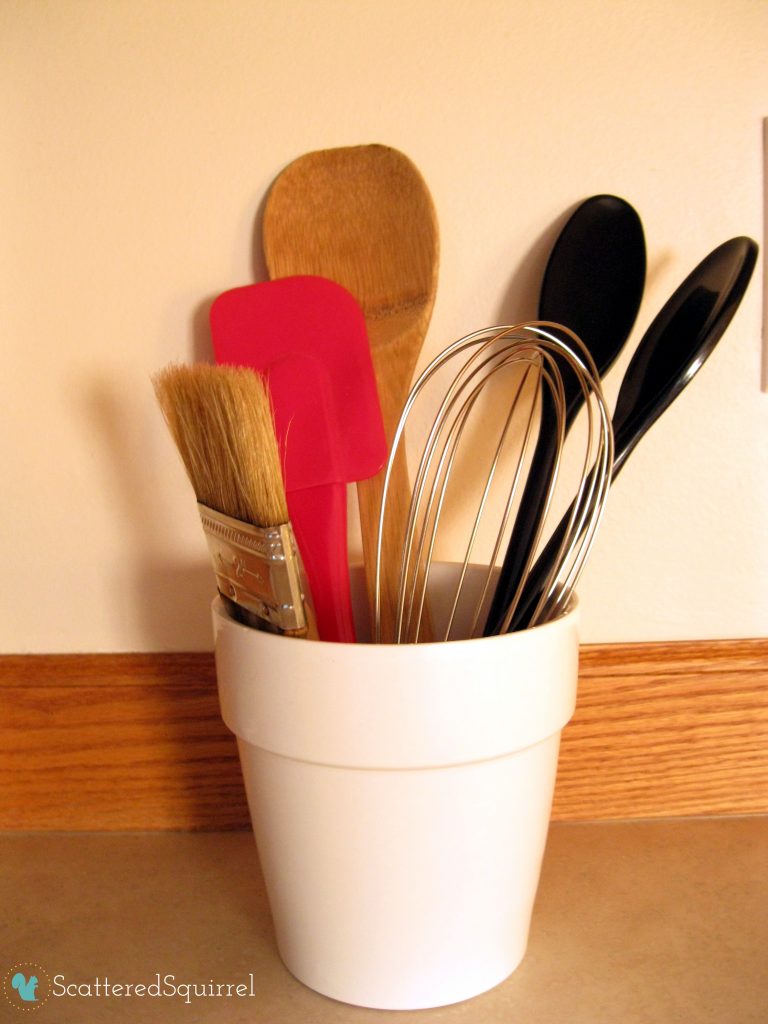 This area is such a pretty little spot now.  The counter offer enough space to have ingredients out and mixing bowls, to roll out dough, it's just a dream!  The drawers are still as they were labelled in the picture above.  Liam's craft cupboard is now home to our smaller appliances, and you can read more about that in this post here.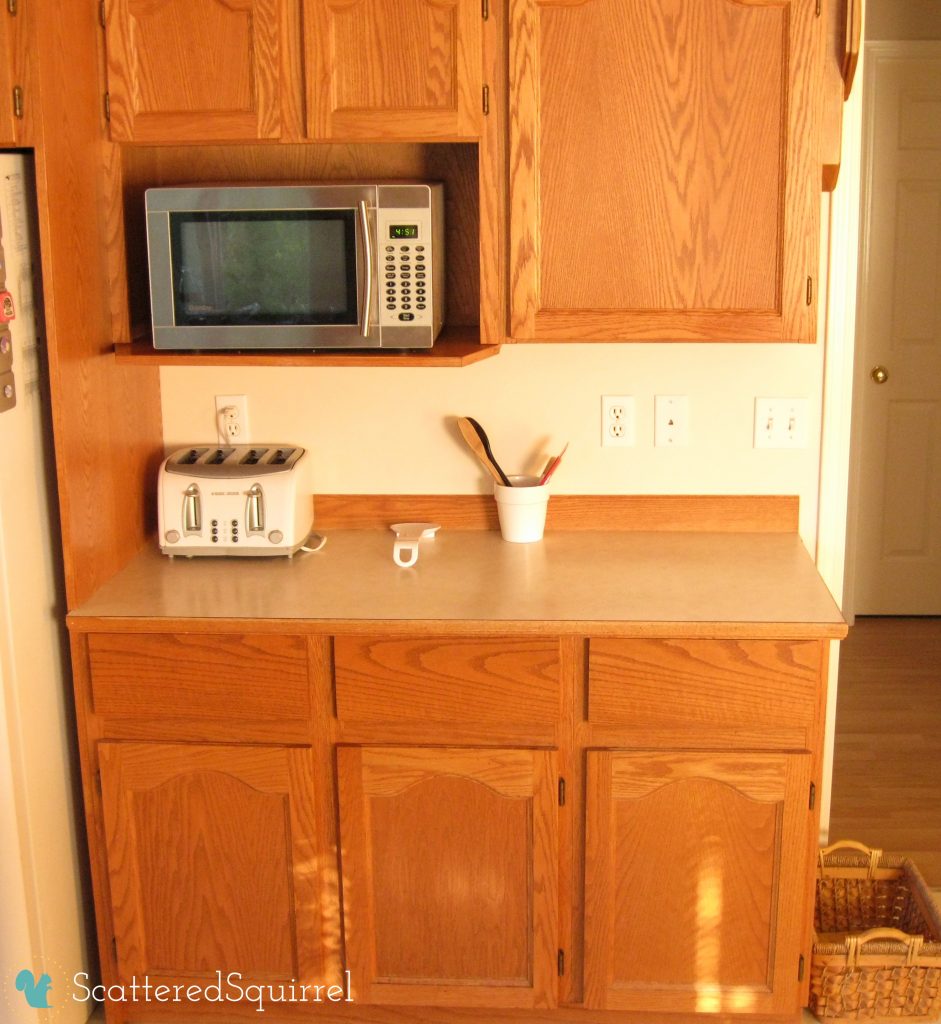 All in all, I'm really happy with how this are turned out.  I'm also ecstatic that we have room for some more cake pans.  I have a list of ones I want to pick up eventually, and I know Travis has his own list.  There is room in those lower cabinets for a few more, which makes me very happy.  Here's what I'm loving about this space now:
the countertop is clear and it makes this space feel much more open.
all our baking ingredients are now within arms reach of where we often bake.
all our baking tools are now in one area, not spread out over the kitchen.
the counter space is perfect for baking
down the road we can add to our storage plan for this space with some canisters and cupboard organizers.
we have the space to add to our baking tools, and that makes me really happy.
So, what zone are you working in today?  Maybe a better question would be, are you going to organize by zones?