Gifts Made by You Gift Guide with Zazzle
**This is a sponsored post. Though I was compensated for the work that went into this post, all opinions, as always, are 100% my own. I only share what I use or love myself.**
For me, choosing the right gifts to give my nearest and dearest is all part of the wonder of the season. There is something almost magical about perusing the stores and kiosks in the malls or wandering through the locally owned shops downtown in search of the perfect gifts. However, this year, I'm thinking of skipping the crowds and making a nice hot cup of cocoa and taking a virtual stroll through online shopping. With a teenage son who likes things that are a little outside the box, parents who love quirky gifts, and a husband who is really hard to shop for, I'm always on the look out for new things and ways to find or create gifts for them that I know they will love. So when I heard of Zazzle and all the fun things they offer on their site, I just couldn't resist checking them out.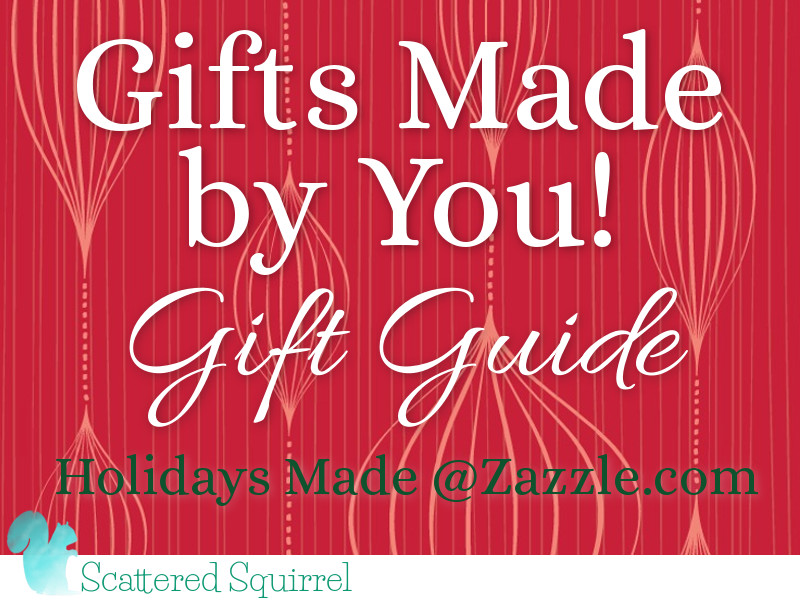 Zazzle is this fantastic website that offers so many options for us holiday shoppers. From baby items to home decor, office supplies to holiday decorations, the list goes on and on and on. To show you what I mean, I put together a little gift guide of some items I thought would be fun to give as gifts.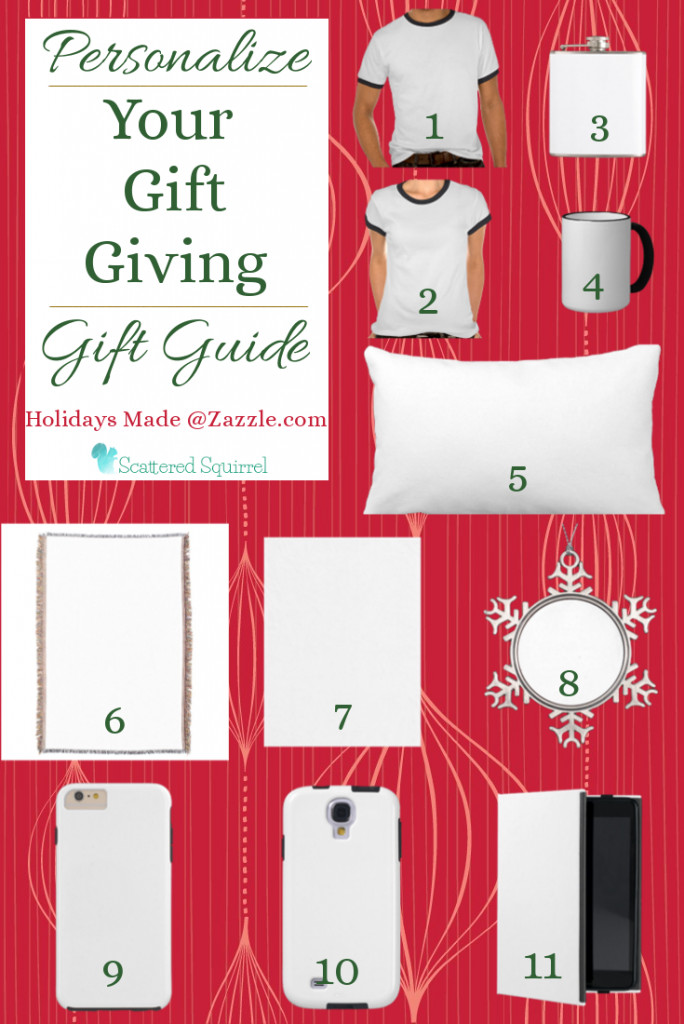 1. Men's T-shirt/ 2. Women's T-shirt/ 3. Flask/ 4. Coffee Mug/ 5. Throw Pillow/ 6. Throw Blanket/ 7. Fleece Blanket/ 8. Snowflake Ornament/ 9. iPhone Case/ 10. Samsung Case/ 11. iPad Case
Now, I know what you're thinking; all the above items are plain jane white, what's so special about the blank canvas items? This, by far is the BEST feature of Zazzle. Every item can be totally, 100% customized! And there are a few different ways to customize the products. You can upload a photo or design of your own. Use the built-in tools to select a background colour, add text, select the font and colour you want, as well as choose options like 'Tile Image". It took a little playing around, and clicking on menu options, but once you learn where everything is it's easy as pie to take those blank canvas items from above and turn them into something completely unique and tailored specifically for your nearest dearest.
To show you what I mean, I took the fleece blank and the snowflake ornament (numbers 7 and 8 above) and played around with them a little, and came up with these….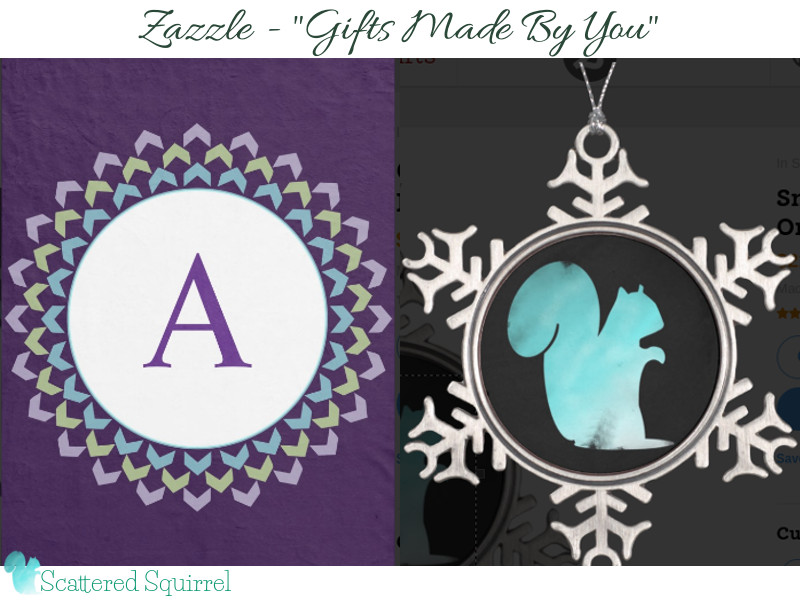 For the blanket, I
uploaded the chevron circle from my 2015 Planner Cover Pages and centred it on the blanket.  To find the right size I
looked at the description of the product and created a new image file in GiMP to that size,
scaled the circle up,
saved as a PNG and
uploaded it to Zazzle so I could put it on the blanket.
Then I got creative with the options that Zazzle has built-in. I chose purple for the colour of the blanket, because purple is my favourite colour. I used the text tool to add the 'A' and chose a font and colour from the options available. Voila! A warm and cozy, totally me, blanket!
The ornament was a simpler job. I uploaded my squirrel, centred it in the ornament and I opted for a dark background to make it pop! It was really simple and very quick, and I can see something like this becoming a family tradition. Upload a photo of your kiddos and create special family tree ornaments to give to grandparents. Take your best friend's favourite quote and have it put on a mug so she'll have a little pick me up with her morning coffee. The examples I used for what I created are just that, examples. Oh, I wanted to share a ton of other ideas with you, but some of my nearest and dearest read my little ole blog, and I didn't want to ruin possible surprises for anyone. They key is to let your creativity run free and come up with your own ideas.
I have spent hours pouring through all the items and options on Zazzle. The best part about it all, is that you can use this site to create unique meaningful gifts all year long. Create mementos to commemorate special occasions; celebrate birthdays, anniversaries, graduation, various holidays and anything else you can dream up. The folks at Zazzle have though of everything, right down to the wrapping paper….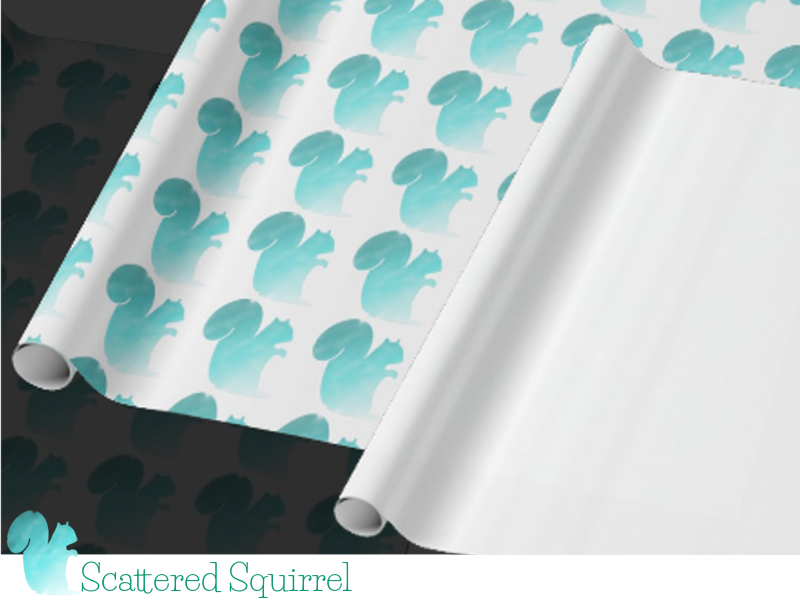 How cool is that?
Out of all the highlights, I think my favourite part is that this site allows you get creative even if you're not the crafty type. And if you would rather let someone else do the creating and customizing for you, you're in luck. There are tons of sellers on Zazzle who have created their own products to sell. Browse through some of the amazing options, and you're sure to find that perfect special something for that special someone on your list.
Zazzle is just one more option to put on the list of places to go gift hunting. The best part, for me at least, is that I don't have to brave the crowds. Instead I can browse, create and purchase from the comfort of my home, in my PJs with a nice cup of hot-chocolate. What could be better than that?
Do you like giving and/or receiving personalized gifts?
~Happy Creating!~
**Disclosure: There are affiliate links contained in this post. If you choose to check out the items and make a purchase I receive a small commission from Zazzle. It costs you nothing extra but every little bit helps to keeps this blog running.**