Planner Printables From Around the Web
There has been lots of planner talk going on around here lately. I love planners. Despite being a scatter-brained, creative, go with the flow, march to the beat of my own drum, kinda girl, (or maybe because of that?) I find planners in all their various shapes, sizes and purposes to be wonderful tools we can add to our arsenal of organizing weapons. Perhaps the best part is that often times you can DIY or build your own for a fraction of what it would cost you to buy one. DIYing your own planner ensures that you're not wasting a ton of you money on a planner that isn't going to work for you. And the first place I always start is with free Planner Printables.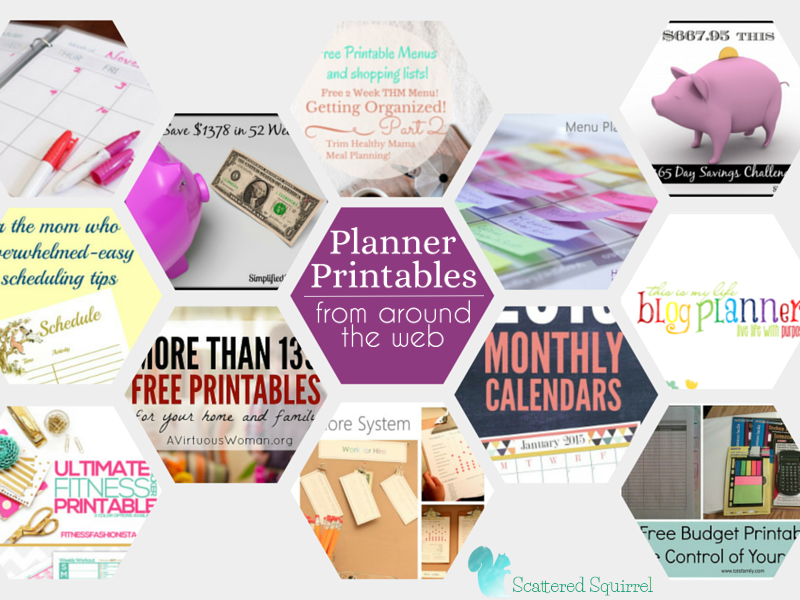 Now, I am a bit of a printable junkie. I don't deny it, and I certainly can't hide it. All you need to do is take a peak at the Printables tab on the menu bar up there to see just how much I love printables. I also know that even with all we have to offer here on Scattered Squirrel, there are some of you who won't find what you're looking for here. Or maybe you'll find some of what you're looking for but not all. Don't worry, I won't take offense. My mantra is find and use what works for YOU! It's so, so, so important to use the tools that work for you and your family. Don't let brand, or in my case blogger, loyalty keep you trapped trying to work for something rather than having it work for you. There are many amazing bloggers out there who have fantastic ideas for planner, and offer some wonderful and amazing free printables out there. One of my goals this year is to help you create the planner that works for you, and as part of that, I wanted to share some other options and opinions out there.
Planner Printables from Around the Web
There are millions of printables out there, and it can be hard wading through Pinterst or Google to find what you are looking for. So I put together this little collection for you to get you started. I hope you enjoy hopping over to check them out.
Calendars and Planner Pages
Home Made by Carmona – Dry Erase Calendars
Make your own dry erase calendars to use in your planner like these found on Home Made by Carmona. I love this idea for so many reasons,
Imperfect Homemaker – Printable Daily Planner for Disorganized People
How great is the title of this one. This is a great system for anyone who is looking for some flexibility in their planner.
My Love for Words – Free printable 2015 Monthly Calendars
These calendars are really pretty. If you're looking for more 2015 monthly calendar options, you might like these ones.
Things you Might Need to Do
Home Made by Carmona- Cleaning Checklists
Chores and cleaning are part of daily life, and planning for them is a great way to not let yourself fall behind. These printable cleaning checklist from Home Made by Carmona won't just help you plan your time, but they'll save you having to answer the never ending questions about what is and isn't part of cleaning certain rooms.
Family Home and Health-For the Mom Who is Overwhelmed: Scheduling Tips with Printable Schedule
Even if you're not a mom, this printable schedule would make a great addition a planner.
Working at Homeschool-Part 2 – Every Mom's Guide to Getting Organized with Meal Planning
Make meal planning easy with these printable meal plans and shopping lists. Two in one, a great way to save some time.
The Homemaker's Journal – 3 Tips to Save Money on Food
This post was a great read, and down at the bottom is a pantry inventory and meal planner you can download to help make meal planning easy, and pretty too!
Home Made by Carmona- Menu Planner
This menu planner is a exactly what it says, a menu planner. With pages that you can customize to suit your needs, and some sticky note page flags you can create beautiful, and more importantly functional meal planner system that will save you a ton of time later on.
Budget, Savings and all things Finance
Simplified Saving – 52 Week Money Challenge
Are you looking for ideas for growing your savings? This 52 week savings plan/challenge might be something that will help. Use the printable to keep track of what you've saved.
Simplified Saving – 365 Day Saving Challenge
If the weekly challenge was a little too much for you, maybe try the daily one instead.
Thinking Outside the Sandbox
Here is wonderful post and accompanying printables to help you set and maintain a family budget.
For Those Other Things You Might Want or Need to Plan For
The Peaceful Mom – Varitey of Printables
There are a variety of printables here, including a goal setting printable to help you work towards achieving those goals.
Fitness Fashionista – Weekly Fitness Tracker
Making time for fitness is important to leading a healthy life. This weekly fitness tracker will help you stay on track.
Teachers Pay Teachers -Daily Schoolwork
For anyone with school age kids, this planner for helping kid's make sure their homework gets done is sure to come in handy.
Home Made by Carmona – Chore System for Kids
Assigning chores to the kids is a great way to teach them responsibility, and also to teach them valuable life skills that they will need and use for the rest of their lives. This kid's chore chart is a great way to keep track of who is doing what.
A Collection of Printables for All Your Planning Needs and More
A Virtuous Woman – Free Printables for your Home and Family
Oh my, I could cheerfully spend a few hours looking at all the pretty printables here. You're sure to find at least one that will appeal to you.
For My Fellow Bloggers
Blog Planner – A Virtuous Woman
This blog planner has everything a blogger needs to plan their posts, organize the behind the scenes stuff, keep track of their important information, and generally stay on top of all the stuff that it takes to run a blog.
I told you they were fantastic didn't I? I'm always tickled pink when I hear that someone out there found what they were looking for here among my printables. And I receive so many suggestions for printables to make or changes to make or things to add to the ones I already offer. I would dearly love to be able to grant each and every request, unfortunately there are not enough hours in a day. (For some strange reason my boys like to eat and have clean clothes and all that wonderful stuff. 🙂 ) What I can do is share some other places to find some great printables, and that's exactly what I hope to do a little more often.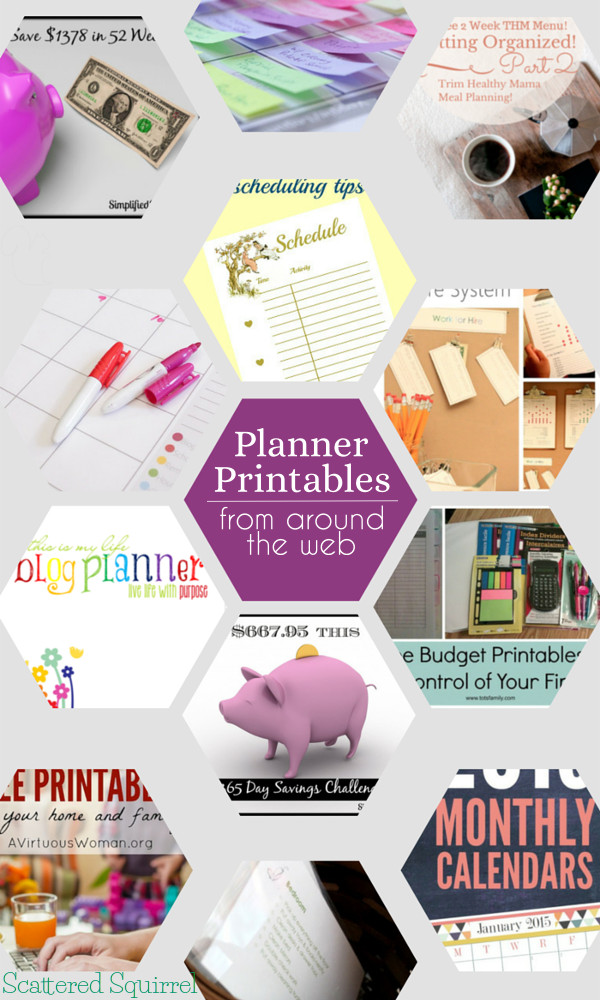 So, did you find something that will work for you?
Happy Printing!
Creating the Planner that Works for You Series
[postlist id=9157]