Planner Systems: What are They and How do They Work?
I've spent alot of time thinking about my planner system while writing this series about How to Create the Planner that Works for You.  Thinking back to my own (and still on going) journey to finding the right planner for me.  What did work?  What didn't?  What were the turning points for me on this path?  I think that one of the major turning points was coming to the realization that one planner was not working for me.  My planner was ending up so full each week that it was becoming overwhelming just to look at.  I couldn't get a good grasp of what the week held for us among all those entries; in short – I couldn't see the forest for the trees.  Something needed to change, because a planner is suppose to help alleviate some of the stress in our lives not add to it.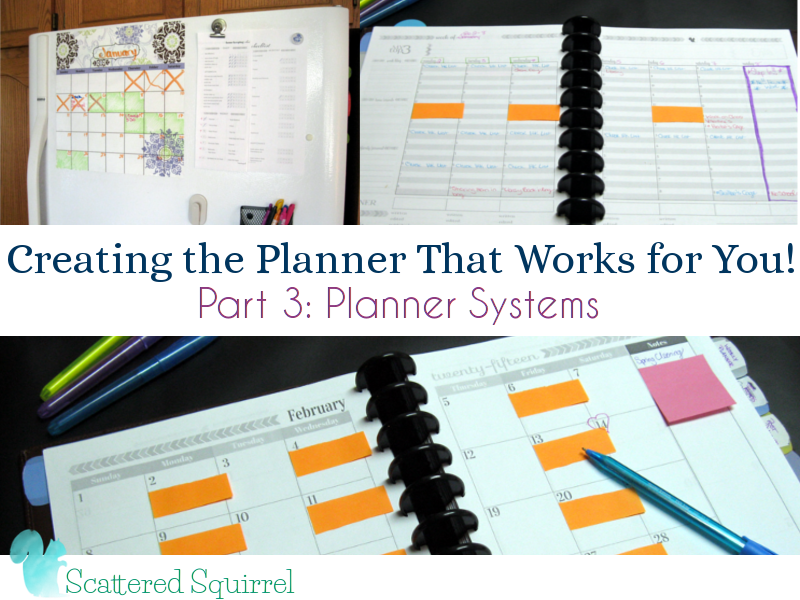 Planner Systems
I first jumped on the planner bandwagon at the beginning of 2007.  I had just start the process of being evaluated for, and consequently learning to live with, ADD and my parents gave me this wonderful gift of a weekly planner and timer to help me
a) learn to evaluate the time it took me to do things and
b) help create a routine that would allow me to stay on top of all the things I needed to stay on top of.
I loved that planner.  It wasn't pretty, it was just simply functional.  I would schedule my day out the night before and block off time to complete tasks.  Over time it got more and more crowded.  We welcomed Liam into the world, we moved a few times, and as I began to feel more confident in my routines I would add to them.  Soon it became impossible to fit all my daily to dos into that weekly planner.  With four in the family, keeping track of my own stuff, and everyone else's was just too much for one planner to handle.  Around that time Travis gave me a large whiteboard calendar.  (total bonus points to a husband who knows exactly what to get his wife for Christmas!) I loved that calendar like I loved that first planner.  And with that addition to our home, I soon realized the power in having a Planner System.
What is a Planner System?
A planner systems is simply two or more planning tools that you use in conjunction with one another to help you keep track of your time, appointments, and to do's.  It can be something as simple as a wall calendar and a to do list;  Or something as complex as a family command center complete with chore charts and routine checklists.  The idea is that you use the tools that work for you to help you keep things going as you want them too.
These could include any, all, or none of the following:
monthly wall calendar
weekly planner
date book
daily planer
routine checklists
house keeping/house cleaning checklists
meal planners
to do lists
chore lists
whiteboard or chalkboard for notes
pad of paper for lists
blank note book for jotting things down
As I mentioned in Day Two (Where Does Your Planner Start) I believe that a monthly calendar is great foundation for any planner.  Whether you are just looking at building a planner 'book' that contains daily and weekly pages, or you're creating a whole system like we're talking about today, a monthly calendar gives you a chance to see the forest and not be distracted by all the trees.  But often times a monthly calendar doesn't afford us enough room or flexibility for the rest of our planning needs.  We might need a to-do list to keep track of all the little things we need to get done.  Or perhaps we need a day planner to schedule our work days.  This is where creating a system becomes essential for planning success.
How Does a Planner System Work?
Think of some of the more traditional planners you can buy in the stores.  In addition to monthly, weekly and/or daily planner pages, many of them now have sections for meal planning, to-do lists, budgeting, shopping lists and more.  A planner system is like picking and choosing the sections you need and using them in a way that works for you.  Let's take a peak at my system, and maybe it will give you some ideas.
My planner system begins with a monthly family calendar.  Even before I fell in love with planners and all they can do for you, I had a monthly calendar.  I would use it to keep track of all the big things, like special dates, doctor appointments and the like.  I firmly believe having a calendar on your wall, in a place you will see it regularly, is crucial to a good time management system.  Whether you're a large family, a small family, married with no kids, or single, a wall calendar is a great way to make sure everyone knows what's going on.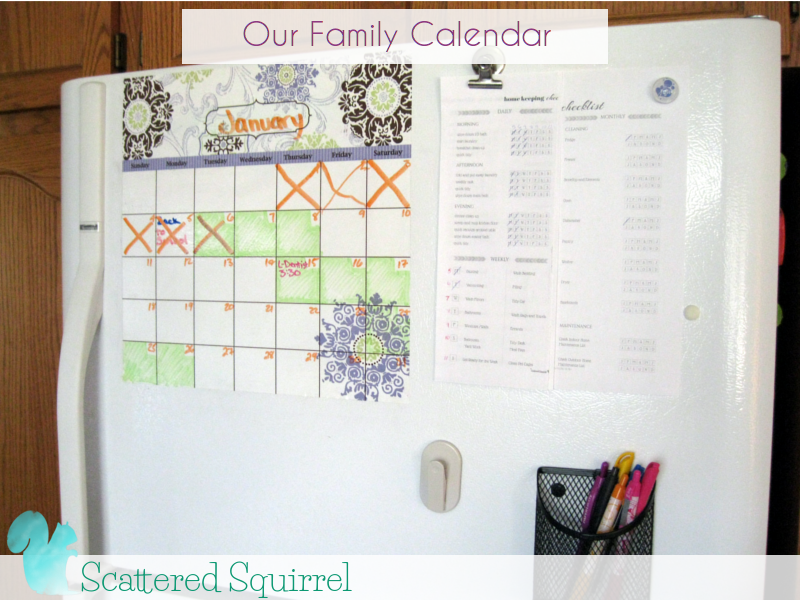 For me, staying on top of daily routines is super important.  It doesn't take much to throw me off my stride and I have a hard time pulling myself out the spiral into chaos.  I may have moved past needing to schedule my house keeping tasks into my daily planner, but I do still need something to hold me accountable and remind that these things need to get done.  So I printed off my house keeping check-list and the weekly refill page, and used a magnet clip to attach them to our fridge beside the family calendar.  Since I'm in and out of the fridge all day I am reminded often that these things need to get done.  And I can see at a quick glance what is left to do that day.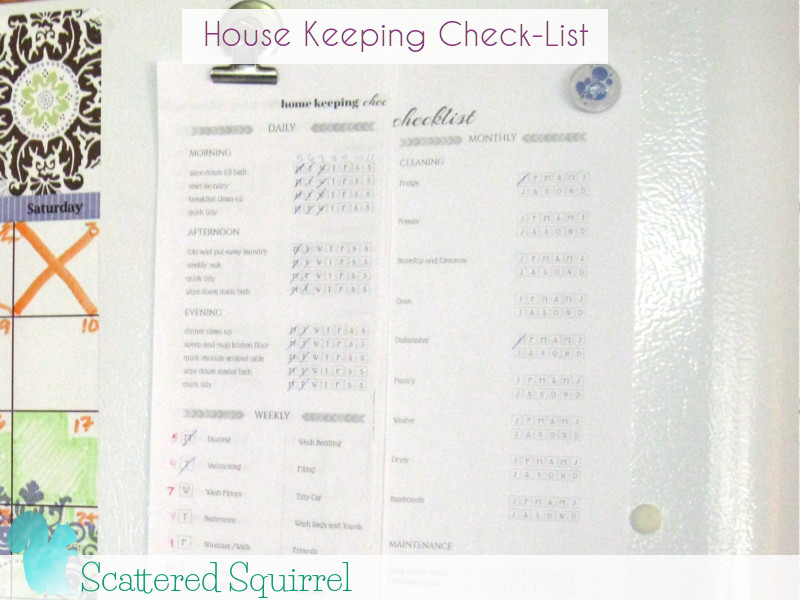 The next part of my planner is system, is my planner itself.  Over the years my needs and uses for this planner have evolved and it's had to grow and change to keep up with the times.  For the sake of this post, I'm just going to show you the two sections I use in conjunction with the family calendar and house keeping check-lists.  First I'm using my full size, two page per month 2015 calendar.  This calendar serves as my editorial and maintenance schedule for the blog as well as acting as a duplicate of our family calendar so I can make sure I plan around our family's commitments.  I jot down my posts for the month on those orange post-it flags, that way I can move things around if need be. I used different coloured flags for different things.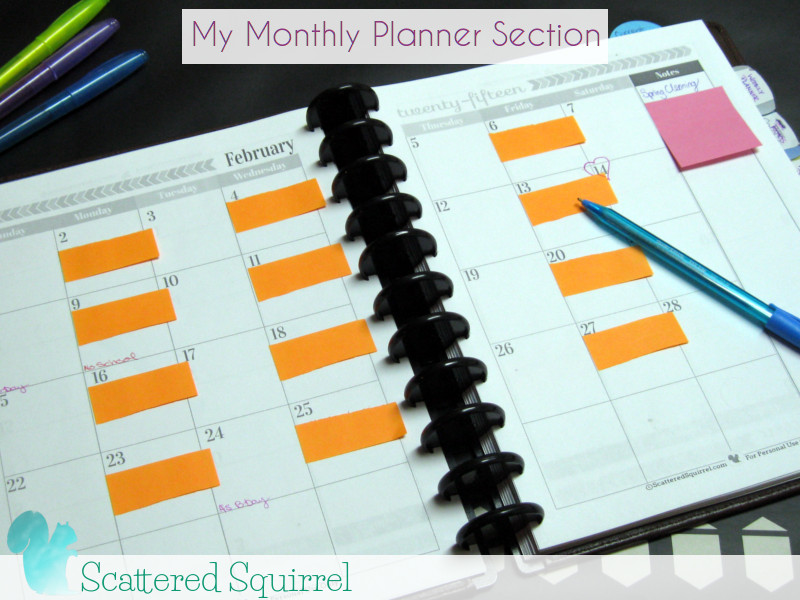 Then I have a two page per week planner sheet.  I used the Family Weekly Schedule as inspiration and tailored it to suit blogging life a little more.  Like I said above, I no longer need to schedule in my house work each day, but I do make sure to include reminders to check the house keeping list throughout the day.  As you can see, I pull the post-it flags off the monthly calendar and add them to my weekly plan. This again, allows me to move things around and adjust them as need be.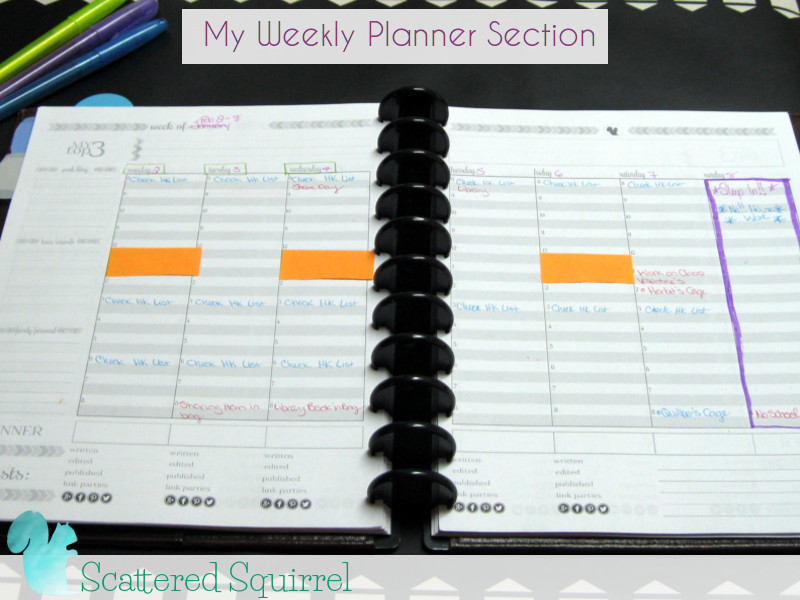 It may seem like a lot of steps just to manage my time, but each of these 'planners' serves a different purpose and allows me to easily keep our family, home and my blog life on track.  It's far from perfect, and I still have a long way to go towards creating the planner system that works best for me, but I'm getting closer and closer.
So a planner system is two or more planning tools that work together to help you plan your time and keep track of all those things we need to do to keep our lives running smoothly.  They work because each part serves a purpose or keeps track of one thing.  You might have a monthly family calendar that keeps track of appointments and sports and other commitments, and a meal planner that you use to make sure you've got dinner under control, and maybe chore charts to help you and your kiddos keep the house up, and a weekly planner that you take with you everywhere to keep your own stuff organized.  By themselves, each of these tools is wonderful, together they create a system that helps you stay on top of the thing you need to stay on top of.
Creating the planner that works for you is not something that happens over night.  It takes time.  It takes trial and error.  It takes flexibility.  What works this year might not work next year.  If you have something that is working for you, stick with that.  It doesn't have to be fancy, complicated or even pretty it just simply needs to work.  Don't be afraid to try something new, but also, don't be afraid to keep the parts that are working.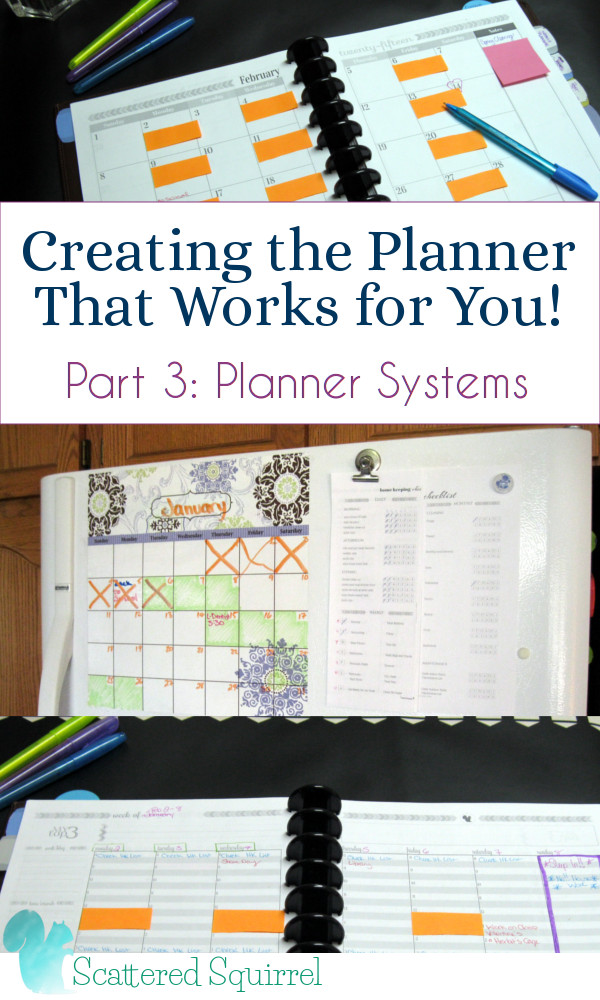 What planners or tools do you use to keep track of your life stuff?
~Happy Planning!~
Creating the Planner that Works for You  Series
[postlist id=9157]