How to Create Your Planner
We live in a world where information overload is something that happens all too often, and it's so easy to find yourself caught up in new idea after new idea and soon a whole day, week, month, or even year has gone by, and you still don't have a planner that works for you.  I have a had a lot of fun writing this series.  In many ways I could cheerfully keep going on and on about planners and how to create the one that works for you, but I don't want to be the cause of information overload for anyone, and I feel this is a good place in the series and a good time to talk about pulling everything together to create the planner that will work for YOU! Or, at the very least, start you on the journey to creating it.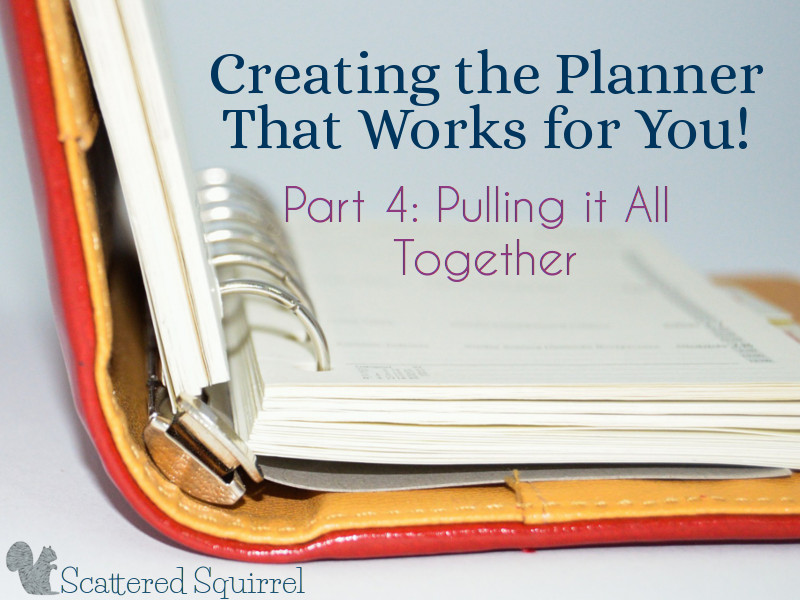 We started this journey to creating the planner that works for you, by taking a look at what the term planner really means.  And I shared with you my personal definition of the term, as I saw it in relation to this series.
 A planner is simply a tool or system used to help you keep track of important dates and appointments, build or maintain routines, and make the best use of your time and energy.
I also asked you to think about planners you've used in the past.  I told you to think about:
Why you stopped using them?
What was it about them that didn't work for you?
Were there parts or portions you did use and others you didn't?
Was there anything about it you liked?
What parts really worked well for you?
What would you change about it to make it work better for you?
Part 2: Where Does Your Planner Start?  was all about thinking about a starting point for you planner.  I recommended that a good place to start is with a monthly calendar, because I believe that they are the easiest, least overwhelming place to start.  Having a monthly calendars allows us to keep track of so many things:
birthdays
anniversaries
other special dates
appointments
important school days
extracurricular lessons, practices and more
vacation time
travel arrangements
and so much more
I also shared some ideas about what else you could add into your planner.  I wanted you to start thinking about a starting place for your planner because in Part 3: Planner Systems we took a look at what a planner system is and how to use one.
A planner systems is simply two or more planning tools that you use in conjunction with one another to help you keep track of your time, appointments, and to do's.  It can be something as simple as a wall calendar and a to do list;  Or something as complex as a family command center complete with chore charts and routine checklists.
And now, it's time to pull it all together to create a kick butt planner that will help keep you organized and on time all year long!
Creating the Planner that Works For You
It may sound like a daunting task, but if you take it one step at a time you're sure to build a system that will serve you well for years to come.
Step One: Digital, Paper or a Combination?
Do you keep everything in the calendar app on your device? Or do you prefer to write things down?  Is your device the first thing you reach for when checking your schedule?   Maybe you like using your device for somethings but not others.   The medium you choose for your planning needs must be something that works for YOU.
For example, I'm a pen and paper person.  If I write it down I tend to remember it better than if I type it out.  However, there are some planning needs that I have where pen and paper just don't work as well as I would like.  Most of those are related to running the blog, and I've come to the conclusion that a combo of the two can work well if it is what you need and if it works for you.
Step 2: Do You Buy or DIY
If you are the pen and paper type, then the next step for you is deciding if you would rather buy a bound planner from the store or online or make one yourself.  If you're going to purchase a bound planner, take your list of what hasn't and has worked for you in the past, and reference those items when browsing your options.
If you're not sure whether or not you need a weekly or daily planner, my suggestion is to look for a weekly one that has a week spread out over two pages.  If you find you don't have enough room, or if you have some days that are busier than others, you can always print a daily planner page and use a paper clip or binder clip to attach it to you planner.  Or, you could use sticky notes (post-its) to add items to the day that is busy.  I also urge you to think about your budget, it doesn't hurt to start with a cheaper version until you know for sure which one you need.  Or you could look for a planner that can refilled, that way you can swap out the pages.
If you're going to DIY your planner, you have a little more room to breath, and a little more flexibility.  The beautiful part about DIYing a planner is that you can change things out as you need all year long.  Look for good a good quality binder or disc-bound notebook in the size you would prefer, and be sure to grab a paper punch that will work with whatever one you choose.  You might want to include tabbed dividers if you want your planner to have different sections, or if you're not sure how many sections, grab some stick tabs (usually found with the post-it notes) and make your own dividers out of card-stock or trimmed scrapbook paper.  Then have some fun looking for printables to use to make your planner.  You can checkout all the printables on my Personal Planner printables page, and I also recently shared a post full of other places to find free printables as well.
For those of you who would rather use digital products, the same question applies.  Are you going to purchase an app that will allow you to store and keep track of everything in one place?  Or are you going to use a few free Apps?  Google Calendars combined with Evernote can be a great combo for a planner.  You have the calendar to keep track of appointments and routine items and Evernote is great for keeping to-do lists and notes.  Whatever you choose, remember to keep your budget in mind and use only what will work for you.
Step 3: Build Your System
We talked about planner systems in Part Three, and here is where we pull them together.  What other items, other than a 'planner' do you need to keep yourself and family on track? Are you going to be using a family calendar?  What about a menu planner or a place to jot down your meal plan for the week if that's your thing?  How about a checklist for all the housework like I have.  Take some time to think outside the planner.  Remember those items we crossed off the list in step 1?  This is where you can bring them in.
Maybe you want a meal planner, but if it's in your actual planner you never use it?  This is where you add it in.  It doesn't have to be in your planner to be part of your system.
Maybe you don't like writing your to-do list in your planner?  That's ok, no-one says you have to put it in your planner.  Quite often my to-do list is just jotted down on a scrap piece of paper.  I may take a couple important items off of it and schedule them into my week, but otherwise is sits on my desk where I can refer to it often.
Gather the other stuff that is going to be part of your system, and figure out where you're going to keep it so that it works for you and your family.  Don't feel you need to stick to convention.  If it makes more sense for you to post your meal plan in your office and your shopping list by the front door… do it!  If having your family calendar in the dining room works better than having it by the door or in the kitchen, hang it there.  Find what works for you, and embrace it!  Once you stop restricting yourself to the box, things start clicking and making more sense.
Step 4: Use Your Tools
Now the fun part really begins.  It's time to start using your planning tools.  As time goes on, how you use them may change; when you use them might change; the important part is to use them!  Use them and love them and enjoy having a little more control over your time and consequently your life.
Step 5: Evaluate
This step is the final step, but in a way it's also the beginning step.  After using your planner for a few weeks or a few months, make some time to evaluate it.
Is it working for you and your family?
If not, what isn't working?
How can you change it to make it work?
Do you really need it?
Almost sounds like the first post right?  That's because in many ways it is.  Evaluating your system as times goes on allows you to keep fine tuning it, adjusting it, and in the end, it's the key part of creating the planner that works for you.
Whether you followed the whole series, or just stopped but today for the first time, I hope that you found some useful information in these posts.  I believe that when we find the pieces that work for us, we end up with an incredibly powerful tool that can, if used correctly, make a world of difference in our lives.   If you take nothing else away from this series, I hope that you at least take this part with you;
Sometimes we need to think outside the box in order to find the solutions and the tools that will work best for us!  If we have to work for the system, it's not the right one for us.
Thank you for tagging along on this journey with me.  I can't wait to start the next one!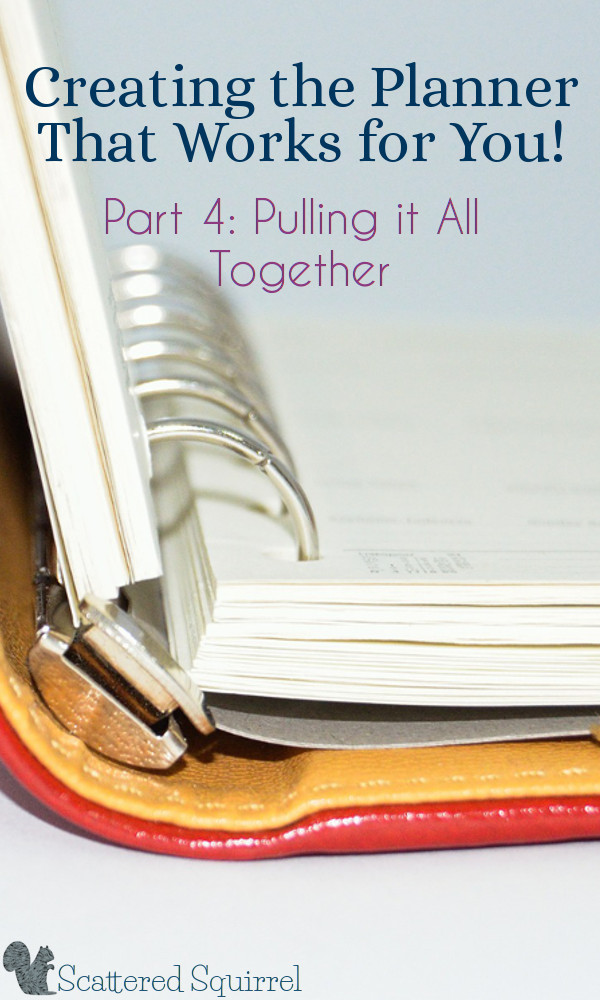 Were you able to find the information you were looking for about creating a planner that works for you?  Is there anything I missed, or anything you would like more information about?  I would love to hear from you in the comments below.
Happy Planning!
Creating the Planner that Works for You  Series
[postlist id=9157]