Easy Tips to Organize Homeschool Materials
Hi everyone! Please join me in welcoming my dear friend Marie who is hopping over from
Child Led Life
to share some fantastic tips for how organize your homeschool materials.  I love the advice she has to share, and even though we don't home school, I know I'm going to get a lot of use out of these tips in various areas around our home.  I hope you enjoy this post as much as I did.
I am so excited to be with Alli here on Scattered Squirrel. I have had so much inspiration from this blog and can't wait to share with you my easy tips to organize homeschool materials!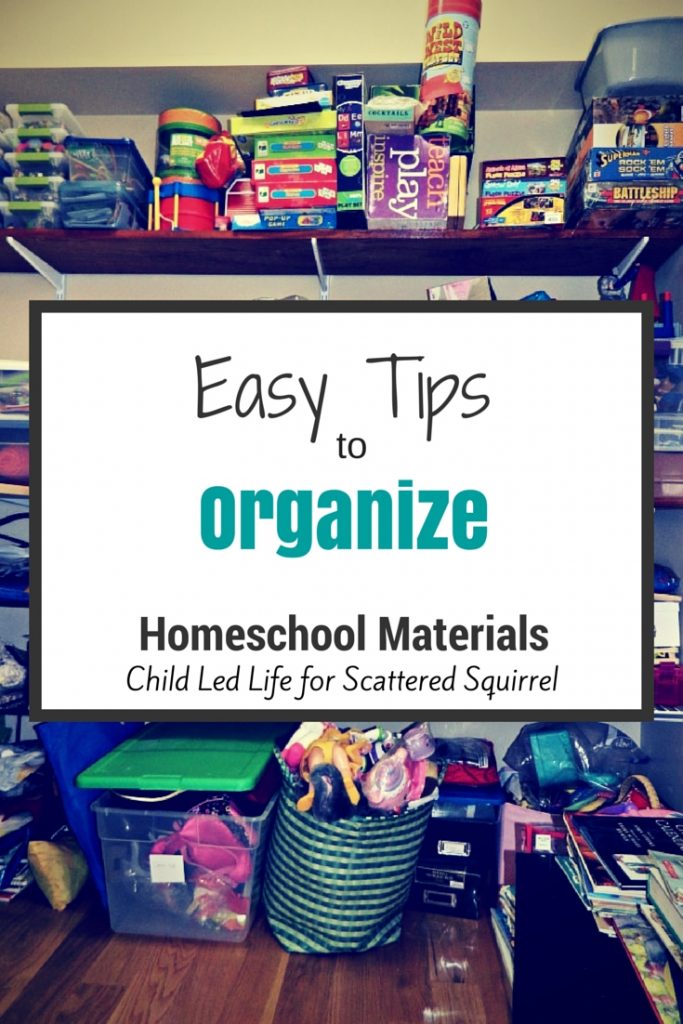 Last year, my husband and I bought our first house. I can't tell you how exciting it is to settle down after many years of moving as a military family. Because of our military experience, we chose to homeschool our children. Homeschooling preschoolers requires a lot of materials! Games, crafts, hands on learning, and still plenty of regular toys.
Montessori materials are some of the nicest things in our home. We chose the Montessori method as a way of teaching our children and setting up our home because of the empowerment it gives to our kids. At 2 and 4 they are able to make their own breakfast and clean it up, get dressed and take a bath, are polite and courteous among many other wonderful traits.
Teaching in this way can require special materials. Not all the materials have to be Montessori specific, but they do have to be of good quality and attractive to the child. My two year old was using a glass cup and plate before she could walk and almost all of our teaching materials are made of wood. We have to organize all of these beautiful materials to get our money's worth out of them and be sure they last for many years.
The job of the Montessori homeschool parent is to carefully store and organize materials to be rotated on a regular basis. Practical life work, early language materials, and beginning math work all need to fit somewhere while they are out of rotation. It's exhausting just writing about it!
I'm a thrifty organizer. I like to use functional and cheap ways to organize and use a couple methods I would love to share with you.
Photo Boxes on Sale
Photo boxes are my little organizing secret. I love them! They are not to big, but have lids and are easily stackable. I love the photo boxes we found 75% off at our local craft store because they have labels. I have our materials organized by subject and they are easily identifiable without having to dig through each box to find the right materials.
Old Book Cases
Most of the book cases we have in our home I saved from the dumpster. Many of them worked wonderfully, but the owners didn't have space for them anymore. They are perfect to organize materials and stack items all the way to the ceiling!
Clear Plastic Bins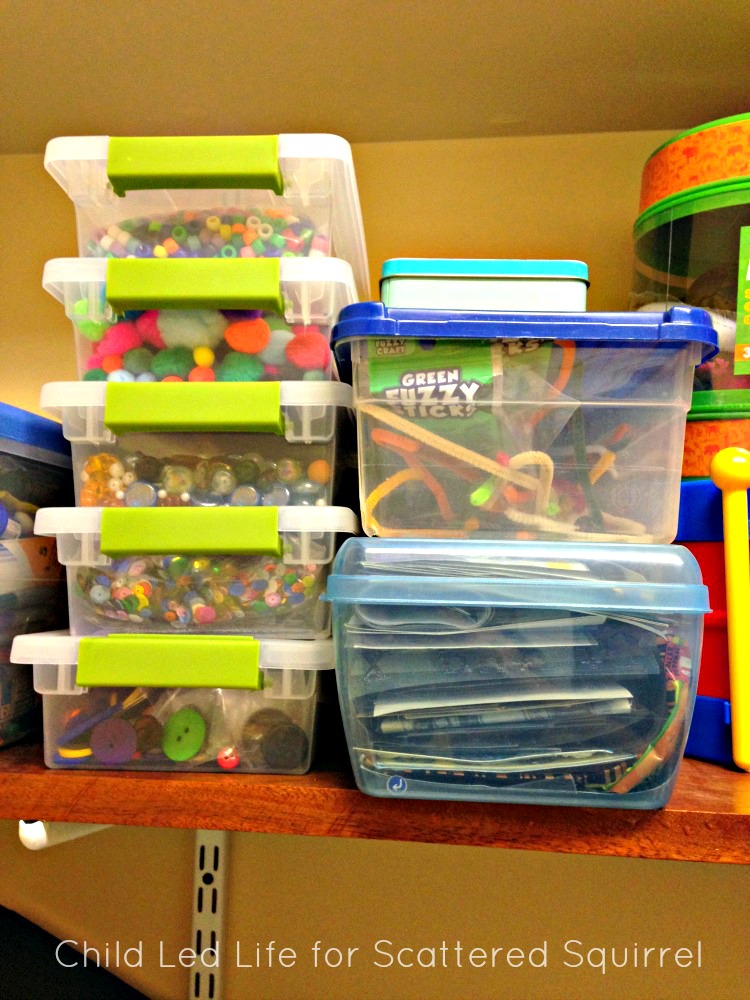 Clear plastic bins are a huge plus in our organized closet. Most of our art materials are in small clear plastic bins I found on the clearance rack at Target. Most bins still have handmade labels to identify the needed item correctly. And I just love the way clear plastic looks! A little bit of color brightens up a closet without windows.
Repurposed Shelving
I have at least three shelves in my organized closet that were intended for other uses. One is WAY to big for the space, but was available and works just fine. I am not a fan of spending extra money when a shelf that will work is laying around. The other two shelves were bought while we moved from home to home over 13 times in the last 6 years. Who knows what the intended purpose was in the beginning, I needed the extra storage in our homeschool materials closest!
Old Baskets
I feel like baskets are a must until my children grow out of stuffed animals, dress up clothes with accompanying swords, and toy trucks. Those things just don't stack well. Our baskets are still for specific purposes. I also do not allow them to overflow (to much). If there are items that do not fit in the specified baskets, then we evaluate what we have and choose a couple items to go to charity!
As you can see, I don't like to use a lot of brand new things to organize inside a closet. The organization in our closet is for me, not for visitors to see. So make your life functional and useful by using cheap and repurposed items to organize homeschool materials.
---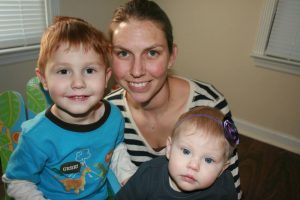 Marie blogs about her family's adventures in a child led life at ChildLedLife.com. She shares fun activities for kids, parenting tips, help with homeschool setup, great product reviews, and more. Follow Marie on Pinterest for educational boards with a Montessori inspired feel.