365 Days Challenge! I'm Doing it, are You?
What's this?  A post on Thursday?  You betcha, I just couldn't wait to share this.  One of my favorite bloggers, Hilda, over at From Overwhelmed to Organized has started a new challenge for the year and I think it is a fantastic challenge.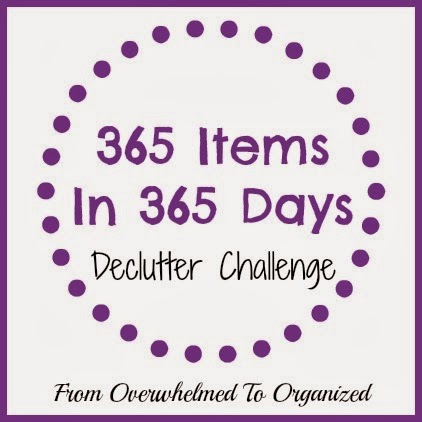 When I read her post, 365 Items in 365 Days Decluttering Challenge, yesterday I just knew I had to share it with all of you.  Decluttering is one of the hardest parts of organizing, for many different reasons.  Most often it's so overwhelming and we don't know where to start.  Even I have a hard time when it comes to decluttering.  I can't count the number of times I put off doing a project because I don't want to deal with the decluttering process.  But Hilda has found a way to help all of us get rid of clutter without being overwhelmed by it all.   One item a day may not seem like a lot, but by the end of the 365 days that's a lot of clutter gone.
The rules are really simple.
Declutter 365 items from your home in 2014.  Or more if you want too.

An item only counts as being decluttered if it leaves your home.  Whether you donate it, sell it, pass it on, recycle it or toss it, it has to leave your home, and your garage, to count.
See?  Simple, easy, and definitely doable.
Hilda's even created a Facebook Group for the challenge.  It's a great place to meet new friends who you already know you have something in common with.  Hop on over to From Overwhelmed to Organized for more info on how to join the group!
I can't wait to start decluttering.  I guess there's just one more thing left to say…..
…. are you?