I think I spend more time in my office nook than in any other area of my home. When we first moved into our home, I had my office set up in the dining room. At the time it made sense, as I had our table set up in the breakfast nook. Then, last summer some friends of our asked if we wanted a dining room set that they didn't need anymore, and we gladly took them up on their offer. At the time I had moved my office upstairs to escape from the noise of the kids being home on summer vacation and our dining room was basically sitting empty. It didn't take me long to get sick of having my office in our bedroom, and I started looking at other areas I could put it, and slowly but surely our breakfast nook turned into my office nook.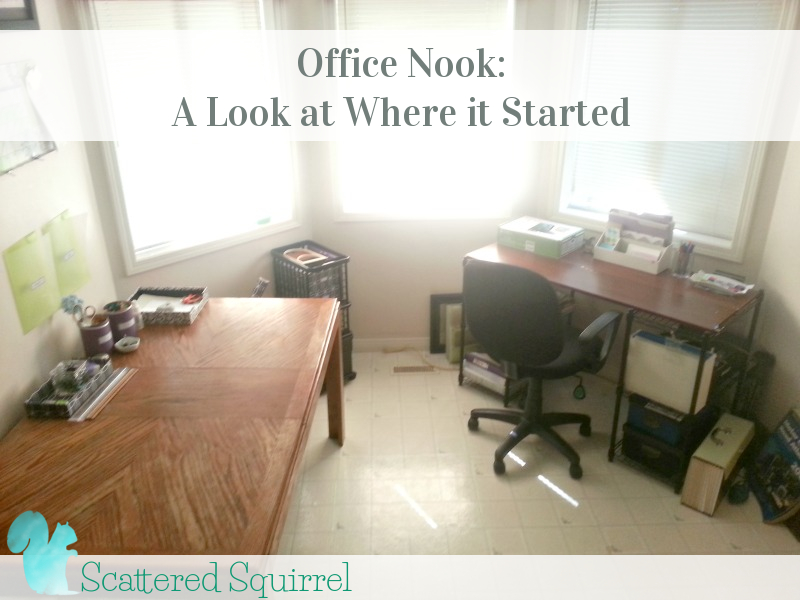 Having my office set up in our bedroom was not my best idea.  There were so many reasons why I thought it would be great and there were a few key reasons why I should have known it was doomed from the start.
 I am not a type A personality.  My work space looks like a war zone when I'm in the middle of something, and sometimes that something could last for months.  A bedroom should be restful, not cluttered with office stuff all over the place.
A bedroom should be a place of rest, instead, every night when I went to bed I would have to fight the feeling of "I should really get a little more work done" for someone with sleep issues, this wasn't a good combo.
 I was having nothing but trouble trying to find a balance.  I felt disconnected from my home, and instead of having imposed 'work' time and home time, it just ended up being one of those situations that frustrates me to the point where I don't know where to put my attention because so many things seem to need it, and I spend more time trying to work out what I should be doing rather than just doing it.
Those are the big three, there were a hundred other smaller reasons that eventually led to me slowly taking over our breakfast nook.  It started when I noticed that more often than not the boys were taking their breakfasts into the dining room.  And so as meal and snack times moved to the other room, my office activities moved into the breaknook, and soon my office nook was born.
My Office Nook
It's been through a few different layouts.  I gave up my old 'desk' to Quilber so his cage wouldn't be on the floor where it's cool and drafty, I've added stuff in, taken stuff out, tried moving things around… no matter what I do I struggle with keeping it organized.  A few months ago, I shared last office organization project on Facebook.  Because I'm getting ready for another total overhaul of this space, I thought I would take a moment to share my office nook here, so that you can see where it started.  As you can see in the before photo below, organizing my office nook has been a little challenging.  Truth be told, sometimes organizing this space is a little like pulling teeth for me.   So, I took my own advice when it comes to finding motivation to organize, and I took the before picture.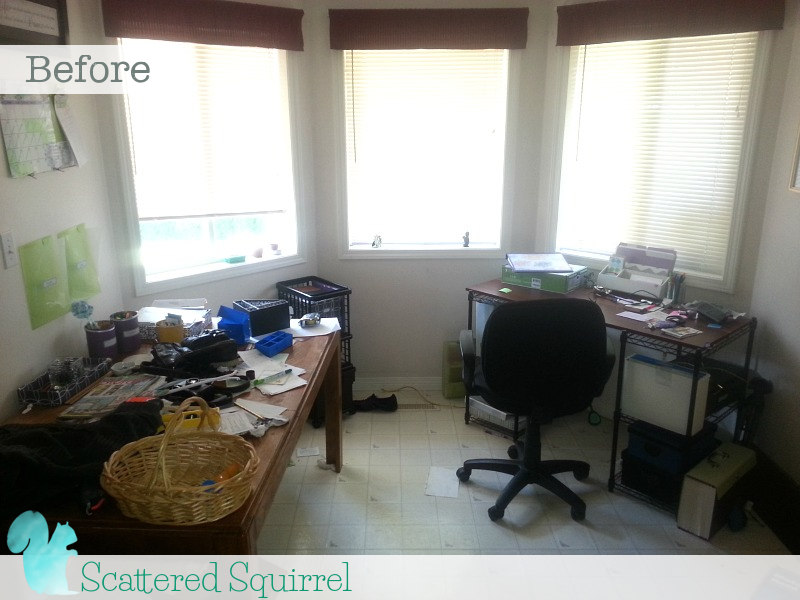 While I was stalling getting the process going, I was looking through my phone's photo editor for a filter that would make the before look a little more appealing (ha ha ha ha, hi my name is Alli, and I'm a procrastinator!) and instead I stumble across a filter called Invert.  I have decided that this filter needs to be renamed to Clutter Highlighter.  Take a look below to see why.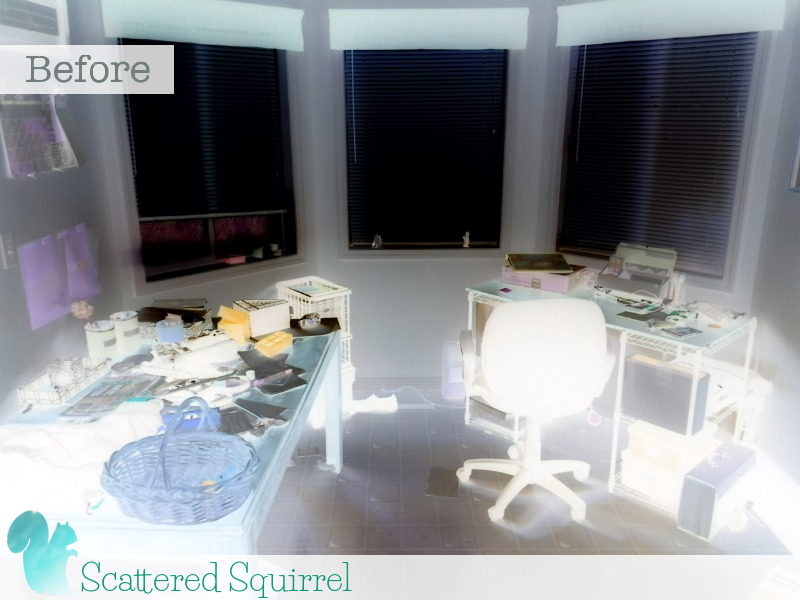 It was this photo with this filter that finally got me up and moving.  I sorted through all the stuff on the table, put things away where they belong.  I'm not going to get too far into my 'organizing' process for this space because even as I type this post, my office nook is in shambles once again, though this time there is a method to the madness, and I will share all the goodness in later posts.  For right now, take a peak at what my computer desk looked like when I was done.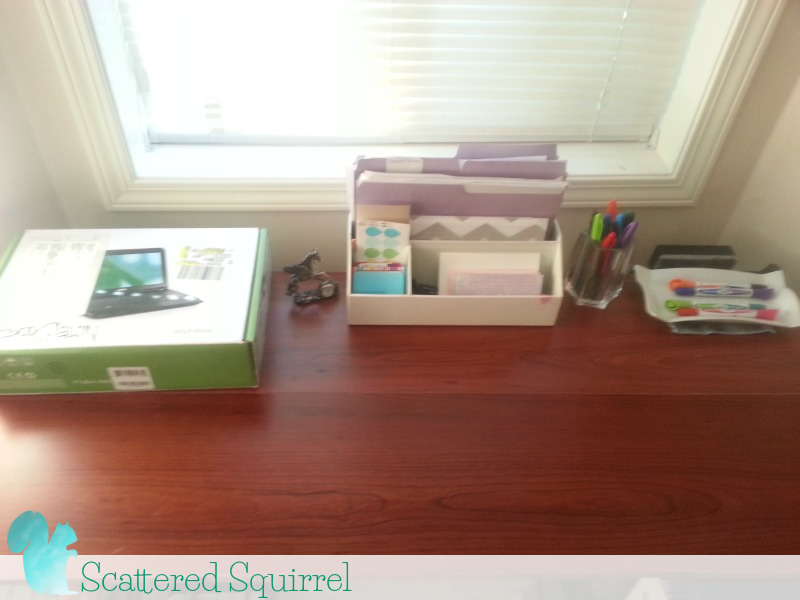 Ok, I know my computer is missing, it usually sits on top of that netbook box.  My desk looks like this about once a month when I give it a good clearing and cleaning and get it ready for the next onslaught of papers, books, and other bits.  When I'm in work mode I like to spread papers out all over the place.  I tend to thrive in the chaos.  When I stop thriving I know it's time to clear and clean.  But I do love seeing my desk all clear and organized.
Speaking of clear and organized.  Remember when I shared my DIY white board project?  Well, here they are, hung up and kind of working.  This is the cleanest they have been since I put them up.  Usually the striped one if full of my weekly schedule and to do list, and the non-stripy one is full of reminders and more to do list stuff.  These two really get a work out.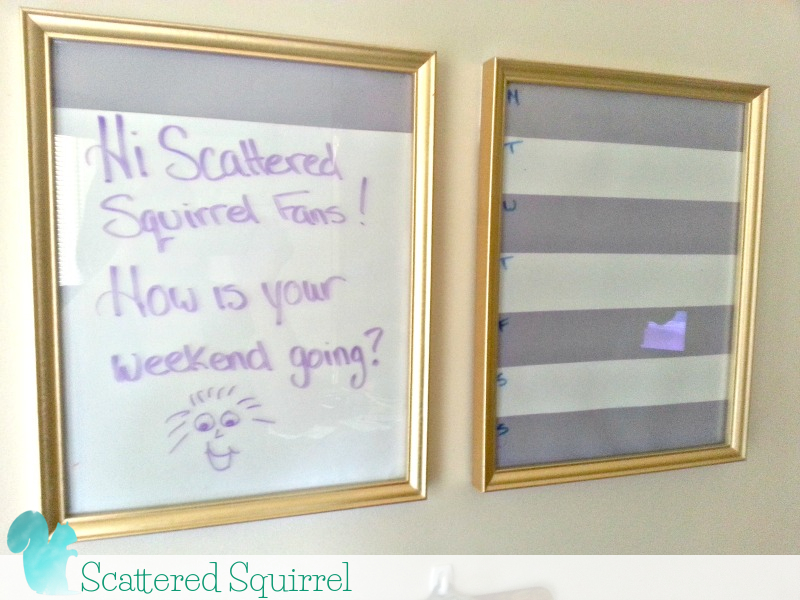 When all was said and done this time around, most of the 'clutter' was just items that belonged in other places in our home, and items that were new additions to my office supplies that hadn't yet been assigned a home.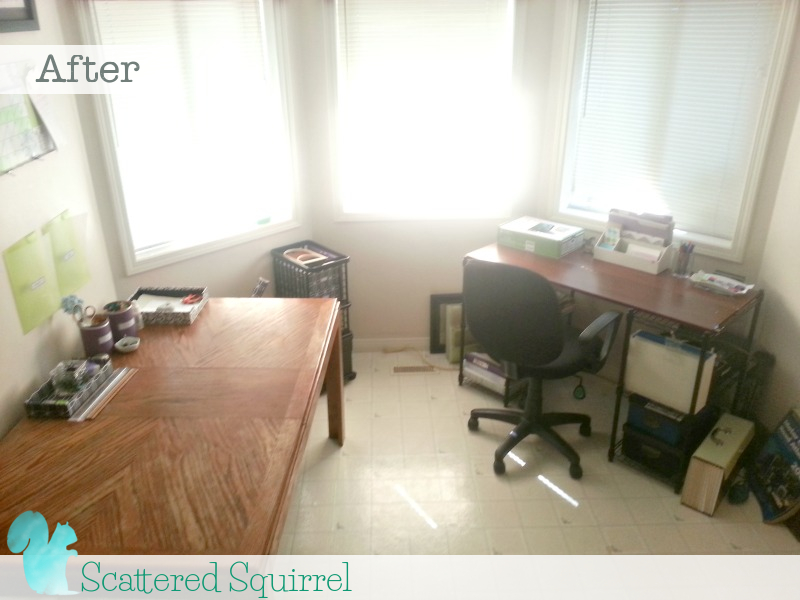 Every single time I look at this after pic, I sigh in contentment.  I love a clean and tidy office nook!  I wish I could keep it like this more.
And for those of you wondering how the after held up under the Clutter Highlighter …..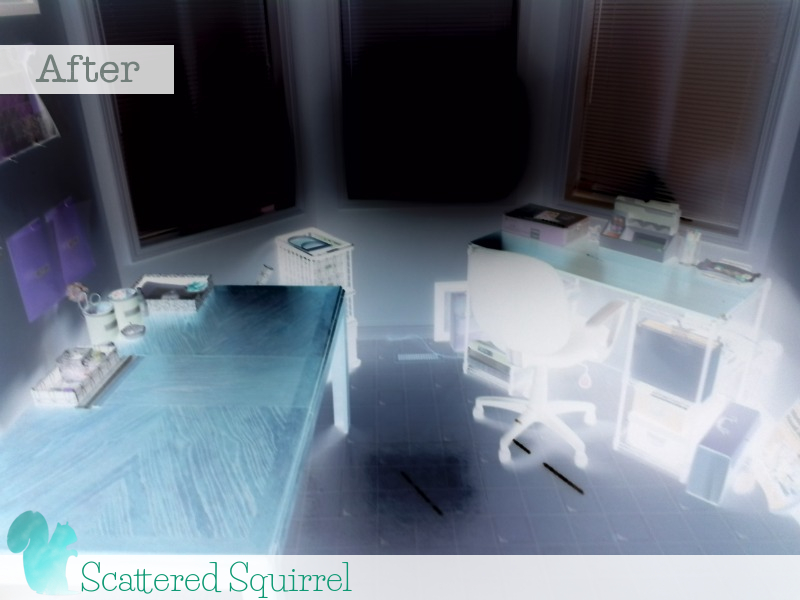 …. I have to say it held up pretty well.
And that's my little office nook.  The space where all the printables and other content for this little blog of mine comes from.  Right now my desk is yet again, piled high with papers and notebooks.  I haven't yet taken time to clear away the creative debris from last month's 31 Days series.  I should probably get on that soon, before I start moving things around.  I'm so excited about some of the changes I'm making in here, and I can't wait to start sharing them all with you.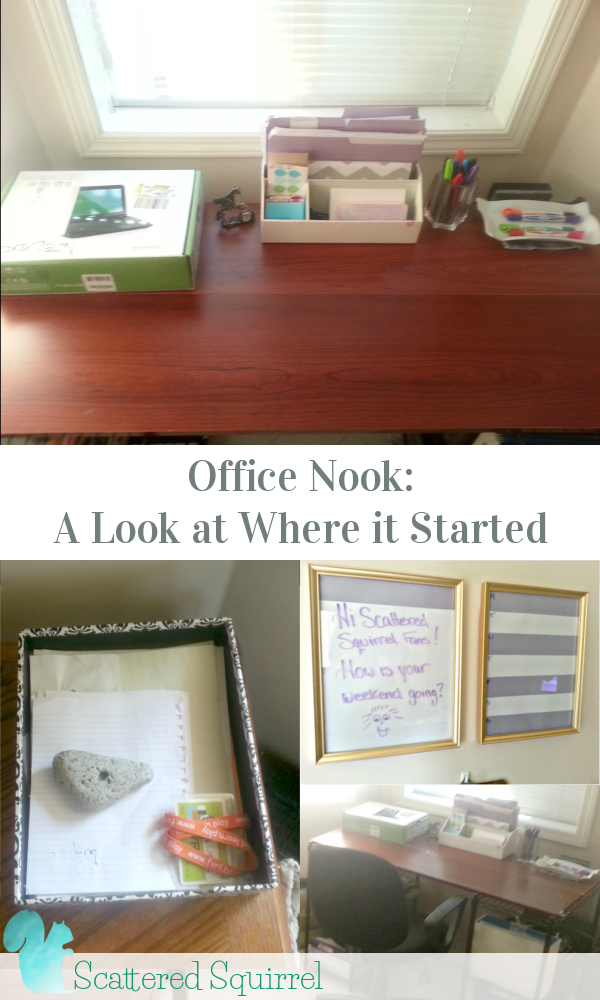 Do you have that one area of your home that is hard to keep organized?
~Happy Organizing!~