Dining Room Organization – Getting Ready for the Holidays
November is here and before we know it, the holidays will be upon us.  Here in Canada, we've already had our Thanksgiving, so for me, the 'holidays' really mean Christmas.  As much as I love December and all the fun moments it brings with it, I also know that our main floor is about to get turned upside down with all the holiday festivities and decorations, so I like to take some time in November to make sure we're ready for the holiday craziness.  I kicked off my holiday preparations with a little dining room organization.  In the next few weeks, this area is going to start getting a ton of use, and I wanted to make sure I had it organized and ready to go.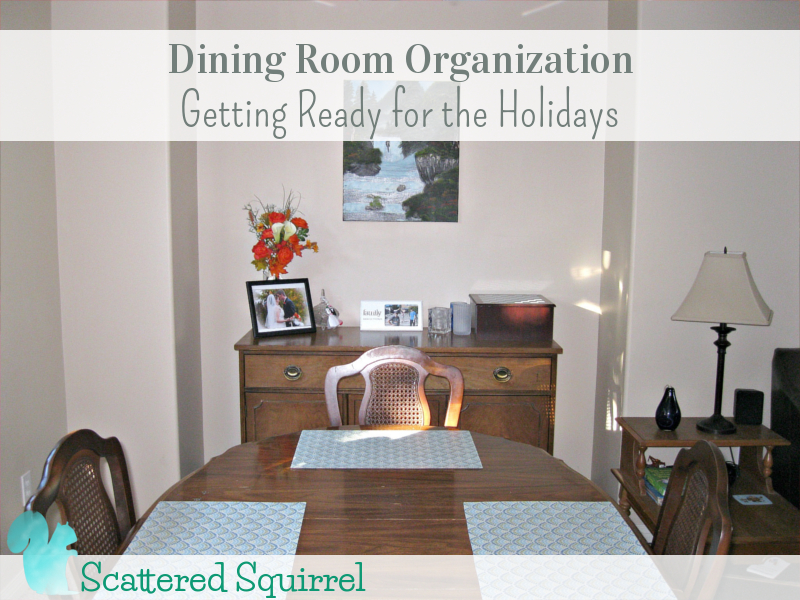 If our kitchen is the heart of the home then our dining room is the spirit.  It is where we gather each and every night, share stories about our days, connect with one another, laugh together, or just enjoy sharing a quiet meal with one another.  Our dining room is also the staging area for family movie night; the battle ground for family night; the creative space for painting and crafting.  It serves so many purposes for our family, and often times it shows, especially when I use it as a catch-all space when organizing other areas of our home.
Dining Room Organization
Earlier this year we shuffled some things around on our main level.  As with all reorganizing and rearranging products it left its share of displaced items in its wake.  In addition to rearranging things, there were still items housed in our dining room from two years ago when it was still my office area.  This combination made for one hot mess.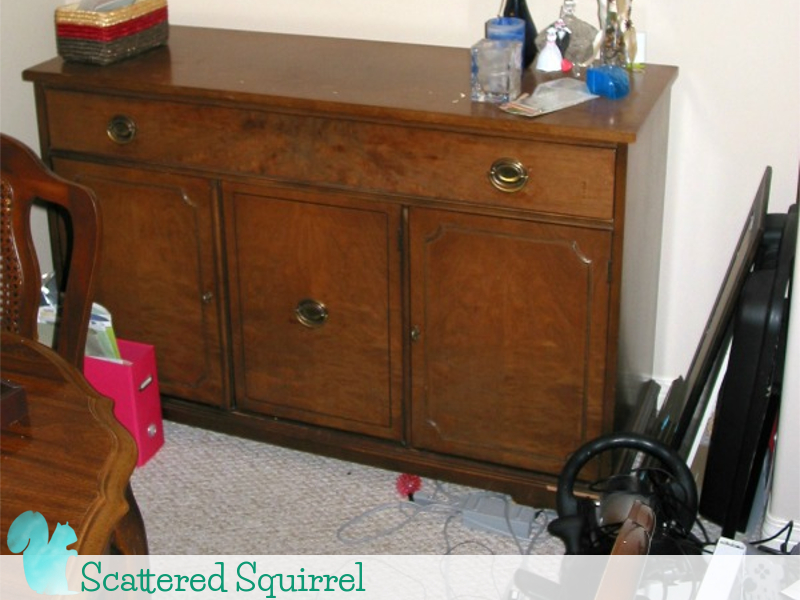 In the picture above, you can see a bunch of the clutter left over from moving things around.  On the right-hand side, between the buffet and the wall, you can see picture frames and other items I was storing there.   And while the top of the buffet may not look bad, that's where our newest family member, Liam's hamster, Herbit, used to call home.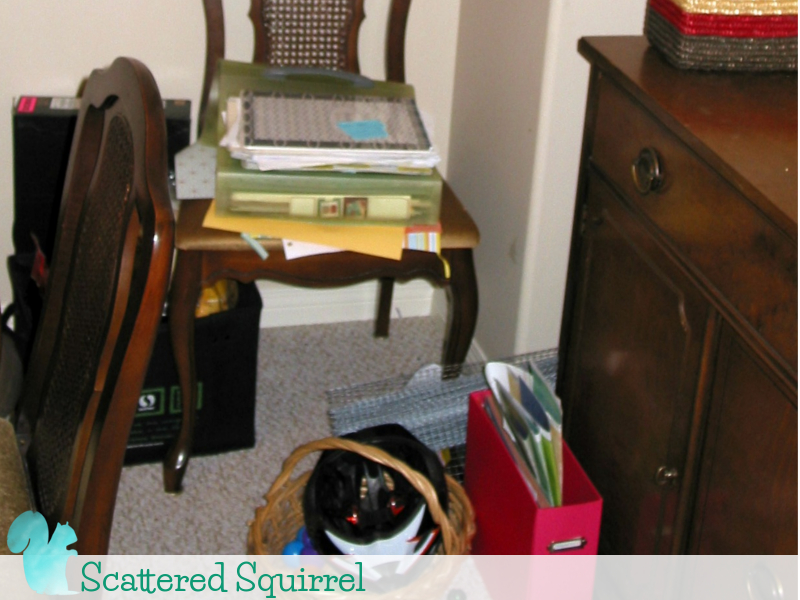 On the other side of the buffet you can more overflow from the shuffle.  Some of Liam's craft supplies, the basket of empty Easter Eggs (yeah, I wasn't so good at putting those away this year) and the hamster's supplies.  Our dining set came with six chairs, and since we usually only need four, I had placed each spare on opposite sides of the window so they were still easy to grab when needed, but not in the way every day.  Unfortunately, I started using this one as a catchall.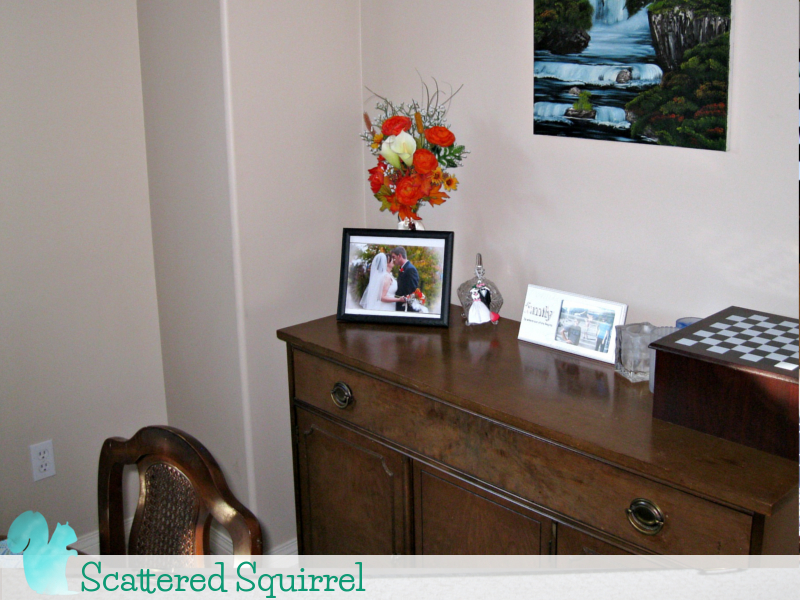 I relocated the hamster's home, found a new spot to store the spare chair, and found new homes for all the displaced items.  It didn't take much work,but results are fantastic.  I love how uncluttered that area feels now.  I added a couple of pictures, a few candle holders and the wooden box of games to the top.  When we need to use the buffet as a buffet, it's easy enough to simple remove those items and store them in the spaces on either side of the buffet.
On the other side of the room, things weren't quite as bad.  Because of the shuffle and because I had taken over the breakfast nook, I was sort of at a loss as to where to store Liam's art supplies.  They were just in a haphazard pile on the floor until my Mom kindly took two minutes to whip them into a more organized state.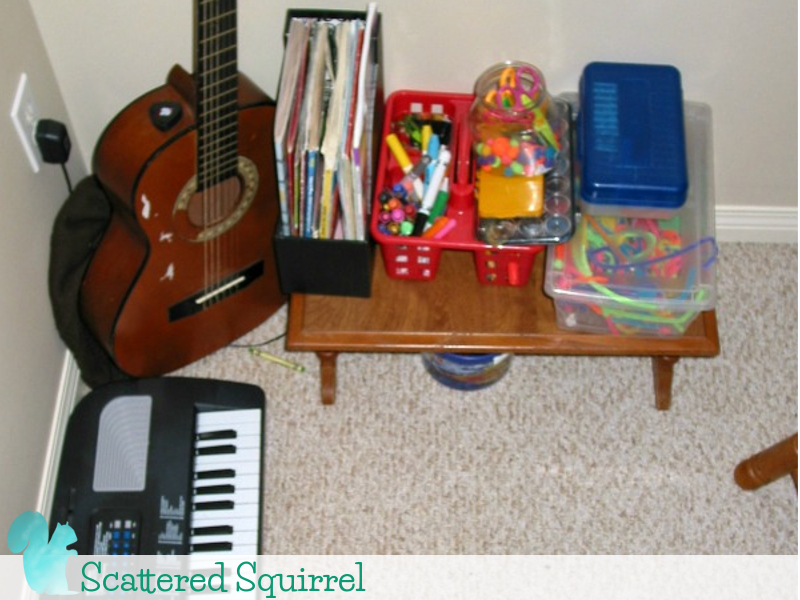 The instruments got moved up to Liam's room, and I found a new home for his art supplies which I'll be sharing in a just a moment.  That left this corner kind of empty.  Remember those spare chairs and that hamster?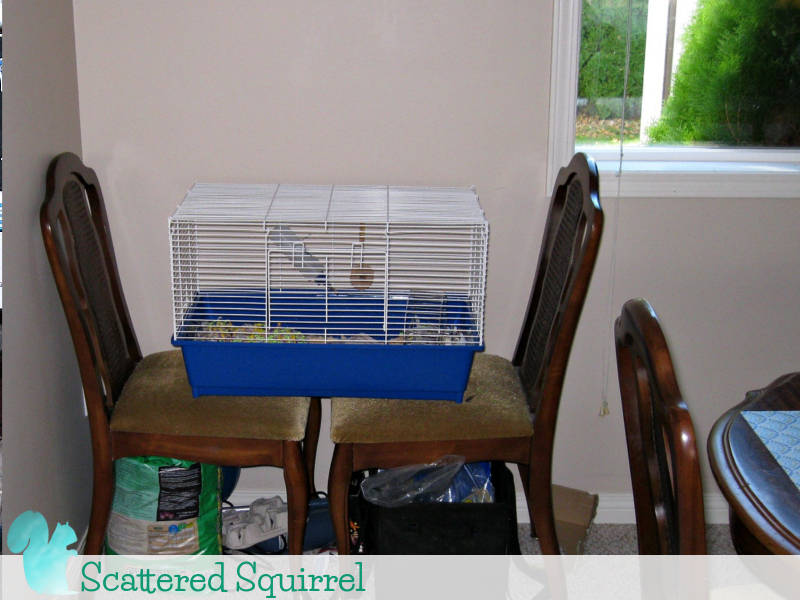 I managed to take care of two birds with one stone during this part of the dining room organization.   Although, this is only temporary.  I have plans to relocate the hamster again, which is why I didn't put much effort into organizing the items under the chairs.  For right now though, he's still hanging out in the dining room with us.  Liam likes having him so close, and you can often find him checking in on Herbit to make sure all is going well.    I'm not sure where Herbit will be relocated to, I only know that it will not be to the family room, as Quilber does NOT like other animals.
After taking care of the clutter around the table, I turned my attention to the inside of the buffet.  When we first moved in, I used the buffet for storing my office and craft supplies.  Sad to say, after more than a year after moving my office out of the dining room, the buffet was still housing some of those supplies.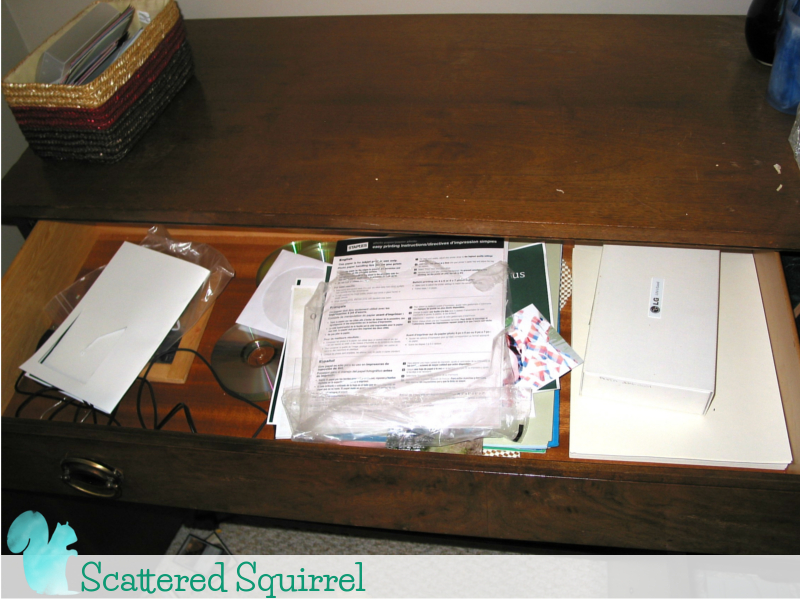 The top drawer was where I stored the extra printer paper and file folders.  While I had moved some out, I hadn't completely emptied the whole drawer.  My first step was to find a home for those items remaining in the drawer.  Then I gave some thought to what I needed/wanted to store in here.  My dining room organization needed a plan in order to prevent it from becoming another  catch all again.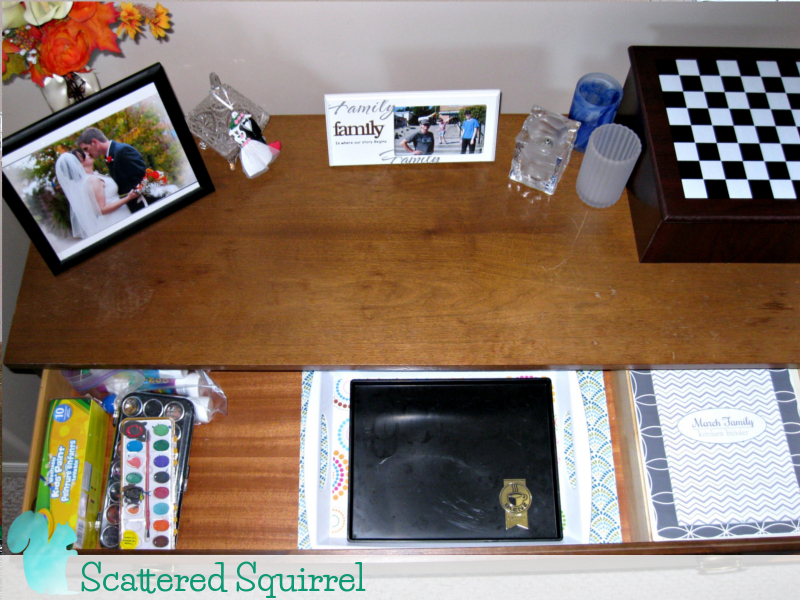 Now it's home to Liam's paint supplies, serving trays, spare placemats and our kitchen binder. I'm keeping our kitchen binder in here for the time being while I finish organizing all our recipes.  It's easy to pull it out and spread out on the table while working and cleaning up is a breeze.  For the most part, we don't use our kitchen binder every day, so storing it in the buffet isn't really impeding the use of the binder.  And as a sentimental bonus, every time I got to grab it I'm transported back in time to my parent's house.  The buffet used to be my grandma's and then it was my parent's, and my mom always kept the cook books in it.  Her family cook book, full of the recipes she used most was always kept in the top drawer with the other cookbooks in the cupboard below.  Now it's my turn to store our family recipes in the same place.  🙂
As for the cupboards below, well those were a hot mess.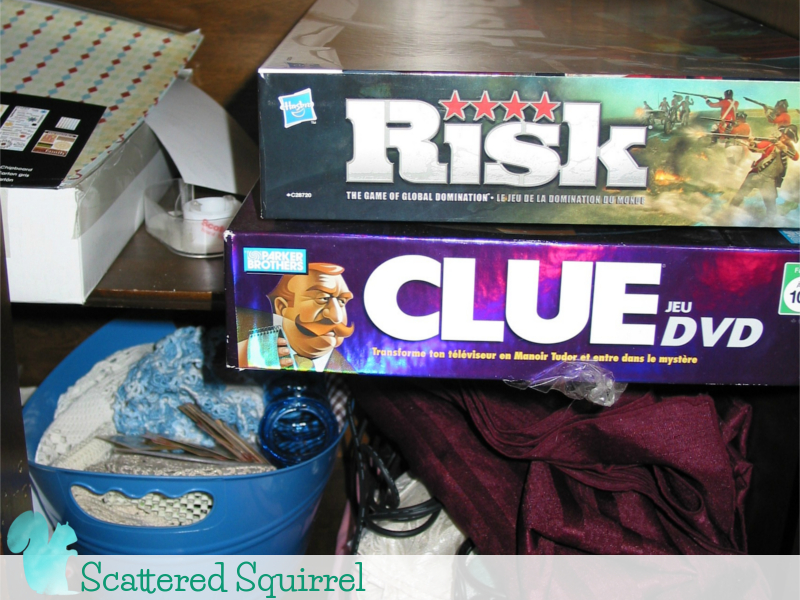 Here we have some of the family board games and table linens.  While this area isn't too bad, it could be a bit better.  I'm on the hunt for a new basket or box for the linens and candle holders, in the mean time I didn't change much.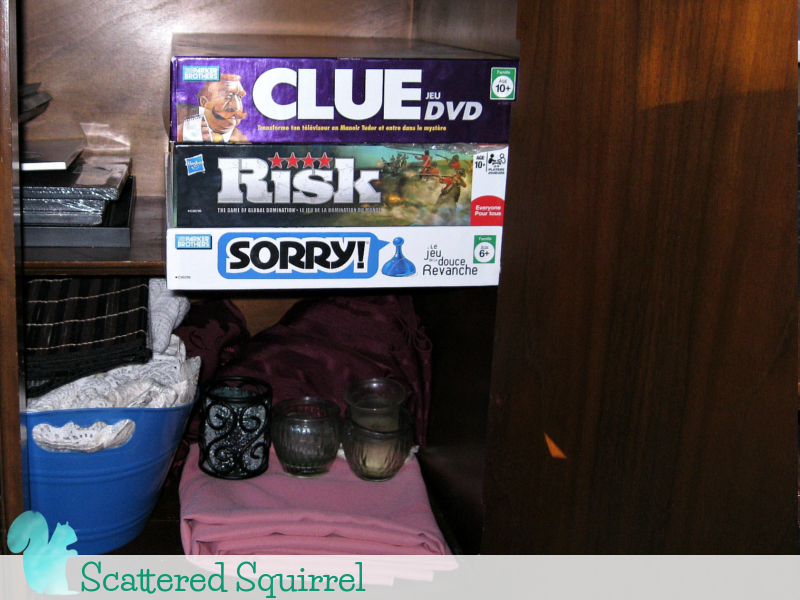 The rest of the cupboard space was really bad, and by that I mean, REALLY BAD!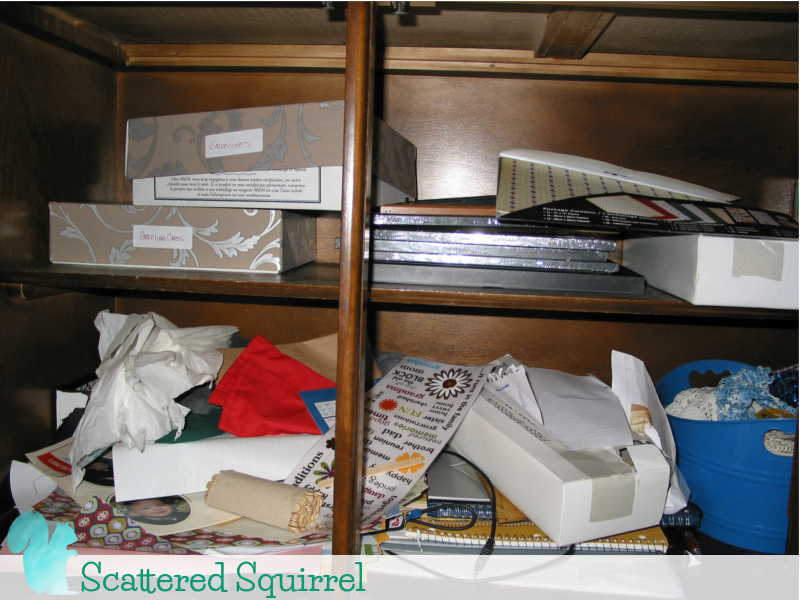 Craft supplies, office supplies, picture frames…. everything was just tumbled together.  When I moved my office, I pulled out the items I needed to have close by and left the rest.  Over time I pulled more out, tossed others in, and well as you can see it was just …. messy!
After thinking long and hard about how we use the dining room and taking into consideration our minimal serving dishes I decided that the buffet would make a great place to store Liam's art and craft supplies.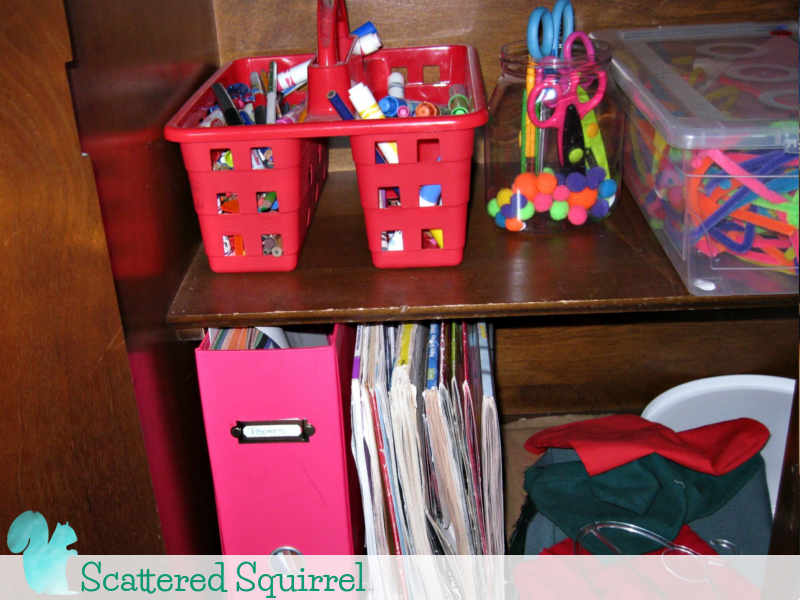 I did keep the empty/spare picture frames in here, because I know they are safe and out of the way where they are.  I have plans for those for down the road, I'm working on a couple gallery walls as well as some room decor stuff for the boys so I need to be able to grab them when I need them, and they really don't take up that much space.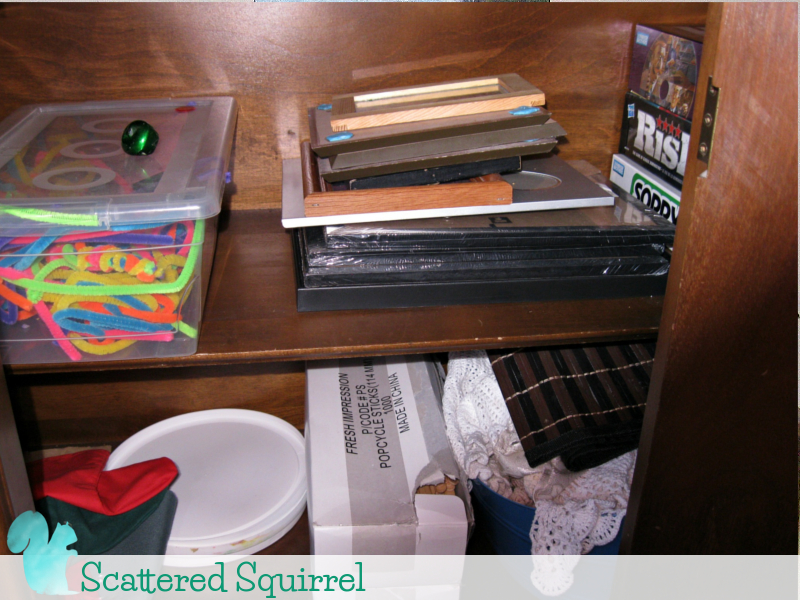 While I was busy organizing this space, I made sure to take some time to give it a good deep cleaning. Whenever I'm organizing cupboard or drawers I tend to empty them and start with a blank space, which makes it a great time to give them a vacuum and wipe them out.  If it happens to be a piece of furniture like the buffet, emptying it out is also a great time to move it to clean under and behind.    And now, we're left with a clean and organized dining room.
Pretty soon this space is going to be where Christmas cookie dough is rolled out and cut; an assembly line for decorating those cookies; full of cooling racks waiting for the goodies to be ready to eat.  This is where we'll make cards and holiday decorations, get our craft on and make some gifts.  On top of all the uses it normally gets.  I'm glad I took time now to tackle the dining room organization, because I honest cannot image the chaos it would turn into once December hits.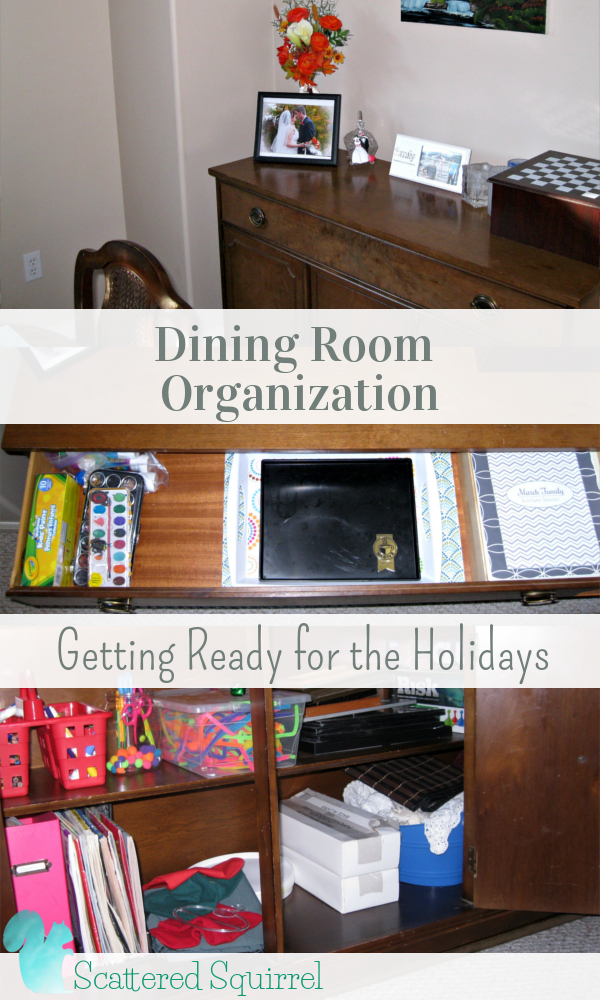 Does your dining room serve multiple purposes?  How do you keep it organized?
~Happy Organizing!~