Printable of the Month: January
*** This offer is now over, check the Printable of the Month tab for the newest one ***
Well, a new month has started and you know what that means right?  It's time for a new Printable of the Month.  If you're just joining us here, the Printable of the Month is one of my favorite features.  It's my way of saying thank you to all of you who stop by, whether you're a dedicated reader or just passing by, I appreciate each and every one of you.  To say thanks, each month I create a new printable that I offer to personalize for you, for free.  There is no hidden catch, it's just my way of giving back.  🙂  Now on to the good stuff!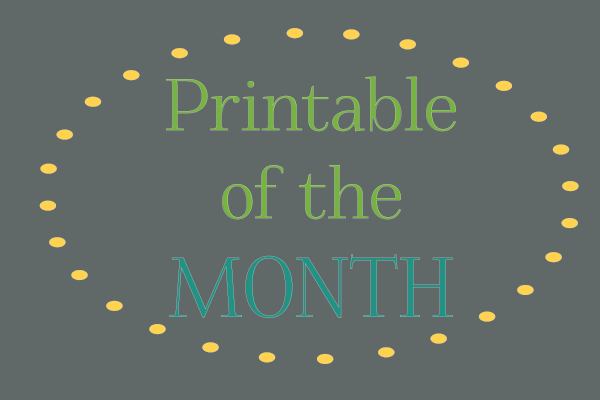 This year, I'm getting the whole family involved in goal setting for the coming year.  I'm hoping to encourage all of us to dream as big as we can while at the same time keeping our feet on the ground.  I believe that dreams are important, and I think it's important to teach our children, and remind ourselves, that we need our dreams.  They drive us forward; give us something to look to; remind us that we can be, go, do ANYTHING.  On the flip side of that, I also believe that it is important to teach our children, and remind ourselves, that we need to start small.  That there are many little steps that we need to take before our dreams come true.  So, with that in mind, I created a Family Goals printable.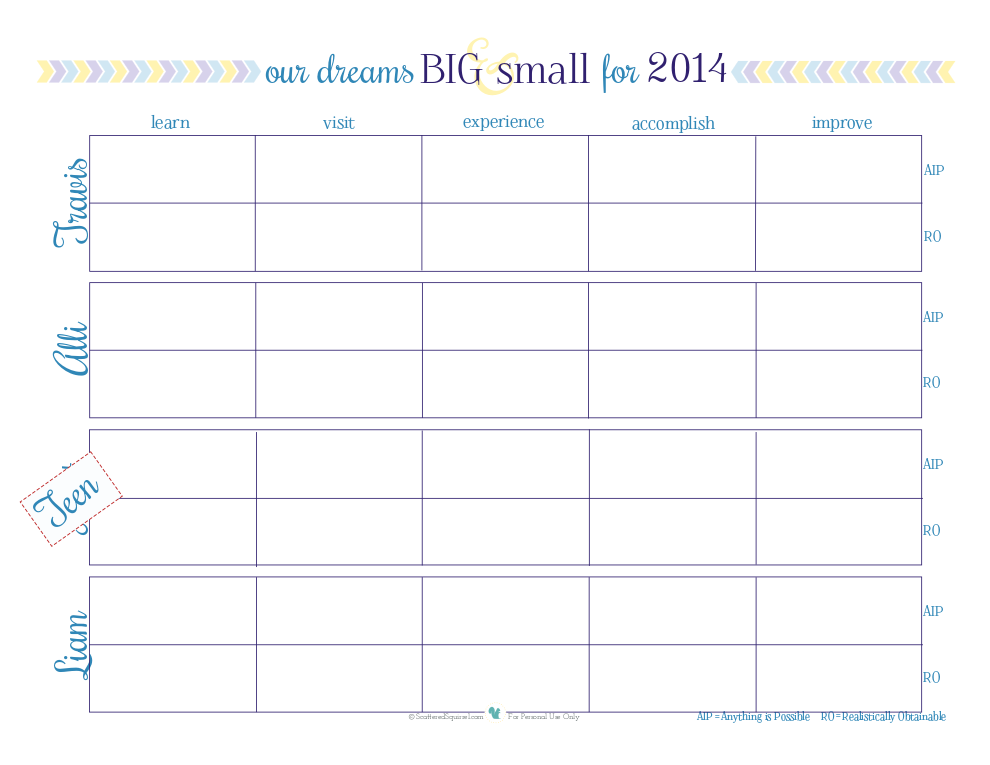 I opted to pick categories to help us focus.  Each member of the family can pick something they want to learn, a place or person they want to visit, something they want to do or experience, something they want to accomplish, and some skill they want to improve.  They could pick one for all five, a single category, or any combination.  Each category is divided into two sections. One is labeled as "AIP or Anything is Possible" which is where I'm encouraging them to dream big, even if there isn't a chance it could happen this year.  (one of the places I want to visit is the Moon, probably won't be going there this year, but hey anything is possible right?) The second is labeled "RO or Realistically Obtainable" and this is where I will encourage them to think of something that they can realistically see happening in the next 12 months.  (I want to take the kids to Science World this year. It may require careful savings, but it's something we can realistically do)
My hope is that this printable will the beginning of great conversations for us as a family, and I must admit, I'm curious to see what sort of things our boys dream of.  We talk about things like this every now and then, but I think it will be interesting to see them down on paper, and to see how they change from one year to the next.
If you would like a copy of this month's printable just simply fill out the form below and I will get them to you as soon as I can.  This month's printable will be available until February 3rd, 2014.
Do you sit down with your kids and plan out goals for the new year?  What's something you dream of?