From Scattered to Sane: 31 Days to Reclaim Your Life!
It 4 pm and I'm standing in front of the freezer wondering if there is anything that I can quickly defrost for dinner tonight. Behind me, last night's dishes mock me from the sink where I set them to soak. This is beginning to feel like the new normal; worse, I think this is becoming routine.
Sound familiar?
From Scattered to Sane: 31 Days to Reclaim Your Life (or, at the very least, take back your time!)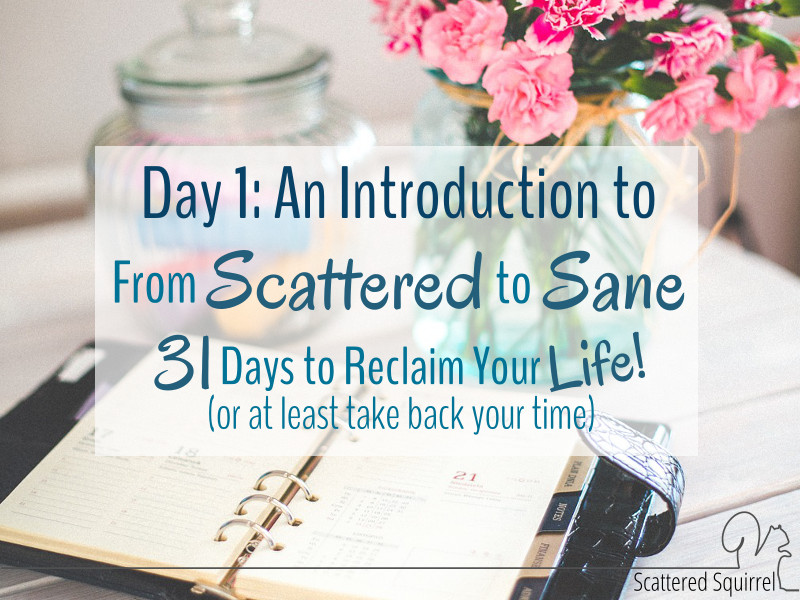 You're not alone. Whether it's forgetting to pull out something for dinner, or staying up all night getting caught up on work, we all, at some point in our lives, find ourselves in a situation we know could have been avoided if only we'd been more prepared.
Planned better.
Took a moment to think ahead.
For some of us, that feels like the norm of our lives. We struggle with finding the time to get everything we need to do done and agonize over it when we can't.
It's not that we don't care and it's certainly not because we're lazy. It just simply is!
But you know what? No matter if this is what your everyday life looks like or you've just found yourself in one of those periods of life where chaos seems to reign, there is hope and I promise you, there is a way to the other side.
From Scattered to Sane
I'm really excited about this 31 Days series.  It's a subject near and dear to my heart, and something I struggle with every, single day.  
Time management is not something that comes easily to me, though as time goes by it gets a little better.  I've created more than a few systems and schedules to help me on my journey (many of the printables I've shared are a result of new ideas tried as old ones no longer work) and I'm dedicating the series to sharing my story and the tips and tools that have worked well for me.
Today is only the beginning and I wanted to give you a little glimpse at what to expect.
A 31 Day Journey to Reclaim Your Life and Take Back Your Time
Throughout the next 31 days, I'm going to walk you through the foundation of the system I use to help manage my time. Though some of my systems have changed as my life has moved in different directions, this foundation has remained the same.
It is what helps me keep myself grounded and sees me through to the other side when we need to make transitions in life.
I wish I could tell you this is a magic fix-all formula that will solve all your time management woes as soon you as read it. I wish that more than anything else. But just like I refuse to stage photos for the 'after' images of my organizing projects, I also refuse to stage this series as the next miracle cure for all time management troubles.
It's going to take work.
It's going to take time.
It's going to take one little step followed by another and then another.
It's going to be worth it!
Building the right foundation from which all other routines will grow, is going to make creating and maintaining those routines so much easier.
What You Can Expect to Find in the From Scattered to Sane Series?
Over the next month, I'm going to be sharing a number of different things with you. Some days we'll talk strategy, other days we'll talk goals. I'm going to open up a little more about my struggles with managing my time and why I had to learn how to embrace my scatter-brained approach to everyday life.
Throughout the month you can expect to see:
how to's and tutorials
printables and worksheets (for anyone who's been wondering when or if I'll be making planner pages to match the 2016 calendars – this is the month those pages will start going out)
motivational posts
sneak peaks into my little world
inspiration and ideas
My Goals for This Series
My goals are to share and motivate. I truly hope, at the end of it all (even if my system won't work for you) that I've inspired you to start building your own system. That something I've shared or talked about will help you on your own journey.
Above all else, I hope you come to the end of this series feeling confident in yourself and knowing that there are many of us out here who feel the same way you do.
I'm walking this path right alongside you – you are NOT alone.
Though it may feel like it, please know that there is at least one person out there who understands the struggles. More importantly, someone who understands that gut-wrenching, heartbreaking, feeling of wondering 'what's wrong with me?'
And I have the answer – NOTHING is wrong with any of us. We're just wired differently and maybe we need to think outside the normal box to find our own solutions. That's ok! We'll do it together.
I hope you'll stop by tomorrow and get ready to dive in with me.