One of my personal goals for this year is embrace my creativity and give myself a little more time to have fun creating.  Creating what?  Anything!  Lately I feel as though the only things I create outside of posts and printables are messes.  Christmas time really brought that home to me.  Liam and I teamed up and made my parents giant snowflakes as our gift to them.  It was so much fun to create something with my hands, (despite a mishap with the hot glue that resulted in two blistered fingers and a few other tender spots) and I realized that I missed that.  So I've made it a goal to spend more time creating things away from the computer. I've got a whole list of things I want to make, furniture I want to recover or remake, and … well, I could go on and on, but I won't.  Let's just say that part of my adventure this year is going to involve getting my craft on.
****This sale has now ended and is no longer available!***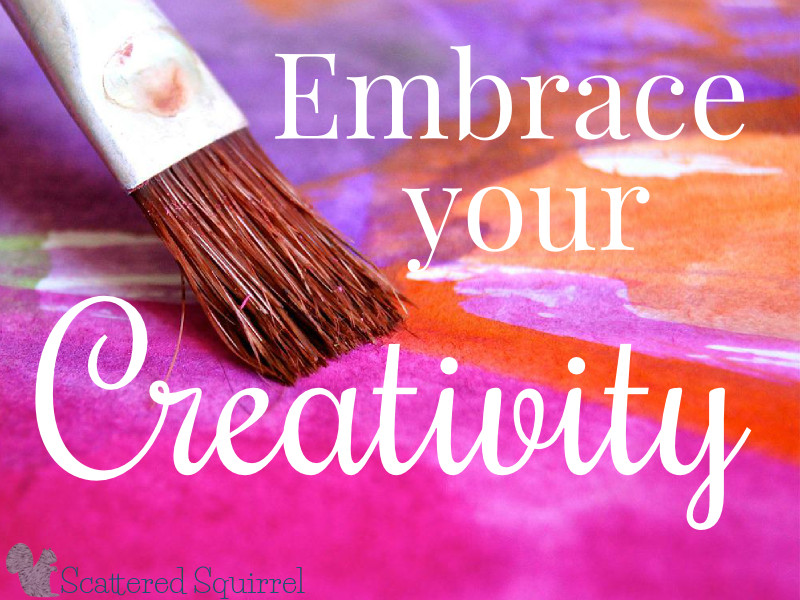 I LOVE getting creative on the computer but sometimes you need that actual, honest to goodness, mess inducing, finger threatening, crafting to get the creative juices flowing.  So you can imagine my surprise, and delight, when I saw that the first Ultimate Bundle of the year was the Ultimate DIY Bundle.  If ever there was a sign this was it!  It's a wonderful collection of e-books and e-courses that are all about getting creative in some way.  Books about crafts to make, goodies to bake, how to take better photos, how to edit your photos, scrapbooking, and so much more.  There is just so much in this bundle that I just couldn't pass it up.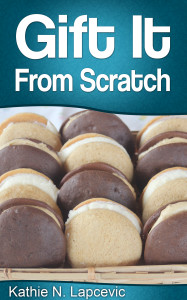 One of my favourites in this bundle is the  'Gift it From Scratch' e-book.  I love the idea of giving yummy goodies as gifts.  I'm only half way through it.  (am I the only one who actually reads a cook book?)  There are so many yummy sounding recipes in this book, it might just take me all year to try them all out.  From breads to cookies, it seems that there is nothing you cannot whip up in your kitchen and give as a gift.  I love that the author, Kathie N. Lapcevic from Homespun Seasonal Living includes not just the typical cookies and treats, but a whole section on comfort foods too.  Sometimes, a person just needs some good, old fashion, made from scratch mac and cheese!  Not only are the recipes fantastic, but Kathie has added some tips and ideas for how to gift the goodies you're making.  All in all, I think this book is now my go-to resource when it comes to gifts for family and friends.  And as far as embracing my creativity goes, is there a more delicious way to do it!
If you've been reading for a while now, then you know that I'm a bit of a bookworm.  I love nothing better than curling up with a good book (or e-book) whether it's a great fictional story or a well written non-fiction, I just love to read.  So I have to admit the e-books in this bundle were a big draw for me, but the e-course are fantastic too.  In fact I've already signed up for one.  I haven't actually started the Photo Editing for Absolute Beginners, but I'm eager to get started.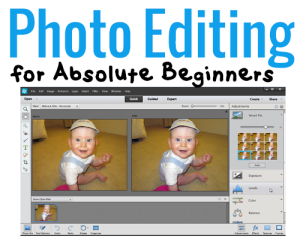 I know I said I wanted to spend more time away from the computer, but I would dearly love to be able to edit my photos using more than the auto filters and fixes in Gimp and PicMonkey.  While I know my way around Gimp (and Photoshop) I don't really know HOW to edit my photos properly, and I know that there are many many many tools in these programs that I should be using but don't, because I don't know what they are or what they do.  If you're thinking you'd like to spruce up your digital photos, this course might just be what you need.  We can have fun learning together!  🙂
Seeing as how the bundle has only been live for a few hours now, I haven't had a chance to check them all out, though I wish I did have the time.  I think I'm going to be curling up with a number of these later this afternoon during my break.  I know it might seem silly, with all the information out there on the internet, to even think about purchasing a bundle like this, but you know what?  Sometimes it's just too overwhelming looking for ideas on-line.   I  mean there are so many things you need to figure out when you look online for ideas.
Which one do you start with?
And then once you've decided, how do you know which steps, instructions or advice to follow?
It can take so much time just to try to figure out where to start.  Or what to start with.  I swear, I hop on Pinterest or Google with a specific craft or project in mind and then five hours later, I have a thousand new ideas, and my original project gets put off until another day.  The bundle team said it best.
It's frustrating, because you know just how satisfying it can be to create something of your own – that sense of accomplishment and fulfillment can't be beaten. What you need is for someone to pull together everything that you need to get started, to make it as easy and painless as possible.

Good news – when the Ultimate Bundles team created The Ultimate DIY Bundle, they had you in mind! The Ultimate DIY Bundle is your instant go-to library for a whole range of carefully curated DIY and crafting eBooks and eCourses.

No more trawling through the internet looking for good-quality, easy-to-follow information and advice: it's all right here! For the crazy low price of just $34.95, you get access to a carefully curated library of over 76 eBooks and eCourses from the world's leading DIY and crafting bloggers – enabling you to pick a project and jump straight into it with confidence. It's the perfect tool to skip the information overload and throw yourself straight into a new activity.
76 e-books and courses!  Isn't that insane?  The combined value of all the items included, is over $1000, so it really is incredible savings.  If you want to take a peak at what is included in the bundle you can hop on over to my Bundle Page and see what's in each category.  Even if you only want and will use a few of the books or courses in this bundle, you'll probably still save some money by purchasing the whole thing.  Best part is, e-books take up no physical space in your home, so it's a fantastic clutter free (if you don't count all the crafts you're going to be making) investment.
Hurry though! The Ultimate DIY Bundle will only be on sale for 6 days – from 8am EST on Wednesday, January 21 until 11.59pm EST on Monday, January 26.
You can buy with complete confidence because you're covered by the Ultimate Bundles 30-day money-back guarantee. That means you have a full 30 days to enjoy all the eBooks and eCourses in the bundle, and if you don't think they provided enough value, you'll get a full refund.
Not only that, but The Ultimate DIY Bundle comes with 4 awesome bonuses, worth over $118. That's 3x the price of the bundle alone! These include…
A free $15 Store Credit PLUS 8×10 Art Print from Hope Ink ($43 Value), a free online class from Craftsy (up to $60 Value), free $15 store credit to Fawnsberg.com, and a free sewing pattern PLUS a Premium Video Class from UpCraft Club ($19.99 Value).
So, don't miss your chance to grab The Ultimate DIY Bundle, and get 76 incredible eBooks and eCourses for just $34.95. All you need to do is take action by midnight on Monday, January 26!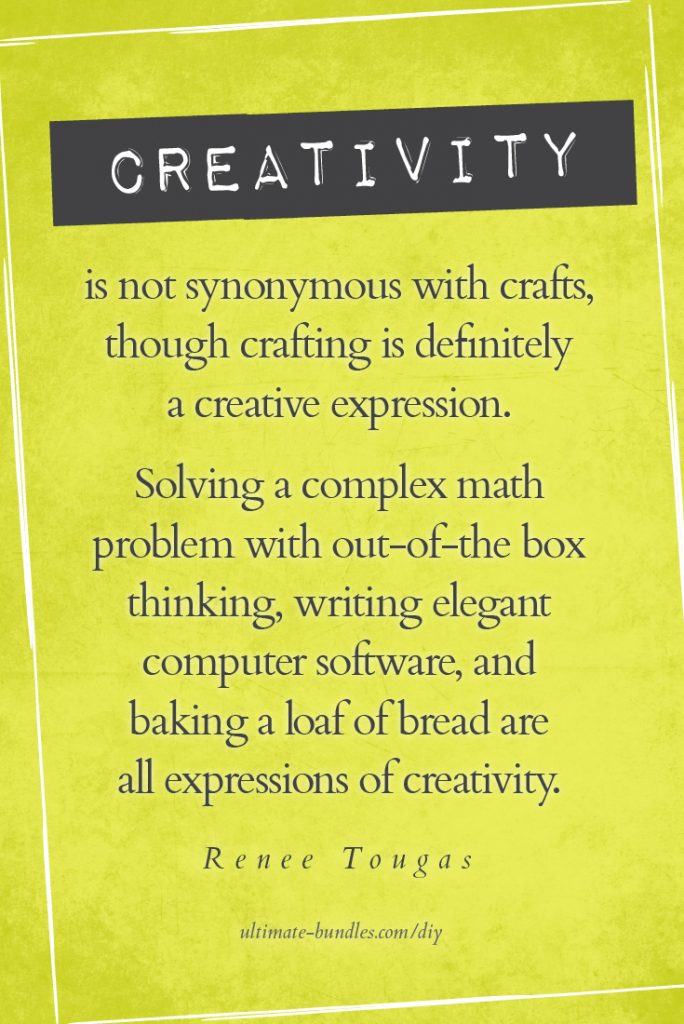 Do you like to get your craft on?  Do you have a favourite resource for craft ideas?
~Happy Crafting~
Disclosure: This post contains affiliate links. If you would like more information please read the fine print about this bundle and read the answers to frequently asked questions about the bundle.  As always, I only share products that I love, like, have, would use, or want to purchase myself and all opinions are 100% my own.