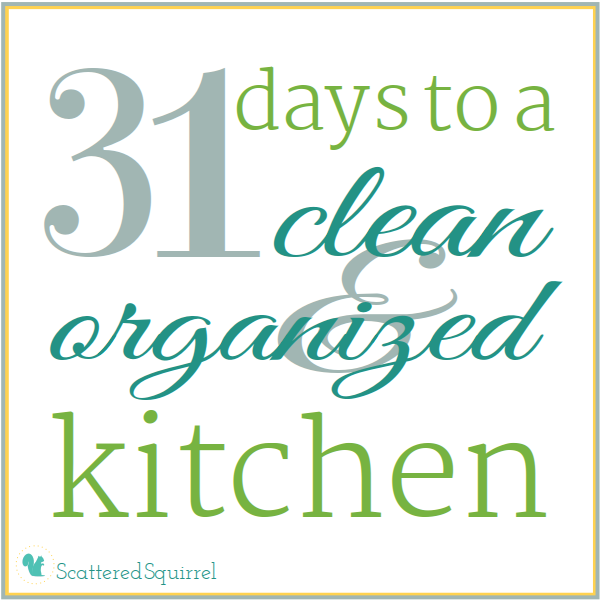 Welcome to Day 13 of our 31 Days to a Clean and Organized Kitchen series.  We're still a few days behind.  It seems October has been a month of technology problem and busyness so far.  I meant to get this post done up last night, but yesterday afternoon my bestest, best friend called to say that she had some time to kill while passing through town and wondered if I wanted to get together for a bit.  Since we haven't lived in the same town for years, and see each other very rarely, of course I dropped everything to spend some time with her.  Our visits are soon going be even fewer and farther between as she's moving to a whole new province in a couple of weeks, so it was really good to get to sit with her and just chat.  Anyway, back to the series.  Today we're dealing with the spice cupboard, drawer, or where ever it is that you store your spices.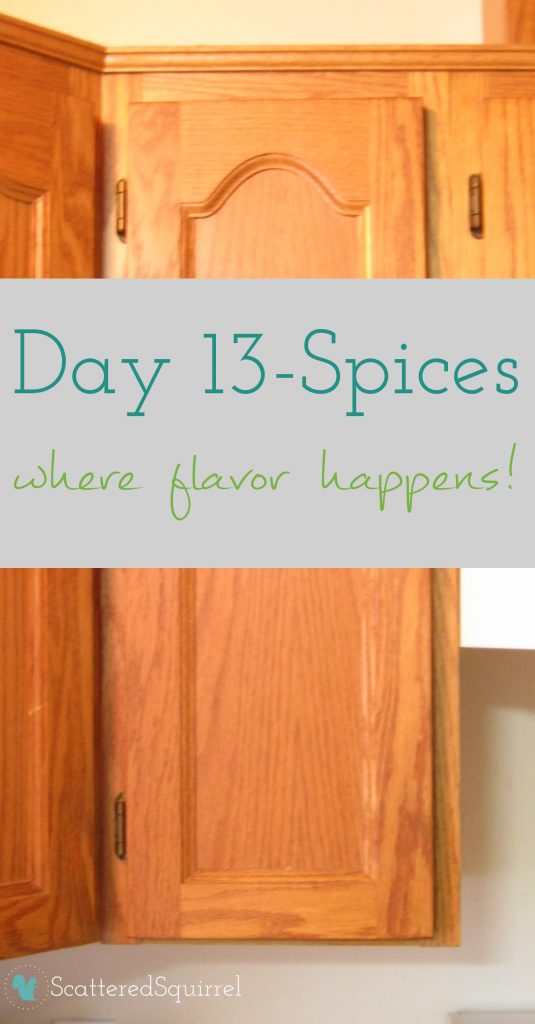 First things first, even if you don't need to organize your spices at all, you might want to take some time to check them over.  Allow me to tell you a little story.  A few years ago I decided to make a HUGE batch of spaghetti sauce.  Actually, the plan had been to make a combo of spaghetti sauce and sloppy joe filling, all at the same time.  I cooked up 2 kg of ground beef, (that's about 4 1/2 pounds) with diced onion and minced garlic.  I chopped and chopped and chopped garlic, onion and celery.  I sauted pans full of slice mushroom with garlic.  Caramelized the onions, celery, and more garlic.  By the time I put everything together, added in the tomatoes and tomato sauce and paste my large stock pot was full!  a quick taste test proved it still needed some seasoning so in went a few generous handfuls of Italian seasoning, some salt and pepper.  All was right in my world.  That pot was going to simmer all day, I was going to have many meals worth left over to freeze.  I got busy tidying up in the kitchen, and slowly the sauce started to come up to a simmer.  A little while later there was this strange smell.  It was kind of musty and I was having a hard time trying to place it.  I finally tracked it to the stove area of the kitchen.  I figured maybe something got into the element or something, but since I was there I gave the sauce a stir and decided I should take a quick taste to make sure it didn't need any more seasoning.  My sauce tasted like the smell… musty! 🙁  I just about cried, ok, I did cry.  All that work, all those ingredients, wasted!  But what on earth would cause that.  I called Travis in, and we were speculating on what it could be.  We were totally puzzled.  In desperation I went to add more seasoning in, thinking maybe that would help (I was desperate) I opened up the bag of Italian seasoning, and my heart sunk.  The smell got worse.  A quick peak and sniff in the bag sealed the deal, the seasoning had gone bad.  Not stale. but bad!  Moldy!  It was gross.  I didn't know spices could go go moldy.  Here's the big kicker though.  The bag wasn't that old. Italian seasoning is our go to seasoning for EVERYTHING.  The bag had just been opened a day or two earlier.  I haven't trusted a spice or seasoning since.  I smell everything before I use it.  I also have never made as big a batch of spaghetti sauce.
So, take some time to go through your spices.  Give them all a quick sniff to make sure they smell like they should.  If they smell off. toss them!  Don't wait, because you just don't know what meal might be ruined by a seasoning or spice gone bad.
What a mess right?  It's a hard working cupboard.  We're in and out of that cupboard a few times day.  Not to mention we just had the holiday, and before I got busy with Thanksgiving cooking, Travis made up a bunch of burgers and to be perfectly honest, it's been a few months since I last tidied it up.
First things first, I emptied it.  Every spice that got pulled out got the sniff test.  All were still good, so that was a pleasant surprise.  Once the cabinet was empty I gave it a good cleaning.  If you want to make quick work of cleaning out cabinets that hold your dry ingredients you need to get yourself one of these.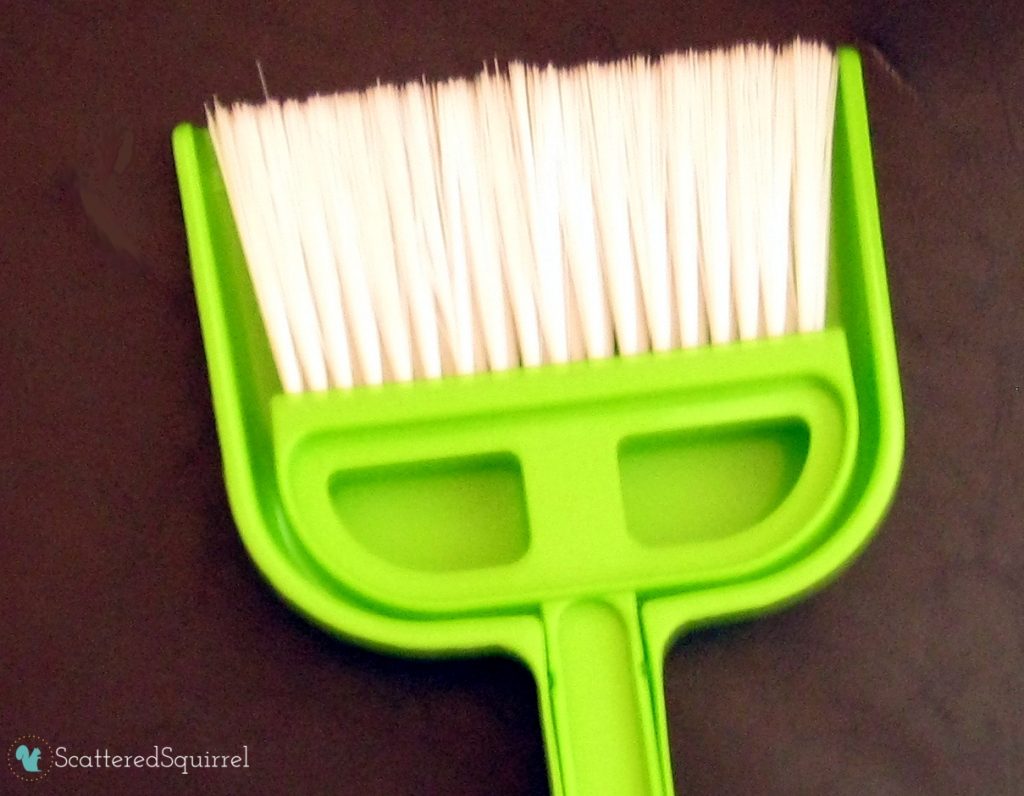 I got mine at Wal-Mart, in their discount cleaning section for a dollar.  It's small, and fits perfectly into my spice cabinet.  The little dustpan makes it so easy to contain the mess.  A quick sweep with the brush, top shelf to low, then wipe down with a cloth and you're done!
Here is what it looked like a whole 15 minutes later.
Big difference!  I have some plans for this cupboard.  First, I need to some up with a better system for storing our most often used spices.  (Lowest shelf)  Those little jars look cute, and work great, but they just aren't stacking up to daily use.  So, I'm on the hunt for spice jars that will work in the cupboard.  I'm pretty happy with the little boxes that hold the bags of seasoning and spices that don't fit in the jars.  Since the spaghetti sauce incident I don't just use the bags anymore. That middle and top shelves hold the overflow and also our not often used spices
If you need a spice or seasoning for a certain recipe, and you know you won't use it much after that, check the bulk section of your grocery store, and buy in small quantities.  That way, you won't have a jar of something sitting in your cupboard for years!
I'm so happy to be crossing things off the to do list.  Every day brings us a little bit closer to our goal of having a clean and organized kitchen.  Coming up later on today, I'm sharing my kitchen binder set up, some new printables, and how I'm using some of the printables from posts gone by!  Until later, I hope you all are enjoying this wonderful Wednesday.
Do you have any spice/seasoning horror stories?  Do you have a favorite way to store your spices?