Happy Monday everyone.  I hope you all had a wonderful weekend.  It was a gorgeous weekend here with temps soaring into the high teens (low 60's for those on Fahrenheit) with beautiful sunny skies.  We took full advantage of that and sort of just unplugged a bit for the weekend.  It was actually kind of nice, it allowed my brain to sort through some ideas without me really putting in much effort.  I woke up this morning with clarity on a few things, which leads me to this post.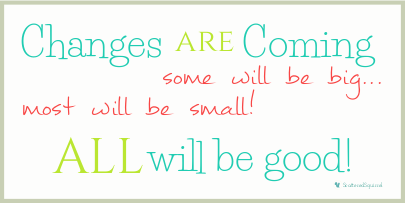 Last Wednesday I shared my very first reader survey (I'll link to that post at the end of this one, in case you wanted to take a moment to fill it out) and I have to say that I'm surprised by the early results so far.  To all who have already taken it, thank you so much!  Getting feedback from you has been amazing.  I love hearing (or rather reading) about what you like most and what you want more of.  I love seeing what you could do with less of.  Every response I get helps tailor the road map I'm building for where this little ole blog of mine is going, and that means making some more changes.
Most of the changes are tweaks to what is already here.  But I thought I would take a moment to share some of my thoughts on this, and ask you to weigh in on what you think.  Firstly, I'm working on some design changes to the blog.  Mainly getting the printables pages more organized.  I'm searching for a better way to showcase each printable and I'm working on a way to organize them so they are easier to find.   The biggest hitch so far has been trying to find a way to do this without destroying the links to them for people who have pinned them, or shared them other ways.  I'm still searching for that answer, so it might take a little time.
Speaking of the printables, stay tuned for some changes there as well.  Over the next few months I'm going to be updating ALL the printables.  Not completely changing them all, just tweaking them so that they match a little more, making them a little more cohesive for when you print them and put them in your planners and home management binders.  I also have a few new planners/home info stuff that I hope to share with you over the summer.
These ones are all staying as they are.  Maybe some tweaks and changes to make them a little better than they already are, but for the most part they are here to stay.  On top of these ones staying I'm also going to be posting more organizing projects!  I'll explain that more on Wednesday, because there is a whole back story to go along with that, but rest assured the projects are going to be picking up around here.

This one is getting some changes.  I'm not totally saying good-bye to it; I love sharing what I'm reading and what I think about the books, but I will be changing it up.  Instead of one post a week I'm going to do a once a month post.  I'll still share one for each week, just all at once.   I haven't totally figured out how that post will work, but by the time the end of the month comes I'll know more.  The weekly reviews just weren't fitting in with what this blog is all about.
So, again, thank you to everyone who has taken time to fill out the survey.  There is still plenty of time to hop on over and give some feedback, share your opinion, and all that fun stuff.  The survey is totally anonymous (unless you choose to share your name) and all questions are optional, so if you only want to answer certain questions, that's perfectly ok.  The survey is at the end of post, you don't even need to leave the blog to take it.
So…. what do you think?  Am I moving in the right direction? Do any of you have recommendations for gallery plug-ins for the printables pages?  Any suggestions you want to make?
Happy Monday!