My Very First Reader Survey!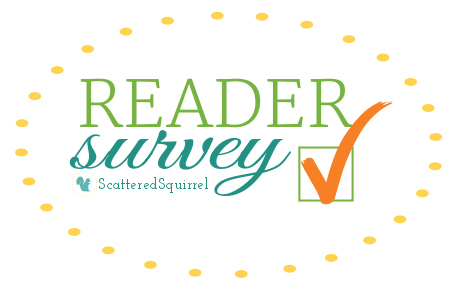 Happy Wednesday everyone!  Welcome to my very first Reader Survey.  I'm pretty excited about this.  It's a chance for you to tell me what you like, don't like, want to see more of, want to see less of, around here on this little ole blog of mine.  The survey is completely optional, but I would really love to hear from you.  There are only 7 questions, and each and every one of them is optional, so you only have to answer the ones you want too.
The great part about blogging isn't posting or pictures, or even printables.  It's sharing them with all of you,  Without each and everyone of you, this would be a very quiet, lonely corner of the blog-o-sphere. If I've learned anything over the last two years is that there is a balance to blogging. A balance between writing and sharing content that you love and care about, that excites and energizes you, and writing and sharing content that will excite, energize and connect with others.  That's what this survey is for, to help me keep that balance, because I like being able to share things with you all and I want to make sure I'm sharing more of what you want!
Again, this is 100% optional!
Happy Wednesday!