Where to Start Decluttering?
Happy Wednesday everyone! We're halfway through the week, and I am already longing for my Saturday morning sleep in. We had an extra-long weekend last weekend, as both boys were out of school for the Friday as well as the holiday on Monday.
Yesterday I was with Liam during his field trip and now I'm in recovery mode. Why is it that we can mess the house up more in four days of rest and relaxation than we can in a month of school days?
Most of the areas I have to tackle aren't too bad, it won't take me and the boys long, (oh yes, I'm making them help! Why should I hog all the fun of tidying up after all the fun?) but I thought it would be a great time to share with you a trick I employ when I need a place to start.
When you don't know where to start decluttering try this easy trick.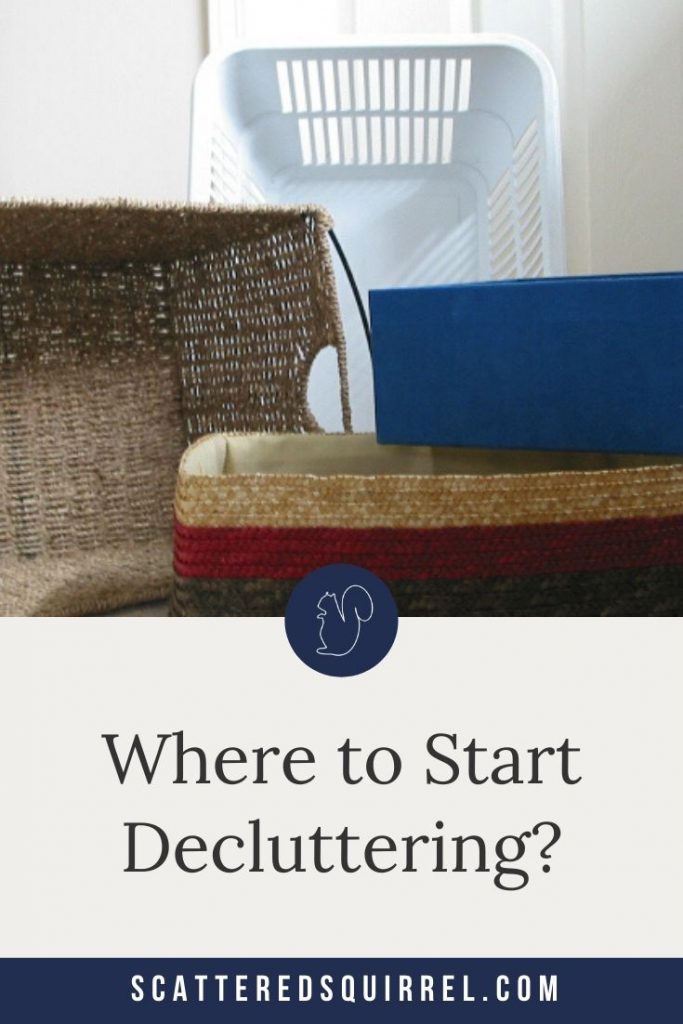 When you're facing an area, room or space that is overwhelmingly cluttered, it can be really hard to know where to start decluttering.
Sure, the experts tell you to pick a drawer, a shelf, and so on, but what happens when you don't have a drawer or shelf to choose from.
What happens if your space looks a little something like this?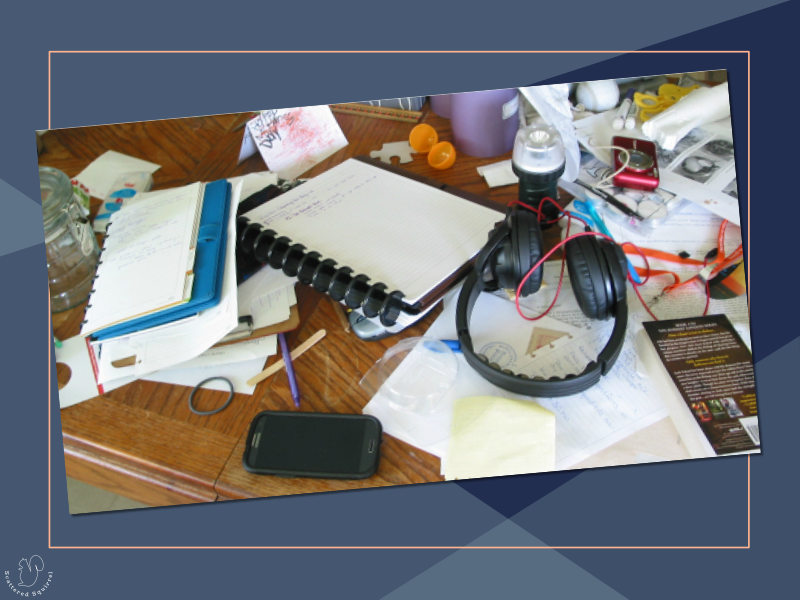 Yep, this is a picture of the corner of my desk, taken this morning. I cringe, and I kind of want to hang my head in shame, because this is NOT how I want my desk to be. But it's a good example of a space that doesn't have drawers or shelves.
I'm short on time today, so tackling the whole space just isn't an option for me, but I need to get this started. I need to start this almost as much as I need that first cup of coffee in the morning.
Quick and Easy Decluttering
They say that starting a project is often the hardest part. While that's often true, I have a little trick I pull out when I need to get started but have no clear starting point.
So where do I start when I don't know where to start?
With an empty basket, box or bin!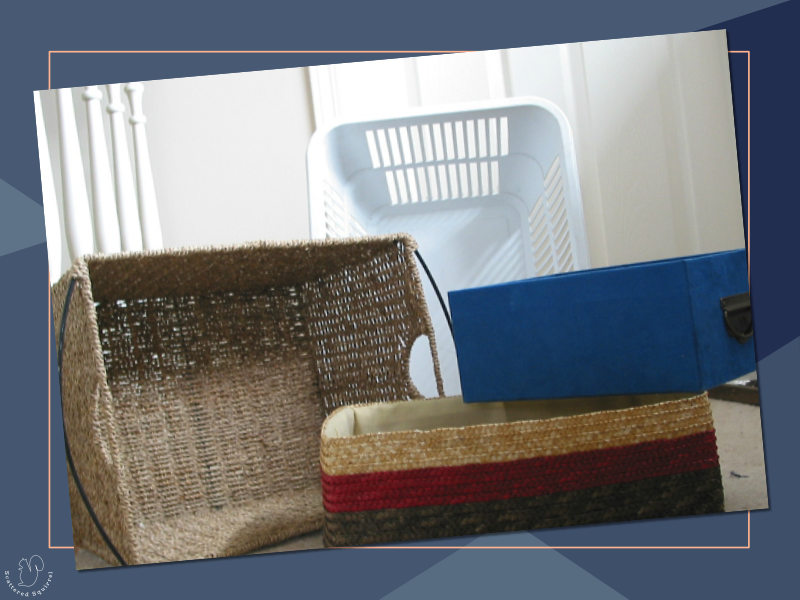 I have a few in different sizes that I turn to for time just such as these. Here are some suggestions for ones you can use that you may already have around the house.
Hampers: These are great if you have larger items you need to go through, or if you have a fair amount of time. Just be sure to take out the dirty laundry first.
Laundry Baskets: Another great one to use. These allow for a good amount of stuff to be added, but not too much.
Boxes: Small appliance boxes are a great size for quicker projects.
Shoe Boxes: For when you don't have a whole lot of time but want to get something done.
Ice-cream Buckets: Same as the shoe box.
Mop Buckets: Again, a good size without being too big.
Wastepaper Baskets: Small in size, means quick in work.
Recycling bin: Ours is your average size blue bin, It holds a little more than the laundry basket, but not as much as the hamper.
Any other box, bin, tote, container, what-have-you that you have on hand already.
Whether you tackling one surface, a bunch of surfaces, emptying a cupboard or tackling a whole room, this trick will work.
Decide how much you want to do.
Pick a basket in an appropriate size, and fill the basket with items from your area.
Don't sort now, just fill the box, and leave the space! That last part is key here.
Go somewhere away from the clutter so you don't feel overwhelmed by.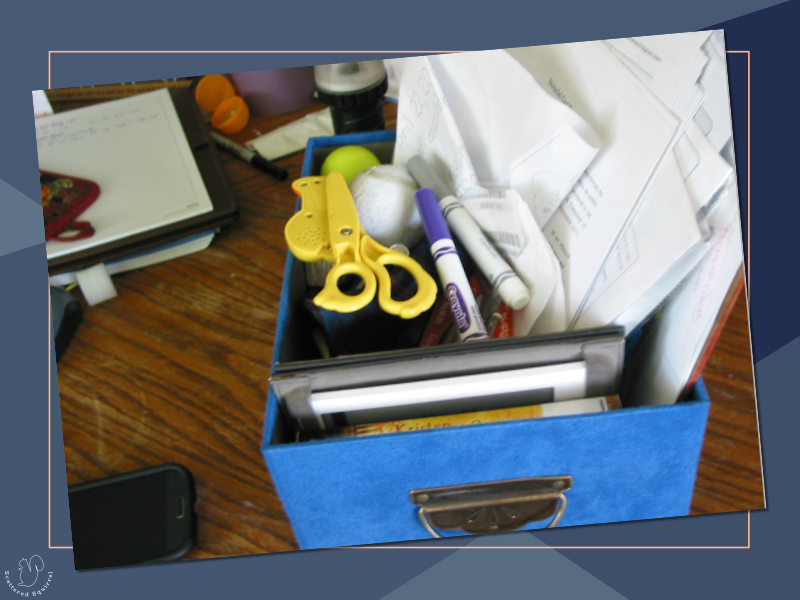 As you can see from the above picture, I chose my smallest box because I'm on limited time today. It is still sitting on my desk so I could show that not everything went into the box.
You can still see stuff cluttering up the background. This is just my starting point, once I'm done here I'm taking my box with me to the dining room so I can sort through it while I have a cup of coffee and a late lunch.
What Comes Next
Now that you have found somewhere away from the clutter, sort the contents of your basket into your piles, like Keep, Give-Away/Donate, Toss/Recycle.
Put away the keep items where they belong, unless they belong in your cluttered space. If they belong in that space, designate a spot for them to sit until you get to the rest of the space.
I have a spare chair in the dining room that will be holding my office stuff until I can get to the rest of my desk
Place items leaving your home in a place where you won't forget to take them with you when you head out, and go ahead and toss or recycle the garbage stuff.
When you've dealt with all the items in your basket, pat yourself on the back. You're done!
If you happen to catch the declutter bug while working through that box, and you have time, go fill it again and repeat.
So there you have it,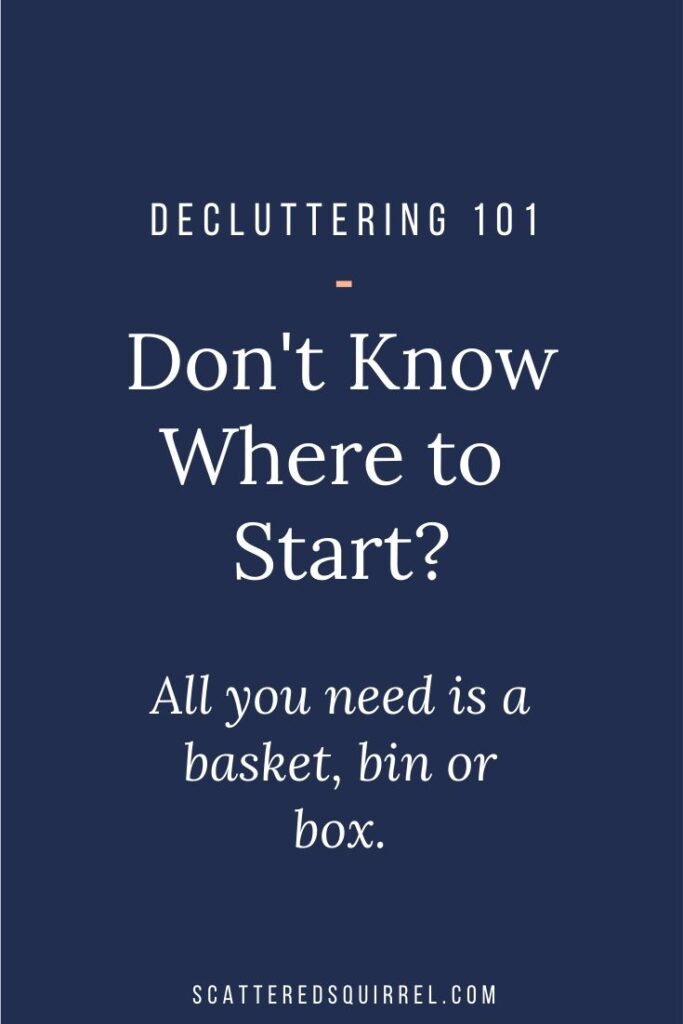 And now, I'm off to tackle that box. Maybe I'll even have time for a second box full, one can only hope.
I'd Love to Hear From You
Do you have an area of your home that's cluttered, but you don't know where to start? Any tips or tricks you have for starting those big decluttering jobs?
Drop me a line in the comments below and let's keep this conversation going.