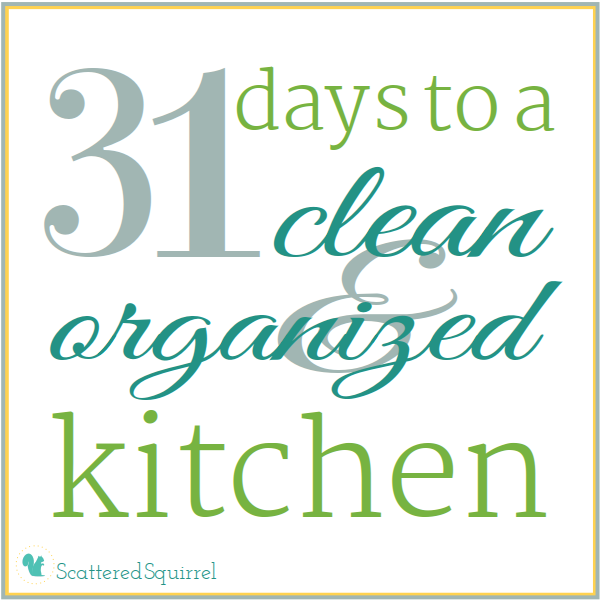 Welcome back to another episode of our 31 Days to a Clean and Organized Kitchen.  I'm your hostess, Alli, and I do so hope you enjoy the show.  All right, I admit it, I'm feeling a little on the silly side right now.  Perhaps still being under the influence of turkey and the natural high that comes from pulling off a holiday meal with minimal stress and fuss is to blame?  Yep, that's gonna be my story and I'm gonna stick to it!  For those of you celebrating Thanksgiving this weekend, I hope you had a wonderful time.  If you're just joining us on this crazy 31 Days journey, you can get all caught up over on the 31 Days tab at the top of the page.  Currently we're working through organizing kitchen zones.  I say we, but I really don't know if anyone else is doing this along with me or not.  For the sake of argument, I'm just going to pretend there is a we ok?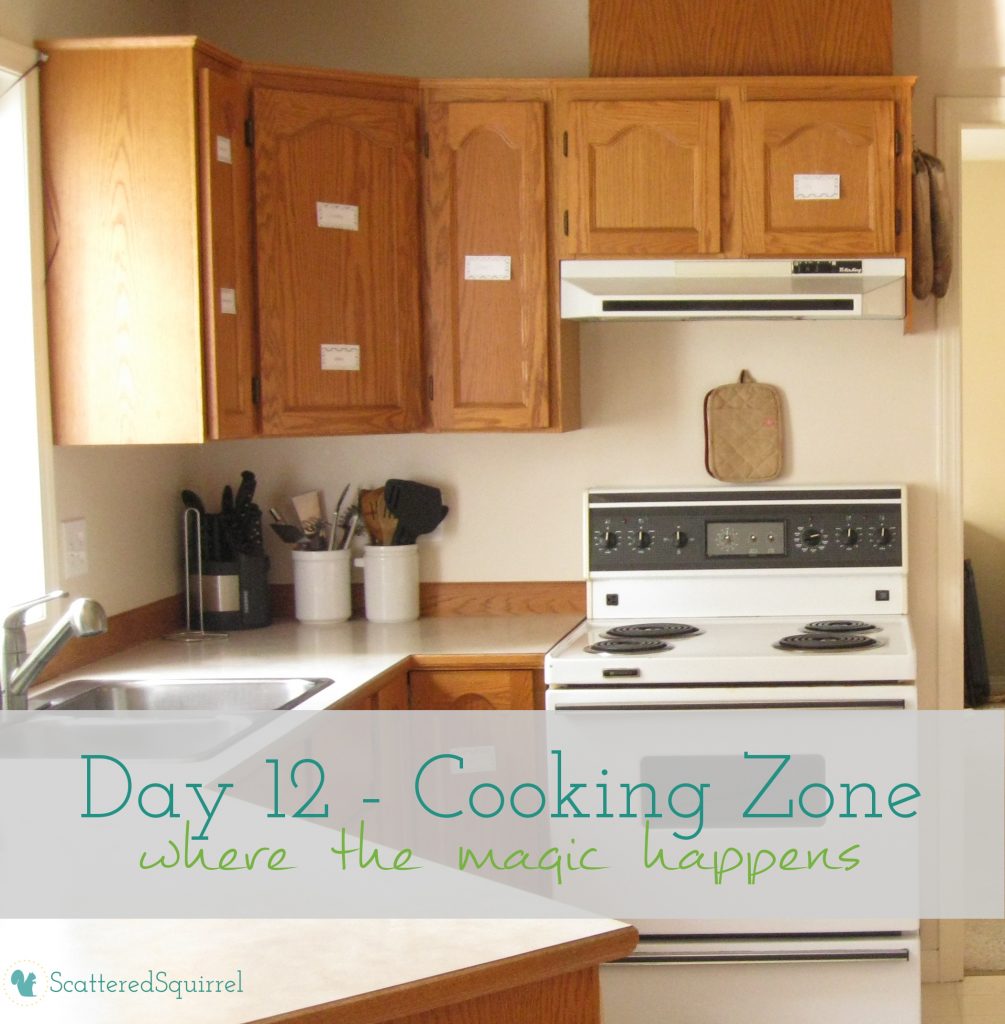 Currently, I'm looking from these photos to my kitchen and wishing I could wiggle my nose and make the picture a reality.  Despite cleaning as I went, the kitchen still needs some more love and attention to get put back to rights after the onslaught that was Thanksgiving dinner.  Today was the first real test of how the new kitchen layout is working, and I'm really happy to report, that so far every change we've made seems to be working really well for us. While the cooking zone really hasn't changed much, a few tweaks to where things are stored has certainly made a world of difference.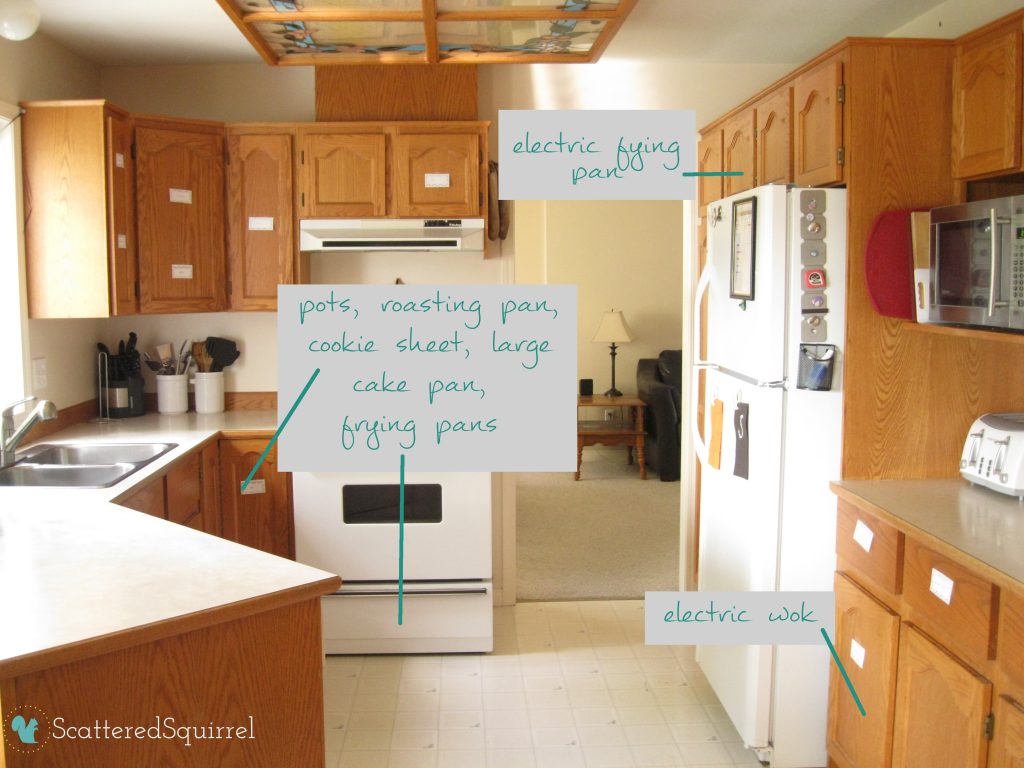 That's where things were before.  Next time I promise I will take before pictures!  Though labeling these photos has shown me just how chaotic my 'organized' kitchen was before.  See how things were sort of spread out here and there?  Not so much fun when you're trying to cook and you can't find what you need.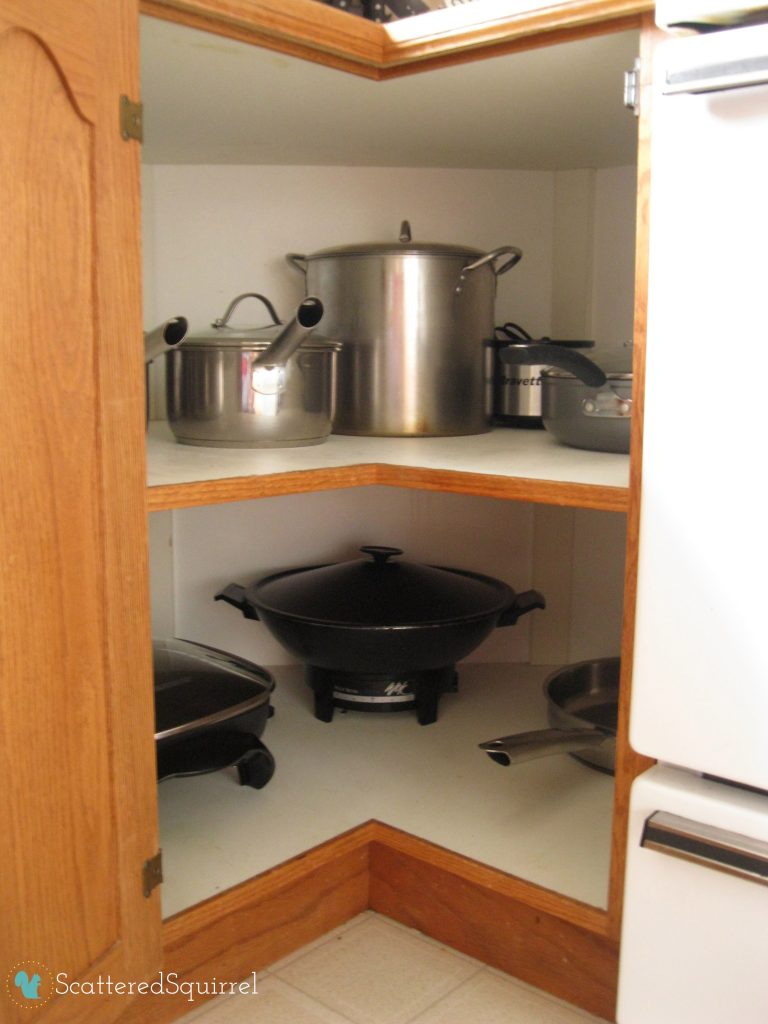 Now everything is pretty much in one cupboard, the only item not shown is our roasting pan which now has a new home in the oven drawer.  It makes it really easy to get to what we need when we're cooking.   I can't believe how spread out I had everything before.  I thought I was being smart in how I used this space, but I was oh-so wrong.  Thanks to Travis reorganizing before I reorganized, I was able to see our kitchen through a different view and I am so happy with how it's turned out.
Speaking of happy with how things turned out, do you remember back on Day 1 when I said I was putting all our cooking utensils into a basket?  As we needed them we've grabbed them out of the basket and then put them back into their carafes.  It's only been two weeks, and I'm happy to report only one item is left in the basket!  See….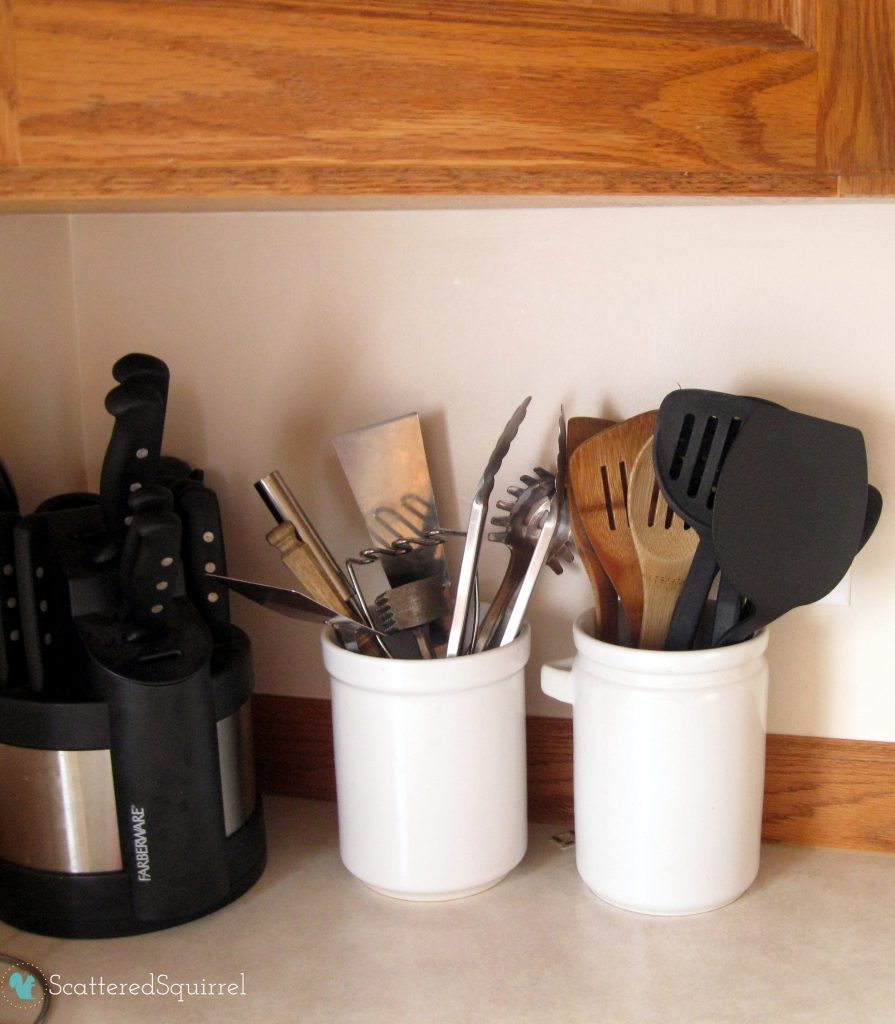 I have our cooking utensils organized into cooking surfaces, non-stick and all the rest.  This way, when I'm cooking I know which ones to use.  I want to add one more carafe to the mix for the bamboo utensils as they can be used with most cooking surfaces, but for now I'm content to let it be.  Again, you can see that stupid knife block.  That really bugs me.  It was a silly attempt to bring cutting tools over to the cutting boards.  If I had been smart, I wouldn't have gone for the one on sale, I would have just waited to get an empty wooden one that would fit the knives we already have.  On the flip side, I've recently heard that knife blocks are one of the nasty, more germ infested place in your kitchen, so I think I'll stick with my in the drawer one as it is easy to clean and off the counter.
And that brings me to the end, not just of the Cooking Zone, but of all my zones.  I have one left to share, my Cleaning Zone, but I'm saving that for when we talk kitchen cleaning.   Later on today, I'm sharing how I've organized the cupboards around the stove.  Spice storage/organization has always been one area I really struggle with, so I'm excited to tackle that cupboard.
Until later everyone!
Have you ever purchased something on a whim thinking it would be a great help, only to have it mock you with its uselessness later on?  What do you have in your cooking zone?