Vacation Planning Printable Sets to Make Your Next Trip a Breeze
These vacation planning printable sets have been sitting in the wings for the last couple of years. I finished making them shortly before the world closed and they've been sitting in my drafts folder ever since. It just didn't feel right to share them then.
Travel is slowly opening up and I know a lot of people are itching to get away. Now feels like a pretty good time to share these with all of you.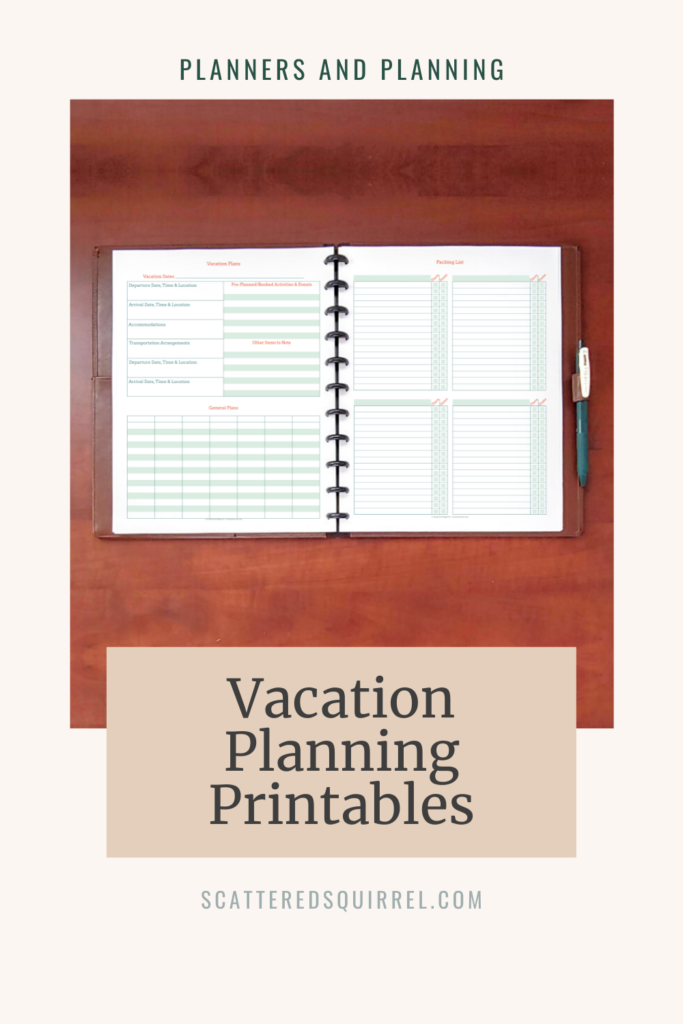 Vacation Planning Printables
Years ago I shared some vacation planner printables. This was back before I had figured out how to combine PDFs. When I was hesitant to make half-size printables because I wasn't sure how to make them so they could be easily printed double-sided. The truth is, these printables have been on my list of ones to update for a long time.
So I'm really happy that I finally get to share them with all of you.
I didn't make too many changes to the old ones. The biggest change is that I turned them into vacation planning sets instead of individual pages. This way you only have to download and print one file.

I changed the fonts to make room for more planning and allow for creative customization like stickers and washi tape. And I create a half-size version. Other than adding in some pages for notes or memory keeping, they're still pretty much the same as they have always been.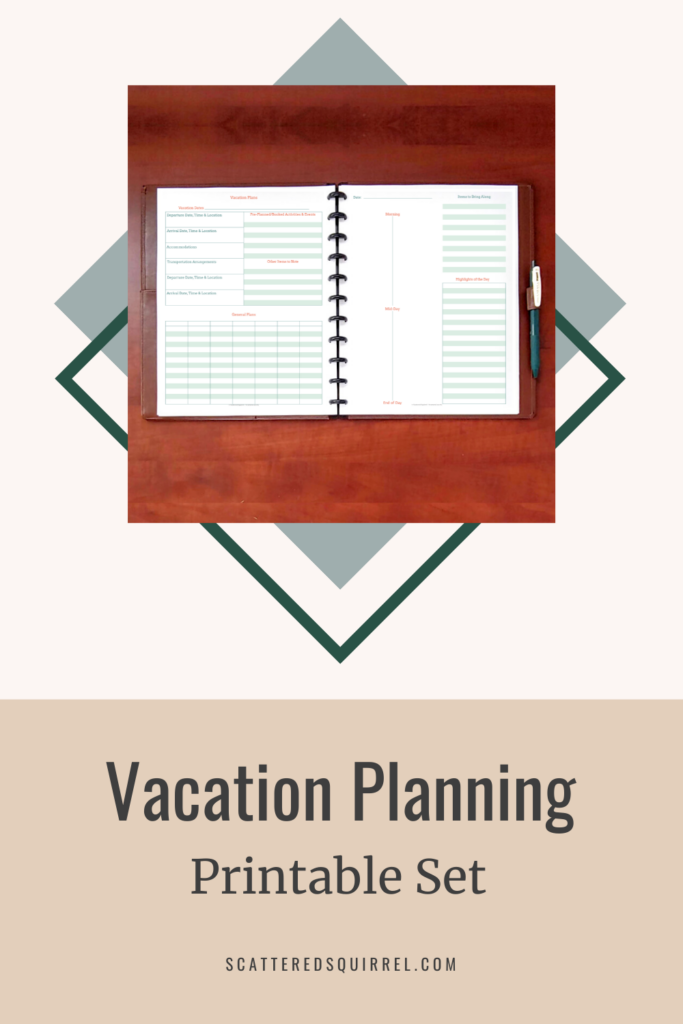 Vacation Planning Printable Sets
The largest change to the old printables was turning them into vacation planning printable sets. I chose to do it this way because having to download each page can be tedious. Not to mention, trying to print individual pages double-sided can be frustrating. I want the printables to be easy to get and easy to print for you.
In addition, I've received numerous requests to combine them into one file. And I'm always happy to try to create the requests that come in. So how about we take a peek at this new set?
Full-Size Vacation Planning Set
We're going to kick things off with the letter or full-size set. As I mentioned above, all the original pages are still included and I think the other pages I added help round out the planner.

I'm going to share the pages in order of how they appear in the planner.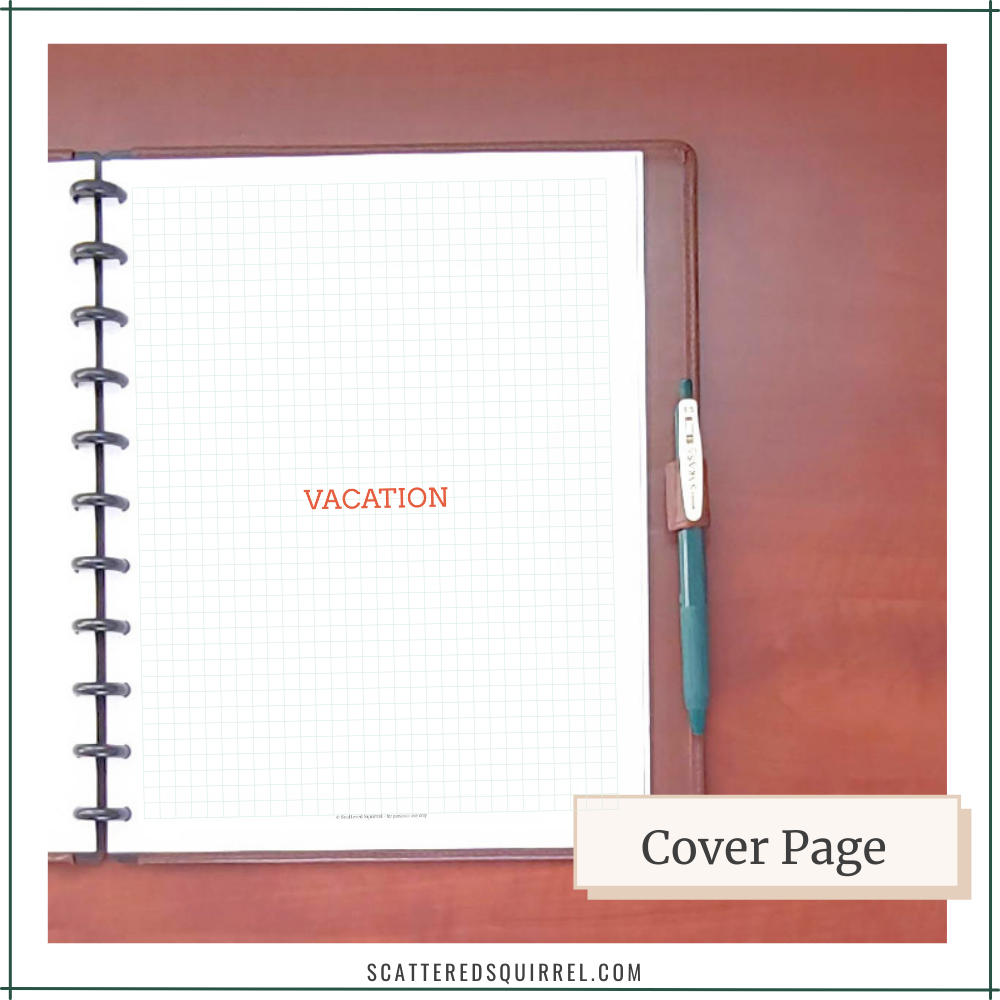 Cover Page
I designed the cover page to be really simple. The title in the middle can be covered if you want. The space around it can be decorated however you choose, or you can just leave it as is.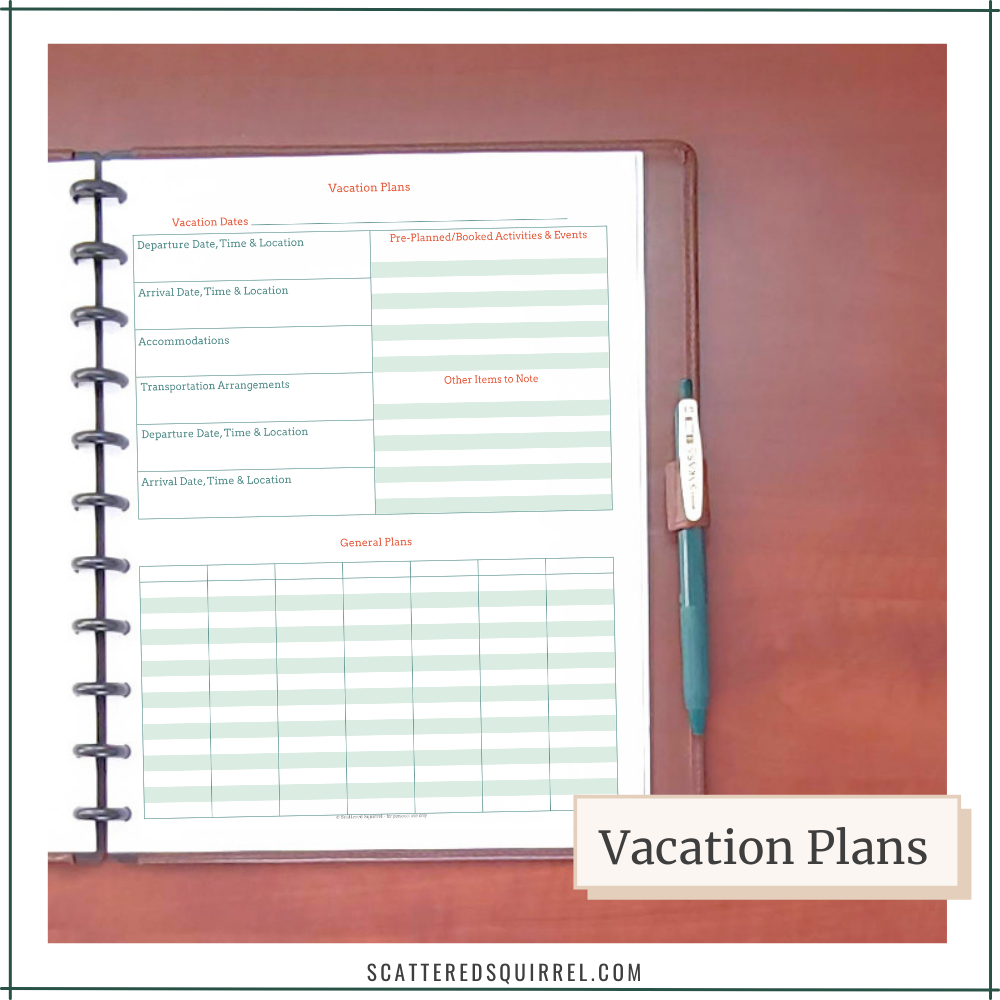 Vacation Plans
Next up we have the vacation plans pages. Here is where you can keep track of all the details like your departure and arrival dates and time, accommodation and transportation arrangements. There's even space at the bottom to plan out vacation.
Orginally, the General Plans section had the days of the week labeled in the top row. I opted to take them out this time so that you can customize this section to fit your needs best.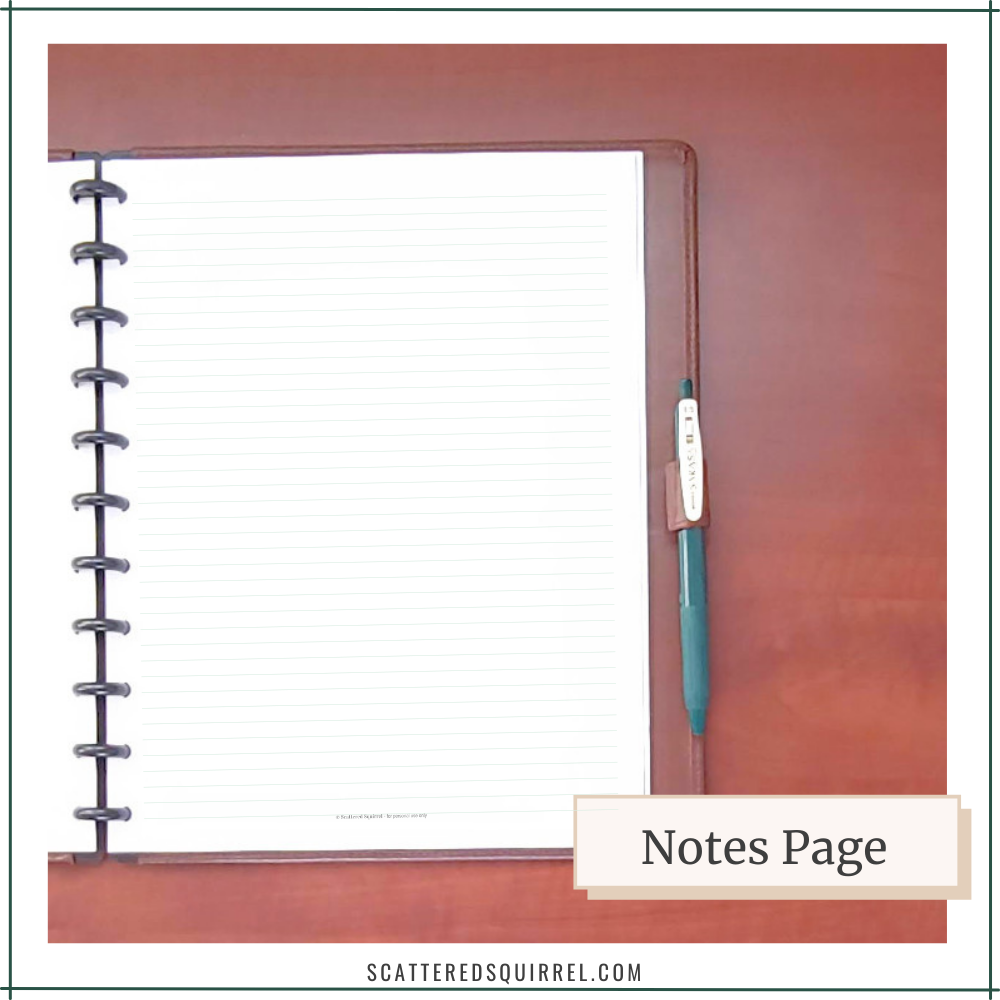 Notes Page
Opposite the vacation plans page you have a notes page. This one is a new addition to the vacation planning printable set. I wanted to include a notes page because there may be details, information, or notes you want to make while planning your vacation.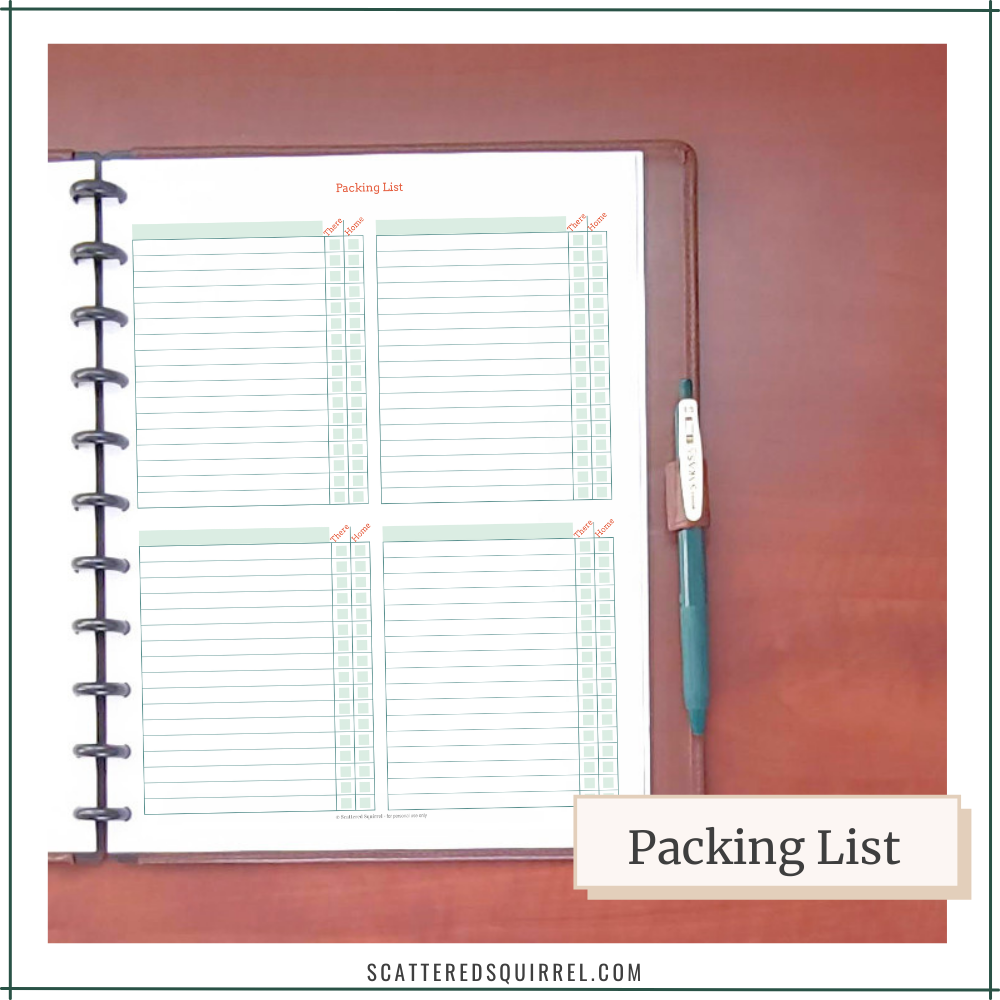 Packing List
The next two page spread is packing lists. The packing list is a simple layout. You can label the boxes anyway you want. The two check box columns, one for there and one for home, are a great way to make sure nothing gets forgotten.
I included two of these pages in the set for those who require extra room.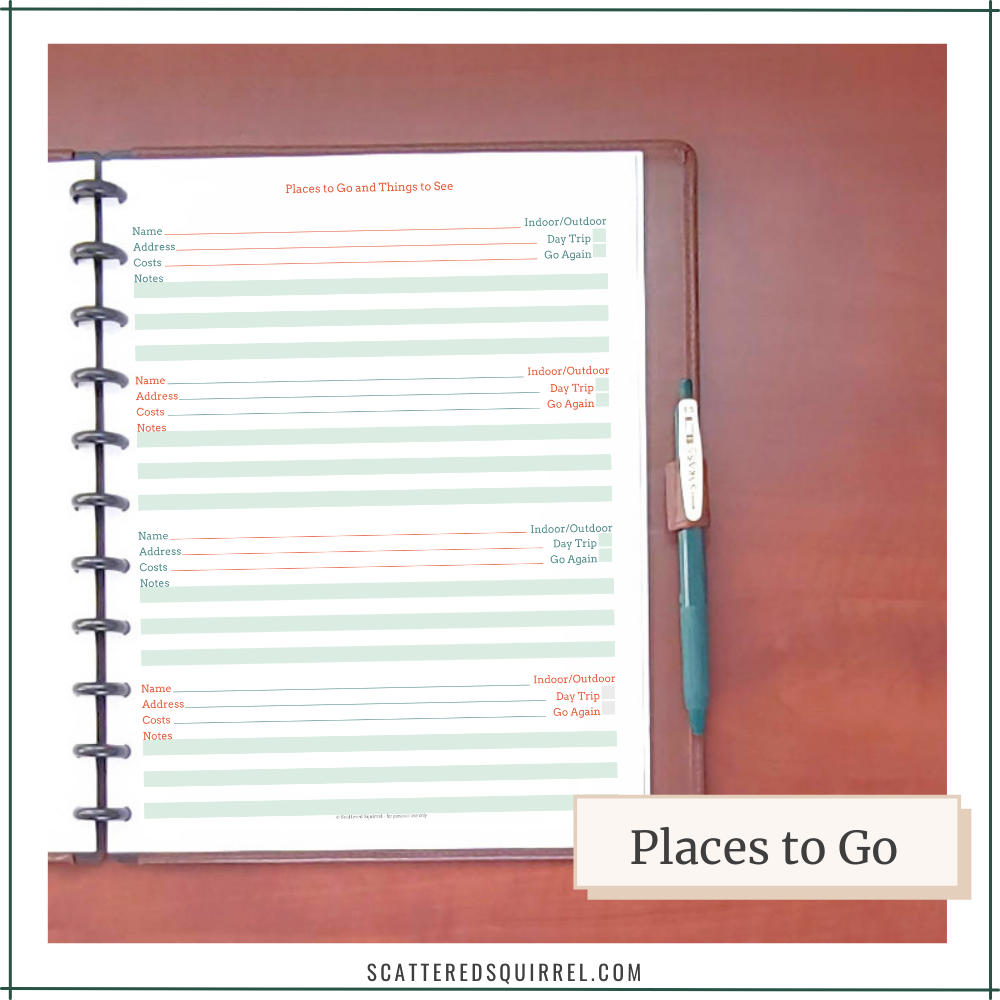 Activities Planner
Follwing the packing list we have another two page spread of activities planners. These pages were created to help you plan where you want to and what you might want to do.
Each section includes a place for the name, address, and cost of the activity or event. As well as place to mark if it's indoor or outdoor, a day trip, if you want to go again, and a room for notes you might want to make.
Again, I included two of these pages so you have extra room to plan.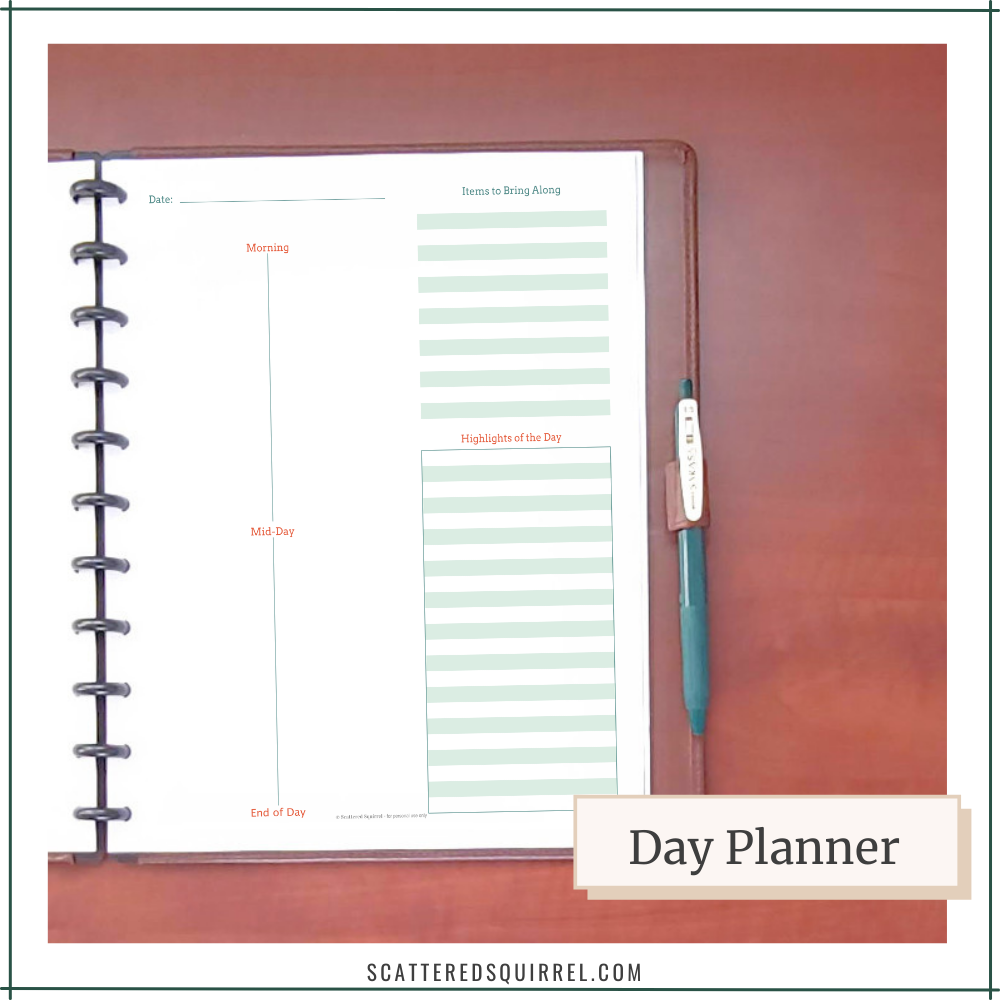 Day Planner
The day planner pages are up next. These day planners were purposefully created to be a little more free flowing and a little less structured. You can use these to plan your days, for memory keeping, or a little of both. Here's an example I shared with the original vacation planners.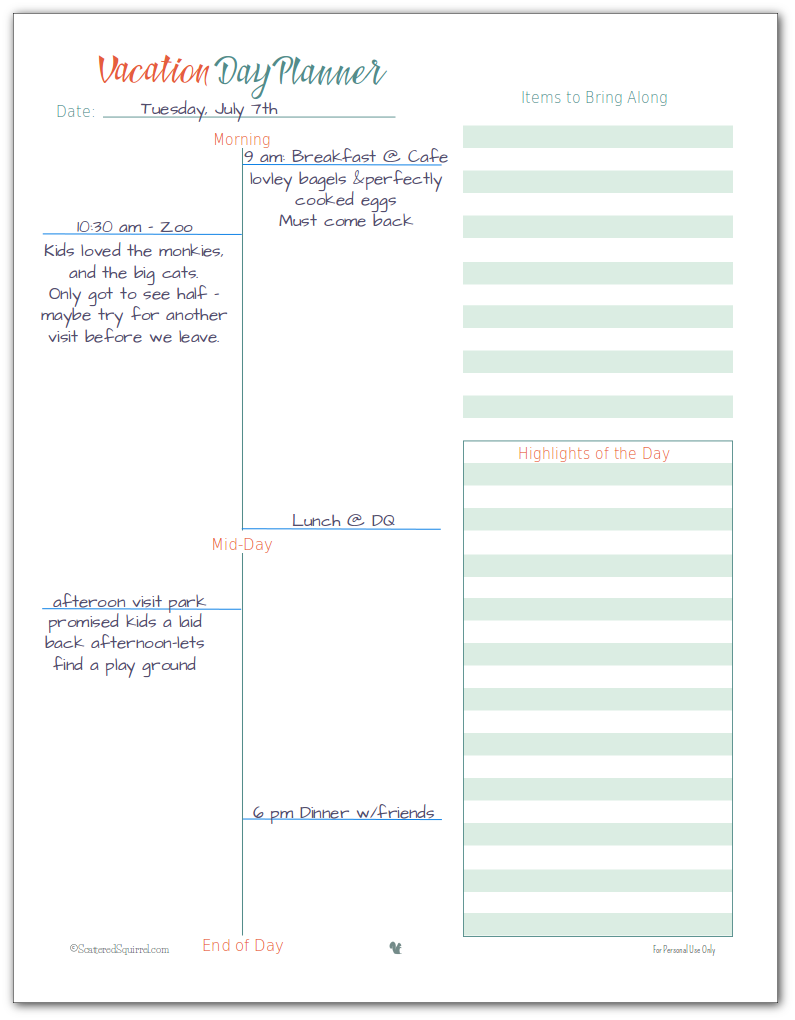 There are eight of the day planner pages in this vacation planning printable set.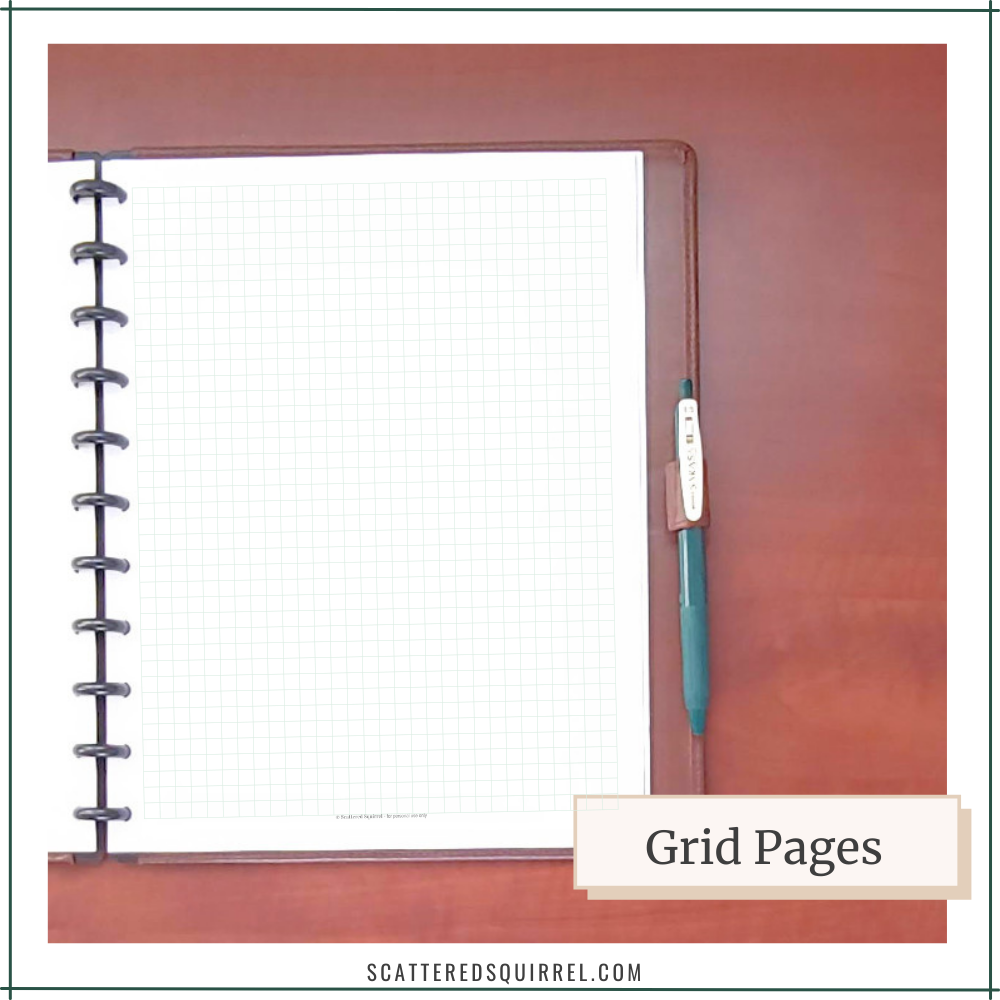 Grid Pages
Lastly, there are eight pages of grid paper to finish off the planner. You can customize these however you need or want too. Make extra planning pages that you might need. Or journal and memory keep on them. You could use them for notes. Or just leave them blank.
I tried to include enough pages to make this planner set functional, but not too many to make it too tedious to use.
Grab the Full-Size Set
If you'd like to grab a copy of the letter-size vacation planning set, just click the download button under the image below.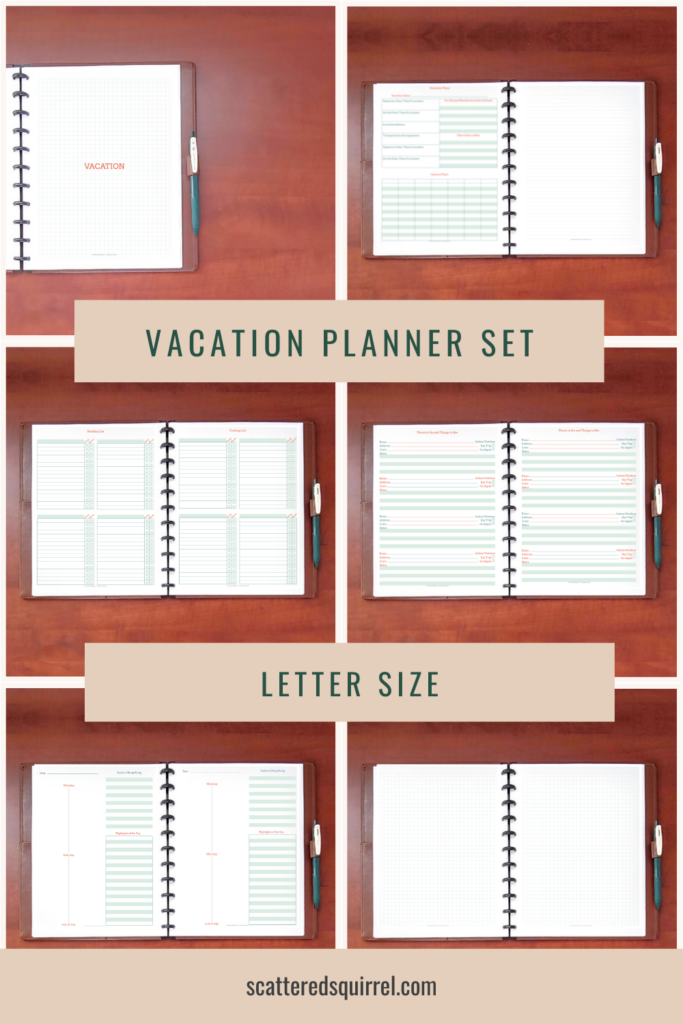 Half-Size Vacation Planning Set
All of the half-size vacation planning printables are new additions. You will find all the same pages in this set as the full size one. I kept them all in the same order too.
This planner set was designed so that there are two planner pages per sheet of paper when printed single sided. They will look like they are all out of order. This was done on purpose.
I opted to lay out this set so that when printed double-sided, you can fold the papers in half and create a booklet. You can also still cut the pages in half and punch them to fit your planner.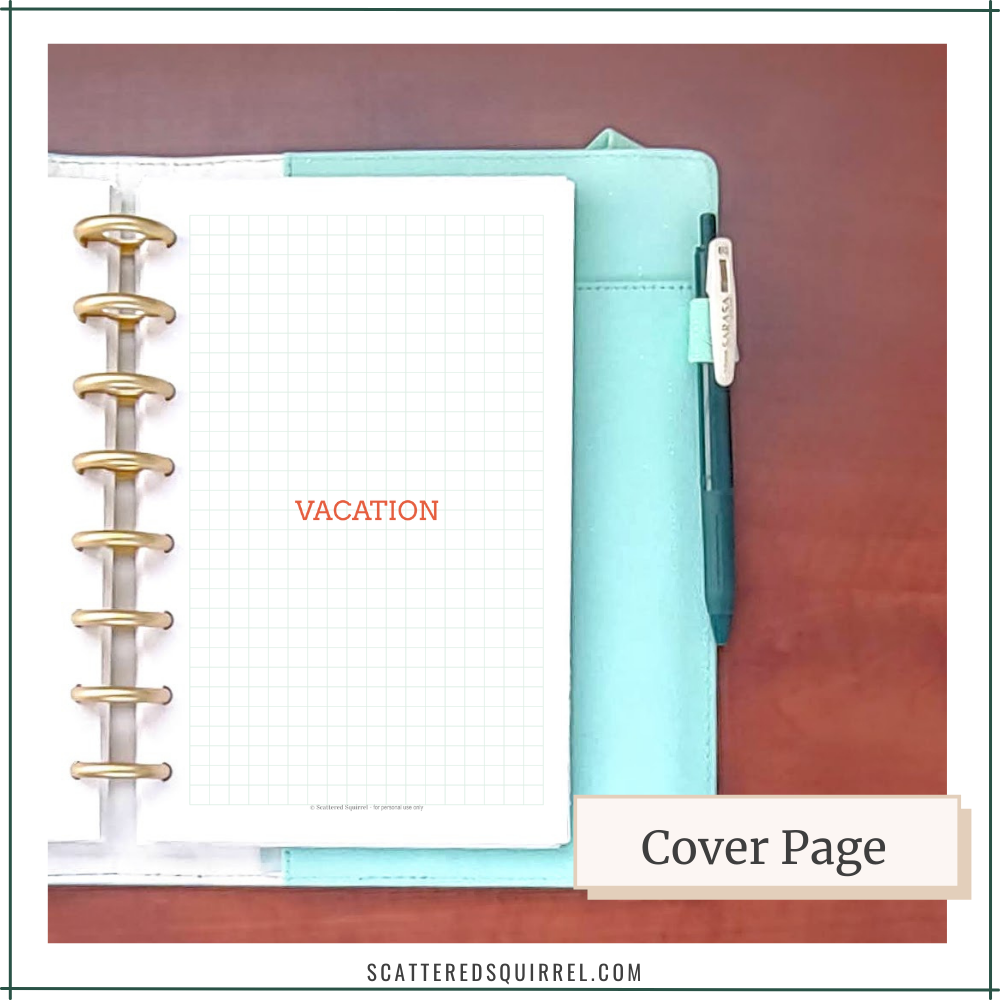 Grab the Half-Size Set
Just like with the full-size ones, if you'd like to grab a copy of the half-letter-size vacation planning set, just click the download button under the image below.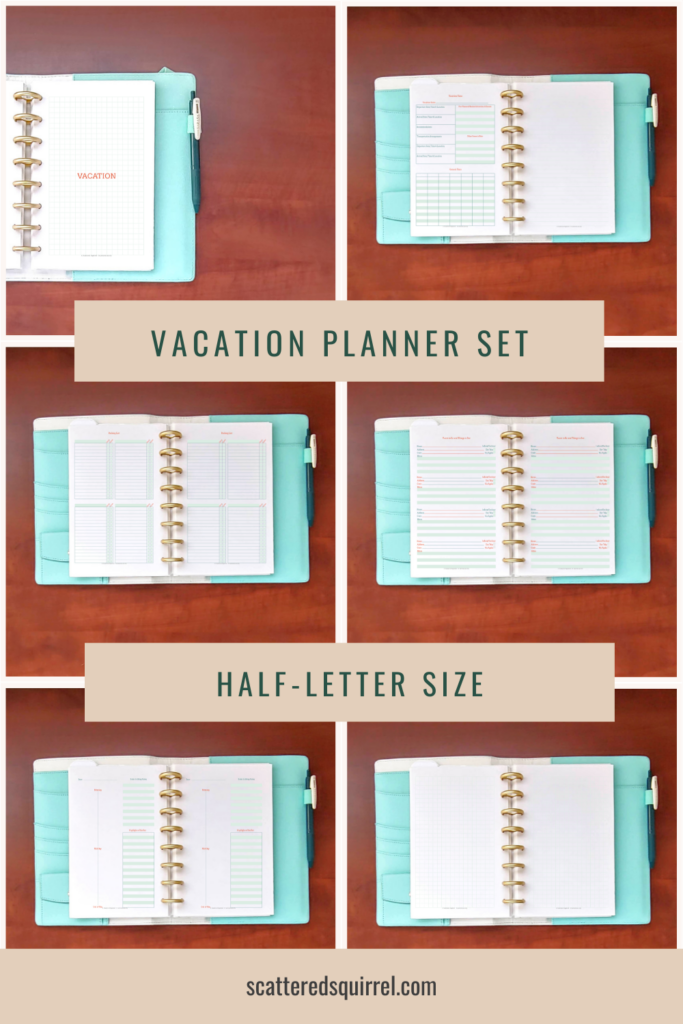 Before You Go
I truly hope that you enjoy using these vacation planner sets to help plan your next getaway. I also hope you find them helpful. I have mine printed and ready to go, even though we don't have any vacation plans for this year.

If you enjoyed these and want to keep the fun going, come on over and join us in The Scatter-Brain's Guide Facebook group. Periodically I share new printables there before they hit the website and sometime I share ones that just stay there.
We would love to have you join us.
I would love to see photos of the printables in action. If you happen to share them on social media, I would love it if you would tag me or use the hashtag #scatteredsquirrelprintables . I love seeing all the different ways people make use of them.
Until next time friends,
Happy Printing!