Welcome to Day 26 of the 31 Days 31 Printables series. If you are just joining us, I'm ending the month by updating and refreshing some of my personal planner printables.  These are the printables that I currently use, or have used in the past, to help me stay on track when it comes to managing my and my family's schedules.  When it comes time to put together my planner for the year, one of the first pages I put into it is a year at a glance page.  Up until earlier this year, I just went online and printed one off.  They weren't pretty but they served a purpose.  With the end of the year fastly approaching, I know I'm not the only one starting to look ahead and gather up the supplies I need for next year's planner.  So, today I'm sharing my new 2015 Year on a Page Printable Calendars.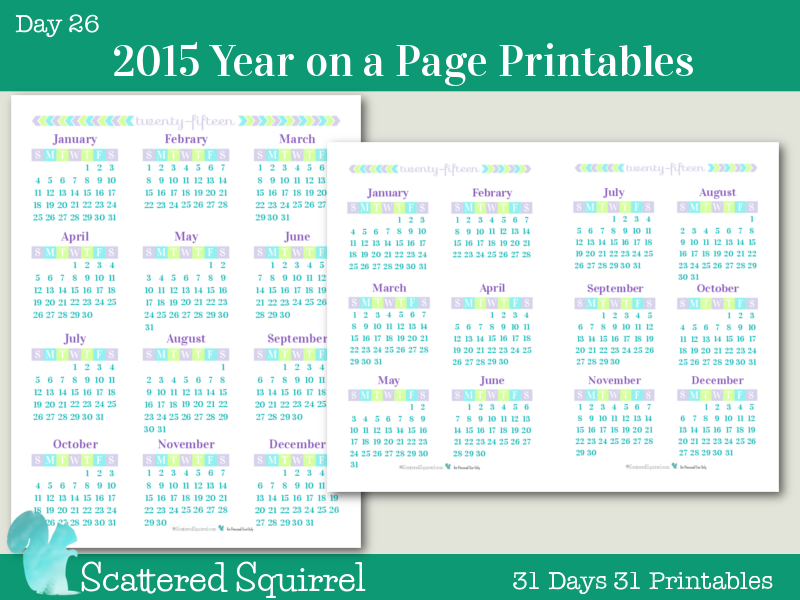 I love having a year on a page calendar at the front of my planner.  I use highlighters to mark off important dates, or keep track of Travis days off, as those changes from week to week.  It's great to be able to see what's happening in our year with just a glance.  I also use it to highlight pay days and bill due dates so I can quickly and easily account for those in our budget.
2015 Year on a Page Printable Calendars
Because these printable calendars are for 2015, I used the 2015 calendars as my inspiration for fonts and colours.  I like it when everything matches and looks pretty.  I might be weird, ok scratch that, I know I'm weird, but there is something nice about having planner pages match.  Below you can see the full-size one.  I kept them simple, nothing too fancy but I had fun putting them together none the less.
I also made a half-size version.  I keep receiving more and more requests for the half-size printables, and I'm trying hard to make sure I offer both versions of the printables, especially when it comes to the planner printables.  I know I love using a half-size book for my personal planner.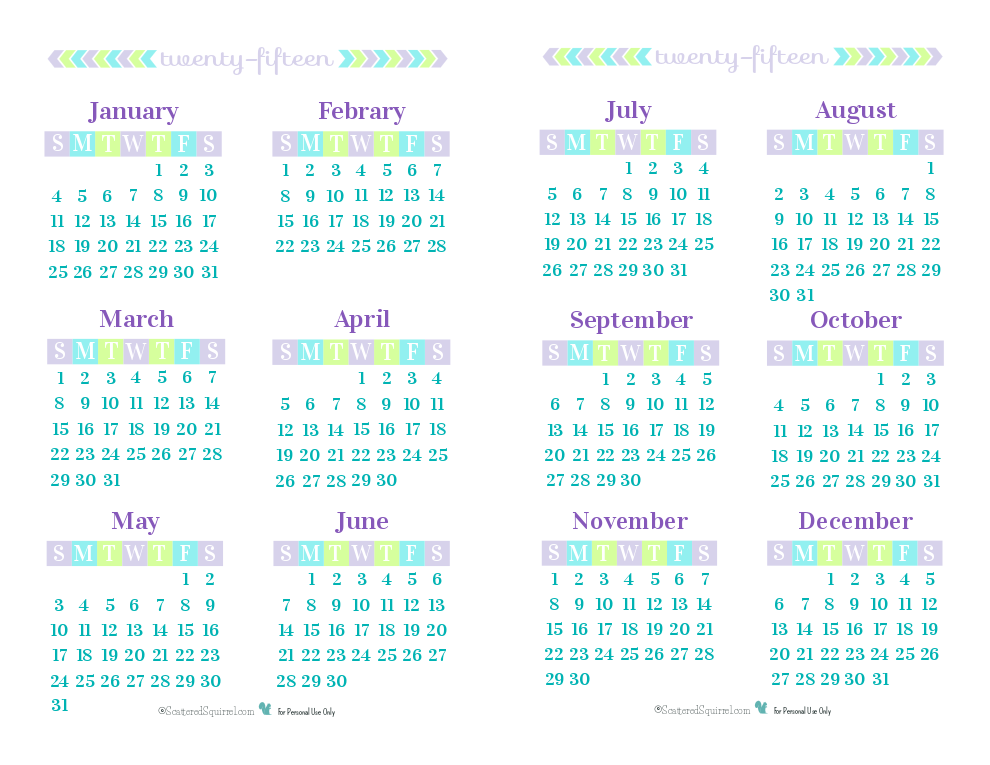 I know many people don't use the year on a page calendars, but for those that do use the I hope you like these one.  I tried to keep them clean, easy to read and still retain that hint of fun and pretty.  This year I only used. the full-size one.  Though my personal planner is a half-size planner, I use a full size planner as well to help keep track of all my work stuff as well the home stuff.  My personal planner is more for keeping track of appointments and general life stuff.  For next year I'm using both.  One in my main planner and one in my personal planner.  That way I have access to the same info in both.
Don't forget, if you have a suggestion for changes you would like to see to old printables, or even new printables you would like to see offered here, let me know in the comments, send me an email, or reach out on social media. You never know, I might choose your idea next!
 
Do you like having a year on a page printable calendar?  If so, how do you use them?
~Happy Printing!~
---

Don't miss out on the fun!  To get posts delivered right to inbox head on over to the side bar and subscribe by email.  Check out more 31 Days series over on the 31 Days site.
---