New Horizontal Week on a Page Planner Printables
One of the best things about creating your own planner is all the options you have to choose from. There is a layout to fit almost everyone's needs. Today's printables are one of my favourite weekly planners.
You can read all about why I love this layout and check out the horizontal week on a page planner printables down below.
Horizontal week on a page planner printables are a great addition to any planner.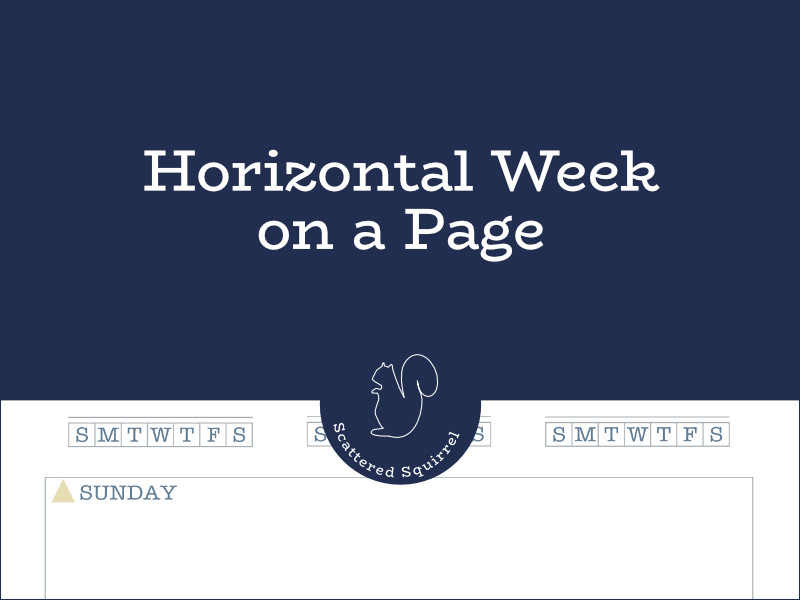 This post contains affiliate links. We may earn a commission for purchases made through these links. See our disclosure policy for more details.
Typically, I use a vertical week on two pages in most of my planners, however, there are times during the year where I simply don't need that much planning space. That's when I pull out my horizontal week on a page planner printables.
Ways I Use the Horizontal Week on a Page Planner Printables.
One of the best features of this layout is how versatile it is. I find myself using to meet a number of different planning needs throughout the year. A few ways I use them regularly include:
meal planning – they offer plenty of room to plan meals. I don't use the habit trackers when meal planning, but if you wanted to, you could use them for things like tracking what days you ate at home, if you took your vitamins, dinner clean up, or something else entirely.
chore list – I make one of these for each family member. Using a bold marker I write their chore or chores on the day they need to do it. We use the habit trackers for the three daily chores we each have.
cleaning/organizing project planning – like the chore list, I assign a task to each day. Using this planner lets me see at a glance what I need to do to tackle that project each day. It also allows me to plan out a project ahead of time so I can fit it in when I have a slower week.
for non-busy weeks– there are times throughout the year when I'm not as busy as other times. During these less busy times, using the horizontal week on a page layout makes so much more sense for me.
I'm sure there are many more ways you can use this layout to fit your needs that I didn't mention above. For now, how about we skip to the good stuff and check out the planner printables!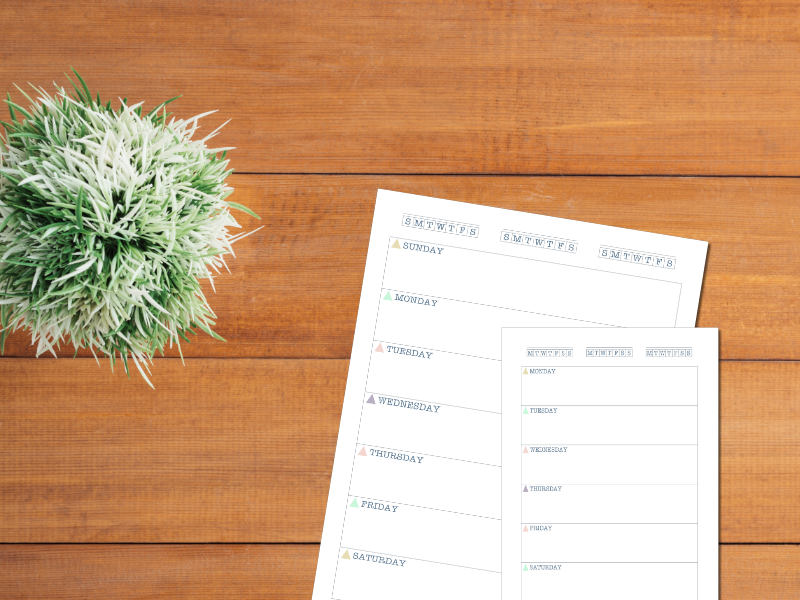 Horizontal Week on a Page Printables
These horizontal week on a page planner printables are part of the Coast Dreams collection. They match the 2020 calendars, so if you've chosen to use those your pages will match.
As with most of my weekly planners, these come in both full and half size and you have your choice of a Sunday or Monday start day.
Sunday Start
The Sunday start planners are just how they sound, the week starts on Sunday. You'll also notice that the habit trackers at the top of the page also start with Sunday.
I like to use the habit trackers to remind me to tackle my three daily tasks, but you could use them for anything you want.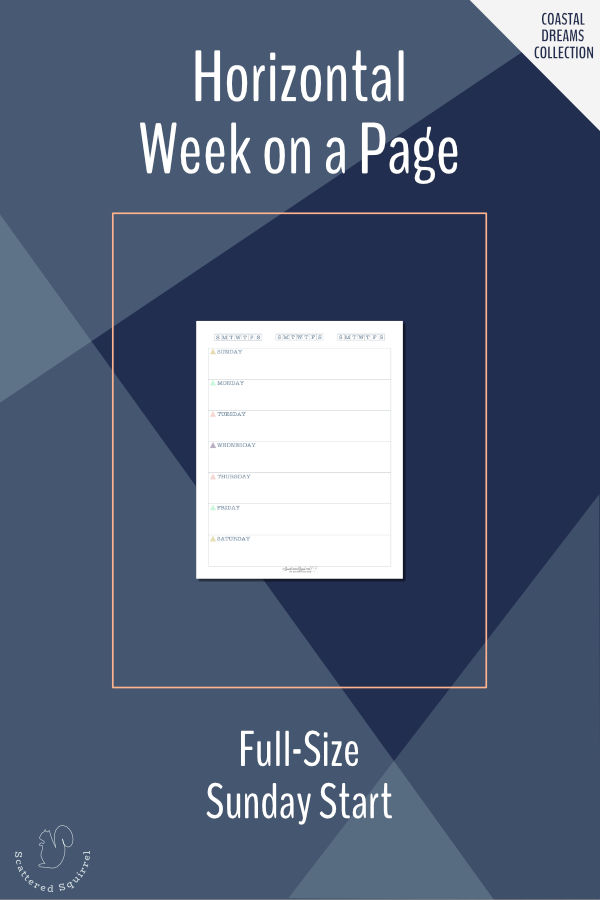 Printing Tip: For the best printing results always make sure your printer is set to print 'Actual Size'. That way you're sure to get the right margins for punching and binding your printables.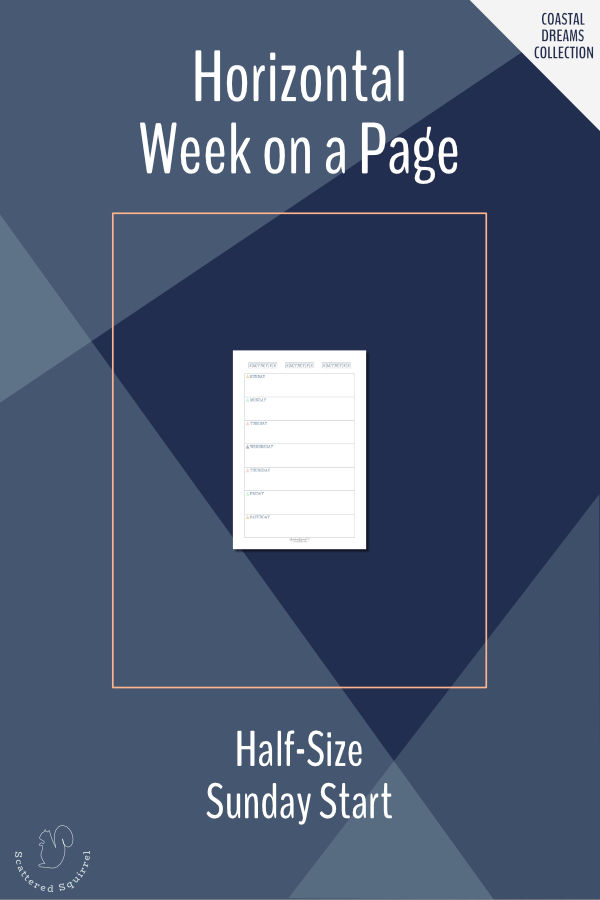 Monday Start
Just like the Sunday ones, the Monday start planners begin with Monday. And again, the habit trackers at the top of the page do the same.
I included the habit trackers because they are a handy tool for building new habits and routines. If they're not something you'll use they can easily be covered with washi tape, whiteout, or stickers.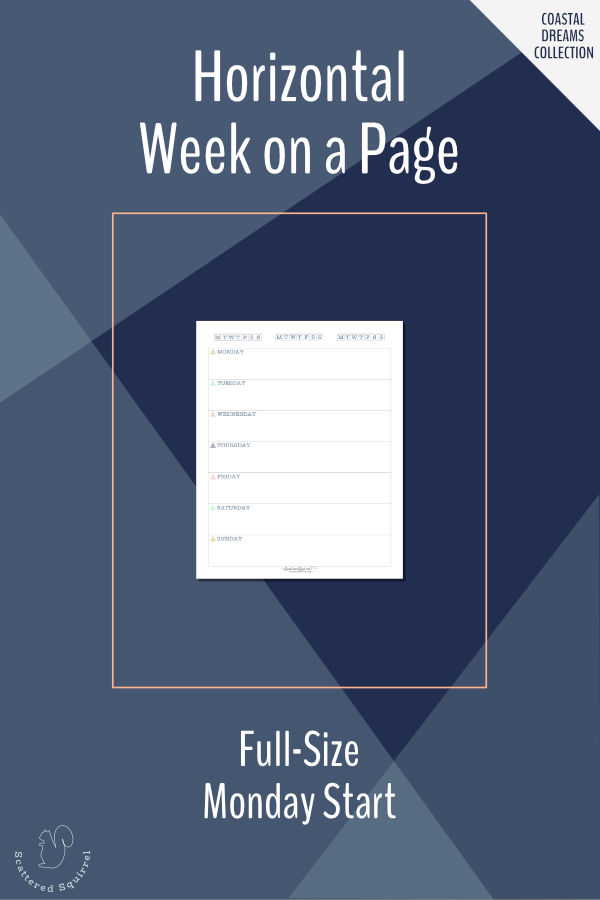 Printing Tip: I always leave a 1/2″ margin on all outside edges of my printables. To get the truest print fit, check your printer settings to see if you can adjust the print margins. I like to turn my printer margins to '0' when I'm printing planner printables.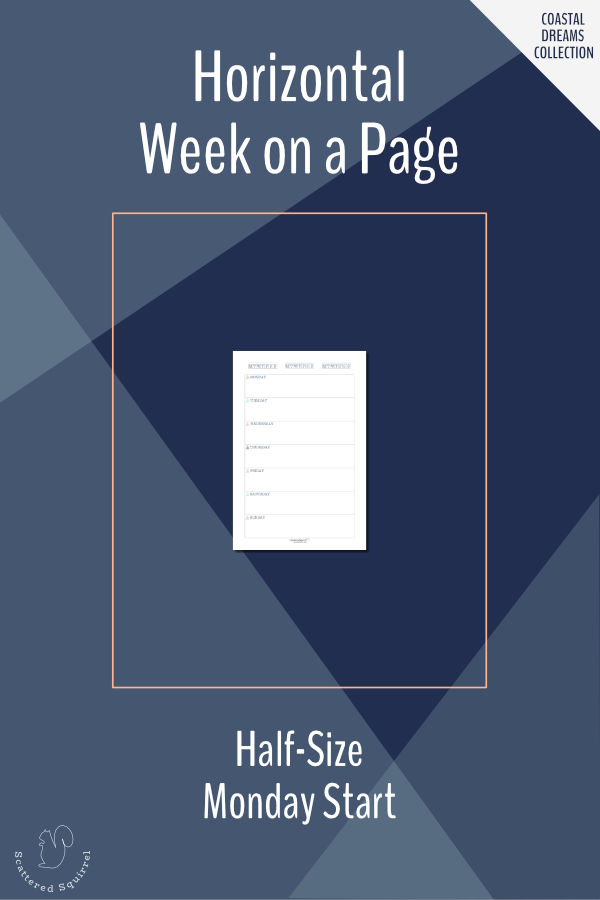 The horizontal week on a page planner is a versatile printable. There are so many different ways they can be used. In addition to the ways mentioned above, you can also pair them with a notes page. Use the notes page for lists and notes and the weekly planner to schedule or highlight the big-ticket items in your week.
How or if you choose to use this planner page is totally up to you.
If you are going to be using these printables, I'd love to hear about. Drop a line in the comments at the end of this post if you'd like to share how you use them. If you share a picture on social media I'd love it if you'd tag me it in. I love seeing the printables in action.
Until next time-
Happy Planning!