2017 Yearly Calendar Printables are Here!!!!
Wowzers!  I can't believe that the 2017 yearly calendar printables are all ready to go!  Let me tell you, the 2017 calendars did not come together as smoothly as previous years calendars have.  In my infinite wisdom I thought I'd try using a different program to design them and let's just say that if I had caved after the first 2 weeks, these would have been done 4 weeks sooner.  My stubborn nature reared its ugly head and I was bound and determined to make it work – and I did!!!!  Until I went to export as PDF anyway.  (insert unimpressed face here) In the end, I went back to the program I know and love and I'm happy to say that – they're here!!!!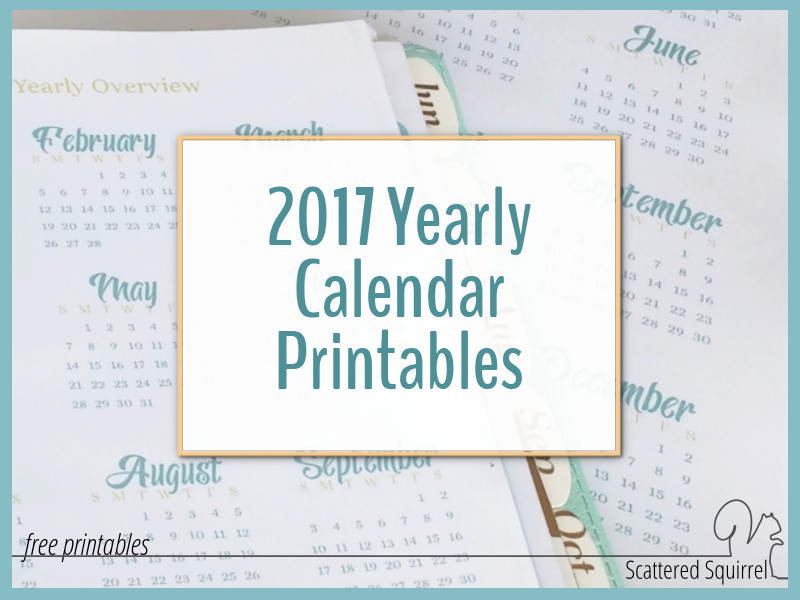 Just like in previous years, I'll be releasing these in stages.  If you follow me on Instagram or Facebook then you may have already seen that I've started work on the full-size 2017 calendars.  They are getting close to being done.  I'm aiming for Thursday, which may mean Friday, but for sure they'll be ready by the weekend.  The half-size ones are in the works as well.  If those are the ones you're waiting for, you won't have to wait too long.  I'm planning on having those ready to go up here next Tuesday.
Now that the housekeeping stuff is taken care of, who'd like a peek at the new calendars?
2017 Yearly Calendar Printables
I look forward to making the new calendars every year.  I love getting to play with different colours, test drive different font, and generally, just have some fun.  For the 2017 calendars, I opted to use two colours and keep things simple and bring in pops of fun with the fonts.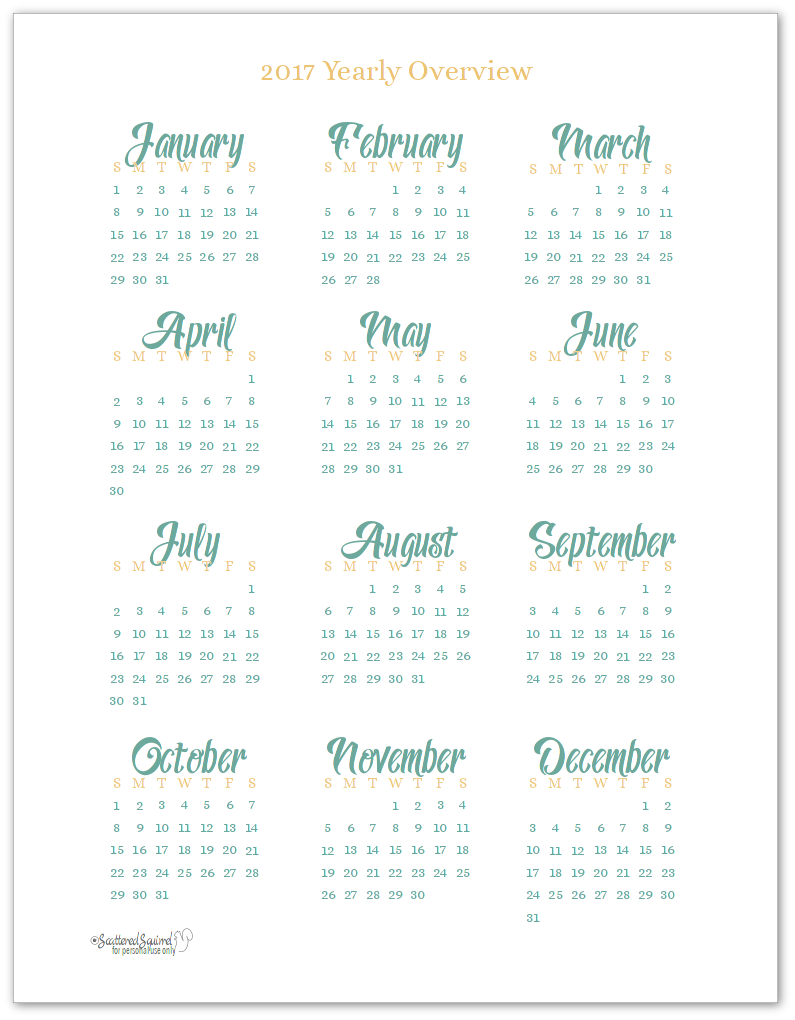 Above is the full-size yearly overview.  This gives the best impression of what I was going for with these calendars. Simple, but fun and pretty too!  I made sure to leave lots of margin around all the months so that you can add in notes if you need too.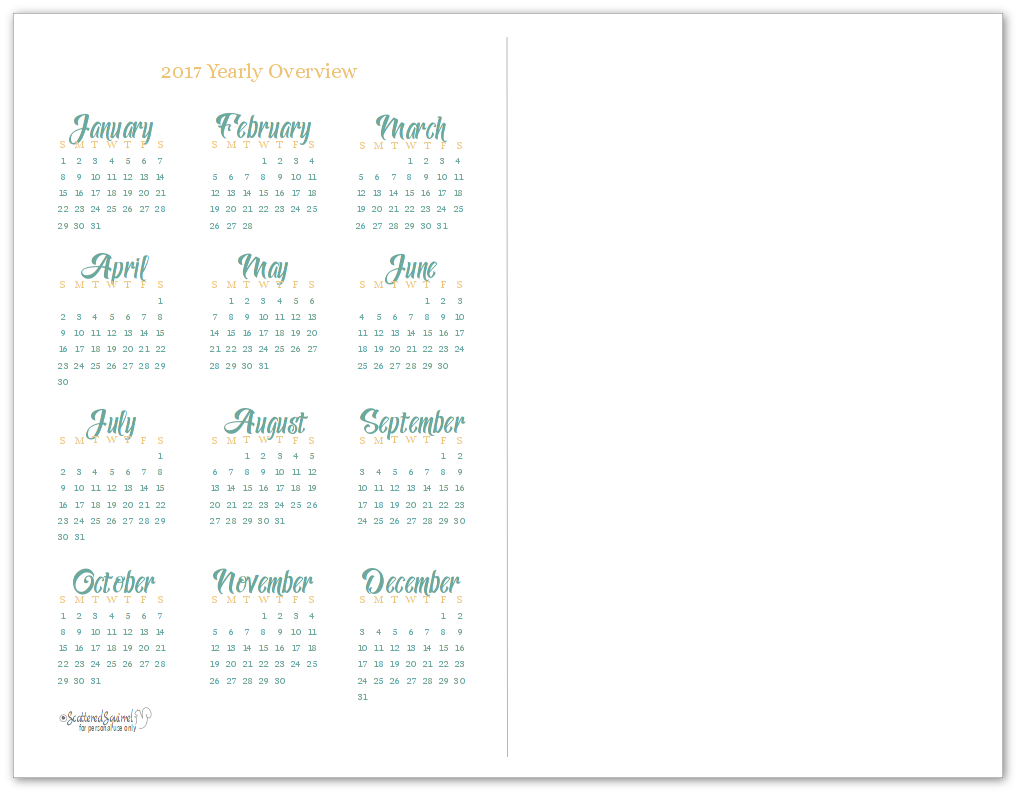 Here we have the half-size 2017 yearly calendar.  In previous years, I've stretched the half-size yearly overview over two pages.  Last year, many of you asked if I could do it on a single page, so I thought I would give this a try this year.  I have one printed off in my new planner, and I'm undecided whether I like it on one page or not.  I'm curious to hear what you think. If you liked the old way, let me know and I'll see about adding one to the mix.
Like all the printables here on Scattered Squirrel, if you'd like a copy for yourself simply click the pic of the one or ones you would like and the PDF version will open in your browser and you can decide to save or print right from there.
I'm so sorry that today's post is rather short.  I'm not really sure what else to say about these, I think I may have already rambled too much as is.  I would love to hear your thoughts on the new theme for the 2017 calendars.  And please do let me know your thoughts on whether you think the single or double page would work best for the half-size yearly calendars.  I'm really torn on this one.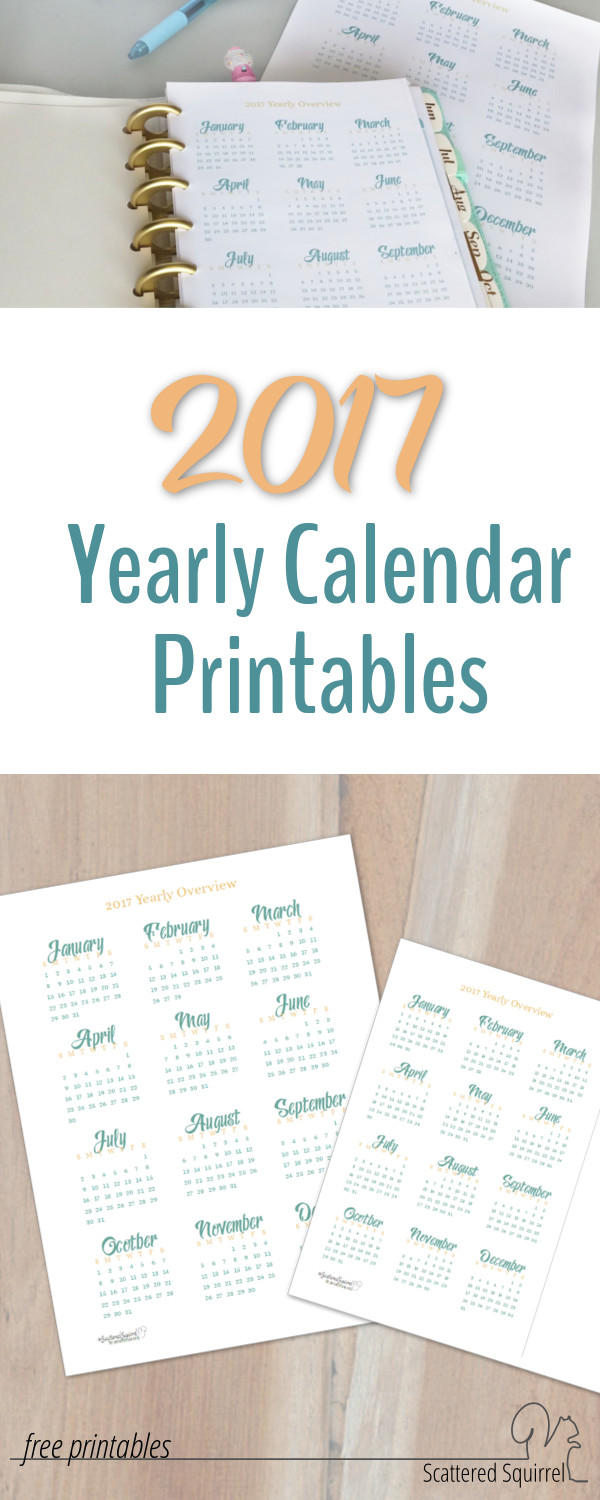 Linking up at these great link parties.