Half Sized Printables? I Need Your Help!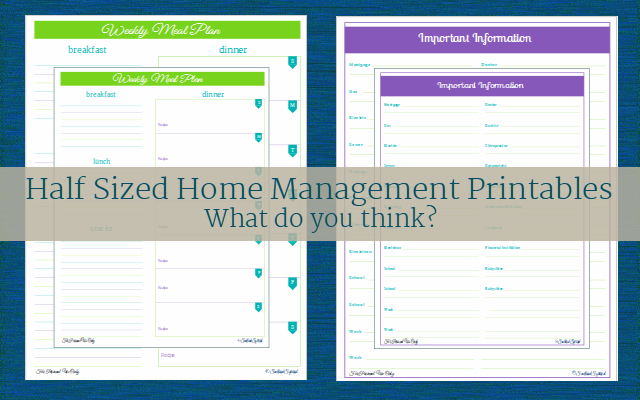 Hi everyone, I hope you all are having a great week so far!  I know things here are ticking along nicely.  So nicely, that I've had time to sit down and address a request that seems to have popped up in the last couple of weeks.  I've received a number of emails and a few comments asking about half sized printables.   Most of the requests are for half sized home management printables, ad as you all know, I'm up for all requests, so I'm planning on providing these, but I need your help.
The easiest and fastest way to get the half sized printables out to those of you who would like them is to simply shrink the existing printables to 50% and pair them up two per page.  But here's where I hit the wall, how do I pair up the printables?  Normally, when I do half sized printables, I pair them up so that they can either be printed double-sided, or folded in half, for front to back binding.  But I don't think that  same approach would work for the home management printables.  Not only that, but some of those printables are designed to hold a lot of information.  I don't know if scaling them would be the best, because it might be too hard to fill them out.
This is the part where I could really use the help of all you fabulous readers out there.  All of you who stop by to visit, who've hung in there with me when my posting schedule pretty much disappeared, who love the printables, who wrote to inquire about this very subject, and perhaps those who were secretly hoping for half sized printables.  All of you make this little ole blog of mine such a fun place to be.  You mean the world to me, and I would dearly love it, if you would weigh in and let me know what you think about the following questions, or anything else for that matter! 🙂

Would you like to just see mini versions of the same printables?

Would it be ok if I paired them by section, knowing that some might end up with only one per page?

Or would it be better I redesigned some of the printables and made them two half pages instead of one full page?

Is anyone particular about being able to print double sided or is single sided the norm?

And of course, are there any printables I don't offer, but you would like to see?  
If you could take the time to let me know your thoughts, I would greatly appreciate it. Your input is really important to me.  While I ponder this subject, I can tell you I am working on a new half sized planner, partly because the full size wasn't working for me, and because Travis found me a great little program that I want to play with.  So stay tuned for that one to come out.
In other news things here are puttering along nicely. I've been enjoying taking it easy.  I tell you, giving yourself permisson to not do things can be a really great motivator.  Maybe it is because you eliminate the pressure to get things done, or maybe I'm just weird that way.  Whatever the reason, it's been an awesome couple of days!  I've gotten so much done around here without even thinking about it.
How are things going with you?  For my friends south of the border, are you all set for your long weekend?  Do you have any plans, or are just taking it easy?

Linking Up At These Great Parties:  My Turn For Us