Hi everyone!  I hope this post finds you all enjoying the new year.  The craziness around here hasn't seemed to slow down at all, but I guess that's to be expected during school holidays.  We've been busy doing the family thing, enjoying the time we have together.  It's been a wonderful beginning to the new year, having this time to just be.  To enjoy snakes and ladders marathons, movie nights, story time and so much more.  After the hype of getting ready for Christmas, this last week of just hanging at home has been a true joy.
Between all the fun and games I did find time to get my planner put together.  I'm feeling a little more in control now.  One of the first goals I have for the new year is to work on getting our routines fine tuned a little more, especially my own.  I have been finding that I'm all over the place many days and that's just not working right.  I know from past experience, that if I can nail down my routine, the boy's ones will sort of fall into place.  Having my planner set up and ready to go is going to be a life saver in this department.
I started by printing and grouping the printables into categories.
Then the fun part!  I don't know why this part is the fun part, but I always enjoy time spent putting something together.  (does that make me weird?)  Personally, I opted to have the Goals sheet and the Special Dates at the front of my planner.  It's important to me to see my goals front and center.  I find I'm less likely to forget them that way.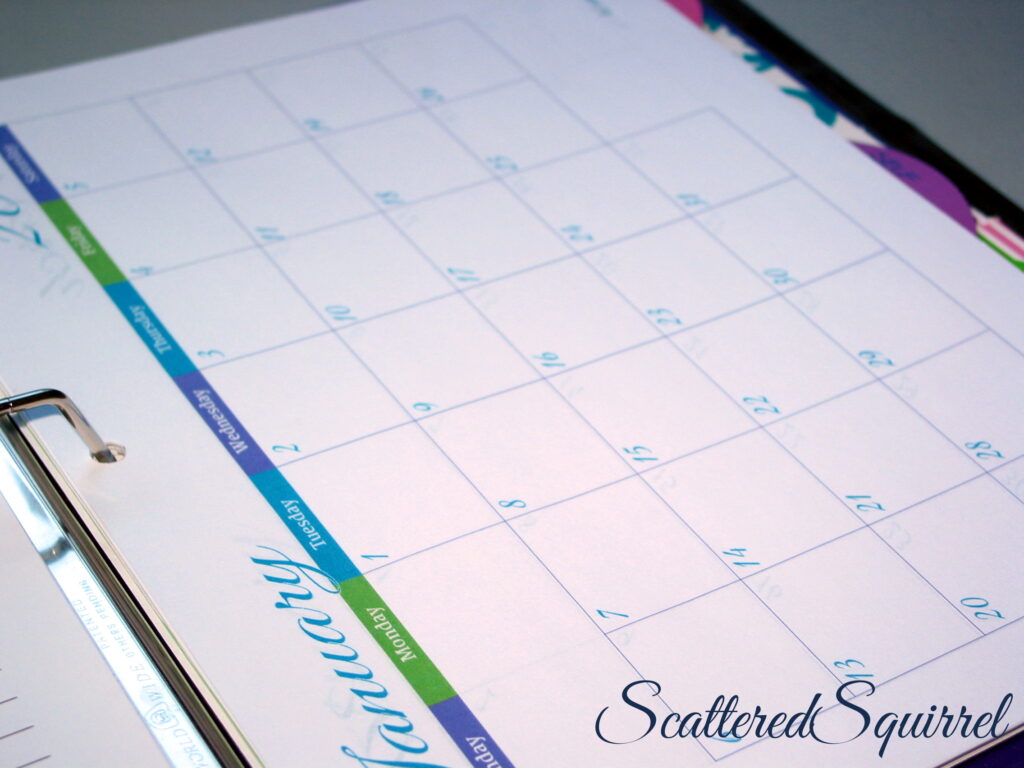 Those are followed by the Monthly Calendar.  I went back and forth on this quite a bit, trying to decided if I wanted to use the monthly calendar as divider pages as well, with the weekly planners in between, but in the end I opted to keep the monthly ones all together.  This just works better for how I plan things.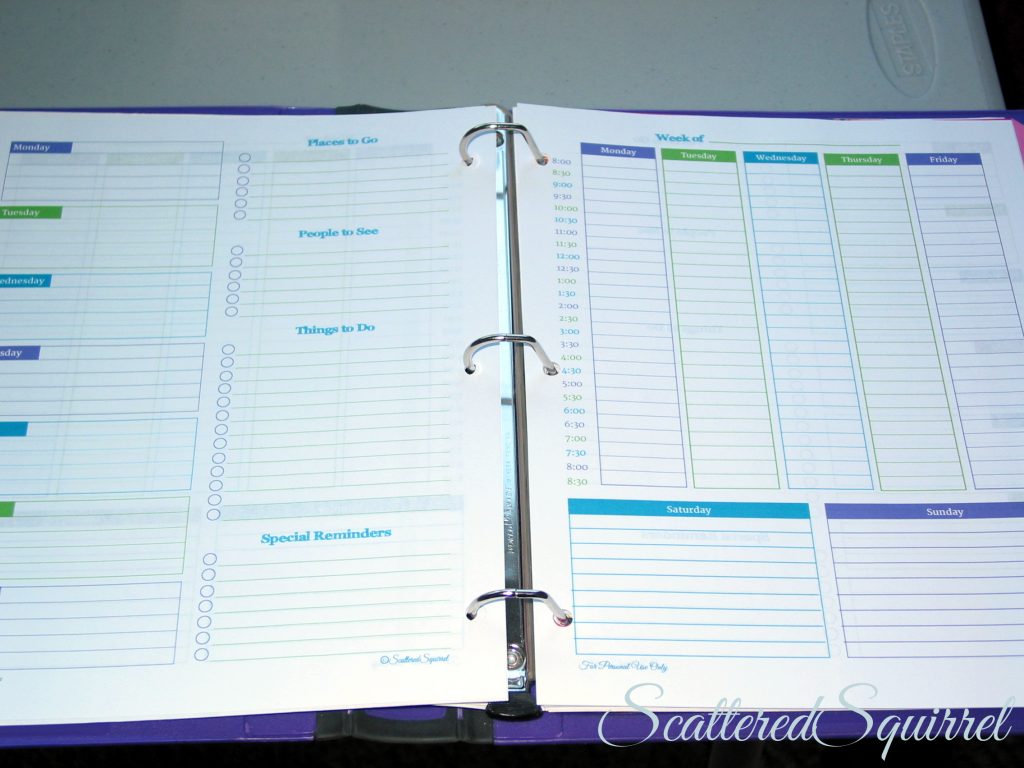 Immediately following the monthly calendar I have my weekly planner.  I printed the Weekly Overview and Weekly Portrait back to back.  Overkill?  Maybe, but here's my thoughts on this.  I like being able to sit down Sunday evening and plan out my week.  That's where the Weekly Overview comes into play.  I can input everything I need to remember for the week right there, all in one handy place.  Then I can use the Weekly agenda page and plan my days.  As I plan my days I can check things off the lists on the opposite page.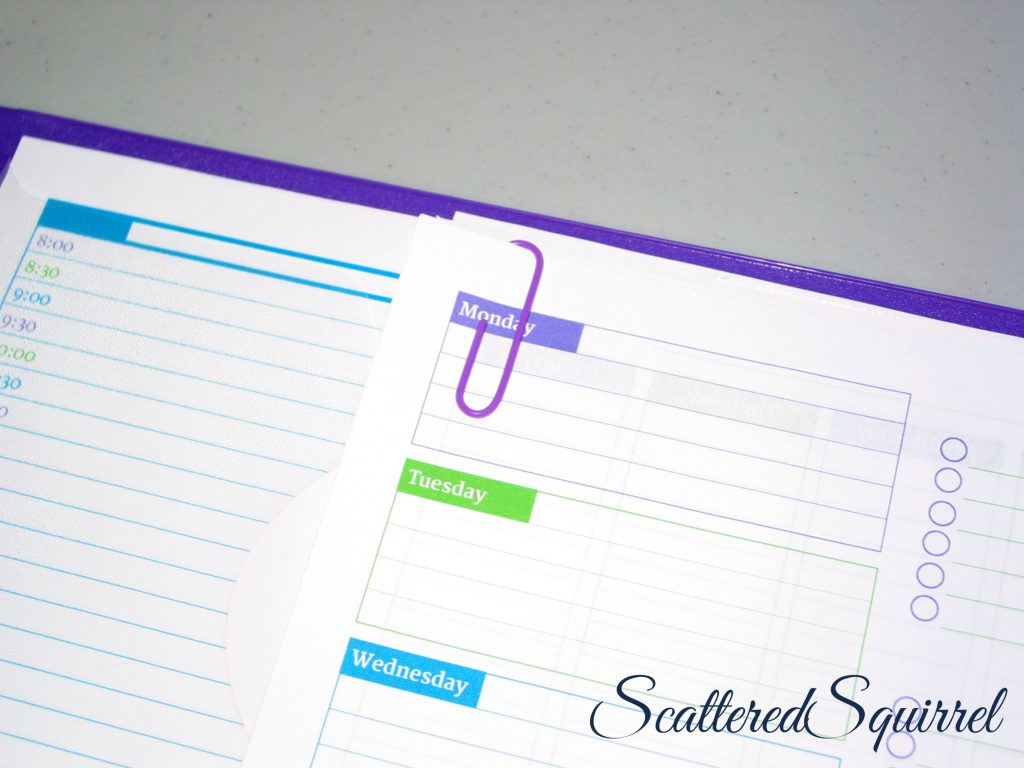 In this picture, you can  sort of catch a glimpse of the Daily To Do pages I printed off.  I keep them in the front pocket of the binder.  I have those reserved for those days when I really need the extra room for planning.  The paper clip at the top was my solution to keeping it easy to flip between the month and the current week.  And on busy days…..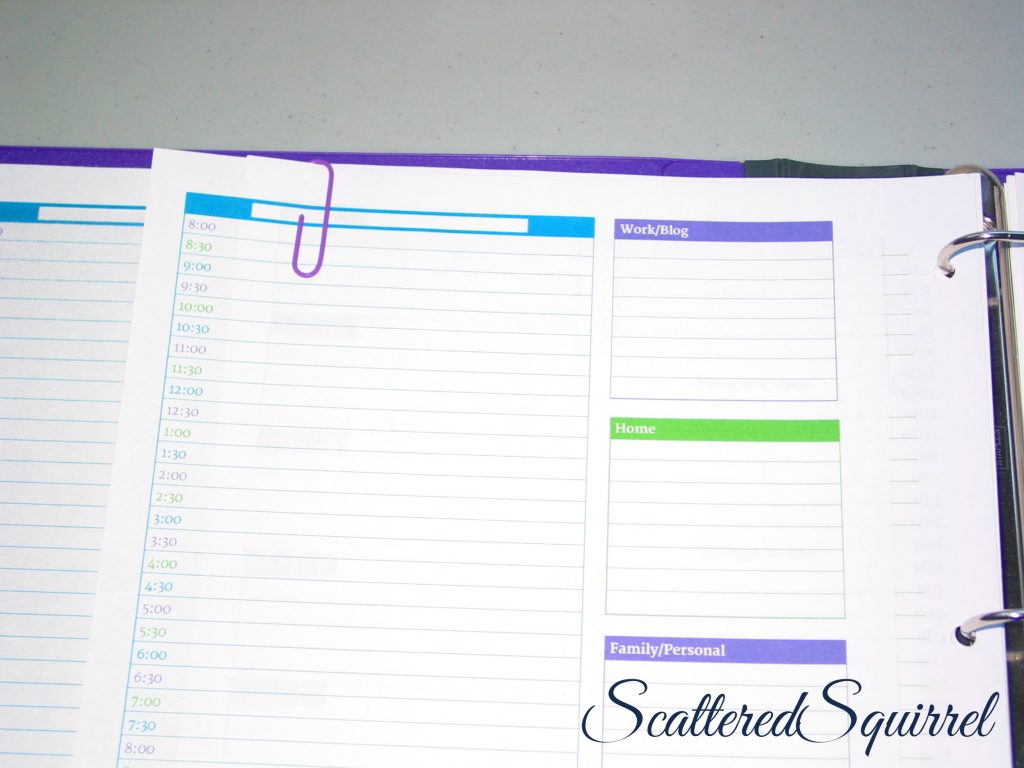 … I can slip the Daily To Do under the clip and I have it front and center for the day.
Well, not the most exciting thing in the world, but I'm pretty stoked to have the planner put together.  For now, I only printed off enough for a couple of months.  I'm trying to decided if I want to take it in and have it coil bound, or just leave it in the binder for now.  Either way, right now, I feel as though I'm ready for the new year, and all the wonderful craziness it will inevitably bring with it.
How about you?  Are you ready for the new year?  Do you have a favourite go to planner, or are you still searching for just the right one?