Teacher Requested – Teacher Planning Printables
I love doing these Reader Requested post because I love knowing that I'm creating something that will be useful to others. Today's post is a little different because I'm sharing two different teacher planning printables.
Both of the planning printables I'm sharing today were requested by teachers, but even if you're not a teacher or a homeschooler they're designed in a way that they could be used for almost anything really.
I hope you find these teacher planning printables a useful addition to your planner.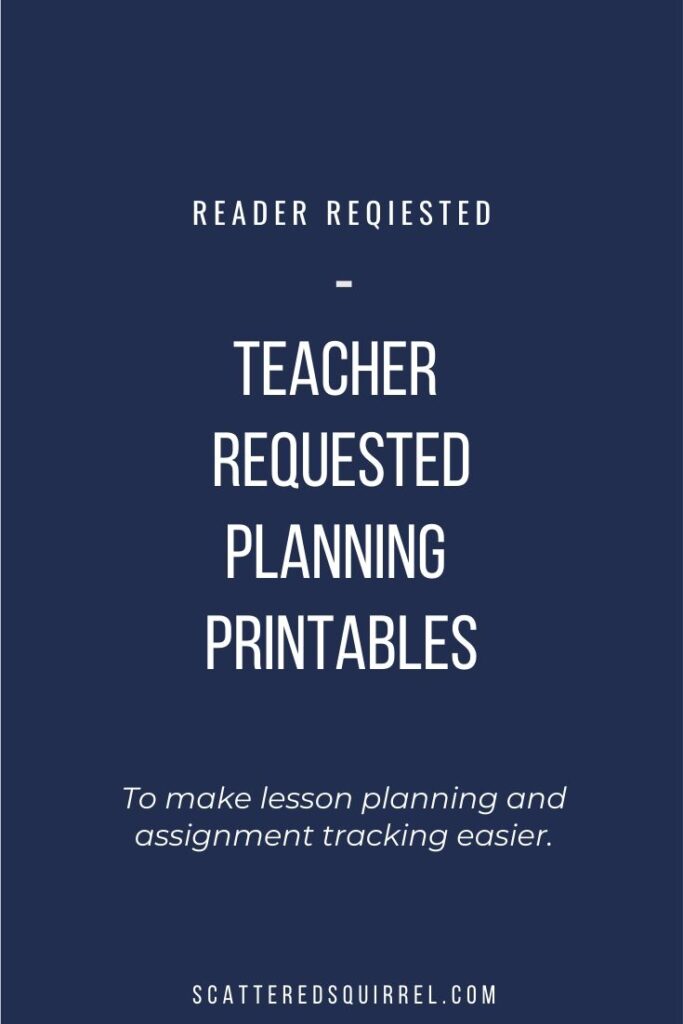 I'm not a teacher and though we homeschool we use a distance education program through our province. That means I don't really have any lesson planning or curriculum preparation to do. So creating planning pages that fit those needs isn't something I thought about doing.
This is one of the reasons I love taking your requests. It allows me to offer planning tools you need but that I might never have thought of making.
The teacher planning printables I'm sharing today are just one example of that.
Teacher Planning Printables
I can only imagine how much time and effort has to go into planning lessons and mapping out how you'd like the school year to progress. But I can totally appreciate how having the right planning tools can make that so much easier.
Last year, a reader name Heather wrote and requested a weekly planning page that was laid out specifically to make planning her lessons easier. She needed weekly planner with the days of the week running down the side and columns for different subjects.
Click here to check out the original Weekly Planners for Teachers post.
I heard from so many of you that you loved this layout that I knew I needed to bring it back this year. I've updated it to match the new 2020-2021 Academic Dated Calendars.
I named the collection the new calendars kicked off Jewel Tone Quarters. The design is simple in both colour and fonts to allow room for your plans and your own decorations to stand out.
Each quarter of the year is its own colour, but you can easily just use the colours you like the best.
As always, just click the picture of the one/s you'd like to get the PDFs.
Amethyst
Amethyst was assigned to the third quarter of the year, July through September. Out of the four colours, I felt like this one suited summer. It reminds me of the summer sky at dusk, especially with thunder clouds on the horizon.
Garnet
Garnet was assigned to the last quarter of the year, October through December. The warmth of the red reminds me of autumn leaves and the holiday season. It feels cozy and welcoming and like it was the right fit for the time of year.
Sapphire
Sapphire was chosen for the first quarter, January through March. The coolness of the blue makes me think of winter but the vibrancy also makes me think of warmth and the blue of the early morning sky at the beginning of spring.
Peridot
Last but not least we round out the academic year with Peridot. This was chosen for the second quarter, April through June because green always makes me think of spring. Especially a fresh, yellow-based green like Peridot.
NEW Teacher Planning Checklist
New to the teacher planning tools this year is a checklist that comes at the request of Julie. She said. "I would love a blank checklist (kind of like the Whatever You Want checklist) but in portrait orientation, to be used for checking in assignments, forms, and all the other daily paperwork that we teachers have to contend with."
So that's exactly what I made for her!
These checklists can be used in a variety of ways. As Julie suggested they'd be great for tracking assignments and forms for your students. You can also use them for things like classroom chores, household chores, tracking spelling or math practice, and so much more.
I actually made two different versions because I wasn't if one page left enough room for everything. So you have the option of a single page checklist or a two page checklist.
Each one has a rectangle area on the top left corner for labelling what the checklist is for. Across the top are lined sections for writing in the sections for each column and down the far left side is space to label the rows.
Single Page Teacher Checklists
Two Page Teacher Checklist
All of the teacher planning printables that I've shared today can be used both inside and outside the classroom in a variety of different ways. I hope that their versatility makes them a valuable addition to your planning tools.
Send Me Your Requests
If you have an idea or a need for a specific planning page or printable, please feel free to send in your request by clicking the button below. While I cannot guarantee that I will get to each and every one of them, I will try my hardest to get to as many as I can.
For more fun and another place to send in requests come on over and join my Facebook group, The Scatter-Brain's Guide. It's a place to get together with others who enjoy talking about planning, organizing, and anything else that life has thrown your way. We'd love to have you join us.
Until next time, I hope you all are safe, healthy, and enjoying life.