Let's Start Tackling the Holiday To-Do List
I don't know about you, but during the holiday season, the number of to-do lists I have running quadruples – at least! There are so many activities and events and other things that we all want or need to do during the holidays. Of course, they all require some preparation and planning.
Starting your holiday to-do list early is a great way to get ahead of the chaos that you know will soon be coming, which will help reduce some of that holiday stress.
Let's get those Holiday To-Do Lists Started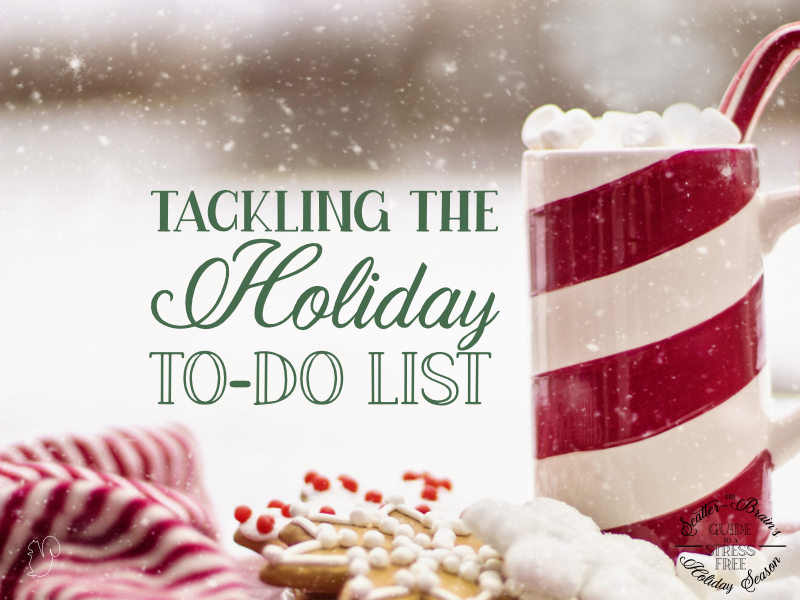 Like I mentioned on Day 1, in 2017 I had to start thinking about the holidays early. Being on crutches and still feeling tenderness from the bruised ribs meant that I was moving slower than a turtle.
Every single thing I did took planning and forethought. I still remember the first time Travis (my husband) was away at work and we had no leftovers or easy to cook meals in the house. I made chicken, rice, and mixed veggies for dinner that night.
Simple.
Easy.
Boring.
By the time I was done I felt like I had just cooked Christmas dinner. That was the night when I started to think that maybe I needed to start planning for the holidays early.
It All Started with a Holiday To-Do List
Whenever I tackle a big project I always start a list. I think of it as kind of like a targeted brain dump. I try to write down everything I can think of that I need to do.
As I'm writing these things down, often I'll break them up into more detailed sublists. It's a technique I was introduced to shortly into my ADD diagnosis. The idea is that you break big, vague things down into all the smaller components.
"Clean the Living Room" becomes:
Clean Living Room

pick up toys
collect throws and pillows
remove clutter
remove garbage
dust
vacuum furniture and floor
I find this way of making list to be especially helpful when I'm feeling really scattered or when I'm feeling really overwhelmed. Getting those tasks out of my head and on to paper helps to calm my mind.
I don't worry about whether it makes sense or whether it is really something that needs to be done. I just write down everything that comes to mind when I think about the project.
I did this that year when I started prepping for the holidays and it made a world of difference. So that is what we're going to do today!
Your Assignment
Yesterday we made a list of all the thing we want to do for the holidays and we made a note of what we wanted to feel or how we wanted the holiday season to go.
Today we're making another list, and you know that I couldn't resist making up a holiday to-do list printable to help us out.
Click on the picture of the size you want to snag a copy of your own.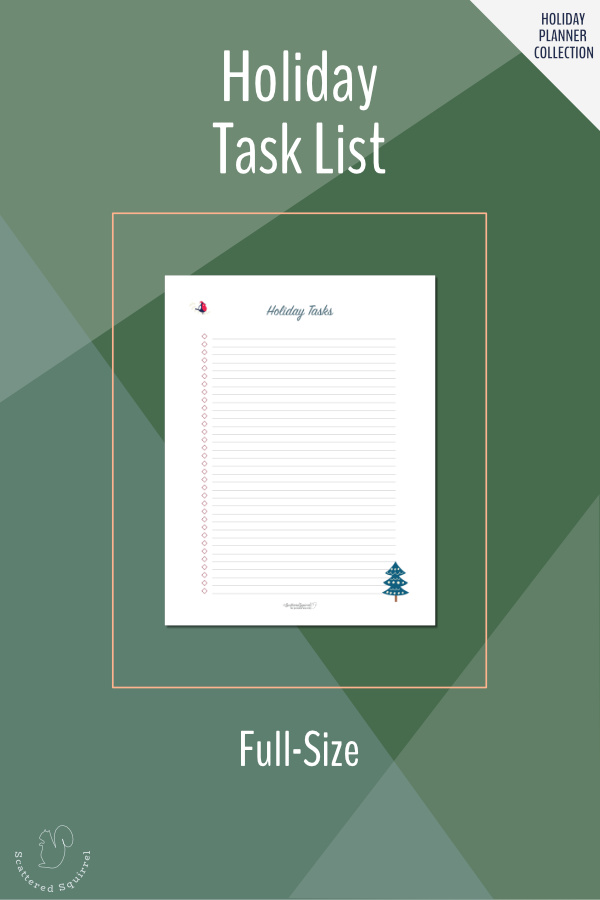 Above is the full-size version and below you'll find the half-size version. Just click the image of the one you'd like to download the PDF.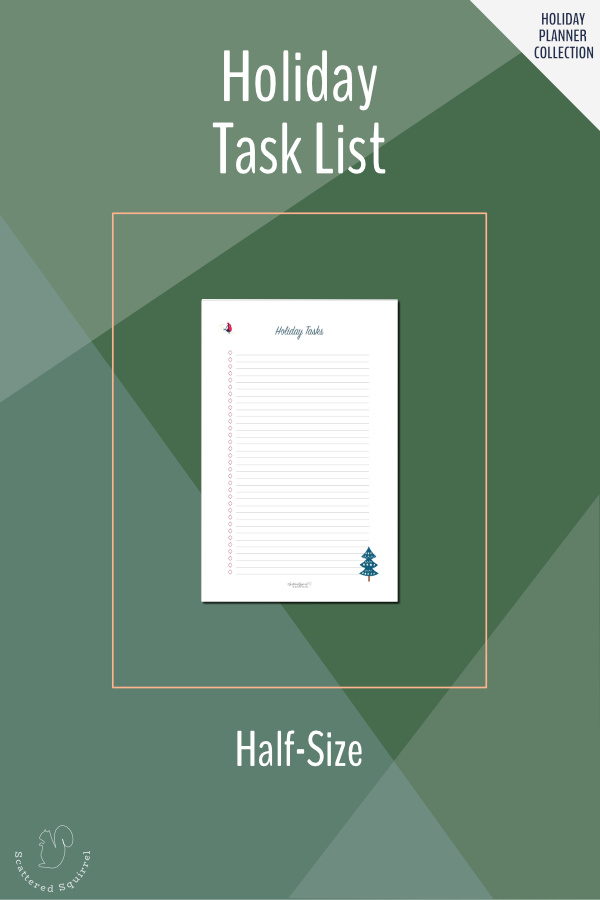 For today's holiday to-do list I want you to write down everything you think you need to do to get ready for the holidays. Meal planning, party planning, gift shopping, grocery shopping, supplies you need to buy for crafts, tickets you need to purchase for events – anything that comes to mind when you think about the up coming holiday season.
What I don't want you doing is thinking too much about it.
As things pop in your head, write them down, even if they seem silly. This is just an exercise to help clear your mind and giving you a visual reference for when we fine tuning this list later.
Trust me – it's much better to take 10-15 minutes to write this list now than to try to remember what all you were thinking about later. It not only clears your mind, but sometimes it can show you things you might have overlooked on your holiday wants list.
That's it for today! I hope you'll come back tomorrow when we tackle something a little more fun while we let these lists purcolate a bit.
Head on over to the Facebook Group and see what's happening there.  If you want to share a picture of your list or you have any questions we'd love to see them all.  And if social media isn't your jam, ask away in the comments here.  I'll try to answer them as soon as I can.
To check out the next posts in this series you can hop on over to The Stress-Free Holiday Series page.