Welcome to Day 5 of the 31 Days 31 Printables series.  Sunday is my planning day.  Every Sunday afternoon I make up a cup of tea and plan our week.  Some weeks this is as easy as checking the calendar and noting down anything of import into my personal planner.  Other weeks it means paying close attention to the schedule so I can make sure we don't forget anything.  Ok to be fair, so I don't forget anything.  So, since it is Sunday it seemed fitting to share the newest addition to the planner printables; the half-sized Weekly Family Schedules.
Waaaay back in October 2012, I shared my Weekly Family Schedule printable. (as seen below) I was using it as part of our family command center to help keep me on track.  It worked so well, that I still use it even though we have a new command center that doesn't have room for it.  I keep a few of these in the back of my planner and pull them out when we have a week where we are all busy with various things.  This really helps me stay on top of who is doing what and where they need to be, or will be etc…  It's been a huge help keeping organized during those chaotic weeks.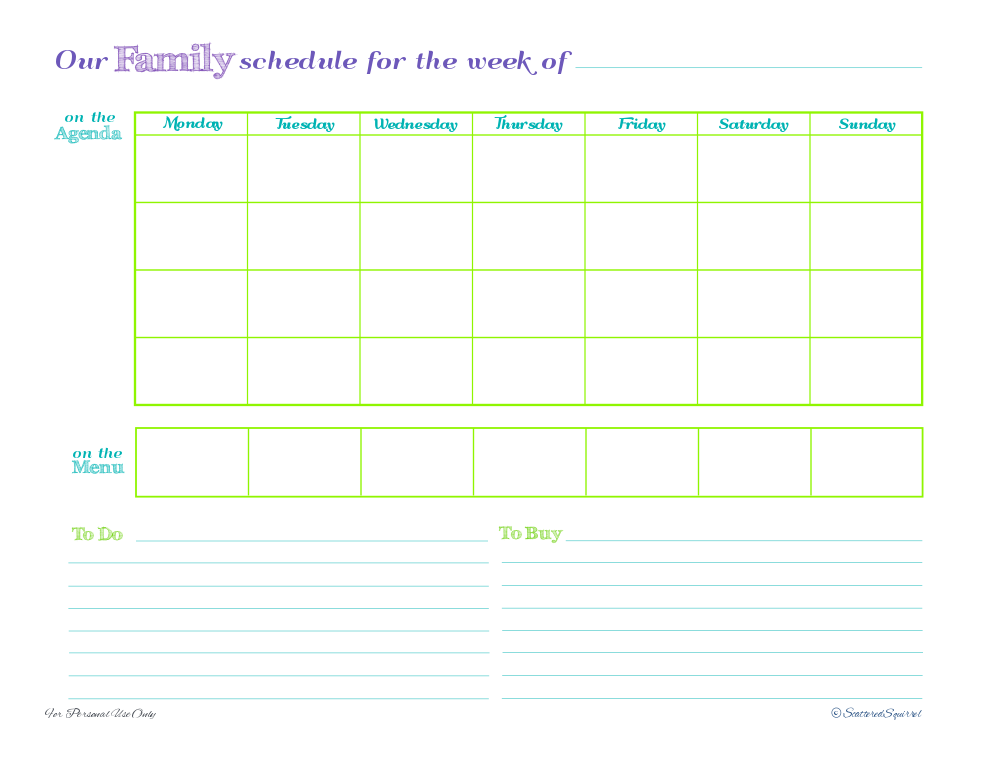 Weekly Family Schedules – Half Size
When I first made the Family Schedules I was clipping them to the front of a file box, then I was using a three-ring binder.  Now though, I'm using an Arc Junior, and while I still use this printable, I print it full size and fold it in half to tuck into my planner for those weeks where I need it.  You can only imagine the instant feeling of "why didn't I think of that?" when I read this in an email from one of you lovely people:
…your printable "Our Family schedule for week of".  I printed it and it's PERFECT for my needs, except I need it in half sheet.  Does is come in half sheet or just full sheet.  My planner is half sheet so I can throw it in my bag when I go to work.
Of course!
Make it half-size!
Pure genius!
My heartfelt thanks goes out to the person who sent in this request.  Sometimes we cannot see the obvious even though it is right in front of our noses.
I really don't think it needs much explanation, but I'll just do an overview in case you're wondering what is what.
Like my other weekly planner printables, this ones goes Monday to Sunday.
There is room on the left side of each row for the names of the family, though you could use it for categories too, like sports, projects, school, etc…
Space for dinner plans.  Sadly, I must admit I don't use that part often anymore as we're planning more on a night by night basis, but I do mark down whether or not we're doing left-overs or eating out. (One of these days I'll explain our new meal planning set up.)
And of course, the list spots for jotting down anything I need to remember, or remind someone else, to do and anything we may need to pick up, especially those things we run out of during the week.
And now, all the goodness of the full-size is available in the half-size!

When you get right down to it, this is just a simple, typical planner page, but it has been such a huge help in keeping me on track during our busier weeks.  I hope you find it helpful too.
Don't forget, if you have a suggestion for changes you would like to see to old printables, or even new printables you would like to see offered here, let me know in the comments, send me an email, or reach out on social media.  You never know, I might choose your idea next!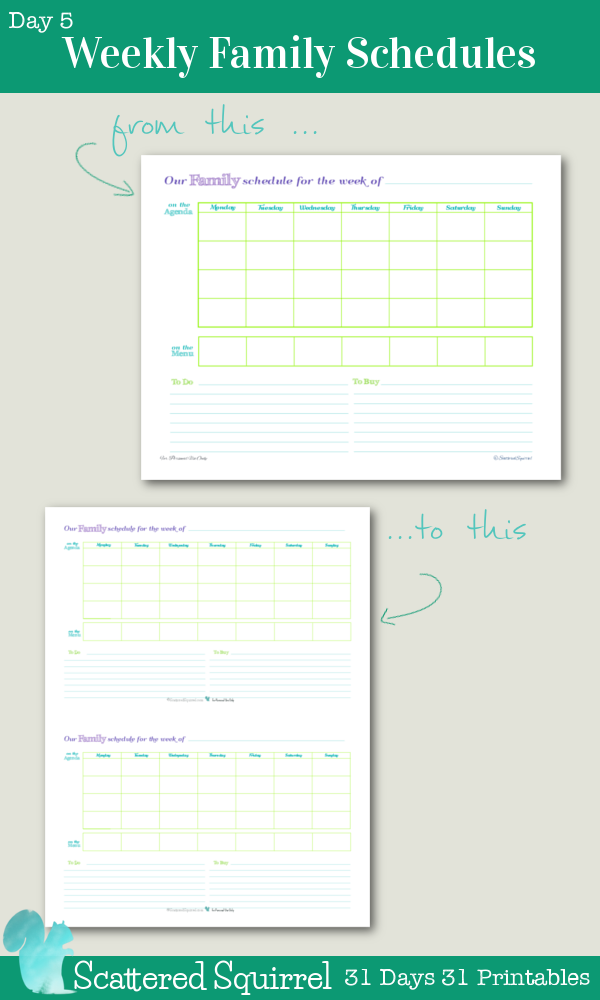 Do you have busy weeks where everyone seems to have lots going on?  How do you stay on top of it all?
~Happy Printing!~
---

Don't miss out on the fun!  To get posts delivered right to inbox head on over to the side bar and subscribe by email.  Check out more 31 Days series over on the 31 Days site.
---