Printable Holiday Planner Dividers and Tabs
Now that we've got all our holiday planner printables printed and filled out, we need a way to organize our planners so they're easier to use. That's where the holiday planner dividers and tabs come in handy.
They're a great way to add a little holiday cheer to our planning while bringing with them some much-needed function to help us organize our information into manageable chunks.
Holiday planner dividers are a great way to decorate and organize your holiday planner all at once.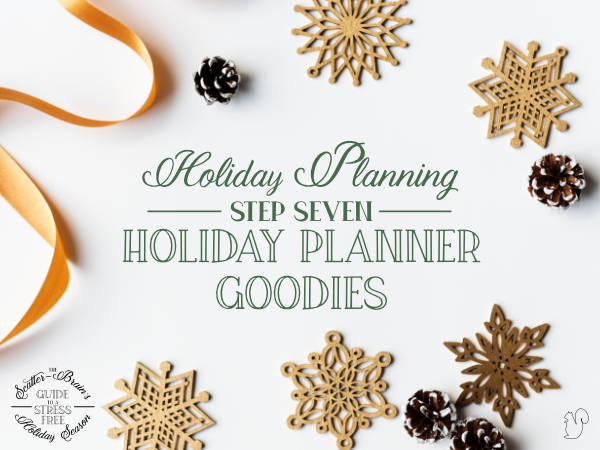 Holiday Planner Dividers and Tabs
Originally I was just going to make a cover page and call it good. However, when I put up a poll in our Facebook group, the resounding answer was for a cover, dividers, and tabs.
I'm happy to say I made two of the three. Instead of making a separate cover page, I opted to make a few different divider designs that can be used as a cover page or dividers for your holiday planner. Keep scrolling to check them out.
Holiday Planner Divider Pages
Divider pages are a great way to add a little personality and function to your planner. They help us separate our planners into sections that make it easier to find the pages we need when we we need them.
At the same time, they can be pretty, personal touches that make us smile when we flip to them.
I know some people like to add photos, quotes, or other elements to their dividers, so I opted to keep them simple with just a few elements from the holiday planner pages on each.
The blank boxes offer room for decoration, photos, quotes, or a title and list of what is in the section.
There are four different designs in each set. Print them all or pick and choose the ones you like best.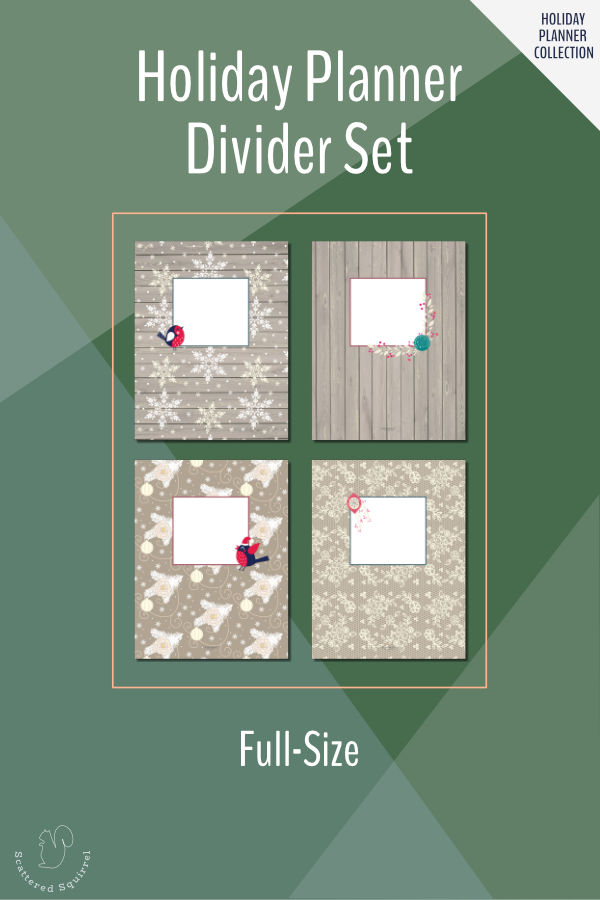 Above is the full-size version and below you'll find the half-size version. Just click the image of the one you'd like to download the PDF.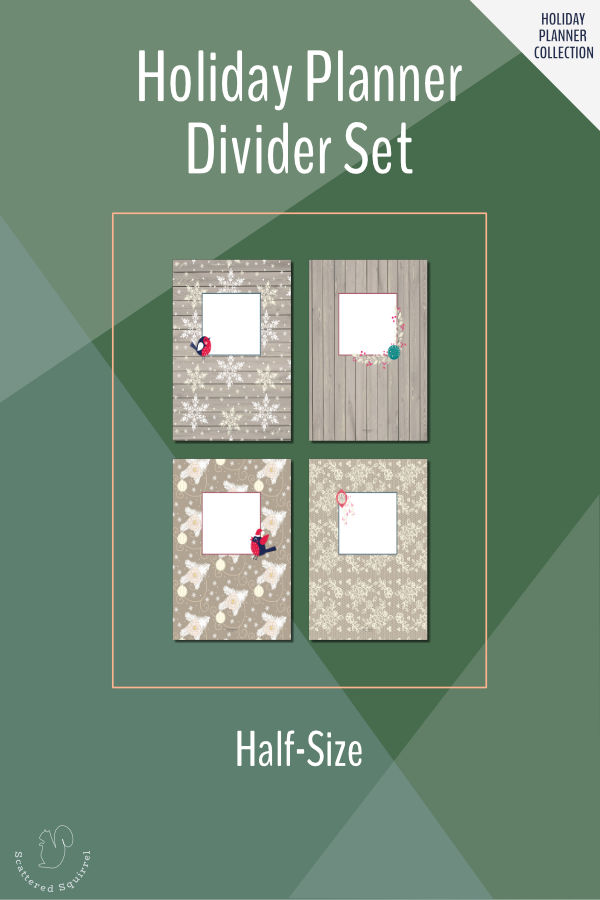 Holiday Planner Divider Tabs
Dividers are great for separating sections, but tabs are what make it easy to flip to the page you need quickly. Below you'll find two sets of printable tabs.
There are four of each background to match the divider pages. In addition, I also included pre-made labels on each page that you can cut and glue to the tabs.
You do not need to use the pre-made labels if you don't want too. All the tabs have blank spaces you can fill in with anything you'd like.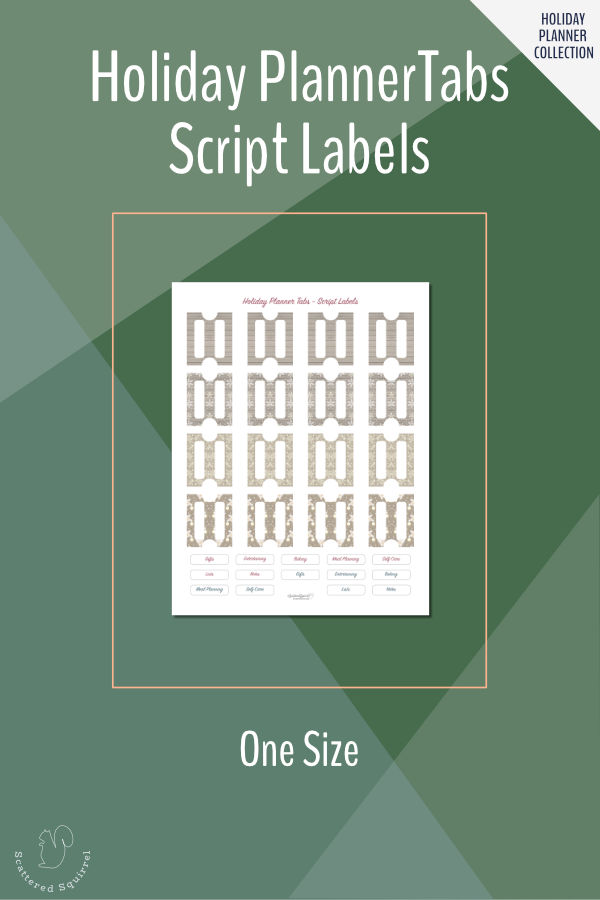 The top one uses the same script font that is on all the holiday planner printables. The bottom one is a fun, slightly funky, font that I thought was a nice addition.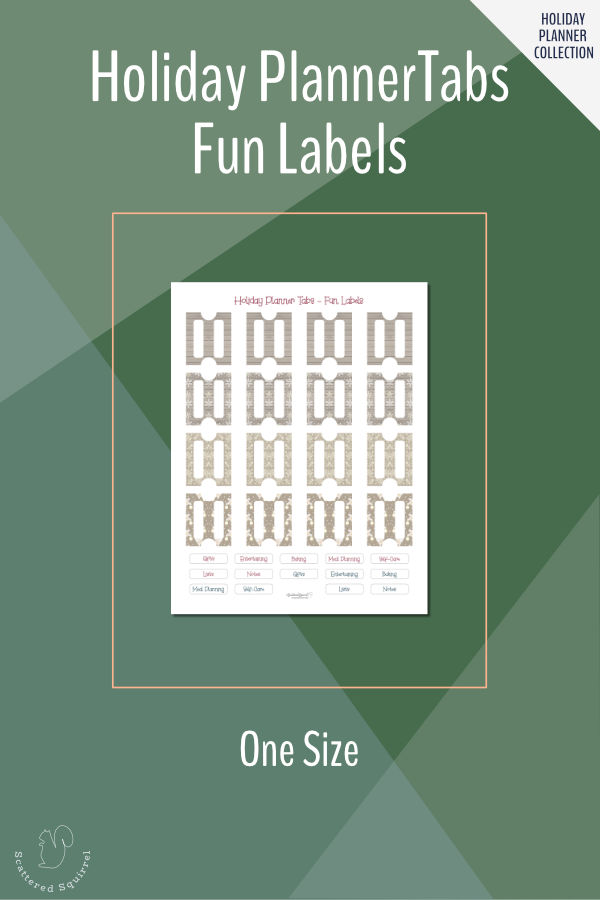 Assignment
Today assignment is that there is no assignment.
Print out the dividers and the tabs if you'd like to use them in your planner, spend some alone time fitting in a little holiday self-care, snag some family time and enjoy the holiday season, or do whatever it is that will bring you peace and joy!
Don't forget to come join us in the Facebook group! Find the post titled "What's Your Favourite Part of the Holidays" and share the tidings of the season that make your heart sing. Or, chime in down below in the comments!
To check out the next posts in this series you can hop on over to The Stress-Free Holiday Series page.