Let's Talk Holiday Traditions
I believe that holiday traditions are a big part of what make this season so magical. Winter is just beginning and we're winding down the year with a whirlwind of festivities sprinkled with these quiet, magical moments.
Holiday traditions are my favourite part of the season.
I love sitting around the tree on Christmas Eve reading Twas a Night Before Christmas to my kids. I love picking out a tree, and the smells of the brine as my husband preps the turkey. You could almost say traditions are kind of like a holiday routine.
Let's Talk Holiday Traditions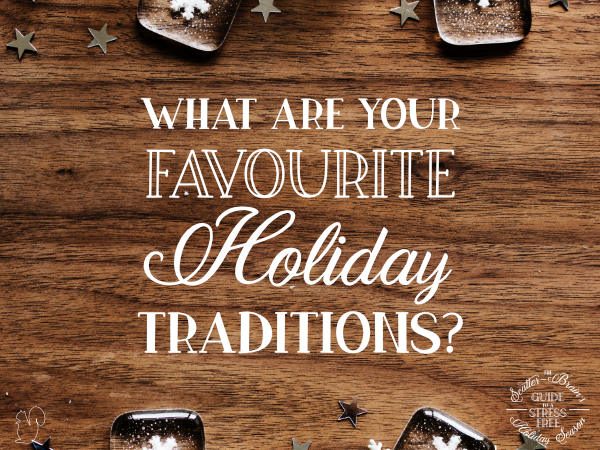 I'm a sentimentalist at my core. So as you can imagine, doing holiday things before the holiday season had officially begun did NOT sit well with me in 2017. Strangely though, tackling things early made the holiday season more special, not less.
By taking the time to really think about what mattered to me and to my family, I was able to formulate a plan of attack that fit our family and our traditions.
It all starts with one question:
What do you REALLY want from the holiday season?
There is no right or wrong answer.
Maybe it's a feeling or certain things you want to do. Perhaps you want to put the focus more on family and less on holiday parties, or maybe you want to embrace the holiday party scene this year.
Take some time to really think about your intentions and your hopes for this holiday season. If you know what you're striving for then you'll be better able to make decisions about what you need to do and what you can pass on. This alone will help cut down on some of the stress of the holidays.
For example, in addition to our usual holiday traditions, I wanted to focus on the simple joys of the holiday season. I still wanted to bake holiday cookies and make the big meal for Christmas dinner, but I also wanted to embrace hot chocolate and holiday movies, watching the snow fall, family fun nights, and all that other good stuff.
To make sure I didn't miss the things that were most important to me and my family I made a list.
Your Assignment
Yesterday I asked you to think about what you want this holiday season. More specifically, how you want to FEEL during the holidays and how you want your family to feel as well.
Today we're going to put it down on paper. To help make it a little more fun and festive I made a printable to help.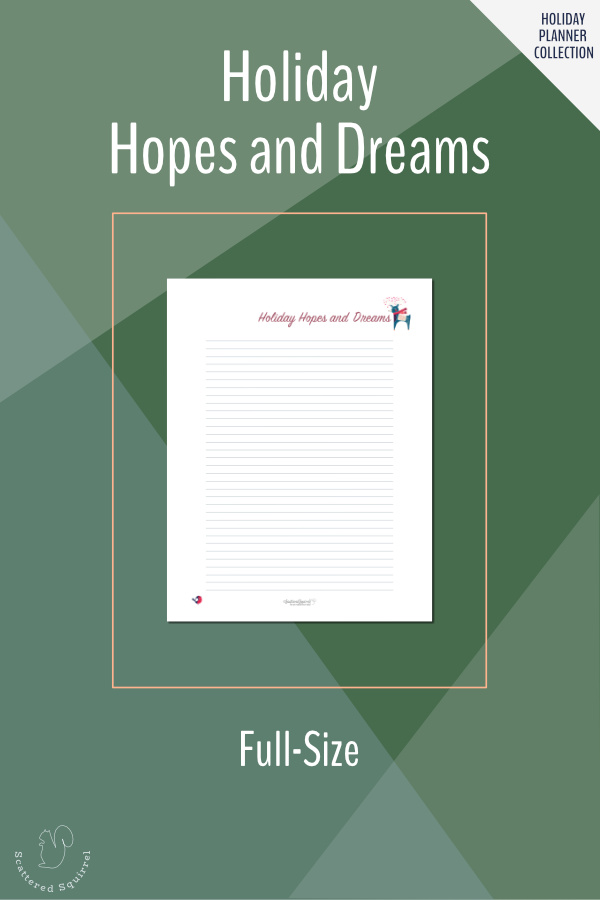 Above is the full-size version and below you'll find the half-size version. Just click the image of the one you'd like to download the PDF.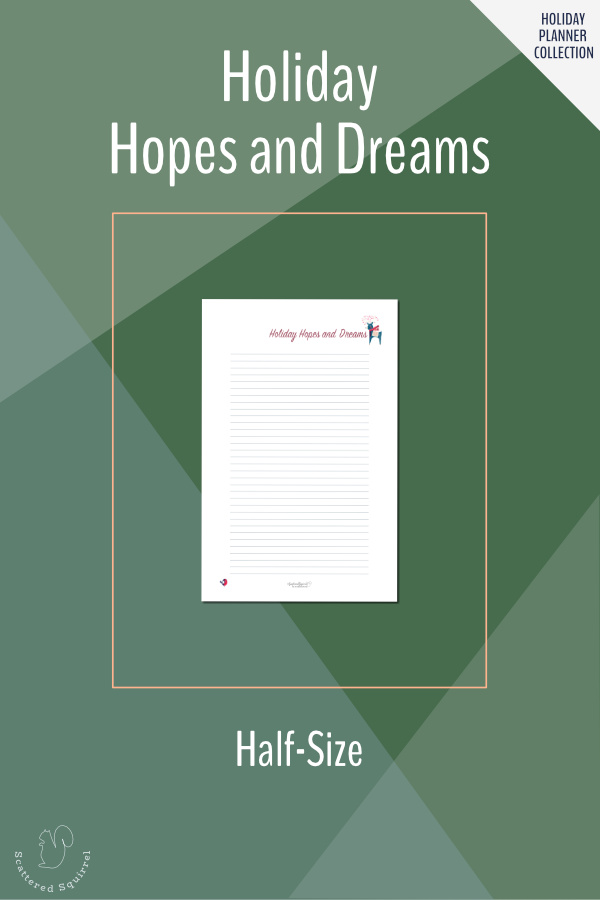 Snag a copy of the printables, open a new page in your journal, grab a piece of plain paper, or open your favourite note taking app and write down those thoughts.
It doesn't have to be perfect or even full sentences. However you want to do it, that's what you should do.
Once you get that down in writing it's time to start dreaming of sugar plums, or rather, of the holiday traditions, activities, and all sorts of other things that make the holiday season special for us.
This is not a to-do list of all the things we feel we should do.
So unless sending out Christmas cards or throwing a holiday party are things you want to do, they don't go on this list.
Here are a couple of examples.
When I was little, my Dad used to take me shopping for my Mom every year. Just me. And we would always go to this little restaurant downtown and have hot chocolate and toasted butter horns.
If my Dad made a list like this back then, this would be one of the things he'd put on it.
Maybe you always go to the Santa parade, or take the whole family ice skating. Maybe you take the whole family swimming. Whatever it is that you do that makes the holidays special should go on the list.
And most importantly – don't forget to include at least two things that are just for you. Things that lighten your spirits, even if it's just for a few minutes. For me, it's curling up under a cozy blanket and enjoying a cup of hot chocolate while watching it snow at night. Preferably after everyone is asleep and the house is quiet.
This list is going to be part of the blue print for our holiday planning. We'll cover the rest of stuff on another day.
That's it for today! Don't forget to hop on over to the Facebook group and say hi. Feel free to share a picture of your list if you want to. To check out the next posts in this series you can hop on over to The Stress-Free Holiday Series page.