Holiday Planning Step 2 – Gift Giving
Last year I posed a question over in our Facebook group. I asked everyone to share what holiday tasks they like the least. For me, it's gift wrapping, but shopping, especially shopping for gifts, was the most popular answer.
Shopping for gifts doesn't have to be stressful. With a little careful planning and a place to collect your ideas, gift giving can be a piece of [fruit] cake.
Make gift giving easy with a little bit of planning!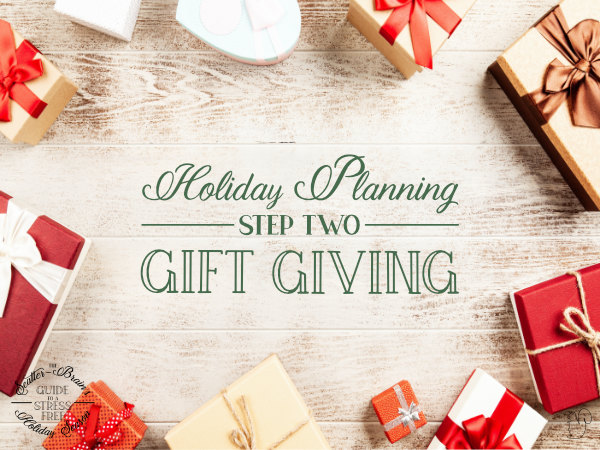 While I may have found the results from that post surprising, I can understand how shopping can be one of the least favourite things for people during the holidays.
Personally, I have a hard time with crowds and the stores are never more crowded than during the holiday season. Add that to the burning desire to find just the right gift for our nearest and dearest, and holiday shopping can quickly become overwhelming.
That's not even taking into account shiny object syndrome. No wonder us scatter-brain types find shopping to be our least favourite holiday task.
When it comes to holiday shopping I like to get in and get out of stores as fast as possible. I use a few tricks to help me achieve this with relatively little stress, so I'm going to start by sharing those with you. Then we'll check out the printables for this section.
A Scatter-Brain's Tips for Easy Holiday Shopping
Make a list for each store. I find that this really helps me focus when I'm out and about. It also helps to keep me from wandering through aisles I really don't need. This saves so much time.
Check your local flyers. If you know what stores you're going to be shopping at, take some time to check their weekly flyers. I compare prices when I can so I can try to get the best deal. This really helps me fine tune my list for each store.
Go early in the day. If you can get out first thing in the morning, chances are the crowds will be a little thinner than later in the day or in the evening.
Shop online. This one will really help beat the crowds! Just make sure, if you're shopping online, to do so early. Postal services get very busy the closer we get to the holidays, having that perfect gift not get delivered in time really sucks. If you're ordering from an international company – order as early as possible.
Do it all in one day. This one is not for the faint of heart, but it can be a really good way to get everything done quickly. We used to do this every year with our boys. We'd head out for the day and do all the shopping for our gifts for one another on that day. It can be crazy, a little stressful, and overwhelming, but the reward is that it's done and you don't have to worry about it after that.
Bonus Tip – Don't be afraid of giving gift cards. Pair a gift card with a thoughtful greeting card, some quirky socks, cozy mittens, tucked in a coffee mug, nestled in a mini bath kit, or paired with another little something to make it a little more special if you want.
They feel so impersonal to give, I know, but there are a surprising number of people who love to receive them. Don't be shy about asking family and friends for their thoughts on gift cards before the holiday season hits.
Holiday Planning Step 2 – Gift Giving
When it comes to giving the perfect gifts to the ones we love, I find that having a plan always helps. Don't get me wrong, when I hit the stores, many times the plan goes out the window as new inspiration strikes. Having a plan just gives me a starting point and helps to narrow down the stores I need to go to.
I start all my gift-giving with wish lists. Then I ask everyone for ideas of what things they would like, if there is anything special they're collecting, or anything they need and would like to receive as a gift. I take all that information and put it into my gift ideas printable.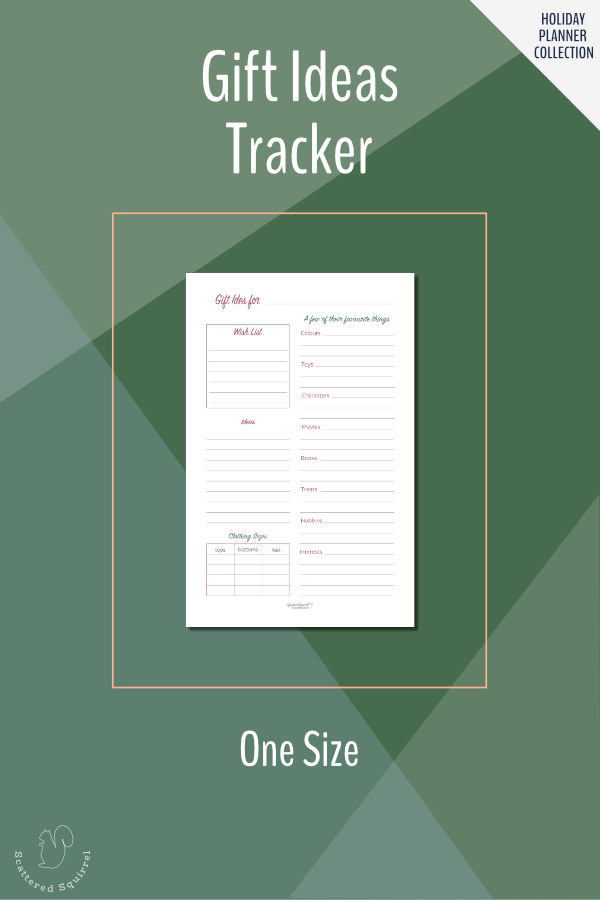 Fill out a side for each person. There's room to include their wish list, your own ideas, and clothing sizes. Plus there is a place to record some of their favourite things. Knowing what our loved ones like can help make finding the right gift for them much easier.
This printable only comes in one size so that they can be easily tucked into a bag or purse when you head out to the stores. Print a few them double-sided and fold in half to make a little booklet to take with you.
Keeping Track of Gifts
Now that we have some ideas and we're ready to start shopping we need somewhere to keep track of the gifts we're buying or making. That's where the gift tracker printable comes in handy.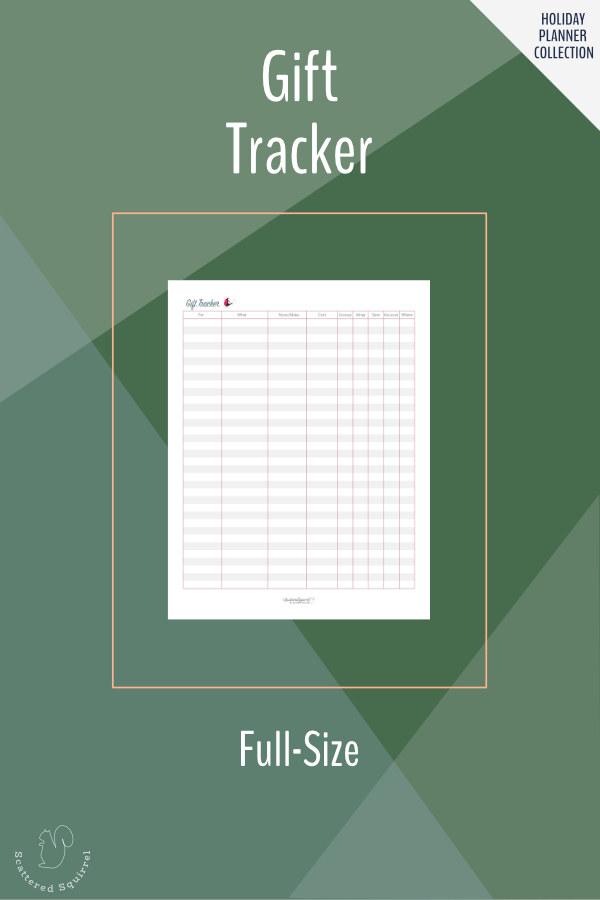 Above is the full-size version and below you'll find the half-size version. Just click the image of the one you'd like to download the PDF.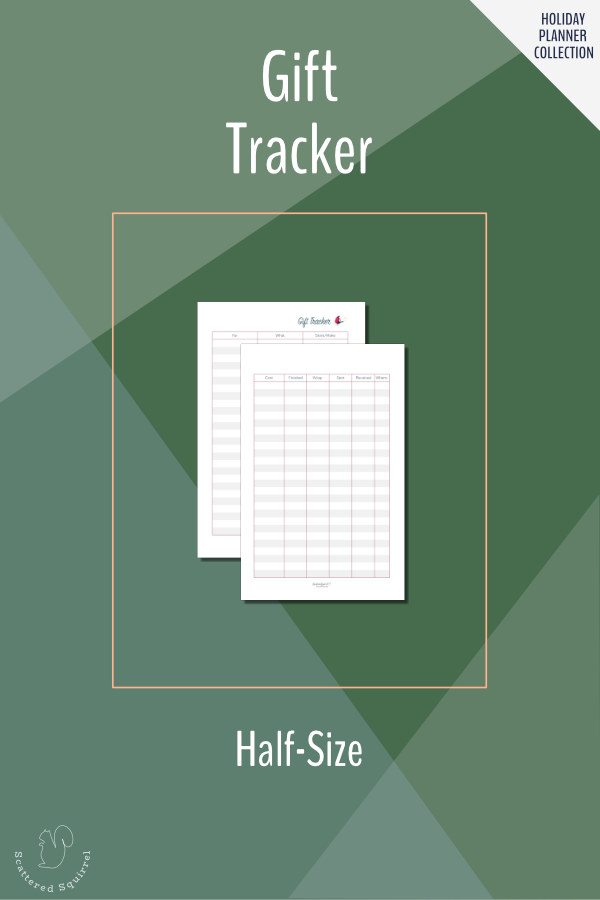 On the gift tracker there is a place for recording:
who you're giving to
what you're giving
where you're getting it from or if you're making it
the cost, for those that like to stick to a budget
whether it's finished (for those gifts that are homemade)
if it's been wrapped
was it sent (there's room to record the date)
if it was received (again, there's room to record the date)
where it's hidden (for those who need to keep gifts hidden)
I tried to include everything I could think of on these trackers. If I missed something, feel free to let me know in the comments down below.
Hidden Gifts
Last year I asked the Facebook group if there were any holiday planning pages that anyone needed. I wanted to make sure I'm covering as much as possible for you all in this series.
One of the requests was a gift tracker with room for jotting down where gifts are hidden for safekeeping. There's nothing worse than hiding a gift somewhere, only to forget where it's hidden!
If you look closely at the gift tracker you'll notice that the where column on the end isn't very wide. I squeezed as much room out of the pages as I could, so to compensate, and to help keep the hiding spots secret from prying eyes I made a Hiding Place Key Card.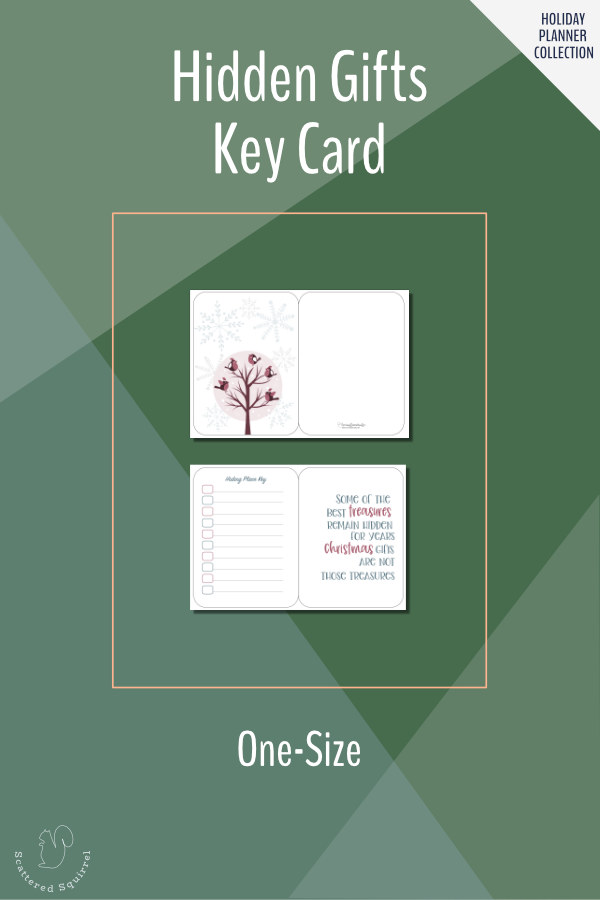 I designed it to be the size of a small journalling card when folded in half. The outside just has a design on it. When it's tucked into your planner it doesn't look like it's hiding anything.
Inside there is room to create key for your hiding places. You can use numbers, symbols, a code of some sort, whatever works best for you – and match them with your hiding places of choice.
For best printing results – make sure to select Actual Size in the print settings. If your printer duplexes (prints double-sided) make sure to select short edge binding. Print the key card double-sided, trim, and fold along the middle line.
Heavier paper like card stock will give you a more durable card. Tuck into your planner or wallet to keep it safe.
Your Assignment:
Grab a cup of your favourite drink. Make yourself something yummy to nibble on. Then spend some time planning what gifts you want to give this year.
Reach out to the people on your list and ask if there is anything specific they want this year. While you're chatting with them, don't forget to ask about gift cards. It doesn't hurt to see where people stand on that subject.
Whether you use the printables or something else, having a plan of some kind will help reduce some of the stress of shopping this holiday season.
If you want some company while you're planning – or need a place to bounce around some ideas – come join us in the Facebook group. Or drop me a line in the comments down below!
To check out the next posts in this series you can hop on over to The Stress-Free Holiday Series page.