Making a Plan for Spring Break
It's March, and that means that in a few short weeks Spring Break will be upon us.  Normally, Spring Break is one of those school breaks that I just let things sort of free flow for the week.  This year however, we have an extra week for Spring Break as our school district has gone to the typical two-week break most other districts in our province use. I have to admit, with that extra week and Easter weekend thrown into the mix, I was a little worried that the "Mom, I'm bored!" refrain is going to crop up enough times to test my patience and my sanity.  Then the other week my friend Cindy stopped by to share a fantastic Spring Break Bucket List for Families which had me yearning for family outings and activities and made me realize that with a little planning I can help stop the boredom before it hits.  (hey a Mom can dream can't she?)  So this year, I'm taking the time to make a plan for Spring Break and hopefully save my sanity in the process.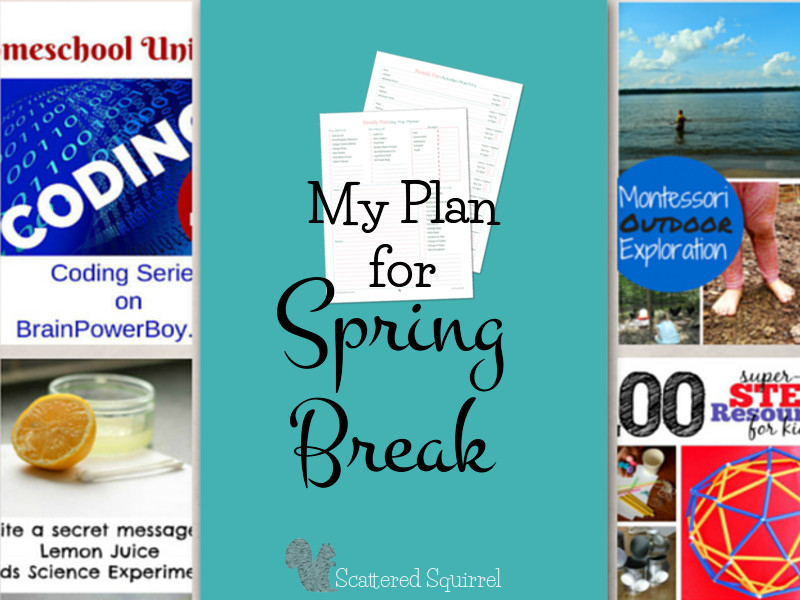 I have to admit I'm eager for Spring Break this year.  I have so many things I want to go do or get done that I knew I needed to come up with some sort of plan.  Now, when I say plan, I don't mean that I am putting together an itemized itinerary for the break.  Rather, I'm gathering ideas we can use to make the most out of this time, and working in some things I'd like to accomplish where possible.  I love our usual go with the flow approach to school breaks and I don't want to totally change that, I just want to make sure we don't fall into the trap of not doing anything because we don't know what to do. I feel like taking the time to make a plan for Spring Break now will free me up for enjoying those things later on.
My Plan for Spring Break
I broke my plan down into categories to help keep it super simple.
Family Fun
Activities to Keep the Kids Busy
Around the House
Staying Sane
Family Fun
I always try to fit in some ideas for family fun when I plan for school breaks.  I think it's important to make the most of looser schedules and I try to make sure that my own work is finished up in time for Travis's days off so we can get out and enjoy some fun with the boys.  This section was pretty easy to plan.  I just used the Family Fun section of my Home Management Binder and put together a list of things we can do and places we'd like to go if we have the time.  Because it's not unheard of us for us to decide to take a day trip somewhere I made sure I pulled out the day trip planner and update our family activities list.
We're a family who likes to do things as the idea, time and budget allow.  Having these two printables on hand has made it so easy for us to pick up and go when the mood hits.  I love being able to embrace the moment and not end up forgetting half the things we need.    As far as planning goes for the family fun section, aside from these ones I have a few ideas for family movie nights and games nights.  We're a go with the flow family so all I really need to do to plan is have some of the preparation and ideas pulled together.
Activities to Keep the Kids Busy
This is by far the biggest section for me, and truthfully, it is mostly for Liam's benefit.  Our Teen really doesn't need too much direction or help from me in finding things to keep himself busy.  When it comes to trying to plan activities for kids I have a two step process.
Ask them what they would like to do.  Is there something new they would like to learn?  A project they want to try?  I find that asking them often helps me pull together ideas that will appeal to them, and give me a direction to go for step two.
There are millions of blogs out there full of ideas for how to keep your kids busy.  If you don't have some go to blogs, hop on Pinterest I'm sure you'll find a ton of ideas there.
Below I've included some links to my most favourite ideas.
Learning Something New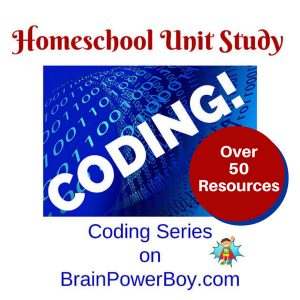 Liam has mentioned many times that he wants to learn coding, and he was over the moon when I not only agreed to learn along with him, but when I told him I knew exactly where to go to get the tools and information we needed.  We've been big fans of Brain Power Boy for a long time now.  Sheila does such an amazing job of creating and curating ideas that appeal to my boys on their own level.  She's even created a whole Homeschool Unit Study just for Coding.  I cannot wait to dive into the world of coding with Liam.
Explore the World Around Us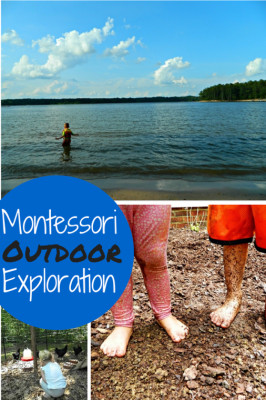 One of our goals this spring break is get outside as often as possible.  And while we may not have a huge yard, there are walking trails, parks and playgrounds all within walk distance of our home.  We're going to have a ton of fun exploring.  Marie from Child Led Life has a fantastic post over on her site that is wonderful reminder of the magic of playing outdoors.   So much of what our children learn is through their own exploration of the world around them and I believe that is important to give them many opportunities to explore and experience things on their own.  Nature walks, digging in the garden… so many wonderful ways to get out and experience nature, especially in the spring time with new flowers blooming and the temperatures not being too warm or too cold.
Fun With Science.
Every single time I ask Liam for ideas for things to do he's always mentions at least one science experiment he wants to try.  His curiosity about how things work, why things work, and what happens if… is something I want to make sure I nurture, and I want him to see these things as fun!  Thankfully, there are a ton of ideas out there to help me keep his interest alive and thriving.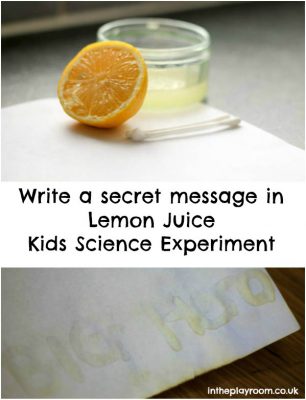 Simple little experiments like this Invisible Ink one from Anna over at In the Playroom, are perfect for peppering throughout the whole break.  Many times it's the simple projects that end up being the most fun.  I can see Liam having a ton of fun with an activity like this, especially since it's something he can do on his own.  I'm looking forward to many secret messages in my future.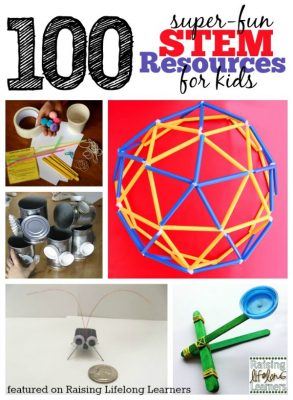 With almost 9 years difference in my boys' ages, it's hard to find activities that will appeal to both of them, and while my Teen doesn't really need me to find him activities to do, it's nice to have a list on hand of some that might appeal to him as well as to his little brother.  Both my boys have a love of science and engineering, so I'm hoping this fantastic collection of STEM activities  from Colleen at Raising Lifelong Learners,  will not only keep them busy, but maybe, just maybe, they can get in a little brother bonding time this spring break.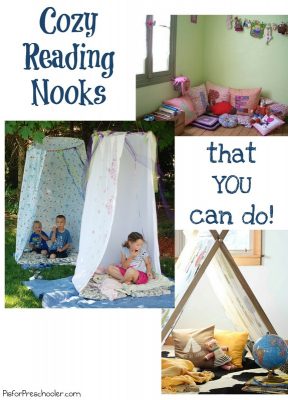 A cozy reading nook is a must in my book!  I think this would be a fun project for any time, but especially during a school break.  You and your kiddo could have fun creating one at the start of the break, and they can enjoy it all break long and even beyond.  As Emma from P is for Preschooler shows in her post Cozy Reading Nooks for Kids it doesn't take a whole lot to create a cozy little space for your kiddos to enjoy their books.  And chances are they'll find many other ways to use those spaces.
Something to Watch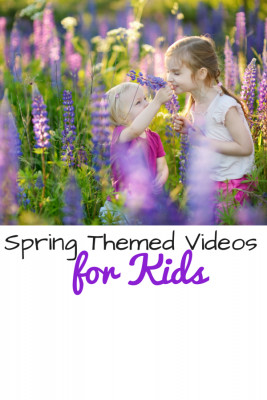 Whether it is rainy days, busy Mommy days, or just a need for a little down time, I know that at least once we're going to find ourselves sitting in front of the screen.  (aside from when we're learning coding) So I was really happy when I stumbled on this post about Spring Themed Videos for Kids on Netflix from Dianna at The Kennedy Adventures.  It's full of wonderful, educational and fun shows we can watch on Netflix.
Around the House
This Mommy is no dummy!  If I'm going to have two extra sets of hands hanging around the house for 2+ weeks, I'm going to make use of them.  I have a few organizing and spring cleaning projects that the boys are going to help me with this year.  They don't know it yet, but I'm going to introduce them both to the concept of spring cleaning in their rooms.  It's time my Teen learned the ins and outs of giving his room a total deep clean, and I figure there are plenty of tasks Liam can learn to do in his.  I am a big believer in giving kid's ownership of their spaces and belongings and part of that is learning how to clean and care for them.  Choosing some age appropriate tasks that can be tackled one a day shouldn't intrude too much on their spring break fun.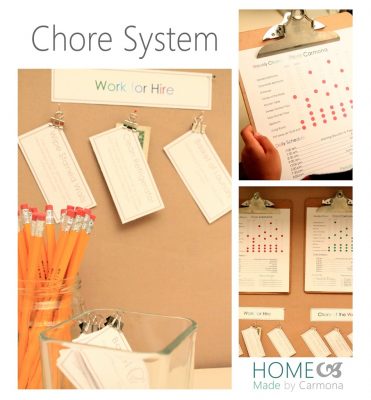 In fact, I'm taking the opportunity of having both boys home for a couple of weeks to work on creating and fine tuning our chore system.  I haven't really changed ours in a while, and it never really worked for us in the first place, so I'm eager to see what we can come up with if we all put our heads together.  I love this Chore System for the Kids that Ursula from Homemade by Carmona created.  It's simple and easy to use and she shares some great tips for helping your kids create a sense of ownership over their chores.  I'm hoping we can figure out something similar that will work for the whole family.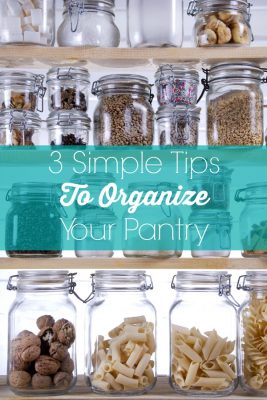 In addition to some spring cleaning and other home projects I also plan on tackling some organizing projects around the house.  I've been really lax with this lately and it's starting to show, especially in the kitchen.  Our pantry, in particular, has been crying for some help since Christmas.  These 3 Simple Tips to Organize Your Pantry that Jesenia from The Latina Homemaker shared have me energized and ready to ours.  In addition to the pantry I need to finish up my office and get our family room straightened out.  These hardworking areas always seem to need fine tuning.
Staying Sane
Two weeks of having the boys home is going to try my patience.  I know this, accept this, and in many ways look forward to this.  I enjoy having them home, but I do know that I need to make sure I'm taking some time for me.  Rather than leaving this to chance and having my Mom batteries depleted before I know it, I'm trying to plan in some alone time.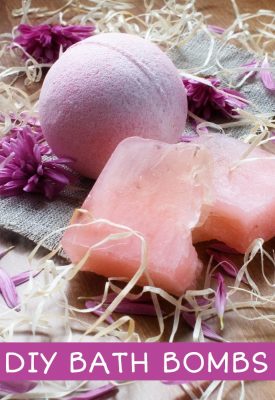 What better way to carve out some much needed alone and quite time than with a long soak in a warm bath?  I look forward to that hour or so of solitude and peace, so you can probably imagine my joy when I saw these amazing DIY Bath Bombs that Clare from The Super Mommy Club shared on her site earlier this week.  I cannot wait to make some of these and test them out.
So, there's my plan for Spring Break.  I'm still trying to stick with our family's go-with-the-flow nature, while making sure I have an arsenal of ideas ready and waiting to help us make the most of this Spring Break.  A plan doesn't have to be incredibly detailed or super organized in order to be effective.  As long as you have a general idea of the direction you want to go, and a list of places to draw inspiration from you'll be ok.  At least, that's the theory I'm working on right now.  I'll let you know how it all works out in April, after Spring Break is over.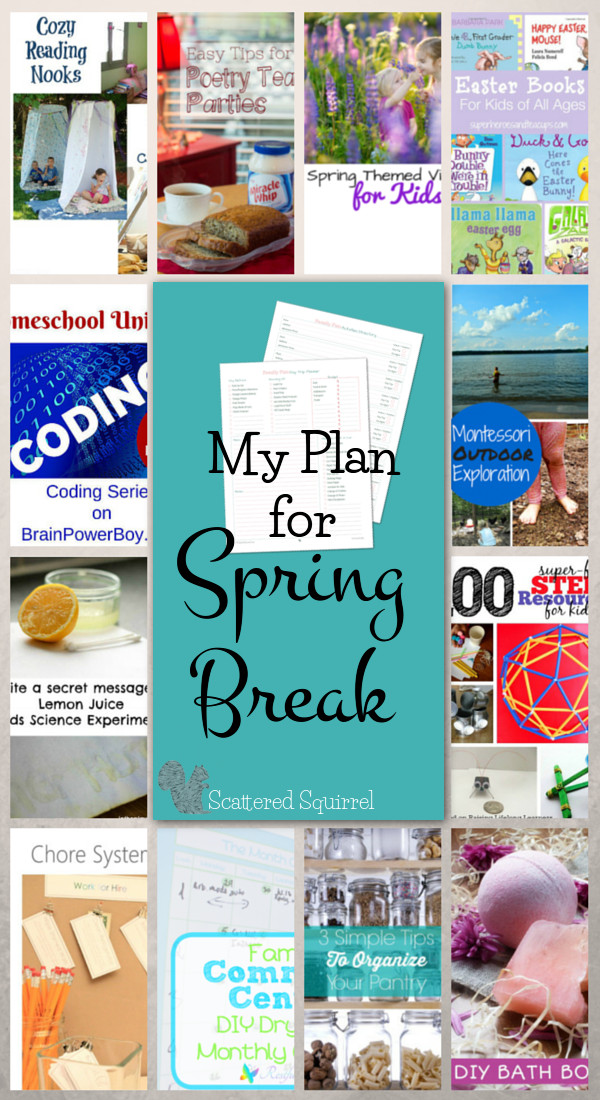 Do you have plans for Spring Break?
~Happy Planning!~