Free Home Keeping Checklist Printable
Happy Wednesday everyone!  I hope you all are having a great week so far.  I've been playing a little game of catch up with the housework this week.  Changing schedules and the chaos of the coming end to the school year has taken its toll.  Sometimes it gets me down, and other times I find unexpected inspiration.  This was one of those inspiration times.  We've been in our new home for almost two years now, and I'm sad to say I have yet to truly make up a new cleaning /home keeping checklist printable to help keep me on track, until now!
I love a good checklist, there is something so satisfying in being able to tick things off as they are finished, but more than that, I like that they are ready to go to do lists.  I don't have to think about what I need to do, I just have to follow the list.
Until recently I've been using a combo of my previous cleaning checklists.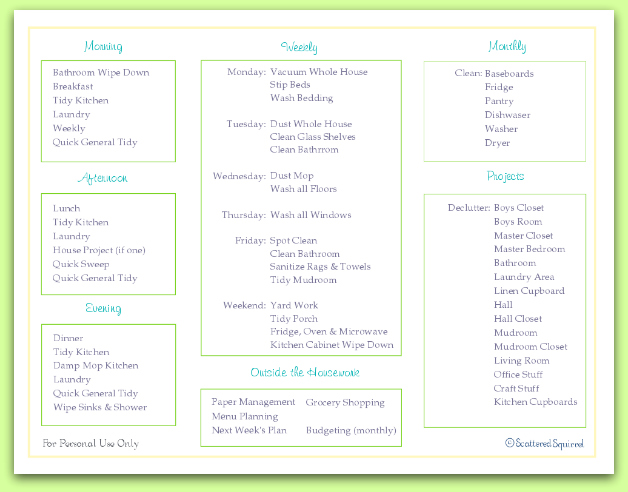 I've been using this one to sort of loosely keep me on track with daily and weekly jobs.  However, it wasn't totally cutting it, because I designed this one when we were living in our much smaller, easier to maintain home.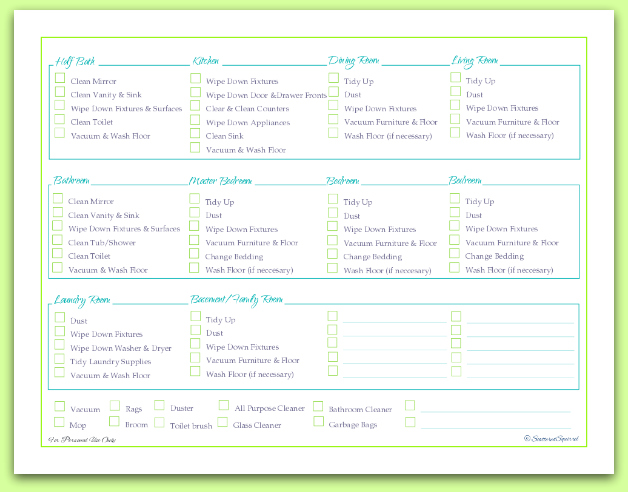 To help stay on track with the extra rooms we now have, I've been using this one too.  At first it seemed like a good idea, but over the past year, I just wasn't updating it.  Having two checklists for daily/weekly home keeping was just getting to be too much.  Eventually I stopped using them all together and was sort of winging it, and you can just imagine how well that didn't work out.
There isn't much I miss about our old home, but being able to maintain it on auto-pilot is at the top of my list.  I want that with our new home.  It seems to me that I unknowingly made a trade-off when we moved.  Our old home was easy to keep to clean but harder to organize because it was so small.  In our new home I find it's the opposite.  I can keep it more organized because I can spread activities and items through different rooms, but I'm struggling to maintain an easy cleaning routine.
Now, please don't think I don't clean my home, because I do, often and regularly, but more often than not I'm spending Friday evening and Saturday morning playing catch up with the weekly and monthly stuff.  I've been waiting to find my groove and it just doesn't seem to be happening.  I'm a big believer in making things work for you, and I decided it was high time I took my own advice and stopped waiting because all I've accomplished is a nasty go-round habit that's going to take some work to break.
I turned to a tool I know works well for me.  I did no research.  I didn't look into tips, tricks or even how-to's for making up a cleaning routine.  I just sat down and thought about what I need to do in a day, week and month, and what I came up with is my new Home Keeping Checklist printable.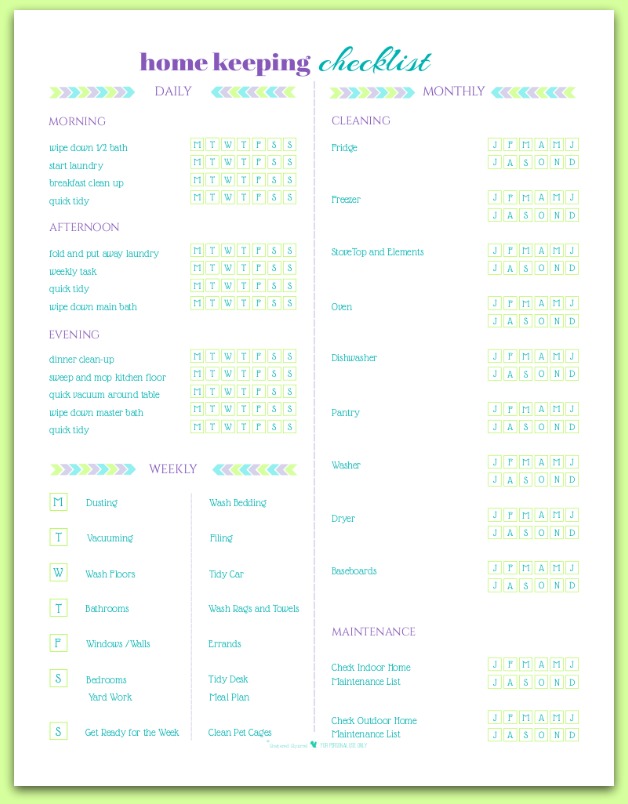 As you can see I kept the daily items sectioned off by morning, afternoon and evening.  I really liked that with my first one so I opted to keep that feature.  My weekly tasks are divided into two sections, main household chores and other tasks that I need to do to keep our home running smoothly,  On the monthly side I have all the things I need to clean once a month.  Many of the kitchen ones get done more, on an as needed basis, but I wanted the reminder to give them a good cleaning in case life gets busy.  The bottom part there refers to my two Home Maintenance Printables.  I opted to put those on here so that I don't need to be flipping through multiple pages just to see if I've done something or not.  I'll know at a glance whether I've checked those lists that month or not.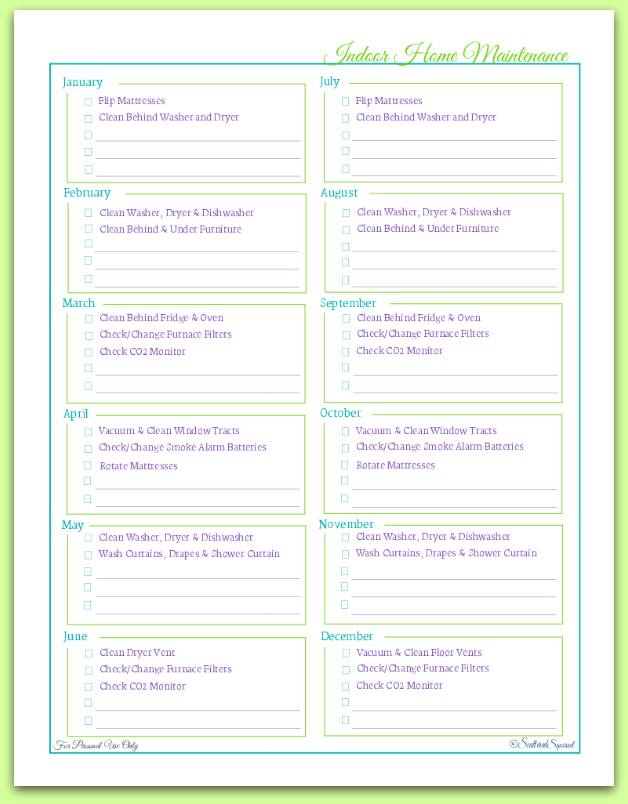 The Indoor one is divided by months of the year and each month has a few tasks on there that need to be done in the month.  This printable has been a huge helping in making sure we're on top of some of those pesky tasks that are easy to forget about.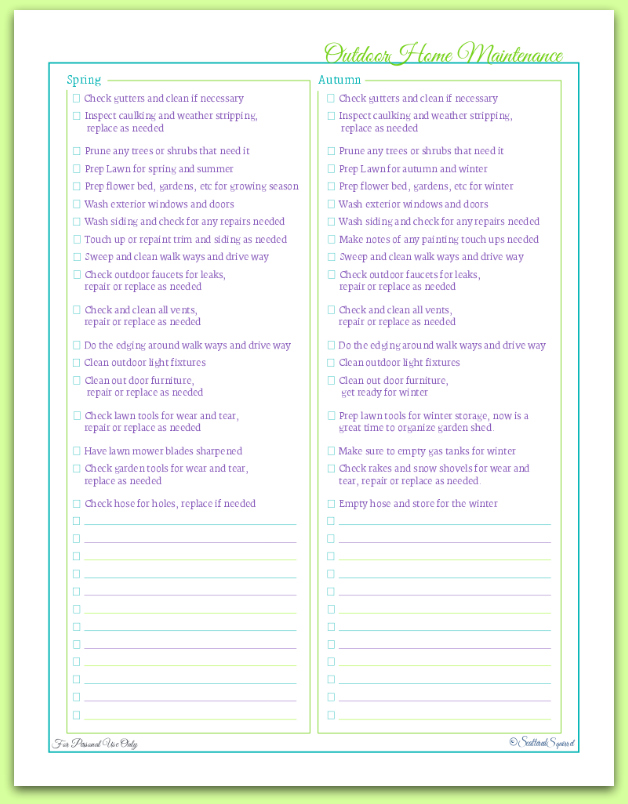 The Outdoor one is divided by season, and is just a way to make sure I don't forget about the outside of our home.  It's easy to overlook outdoor maintenance when you spend much of your time keeping up the inside, this checklist helps me make sure that we stay on top of it so that we don't end up with a nasty surprise later on.
I'm eager to get put this checklist to the test.  For now I'm just keeping it in a heavy duty page protector so that I can use a dry erase marker to check things off.  At the end of the week I can wipe the left hand side clean and start again.  If it works as well as I think it will then I'll come up with a more permanent option, perhaps printing it on cards stock and having it laminated.  Here's one more look at it.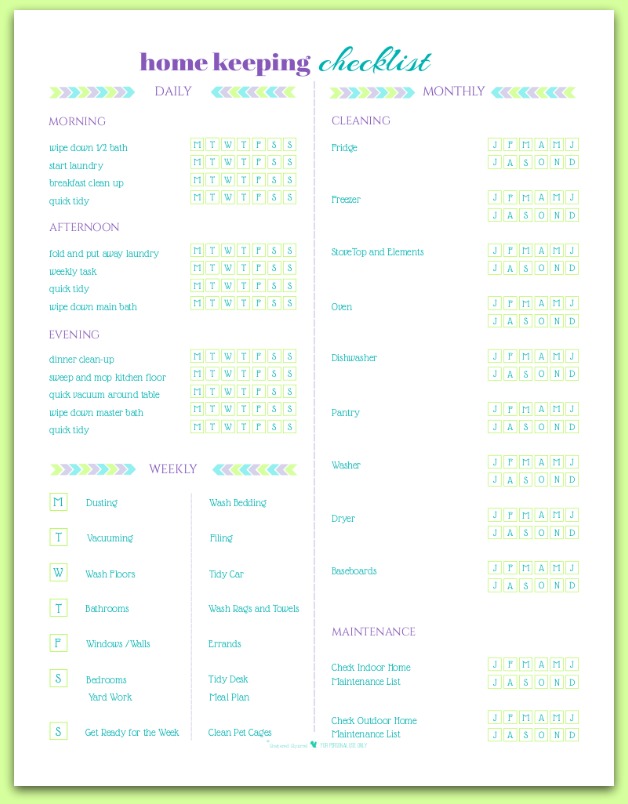 As with all the printables I share here on the blog, this one is available to you as well.  Simply click the picture and either a new window will open with your download, or if your browser is like mine, it will automatically download for you.  Please remember the printables are for personal use, however, if you would like to use them in another way, feel free to send me an email and I'm sure we can work something out.
And now, I do believe it is time for me to run and check a few things off that list.  Until next time, take care!
Do you use checklist to stay on track?  Do you ever find yourself stuck in a rut?  How do you pull yourself out?
Happy Printing!
I link up at these great parties.